News
Three Boston-Area Women Helped Get Someone Rescued from the Harvey Floods
Facebook connected three Massachusetts women to send a boat to a stranded resident of Katy, Texas.
---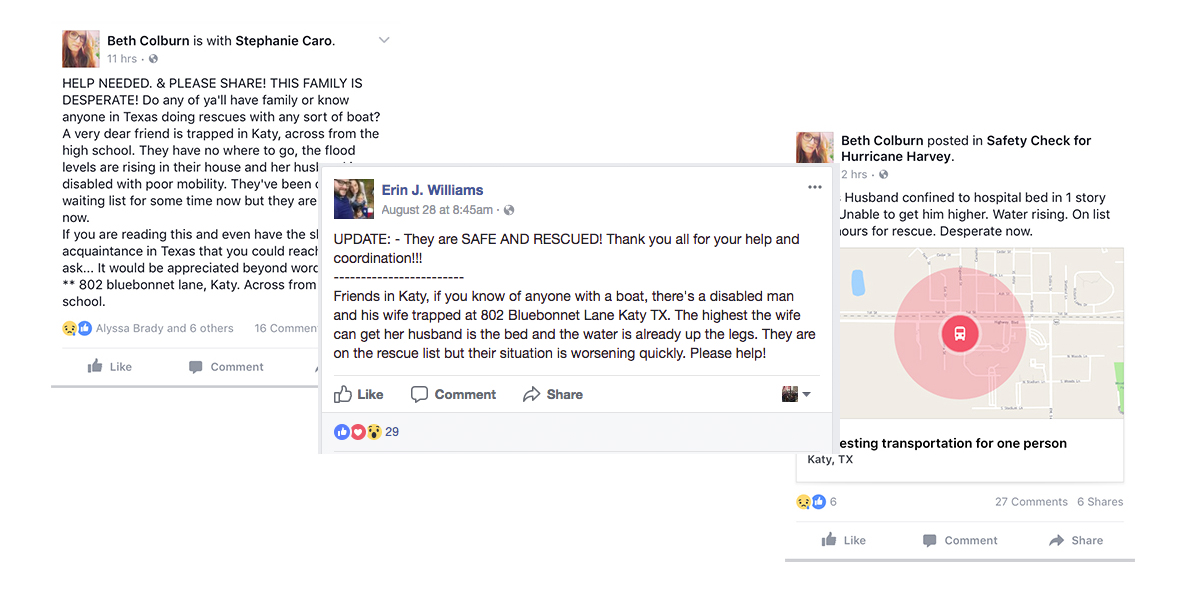 Facebook may be the place where you post photos of your food, or share the news about your new job, or spy on your crush from high school. But for three Massachusetts women, it was the ideal method to send a boat to a couple stuck in a flooded house in Katy, Texas.
Bethany Wylde is an emergency medical technician in the Boston area. But she grew up in Florida, and she has fond memories of Stephanie Caro, who was her youth pastor there for six years. "She's so funny," says Wylde. "I was pretty close with her, and wanted to be her favorite when I was in elementary school. She taught me sign language." It wasn't just her kindness that Wylde remembers, though: "She didn't let anything fly, so she had a lot of respect."
She knew that Caro lived in Texas, but didn't realize how close Katy was to the coast. Though Caro initially checked in that she was safe on Facebook at the beginning of Hurricane Harvey, Wylde noticed that as time went on, that was no longer the case. "I started seeing her posting pictures of the yard. The street was flooded, then the yard was flooded. Before she went to bed, she posted that it was up to the front door."
Soon enough, Caro had indicated that "it was flooding from everywhere." She called 911 to signal that she needed to be rescued, but they were on a list along with an unknown quantity of other people. The problem was, they had almost no time to wait. Caro's husband Steve has a degenerative spinal condition, so there was no way the two of them could evacuate to their roof, and their home is only a single story. As the water level reached his bed, their situation was desperate. A friend of Caro's shared a video of her wading through her own home, the water up to her knees.
Wylde wasted no time. She shared an update on Facebook, frantic to get the word out and find anyone at all with a boat who could get to the house soon enough. She estimates she shared her plea for help in 10-15 places, from the page on Facebook where people were posting that they were safe during the hurricane, to CNN stories about the hurricane, to a goat owners Facebook group. As she scrambled for ways to get the message out, she thought of someone who could help her: her sister, Erin Williams.
"I have over a thousand Facebook friends," admits Williams. She says she's witnessed firsthand the ways that a Facebook community can come together in a time of crisis from her own experiences with a group that started out as an infertility discussion group, but ended up providing emotional support when her mother had cancer.
The results were almost immediate. "I have a few friends in Texas that were in Katy, but I didn't tag them, because they're already going through their own stuff. So my friend, Jen, in Malden, saw it on her way to work, had friends in Katy, Texas, and that's really where the ball started rolling," explains Williams.
Jennifer Spadafora says that when she saw the post with its reference to Katy, Texas, "it stuck out in my mind." She had another friend living in the area who had been posting about the hurricane, but her house hadn't been affected by it. "I thought maybe, by chance, she would know somebody down there that could possibly get to the house."
She quickly made a screenshot of Williams' post and sent it to her friend in Katy, who shared it on her page. "It just kind of, from one post, snowballed." The story got passed from connection to connection (the Houston Chronicle has a breakdown of some of the routes the post took), and within two hours of Wylde's initial post, they all received word that Caro, her husband, his therapy dog, and their cats had all been rescued from the flooded house. Not only that, but at the point that they got rescued, there were at least two other confirmed groups trying to get to them.
None of the three women has been to Katy, Texas. In fact, Spadafora says she hasn't seen her friend in Katy, Texas, who helped with the local connections, for years. They met while on vacation and bonded over having sons with autism. And yet, when Spadafora posted, she says her friend responded "within minutes."
"To see that social media, which is looked upon as being such a bad technological advance, actually worked in the greater good, in this instance, it really feels good," says Spadafora.
Wylde witnessed firsthand all the efforts people across the country were making on her behalf. "There are so many people in Houston, and so many people looking for help, I had no idea that anyone would pay attention to me," says Wylde. "Random strangers were asking for updates even the next day, and then when I posted that they were all set, so many people were like, oh, that's wonderful, I'm happy to hear that."
Unfortunately, Caro faces new challenges now that the flood water has drained out of her house. Because their home wasn't technically considered to be in a flood plain, they weren't required to get flood insurance (her daughter has since started a gofundme page to help them get back on their feet).
But Facebook has already provided at least a little more help. Wylde says she noticed another girl from that same youth group commenting on Caro's page. She's an architect, and she has friends in Texas who are going to try and help assess the home's damage. Still, for those couple of morning hours, Wylde, who had just come off a night shift, was riveted. "It was pretty crazy. My adrenaline didn't really come down at all that day because even after I knew that she was safe, I had to go back everywhere that I posted so that I wasn't misallocating resources."
That first responder mentality comes in pretty handy, but Williams says it's just what her sister is like. "She's pretty amazing," she says. "As an EMT, she was here in my mom's final days helping the hospice nurses take care of her. I'd do anything for her."
And in this case, Facebook helped Wylde do exactly what she needed for someone else.
---
---