News
Throwback Thursday: The Unusual Story Behind the Donkey Statue at Old City Hall
Years ago, Roger Webb fell in love with a donkey statue. The rest, as they say, is history.
---
Roger Webb says it was love at first sight. The moment he laid eyes on a life-sized donkey statue in Florence, Italy, he knew he had buy it.
"I thought 'This is the cutest statue of a donkey that I've seen,'" Webb says.
Immediately it was clear to him that a donkey statue so cute and so lovable belonged somewhere special. The spot Webb had in mind? Boston's Freedom Trail.
"That's the place it would get the maximum use by kids," he explains.
Back in the '90s, Webb was browsing in a Florence art store filled with statues for anyone hoping to take a piece of Italy home with them. Tucked behind a replica of Michelangelo's David, he discovered a small bronze burro. Those other customers might have been there for Renaissance art, but not Webb: He purchased the little guy for just under $10,000, then shipped it home to Boston. He intended to present the donkey statue to the City of Boston as a gift, with the idea that it'd be a welcome distraction for young children struggling to pay attention during the Freedom Trail walking tour.
Plus, Webb know exactly where he'd put it—right on the sidewalk in front of Old City Hall, the building he'd managed to save from the wrecking ball three decades earlier. Webb founded the Architectural Heritage Foundation in 1966, and with his new nonprofit, he was able to secure a 99-year lease on Old City Hall. The lease worked to preserve the building; instead of being reduced to rubble, Old City Hall was carved up into commercial office spaces and a restaurant.
But in the mid-1990s, when Webb presented his prized mule statue upon his return, he says the city responded coldly.
"You can't just add an Italian donkey to the Freedom Trail," Webb remembers city officials saying. "It just doesn't belong."
Webb, however, was determined. He decided to store the hefty statue in his daughter's garage until he had a plan. Eventually, an agreement was reached. Instead of putting the donkey directly on the sidewalk along the Freedom Trail, it'd be placed on the land Webb was leasing: Old City Hall's courtyard. This "very sweet donkey," as he calls it, "seemed to have a pleasant look on its face." It was a friendly expression that the grounds of Old City Hall—which overlook the Freedom Trail—so desperately needed.
"So, I made up some stories," Webb says nonchalantly, as if making up stories about a donkey statue he found in Italy was a completely normal thing to do.
---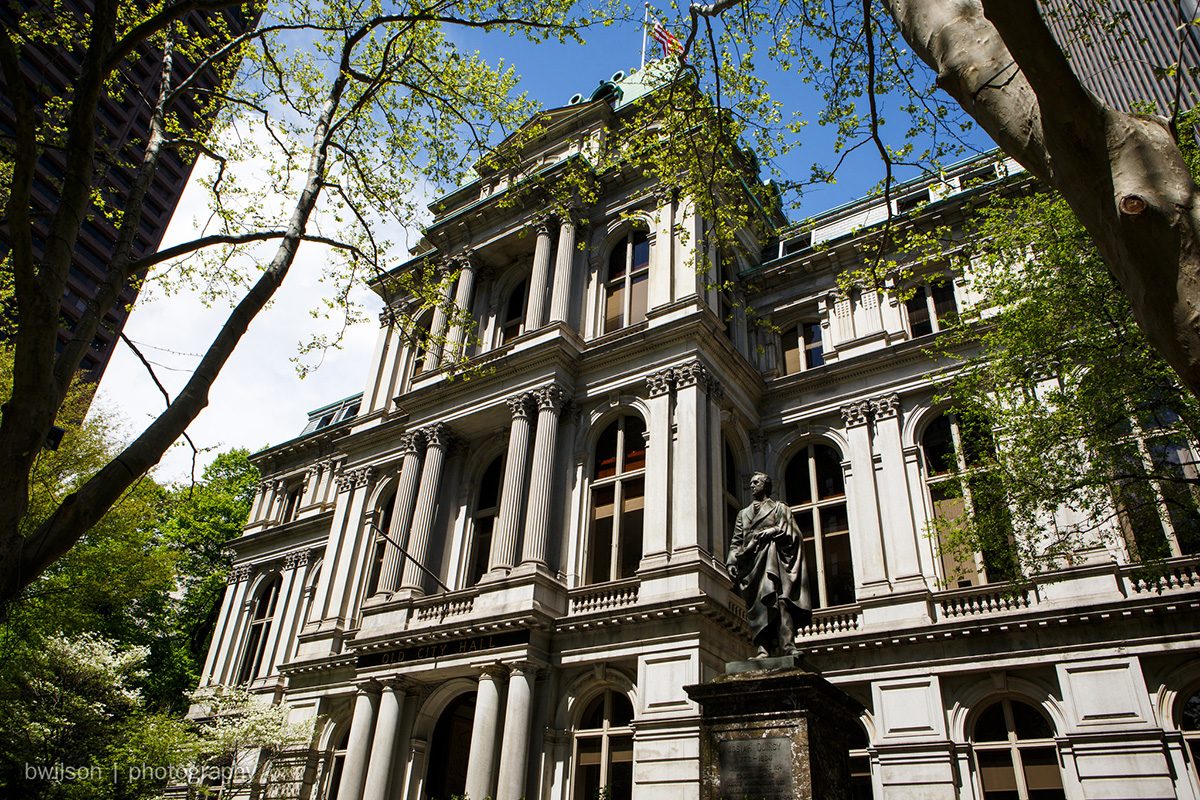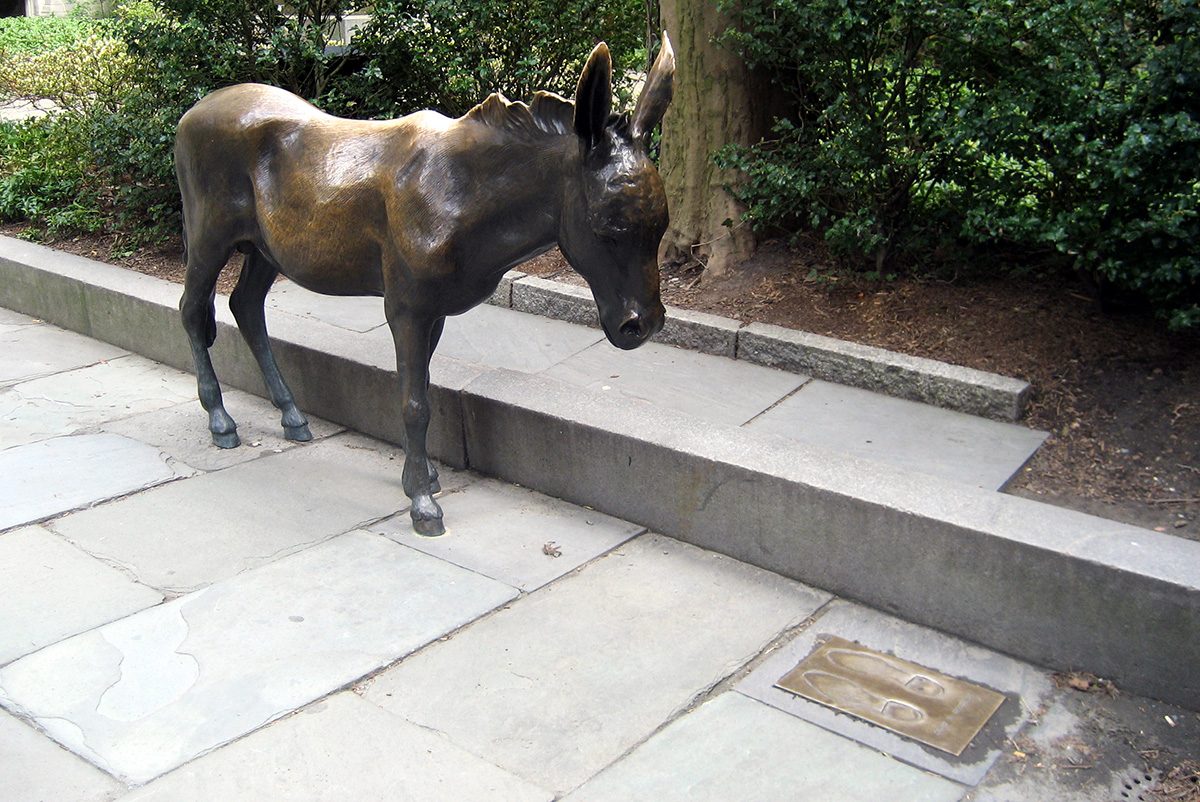 ---
To justify the statue's placement, he said the donkey represented the Democratic Party, a political affiliation long held by Boston's mayors. And Boston's mayors, after all, spent their days in Old City Hall from its construction in 1865 until 1970, when the city's new Brutalist city hall opened in Government Center.
It was the perfect made-up story. The statue was removed from the garage.
"I think my son-in-law was going to bury it in his front yard [if we didn't remove it,]" Webb adds with a laugh.
After the Old City Hall Landmark Cooperation successfully gifted the donkey to the city, an agreement was made to place the statue on Old City Hall's property. The donkey was triumphantly installed in the courtyard in 1998. Soon after, Webb says tenants in the building asked him where the statue's Republican elephant counterpart would go. Rather than fly back to Florence, Webb decided to place two footsteps in front of the donkey so those who disagreed with the Democratic party could stand in opposition to it.
"I got a cousin of mine who's a sculptor to make up the footprints and we put them in front," Webb explains—again, as if making up the backstory to a landmark was an everyday occurrence.
"A lot of people were rather skeptical about my idea, and I must say they've come back to me in years after and said, 'My God, Roger, you're absolutely right. I was wrong. The kids love that thing.'" he says. "It's the parents, it's the grandparents. They love to pet it, touch it, have their picture taken in front of it. They climb right up on it."
The Architectural Heritage Foundation's current president, Sean McDonnell, can attest. He says that anecdotally, the donkey is the most well-loved statue in Old City Hall's courtyard. As for Roger? The 82-year-old has since retired from the nonprofit, but still thinks fondly of his donkey.
"My love for this little donkey has only increased," Webb says.
---