InfoWars Identified a Massachusetts Man as the Parkland Shooter, and Now He's Suing
Marcel Fontaine is seeking more than $1 million in damages for defamation.
---
A Massachusetts man who found himself at the center of an inaccurate story on InfoWars, which identified him as the Parkland school shooter, is suing the website and its founder, Alex Jones, for defamation.
Marcel Fontaine, 24, of Worcester, says a since-deleted story on InfoWars linked a photo of him to the man responsible for the massacre at Marjory Stoneman Douglas high school that left 17 dead. Fontaine says he's never been to Florida, and authorities have identified 19-year-old Nicholas Cruz as the shooter.
The lawsuit, filed in Austin on Monday, says the InfoWars reporting was "manifestly false and have caused him enormous injury and continuing personal harassment." Fontaine is seeking "over $1 million" in damages.
Jones—who now reaches a reported audience of millions with his website, radio show, and online programming—has a reputation for broadcasting bizarre theories about tragedies, casting doubt on the veracity of mass shootings in Sandy Hook and Las Vegas. He also spread a theory—often referred to as "Pizzagate"—that an underground sex trafficking ring was being run out of a Washington, D.C. pizza shop. Jones apologized for his role in the "Pizzagate" saga after a man fired a rifle inside the shop on an apparent mission to investigate the conspiracy theory.
The lawsuit links Fontaine's case to those incidents, and says it shows that Jones and his website profit by spreading misinformation. It notes that Fontaine received threatening comments online after the story was published, and that he has continued to receive threats long after the actual shooter had been identified from people "who nevertheless remain convinced he was part of a horrifying conspiracy.
"As part of InfoWars' reckless money-making scheme, Mr. Jones is causing his audience to disbelieve the basic facts of the incident in favor of a labyrinthine conspiracy that calls into question the very nature of reality," the suit says.
All of this appears to have begun when a photo was circulated online of Fontaine, which users believed to be that of Cruz, the Parkland shooter. Among the early messages online to feature the photo, according to the fact-checking site Snopes, was a tweet from an account pretending to represent "Antifa," the anti-fascist group. "Please don't RT this picture of #NicholasCruz in an Antifa Shirt. We dont need any more bad press," the tweet read.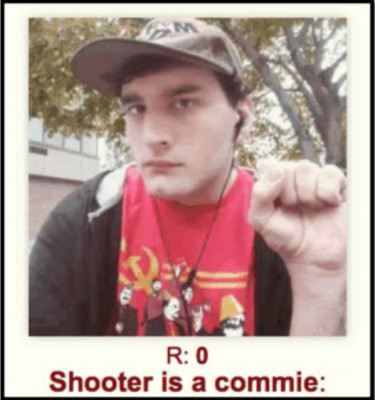 In the photo, Fontaine is wearing a "Communist Party" novelty T-shirt, which features a hammer and sickle, along with historical figures hoisting Solo cups and wearing festive hats—in other words, partying. InfoWars and others online used the photo to call Fontaine a "commie."
Fontaine, the lawsuit says, contacted InfoWars on February 26 demanding a correction, but never heard back.
---
---