Your Guide to Endorsements in the 2018 Primaries
Who's backing who in an action-packed year.
---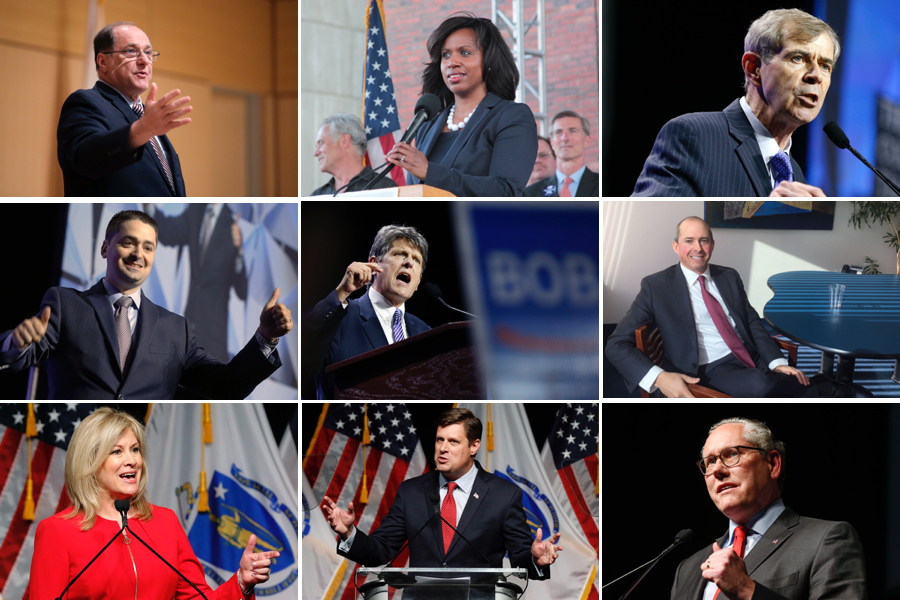 Still haven't made up your mind for the 2018 Massachusetts primaries? Can't say we blame you, given how many contested races are demanding your attention this year. There's the first-in-many-years, progressive-versus-progressive challenge pitting City Councilor Ayanna Pressley against incumbent Congressman Mike Capuano; a heated Secretary of State race, in which City Councilor Josh Zakim might just unseat Bill Galvin; a trio of GOP Senate contestants hoping to run against Elizabeth Warren, God bless them; and a duo of Democrats vying for the chance to challenge Mr. Popular, Charlie Baker.
Luckily for you, undecided voter, plenty of influential figures have already settled on their candidates of choice.
Endorsements are, of course, not everything. The motivations behind them can vary, and they're often based on factors that might not matter to you at all, like whether a higher-up is friends with or once employed a candidate, or if the candidate has helped them personally in the past. But for what it's worth, ahead of the primary on September 4, here's a guide to some (but not all) of the major endorsements in some (but not all) of the big races, for your consideration:
7th Congressional District
U.S. Rep. Mike Capuano
Boston Mayor Marty Walsh
Mike Capuano has always fought for all of Boston. That's why I'm working for his reelection to Congress. #BosPoli https://t.co/AwRPAn2WI9

— Marty Walsh (@MartyForBoston) April 21, 2018
Former Gov. Deval Patrick
He believed in me when few others would take a chance on a novice candidate, and stuck with me as a consistent ally to meet the needs of our citizens, especially through the Great Recession. That's why I stand with him now. (source)
U.S. Rep. Joe Kennedy III
My friend @mikecapuano is #MA7 through + through. He's a fighter, a mentor, a guy who won't shy away from steep odds or tough truths. Most of all he's a dogged defender of the people back home who need his voice most. Proud to be on #TeamCap! Join us tmrw: https://t.co/JIkNfZAyHz

— Joe Kennedy (@joekennedy) August 27, 2018
AFL-CIO of Massachusetts
As a committed champion for the values and principles of the labor movement, Mike has proven time and time again he puts working people first, and will continue to fight for working families in our neighborhoods, and in Washington – AFL-CIO Massachusetts President Steven Tolman (source)
Congressional Black Caucus PAC
Civil rights are under attack, and we need to fight back. Rep. Capuano has built his career on standing up for those who have been left behind, from healthcare, to transportation, to housing. We in the Congressional Black Caucus Political Action Committee have a strong, committed partner in Mike and unanimously support his campaign for Congress. – Rep. Gregory Meeks, CBCPAC Chairman (source)
City Councilor Ayanna Pressley
The Boston Globe
Voters might be hesitant to move on from Capuano after his years of experience and the seniority he has accumulated in Congress. But Pressley is a proven advocate with an understanding of the needs of the district, and she would be a fresh voice in Congress. Pressley represents the present of the Seventh District and the future of the Democratic Party. She will serve the district well in Congress. (source)
The Boston Herald
She articulates her vision for the 7th District powerfully, with energy and conviction. But she does not intend to be measured just by her voting record but by big ideas. She doesn't just want to vote, she wants to legislate.

Ayanna Pressley is such a powerful persona that her election would change the dynamic of the entire Massachusetts congressional delegation. She'd be an instant leader. (source)
Attorney General Maura Healey
Today, I'm endorsing @AyannaPressley to be the next Congresswoman representing my district, the historic 7th District of Massachusetts. For me, this isn't political, it's personal. #mapoli pic.twitter.com/1dXtQn4kWj

— Maura Healey (@maura_healey) July 30, 2018
Congressional nominee and incumbent-toppler Alexandria Ocasio-Cortez, of New York
"The people closest to the pain should be closest to the power."
– @AyannaPressley.

Vote her in next, Massachusetts.

There are more of us, too: @CoriBush, @Chardo2018, @AyannaPressley & more.

We need to elect a corporate PAC-free caucus if we're going to get things done. https://t.co/M2tF5cedTs

— Alexandria Ocasio-Cortez (@Ocasio2018) June 27, 2018
Progressive Massachusetts
"Given the reactionary policies coming out of the current administration in Washington, we need activist leadership in Congress to fight back and to chart the path forward for a progressive alternative vision. It is no longer enough for legislators to be a reliable vote or a co-sponsor; we need them to be champions and organizers, ready to fight on the front lines. Ayanna Pressley has been such a leader on the Boston City Council, and we know she will be as well in Congress, pushing a bold agenda of equity and social justice." – Jonathan Cohn, co-chair of the Election and Endorsement Committee of Progressive Massachusetts (source)
---
Secretary of State
Bill Galvin, incumbent
The Boston Globe
Yes, Galvin has held the post for a long time. But in an office with diverse and important responsibilities, he has run an efficient, effective, continually modernizing, scandal-free operation. As the first secretary of state to confront both the promise and peril of the digital age, he has struck an appropriate balance between pursuing the voter conveniences made possible by the Internet and the necessary safeguards for the election process. (source)
American Federation of Teachers, Massachusetts
Bill Galvin understands that our students can succeed if they are given the resources they deserve. He shares our aspirational vision for fully-funded schools and libraries, debt-free public college, and an education system that focuses on true learning, not just testing. – AFT Massachusetts President Beth Kontos
Former U.S. Rep. Barney Frank
At a time when the investor protections of the Dodd-Frank Act and the Obama Fiduciary Rule are under attack, we need someone of his expertise and accomplishment to protect consumers and investors. (source)
Senate President Karen Spilka
Bill has the expertise, experience, and a very long list of accomplishments. In this day and age when our democracy seems more fragile than ever, we need a secretary of state with a proven record of running honest, transparent, and successful elections. … Simply put, you will not find anybody more committed to the commonwealth of Massachusetts and more dedicated to being secretary of state. (source)
House Speaker Robert DeLeo
Secretary Galvin is one of the most knowledgeable and hardest working Secretaries of State in the country. (source: direct)
City Councilor Josh Zakim
The Boston Herald
The energy and enthusiasm of this candidate will be well served if he is elected as secretary of state. It is time for a change. Though Bill Galvin has served Bay Staters well during his many years in public service, it is time for a new vision. (source)
Massachusetts Democratic Party
In a surprise, even to Zakim, Dem delegates at their June convention picked the city councilor over Galvin 55-45.
U.S. Rep. Seth Moulton
We need fresh ideas and a new approach to solving problems, and @joshzakim will bring that to the Secretary of State's office. I'm proud to endorse him and be at the #DemVention to show my support pic.twitter.com/gUb4iiiYHW

— Seth Moulton (@sethmoulton) June 2, 2018
Boston Mayor Marty Walsh
I've watched this guy, this councilor, over the last four years . . . push for people's rights, and push for voting rights . . . getting young people engaged. … That's what we need right now; we need a secretary of state who will energize the millennials, energize the people who are not satisfied with the process right now. (source)
Thanks to @MartyForBoston for your support tonight! Proud that Mayor Walsh is on #TeamZakim! #MaPoli #BosPoli pic.twitter.com/9BFgYfv6V0

— Josh Zakim (@joshzakim) July 26, 2018
Lawrence Mayor Dan Rivera
Josh is speaking to the issues that are important to the people of Lawrence. … His campaign is about inclusion and making government more open. Voting rights, access to the polls – this is what I hear when I travel from neighborhood to neighborhood in Lawrence. (source)
---
Governor
Jay Gonzalez, former budget chief for Gov. Deval Patrick
Massachusetts Democratic Party
He picked up 70 percent of the votes from delegates at the June convention.
Thank you delegates! -Jay #mapoli #demvention pic.twitter.com/YEFDcLD1UZ

— Jay Gonzalez (@jay4ma) June 2, 2018
The Boston Globe
Whichever Democrat wins the nomination has a challenge ahead of him, considering Baker's prodigious fundraising and centrist reputation. Gonzalez has the right background to go toe-to-toe with Baker, and if he can outline a credible plan to pay for his ambitious agenda, he is well positioned to give the incumbent a real race. (source)
American Federation of Teachers Massachusetts
From his support for a higher minimum wage and paid family and medical leave, to his detailed plan to improve access to high-quality, affordable childcare and preschool, Jay understands that our students and their families need economic security if we are going to close the opportunity gap that leaves far too many kids behind. (source)
City councilors Michelle Wu, Lydia Edwards, Kim Janey, Annissa Essaibi George, Matt O'Malley, Ed Flynn
Perfect evening to celebrate community in #Roslindale at @wutrain's Augustus Ave Block Party! So proud to have Councilor Wu's support! #mapoli pic.twitter.com/bljE2mqeQA

— Jay Gonzalez (@jay4ma) August 23, 2018
Framingham Mayor Yvonne Spicer
I'm enthusiastically supporting Jay Gonzalez because I know he's committed to investing in a public education system that serves every child in the state regardless of what neighborhood they live in. (source)
State Sen. Jamie Eldridge
I have seen him energize activists in my district with his progressive vision, and believe he would be a transformational Governor. (source)
For 93 degree weather on a Sunday #4thofJuly week, terrific joint #Democratic canvass for @jay4ma & me in #Hudson! Thank you to these dedicated supporters! On #education, #transportation, #FamiliesBelongTogether, #cleanenergy & #environment, Jay Gonzalez will serve Hudson better pic.twitter.com/0su9aN10JK

— Jamie Eldridge (@JamieEldridgeMA) July 1, 2018
Bob Massie, environmentalist
The Bernie Sanders-backed Our Revolution Massachusetts
Bob's life story exemplifies his drive of overcoming adversity in the service of his community while maintaining his determination, resilience, cheerful pragmatism and defense of our core American values—inclusion, equality, imagination, and persistence.
The Boston Herald
Even as his ailments ravaged him, Massie dedicated himself to the causes he felt passionate about. He pushed for divestment from South Africa, was an early climate change activist and created corporate templates for environmental responsibility.

Bob Massie is the real deal. He did not adopt the party's platform the moment he de­cided to run for governor. He has been consistent in his long-held beliefs. (source)
Somerville Mayor Joe Curtatone
For me this is personal. I know @bobmass I've seen him in action. I know what his values are. He'd be an amazing governor. #mapoli https://t.co/jlwXcg79CA

— Joseph A. Curtatone (@JoeCurtatone) February 9, 2018
Anti-climate change organization 350 Mass Action
Thanks for standing with the people, Bob! Now and always. https://t.co/rcGucAHMZc

— 350 Mass Action (@350MassAct) July 19, 2018
United Auto Workers
We want real change. We have a real opportunity to elect a governor that will respect workers' rights, work to create a strong economy in the state, and work to fight against big interests, and most important, will care for our community – UAW representative Jose Melara (source)
---
Senator
State Rep. Geoff Diehl
The Boston Herald
State Rep. Geoff Diehl has proven to be an indefatigable defender of the taxpayer, building coalitions and listening to his constituents. As evidenced by his political career so far, there is no fight he won't join in his advocacy for the hardworking people of the Bay State, and that is why he is the optimal choice to be the Republican nominee for the U.S. Senate from Massachusetts. (source)
MassGOP
He secured a plurality of delegates' votes at the convention this year, 47.7 percent.
Captain Dave Marciano of Wicked Tuna
I'm endorsing Geoff Diehl for U.S. Senate for the simple reason of the abject failure of our current representation . Under [Elizabeth Warren's] watch, as well as others, we have lost thousands of fishing industry and related jobs the past 8 years, If current representatives were graded on how well they represent the fishermen in the Commonwealth, it would be an F. (source)
John Kingston, businessman
Sheriff Lew Evangelidis of Worcester County
John Kingston is the best choice to defeat Elizabeth Warren. From public safety to securing our border, John is on the right side of the issues. John Kingston will have the record and resources to win in November (source)
Stephanie Fattman, Worcester County Register of Probate
His long history of community outreach and philanthropy coupled with his impressive career in the private sector has convinced me that John Kingston is truly the right choice to dethrone Sen. Warren. John has proven time and time again that he will not give up on the people of Massachusetts and will provide them what Elizabeth Warren could not — a voice. (source)
Vinny deMacedo, State Senator for Plymouth and Barnstable
After meeting and getting to know John Kingston over a year ago, I have quickly recognized that he is running for all of the right reasons. John had not considered running for political office, but the polarized state of Washington led him to serve the country that has given him so much. (source)
Beth Lindstrom, former Mitt Romney official
The Boston Globe
Lindstrom, a former executive director of the Massachusetts Republican Party, former director of the State Lottery, director of consumer affairs and business regulation during the Romney administration, and manager of the successful 2010 Scott Brown Senate campaign, knows this state and its voters better than either of her opponents possibly could. She also has staked out a reasonable position on Trumpian politics that would serve her well in a general election. (source)
Maggie's List, a national organization that backs conservative women
Beth Lindstrom is the right candidate to challenge and defeat Senator Elizabeth Warren. … Beth understands the need for increased personal responsibility, fiscal conservatism and less government. Beth will uphold our values in Washington and will make the conservative citizens of Massachusetts proud. – Sandra B. Mortham, Chairman of Maggie's List and former Florida Secretary of State (source)
State Rep. Donald Wong
Beth is a leader, and I'm proud to endorse her candidacy. Beth possesses an incredible capacity to build relationships. Her get-to-work attitude can cultivate good outcomes for Massachusetts in Washington DC. Right now, Massachusetts has no place at the discussion table with a hyper-partisan politician like Elizabeth Warren. (source)
---
---