California Fan Saved Tom Brady Jersey from Wildfires, Got Brady's Attention
The GOAT responded to a super-fan's dedication on Instagram.
---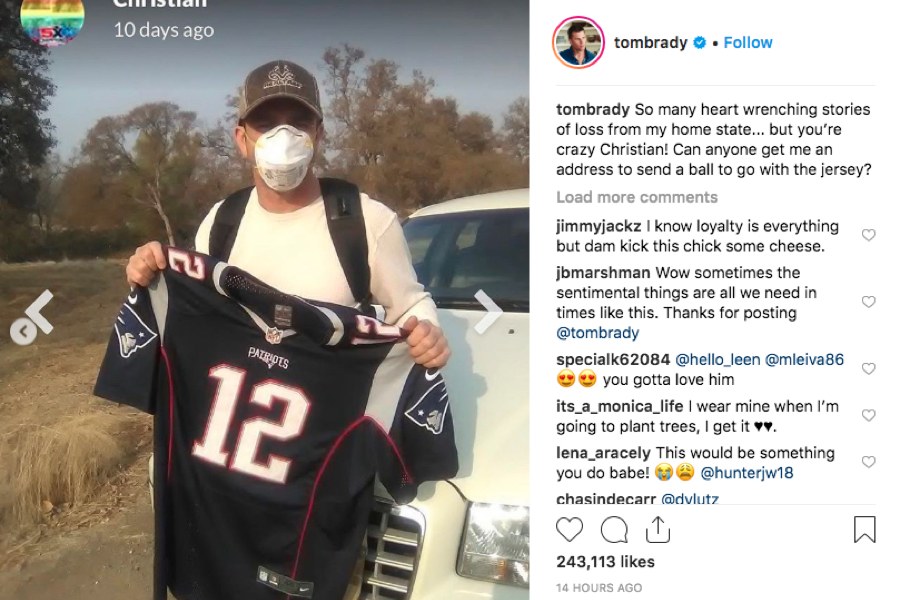 There are Tom Brady fans, and then there are Tom Brady fans. And in this case, even in the direst of circumstances, I think we've discovered a real one out in California.
A California resident has caught the eye of the GOAT himself after sharing a photo of himself holding up what is apparently a Brady game jersey, which he says in an Instagram post is "the only thing I grabbed out of my house" when wildfires ripped through Paradise, California. The Insta user, identified by the name Christian, also shared a photo of a house in shambles. "I lost everything," he wrote, adding, "GO PATRIOTS."
Brady shared screenshots of Christian's posts via his own account. "So many heart wrenching stories of loss from my home state," wrote Brady, who is from San Mateo, near San Francisco, "but you're crazy Christian!"
He also asked his followers for help tracking the fan down so he could send him "a ball to go with the jersey," and later wrote that he had been given an address for the fan.
He's not the only Californian to prioritize their love of TB12 even as their community went up in flames. Talk show host Jimmy Kimmel earlier this month poked fun at the husband of a producer on his show, who, after they were given an order to evacuate and limited time to collect their things, apparently grabbed a stuffed Tom Brady doll.
A producer from the Jimmy Kimmel Show had to evacuate their house in the middle of the night because of the California wildfires.

They had a couple minutes to grab anything important.

The only thing the producer's husband grabbed was his Tom Brady doll.pic.twitter.com/9OJ1A8Ni6F

— Only In Boston (@OnlyInBOS) November 13, 2018
---
---