The Bully of Boylston Street
The Tannery's Sam Hassan made a fortune buying real estate and selling designer shoes to the city's most fashionable. Now he's filed for bankruptcy, closed two of his three stores, and is being sued for racial discrimination. How did it all go wrong?
---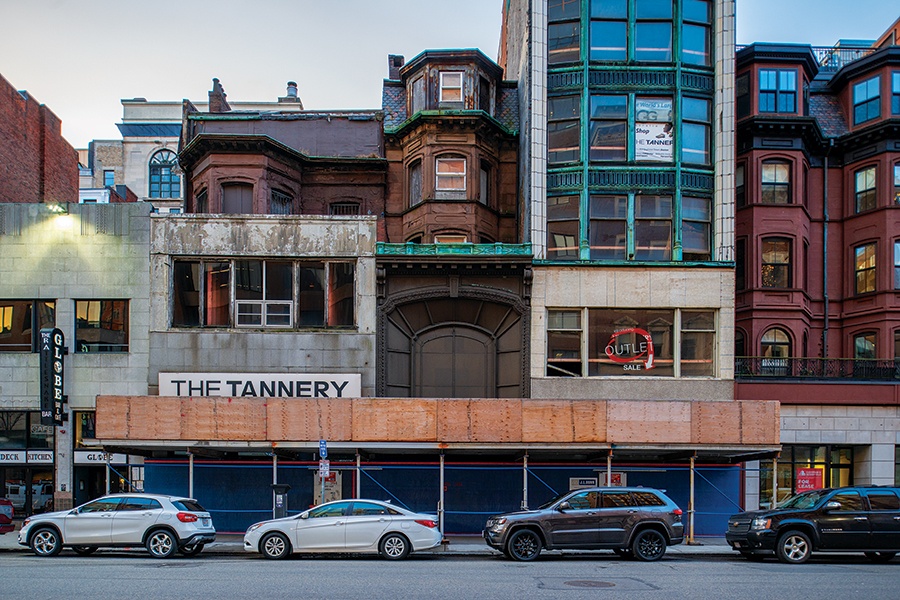 Walter Lewis needed a new pair of Ferragamo loafers, and like nearly all Bostonians, he knew exactly where to go: the Tannery, at the corner of Boylston and Exeter. For years it had been a reliable outpost for upscale shoppers seeking designer-label footwear, often at a discount. Lewis, who's in his sixties but looks much younger, with a bright smile, smooth complexion, and high-and-tight haircut that's a holdover from his days in the Marines, has always considered himself a fashionable gent, and he has the build, confidence, and discretionary income to dress the part. Over the years, he'd shopped at the Tannery a handful of times, once scoring a memorable deal on a pair of Gucci rain boots. He was looking forward to another fruitful visit.
Around 7:40 p.m. on December 1, 2017, Lewis walked into the brightly lit entrance of the three-floor boutique. According to court filings, a bald, husky man with olive-toned skin and round spectacles immediately stepped toward him. "What's up, brother man!" the man shot in Lewis's direction. "What's up, brother man!" the man repeated. Lewis, who is African-American, gave him a puzzled look and kept walking. Then the stranger cut him off and blocked him from going farther into the store. Lewis didn't know it at the time, but the man was Hicham "Sam" Hassan, the Tannery's volatile longtime owner.
Hassan told Lewis the store was about to close, but Lewis glanced around and saw other shoppers browsing. As if on cue, a white couple walked in the door, strolled past Lewis, and started flipping through merchandise. Lewis breathed deeply and tried to stay calm, but Hassan persisted, asking Lewis whether he had a "Black American Express Card," a reference to the invitation-only, no-limit credit card. Hassan placed extra emphasis on the word "black" and then mentioned that he had a black card, patting his pocket to drive home the point. Lewis, who grew up in North Carolina during the tail end of the Jim Crow era and works for the state, assured Hassan that he had money to spend. Hassan told Lewis he didn't want Lewis's money and led him out of the store. On his way through the door, Lewis went numb with shock. Later, he said, "I felt like the core being of my existence had been taken."
To the outside world—those who have gazed through the windows of the Tannery's grand Back Bay location at shelves lined with designer heels—Lewis's story might sound shocking. Ever growing and expanding, the Tannery has been the picture of a successful Boston business, and Hassan's story is in some ways the American Dream writ large. But to the many folks who've had run-ins with the man behind the shoe empire, Lewis's allegations come as no surprise: Rumors of his bullying have for years been shared among small circles of retail and real estate power players, though it never seemed to affect his thriving footwear business and prime property holdings. His tirade against Lewis, however, hasn't gone unnoticed, and now it appears that Hassan and his empire are in peril, facing bankruptcy, lawsuits, and discrimination charges filed by the attorney general. Which raises the question: Is Boston's longest-reigning bully finally getting ready to leave the block?
With any good villain, there's a creation story, and Hassan's starts off like a Horatio Alger novel. He was born in Beirut, Lebanon, in 1949, and immigrated to Cambridge, where he first opened the Tannery in 1973. Two years later, he applied to be a U.S. citizen. The very next year he filed paperwork with the secretary of the commonwealth to establish a company that Hassan said would provide a wide array of products and services, from haberdashery and hardware to leather goods and real estate development.
By the late '70s, Hassan co-owned Tannery locations on both sides of the Charles River and was fast becoming known among shoemakers as a wildly successful independent retailer. He has credited Frye with providing him a line of credit in those early days, and in previous interviews said the former head of Reebok agreed to give him a $1 million line of credit for each Tannery location. As business grew during the 1980s, Hassan brought in his nephews, Tarek and Talal, and the Tannery shops soon emerged as destinations for the kind of high-end, inventive apparel found only in iconic stores such as Louis Boston and the Filene's flagship, both now shuttered.
By the early '90s, the Tannery was riding high. The trade publication Footwear News named it Independent Retailer of the Year, and Hassan, along with his nephews (both of whom declined to speak for this story), soon began experimenting with pop-up stores within the Tannery. The idea eventually led to the creation of Concepts, which today is an internationally revered streetwear and sneaker shop owned and managed by Tarek. All of these successes gave the Tannery a level of street cred that few boutiques in the Boston area ever get. Then-Mayor Thomas Menino and his granddaughter, Samantha, were known to frequent the shop, and the Rolling Stones even dropped by in 1997 when they were in town on tour and purchased a few pairs of Clarks desert boots. When asked by a Globe columnist about the rock stars, Hassan quipped that he wouldn't know who the Stones were if he tripped over them.
Around 2009, Hassan took his most aggressive step to expand the Tannery brand, opening a gleaming three-floor storefront at 711 Boylston Street. Faster than you could say, "Is Boston finally becoming a fashion town?" $400 Pradas, Guccis, Lanvins, and Valentinos were being scooped up with abandon. In an interview from around the time, Tarek said he expected the store to do between $20 million and $25 million in business a year.
The Tannery's appeal, however, extended far beyond well-to-do consumers. For Bostonians who were interested in working in the fashion world, it seemed like there were few opportunities better than landing a gig at Hassan's store. "We had a lot of freedom," says a former employee who describes a workplace where budgets were not always a primary concern and where she was encouraged to trust her eye and follow her instincts. Sure, Hassan may have had his idiosyncrasies, but don't all business owners? "I felt like I had found a home," the former employee says. "It was really cool."
Outwardly, the Tannery was a thriving success story. But behind the scenes, Hassan and his business were slowly falling apart like an old pair of heels.
Cool as the Tannery may have seemed, the stores were never exemplars of customer service or professional standards. It often seemed like the price of an item depended on the mood of the salesperson or whom you knew. "It would be like $700 for a pair of shoes, but if they liked you then it would only be $300, and if you paid cash it was even less," says Daniela Corte, a local fashion designer. Just look at the Tannery's Yelp page—more than 180 reviews and an average rating of 1.5 stars—which consists of vexed shoppers complaining of exchange policies that changed on a whim and unbelievably rude personnel. "Someone needs to call the health inspector, this place is full of creeps!" one reads. "It's hilarious how bad the service is. A sitcom beckons about how a moronic manager treats his customers," says another. Other reviews are more direct: "Would give this place zero stars if I could." And: "Never buy anything at this trash can of an establishment."
Perhaps, then, it was no surprise when signs of trouble began bubbling to the surface. It started in the summer of 2016, when Hassan abruptly shuttered his storefront on Brattle Street in Harvard Square, marking the first time since the '70s that he didn't have a presence in Cambridge. The sudden closure triggered an ongoing lawsuit from the building owner, who claims Hassan owes more than $267,000 in back rent. A year later, in June 2017, Hassan filed for Chapter 7 bankruptcy for the parent company of the Tannery Outlet. Unlike the more common Chapter 11 bankruptcy, which allows a business to restructure and reorganize so it can continue operating, Chapter 7 is reserved for businesses that have no better option than to liquidate their assets, pay down whatever debts they can, and permanently shut their doors. "Once the Chapter 7 is filed," says Gary Cruickshank, the federally appointed trustee overseeing the bankruptcy case, "the business can no longer be operating."
It's not entirely clear why Hassan filed for bankruptcy, but Cruickshank, who's been a bankruptcy attorney for more than 40 years, says he's never seen a list of such fashionable creditors like the one Hassan racked up. According to bankruptcy filings, the debts included $175,557 to Valentino; $129,375 to Deckers-Uggs; $78,605 to Tory Burch; $56,959 to Gucci; $53,720 to Balenciaga; and $21,156 to Lanvin. Dozens of other companies were owed sums ranging from a few hundred bucks to more than $40,000, and there was also the matter of the IRS, to which Hassan's company owed at least $1 million in unpaid taxes.
Not long after the bankruptcy filing landed on his desk, Cruickshank visited the Tannery Outlet in order to survey the inventory and arrange an auction. Hassan was courteous and professional, he says, and a vast supply of merchandise was neatly stored in a back room.
On Thursday, July 27, 2017, around 100 people packed into the shop in hopes of scoring one last deal as part of a court-ordered government auction. They came from nearby towns such as Watertown and Westborough, and from as far away as Illinois, Quebec, and California. The list of goods hitting the auction block ranged from a lot of five Coach handbags to a lot of 256 pairs of assorted shoes and sandals. "If we auctioned off every pair of shoes one by one," Cruickshank jokes, "we would have been there for four days."
The auction lasted for hours, and bidding was competitive, as cut-rate wholesalers and eBay titans vied for the last of Hassan's shoes and handbags. By the end, the auction raised approximately $110,000—a good haul, according to Cruickshank, but not even 10 percent of what Hassan owes to the IRS. As for the major fashion houses and small boutiques that gave Hassan lines of credit, it's likely they won't see a dime. But, of course, it wouldn't be the first time Boston's shoe king left people in his wake feeling mistreated.
In addition to operating the Tannery outposts, Hassan is, by all accounts, something of a Boston real estate mogul: According to state property records, he owns a building on Newbury Street assessed by the city at $5.2 million, a building on Beacon Hill's Brimmer Street assessed at $2.3 million, and at least four buildings on Boylston Street—a mere half block from the Public Garden—that have a combined assessed value of nearly $20 million. On paper, these real estate holdings are an impressive collection. But spend an afternoon walking past his properties, and you'll come across vacant storefronts and crumbling buildings amid a cityscape that's otherwise clearly on the rise.
Take 18 Brimmer Street, a 4,500-square-foot residential building on a picturesque block of Beacon Hill. A Hassan family real estate trust acquired the building in 1997 for $325,000. After sitting vacant for a few years, the building was the subject of a 2001 Globe investigation that featured residents complaining of rats, prostitutes, and drug users holing up inside. The building wasn't just an eyesore and a den of vice, it was also structurally unsound and a potential deathtrap for firefighters, so the city threatened to put it into receivership.
To quell these concerns, Hassan told the Globe that he was going to transform it into a nice family home. At first, he appeared to keep his promise, as construction crews began work renovating the building to address the city's concerns. One neighbor recalls Hassan even taking the costly steps needed to install the base for an elevator. Today, though—nearly 20 years since the Globe investigation—the building remains empty and gutted.
Why Hassan has left such a valuable piece of property undeveloped remains a mystery. Several residents half-jokingly speculate that it's his way of getting back at them after he was blocked from renovating the roof to add additional space. Others wonder if he doesn't have the cash needed to make the building livable. A couple of neighbors say that every few months a construction crew shows up, works for a few days, and then disappears. (A property-records search of 18 Brimmer shows seven liens have been filed over the years by unpaid contractors.) Not surprisingly, perhaps, Hassan's perpetually vacant building hasn't won him many friends in Boston's toniest enclave. "It's an abandoned shithole," says one longtime Beacon Hill resident. "Any of us who have been around here long enough to witness this miserable ordeal know who [Hassan] is and hate him."
Also in Hassan's portfolio is 392 Boylston Street, part of a cluster of contiguous commercial properties on one of the city's busiest pedestrian thoroughfares. For a long time, the building was the site of the Tannery Outlet. It's now so decrepit that last February bricks fell from the façade and crashed to the busy sidewalk, and then in June, the brick rear side of the building partially collapsed (no one was injured in either event). After both incidents, local news reports cited the Boston Fire Department's and the city's Inspectional Services Department's concerns that the building was a hazard.
As for the buildings that actually house tenants, court records invite questions about Hassan's behavior as a landlord. In 2015, for instance, Hassan sued a company called Boston Luxe Real Estate, a boutique firm that had rented office space from him at 216–218 Newbury Street. In the lawsuit, Hassan claimed Boston Luxe stiffed him on rent, trashed the office, and owed more than $8,000 in estimated damages to the property.
Not only did the owners of Boston Luxe deny nearly all of the allegations—the damages Hassan cited, they argued, were a result of his refusal to fix chronic plumbing issues—but they responded with extensive counterclaims that Hassan knowingly overcharged them for property taxes and operating costs; refused to fix gaping holes in a wall caused by flooding; regularly entered the offices without permission; refused to fix the building's buzzer; and never provided a lick of evidence (such as invoices, contractor estimates, or receipts) to show how he arrived at the estimated $8,000-plus in damages.
The case dragged on for months. Hassan fired his first attorney. His second attorney, Gregory Sullivan, filed an emergency motion to withdraw as Hassan's counsel, noting "the relationship between the plaintiff and counsel has become so contentious that it is impossible to continue representation in this manner." Hassan's third lawyer, Jordan Shapiro, finally reached a confidential settlement with Boston Luxe. (Representatives from Boston Luxe declined to comment, citing a nondisclosure agreement that was part of the settlement.)
Those who are currently renting properties from Hassan have had mixed experiences. Several tenants agreed to interviews for this story on the condition that they not be named. One described Hassan as an adequate landlord who has largely stayed out of the way and was understanding when a banking snafu caused rent payments to be late. That, however, was the minority view.
Others spoke of Hassan as the devil incarnate. Most say the best they can hope for on any given day is to simply avoid running into him or having to ask him for anything. Two tenants accuse Hassan of renovating with residential-grade building materials instead of commercial-grade materials to save money. "I signed this lease without knowing about his reputation and it's one of the greatest mistakes I've ever made," one tenant says. "He's litigious. He's irrational. He's racist. He's absolutely an insane human being."
It may be tempting to write off Hassan as another hard-nosed businessman who cut his teeth in a different era. But many of the complaints surrounding him have nothing to do with his business interests and focus instead on his powder keg of a personality. Michael Serpa, owner of Select Oyster Bar, recalls Hassan regularly bringing in large groups for lunch, during which Hassan would enjoy a few drinks. One day, he says, while the waitress was going over the specials, Hassan flew into a fit of unprompted rage. "She's trying to hustle me," Serpa recalls Hassan yelling across the restaurant. "I know how this works."
The calm of the restaurant was shattered, but the moment eventually passed. Walter Lewis, however, wasn't going to let the bully off so easy.
Five months after the Tannery's bankruptcy auction, Lewis walked into Hassan's last remaining store, on Boylston. "If I weren't the Christian man I am," he says, explaining how he felt humiliated and dehumanized by Hassan's racially charged comments, "I probably would have cursed him out, left the store, and never went back again." Hassan's insults cut deep, and Lewis knew that he couldn't simply forget about them. Moreover, he worried that it was only a matter of time before Hassan ripped into another black man who entered his shop, and perhaps that guy wouldn't have as much restraint. Lewis returned home that night, told his adult daughters what had happened, and, with his family's support, soon filed a complaint with the state attorney general's Civil Rights Division. "I had to do something," Lewis says. "I had to take a stand."
It turns out he wasn't the only customer to have reported being on the receiving end of one of Hassan's discriminatory outbursts. A recent lawsuit filed by Attorney General Maura Healey details four separate allegations of Hassan verbally berating customers because of their race or nationality. In one instance, the store refused to let a customer return a pair of boots she had purchased that day. When her husband, who is French, approached Hassan to see if he'd be open to letting her exchange the boots for a pair in a larger size, Hassan allegedly told the man that "Donald Trump doesn't like people from your country" and ordered the couple to leave. In another case, Hassan allegedly told a Colombian-American woman that he was a fervent Trump supporter and was excited because Trump was going "to get rid of all the immigrants." As the woman was leaving the Tannery, she claims, Hassan yelled, "Get out of here! We don't want you here! I don't trust your people!"
Since the initial court filing, other alleged victims have come forward, and Healey says her office has spoken with current and former Tannery employees who are no strangers to Hassan's discriminatory remarks.
Seeking answers, we reached out to Hassan—but found that he wasn't exactly eager to shed any light on the issues. During an initial phone call for this story, he claimed the real owner of the Tannery was actually a man named John Pierre, who was traveling throughout Europe. (Filings with the secretary of the commonwealth show that Hassan is indeed the owner, and Shapiro, Hassan's lawyer, says he's never heard of a John Pierre.) After offering up an apparently fictional character, Hassan ominously warned that he knows the owner of Boston magazine (he doesn't), said he'd be in meetings for the rest of the day, and hung up. On a follow-up call to Hassan's cell phone two days later, the man who answered quickly grew agitated, said he was only a maintenance man, and then hung up. Shapiro, Hassan's attorney, says the allegations contained in Healey's lawsuit are wrongful and shocking. "Everyone wants to take down a successful businessman," he says. "He is a busy man, but he's not too busy to fight when he thinks he has been wrongfully accused."
It's not out of the ordinary, of course, for landlords to clash with tenants and businessmen to battle with creditors. It's quite another thing, though, for the owner of a business to lob racial insults and throw customers out of his store. The AG's lawsuit isn't just bad PR, or the potential death knell of a once-great boutique. Healey's office specifically named Hassan, not the Tannery, as the defendant, because he is deemed responsible for his own conduct, Healey says. That means a judgment against him could jeopardize whatever personal wealth he's amassed over the years. When asked about this, Hassan's lawyer doesn't mince words. "Corporations go in and out of business every day," he says. "The only way a human is able to stop paying bills is if he dies."
While Hassan awaits the outcome of the AG's case, he's receded farther into the shadows. He wasn't seen at the Tannery during several recent trips we made, nor was he at a Boston Landmark Commission hearing that debated the fate of the Tannery Outlet. The last remaining emblem of his once successful reign, the building at 711 Boylston, is all but an empty storefront, where fewer and fewer of the latest releases line up like artwork in a gallery. Where expensive sunglasses once beckoned behind a rack near the cash register now lie stacks of Ugg cleaning kits. Some of his Boylston Street neighbors hope the sheer costs of the lawsuits, the bankruptcy, and the negative publicity drive Hassan into obscurity, which would signal a brighter future for the properties—and the neighborhood—that have long been under his dominion. "He holds his neighbors back," laments one Back Bay business owner. "He's literally notorious."
---
---