In a Few Short Years, There Was Just So Much Gronk
Rob Gronkowski: walking meme, world-historic figure, beer chugger-in-chief. What will we do without him?
---
He partied. He charmed. He memed. He hijacked White House press briefings. In a few short years, we had so much Gronk. And now he's leaving. What will we do in his absence?
For these last few years, he loomed large over the New England Patriots, a force of nature both on the field—where he ate defenses for lunch—and off of it, where the Gronk Brand rose to the top of the heap in a nation crowded with bro-influencers.
Unlike the polarizing Tom Brady, himself a larger-than-life figure with a non-human training and eating regimen, Gronk is hard not to love, even outside Patriots Nation. Football has never quite seen a player like Gronk. We may never see another like him again.
So here's to some of the moments from the era of the Gronk spike we'll remember forever.
The Time the Gronk Phenomenon took to the Sea
"One ocean liner. Seven hundred die-hard Patriots fans. Sixty-five hours of boozing at sea. Welcome aboard the maiden voyage of the SS Gronkowski." Take a moment to relive the moment that was the Gronk Party Ship, circa 2016, when Boston set sail with the man himself.
The Time Gronk Interrupted a Sean Spicer Press Briefing
Gronk casually walking in on a White House briefing. pic.twitter.com/I3jDzsojJr

— Dave Portnoy (@stoolpresidente) April 19, 2017
What do you do if you're Gronk, you're a champion, and you're visiting the Trump White House? You make sure to pop out, unannounced, to greet the Washington press corps, of course.
The Time He Barfed with Rick Ross
Clearly no lightweight, there are still moments with the party is just too much for Gronk. Like the time his post-Super Bowl celebrating ended with the star puking at Foxwoods with rap icon Rick Ross.
The Time He Opened the Beer-Tossing Can of Worms
What hath Gronk wrought? Before Gronk, perhaps the most enthusiastic chugger and spiker the world has ever seen, became a fixture of victory parades, beer-tossing at Duck Boat processions wasn't the big deal it is today. Today, fans just cannot resist hurling cans of brew at players. There were so many projectiles in the air at the most recent one that even Gronk couldn't bat them all away, and he has the battle scars to prove it. It's not just the Pats, either. Who can forget the beer tossing fiascos at the Sox parade last year? Boston officials have been urging you all to knock it off, but I fear there's no going back.
The Many Times He's Giggled at the Number 69
Gronk's eyebrow raise every time Josina says 69 are incredible. Jumping out of his skin he wants to laugh so bad pic.twitter.com/XQRJWREOTj

— Feitelberg (@FeitsBarstool) December 14, 2015
Whether he's barely suppressing his joy at this particular number when it comes up in stats, or sneaking an illuminated 69 jersey into the decor of the Gronk Bus, it's clear he's got a special attachment to it. Maybe this humor isn't your cup of tea, but just keep in mind that Gronk has never taken himself too seriously, and you just can't say that about everyone in the NFL. So giggle away, big guy.
The Time Gronk Partnered with Dunks for… This
Of course there was a Gronk/Dunkin' crossover. Anyone could have seen that coming. But it takes a certain level of self-awareness, and a certain recognition of the meme-ability of Rob Gronkowski, to come up with this: Dunksgiving, starring "culinary expert" Gronk. Reminisce and enjoy.
The One Time Gronk Was Speechless
View this post on Instagram
Joined by Brady, the literally never tight-lipped Gronk was speechless on Instagram after the AFC Championship win this year. It's the exception that proves the rule, and at the time it was perfect.
The Times Gronk Was an Actual Cartoon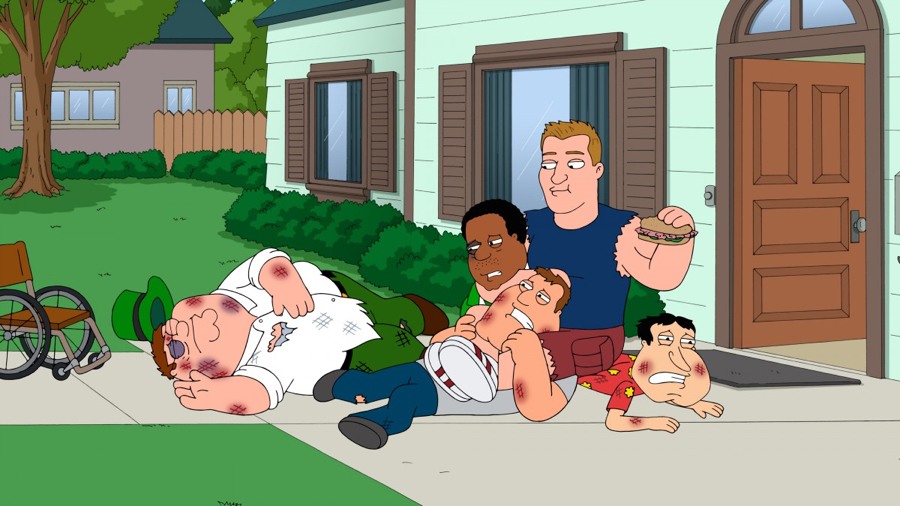 First as "Dom Bonkowski," the target of Homer's ire on the all-Boston episode of The Simpsons, and later as a member of the "Gronkowsbees" on Family Guy, New England's favorite cartoon incarnate had some time on the small screen.
The Time Gronk Was a Horse
live look at Gronkowski watching Gronkowski pic.twitter.com/Tin4WRxZDj

— NBC Sports (@NBCSports) June 9, 2018
After a horse named "Gronkowski" caught the real-life Gronk's attention last year, it went on to come this close to winning at the Belmont Stakes. Because the universe is a place that bends its shape to accommodate everything Gronk, "Gronkowski" overcame 69-1 odds at the race, which was run on June 9 (6/9). Gronk and his friends reportedly each placed $69 bets, and therefore walked away with $950 in prize money each.
Thanks for the memories, pal.
---
---