City Hall Plaza Is Gonna Be so Much Better Soon
Mayor Marty Walsh has unveiled plans for a "People's Plaza" for Boston's front yard.
---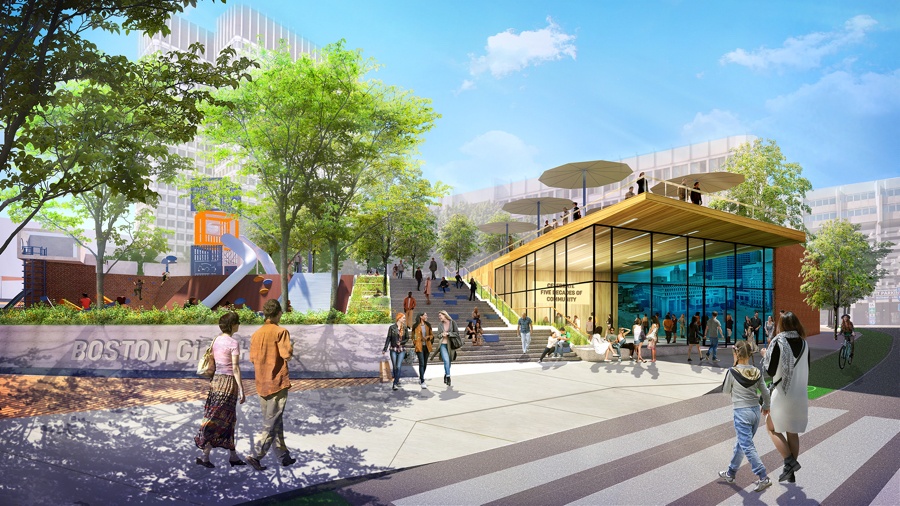 City Hall Plaza has been in desperate need of a renovation since the day it opened a half-century ago.
For so long, the only good thing about the place is that it's so barren, empty, and downright hostile to visitors on most days that you can put just about anything there—a music festival, a skating rink, Lil Nas X—with full assurance that no one will be put out by the disruption. It's public space in the middle of downtown Boston, and it might as well be the surface of Mars.
So it was welcome news when Mayor Marty Walsh took office promising to transform the plaza into something better suited to humankind. The appetite was clearly there: When Walsh's team rolled out a few square yards of astroturf and a handful of Adirondack chairs a few summers back, the place was mobbed. More fleshed out additions—including a beer garden called The Patios, and a holiday village called Boston Winter—further proved that if you built something nice in the shadow of City Hall, people would come.
Now six months into his second term, and as Boston celebrates City Hall's 50th anniversary, we're finally getting a look at what's in store for the city's front yard, and it looks like it could make a world of difference. Plans made public for the first time today show what the city has dreamt up: more than 100 new trees for shade, overhauled landscaping, 12,000 square feet of play area for kids, new granite and bricks, a water feature, newly designed areas for events, a civic engagement center, thousands of new units of seating, accessible and environmentally friendly infrastructure, and space for shops and cafés.
"This renovation will turn our seven-acre space into a welcoming, accessible space for all, featuring new civic spaces for events to areas for families to enjoy together," Walsh says in a statement. "Creating a new People's Plaza will help us achieve our goals of making one of Boston's most-used public spaces better for all residents."
✅ 100% accessibility
✅ 3,000+ places to rest
✅ Civic spaces for events
✅ Playspaces for families
➡️ 1 City Hall Plaza that works for everyone

With our City Hall Plaza renovation, we'll make the People's Plaza a reality — a space for all.

Learn more: https://t.co/CF5ZoZydnw pic.twitter.com/hXiKfjAHFz

— Mayor Marty Walsh (@marty_walsh) June 4, 2019
Construction is expected to last 18-24 months. $70 million has been budgeted in the city's capital plan to pay for the first phase of the project.
On Wednesday, June 5, at City Hall, you can check out the plans at a presentation from 6-6:30 p.m., followed by a discussion from 6:30-8 p.m., according to a press release.
Here are the city's renderings, which show what we might expect when it's all done:
---
---