Heading to First Night 2020? Here's What You Need to Know
Please, for the love of god, don't drive here.
---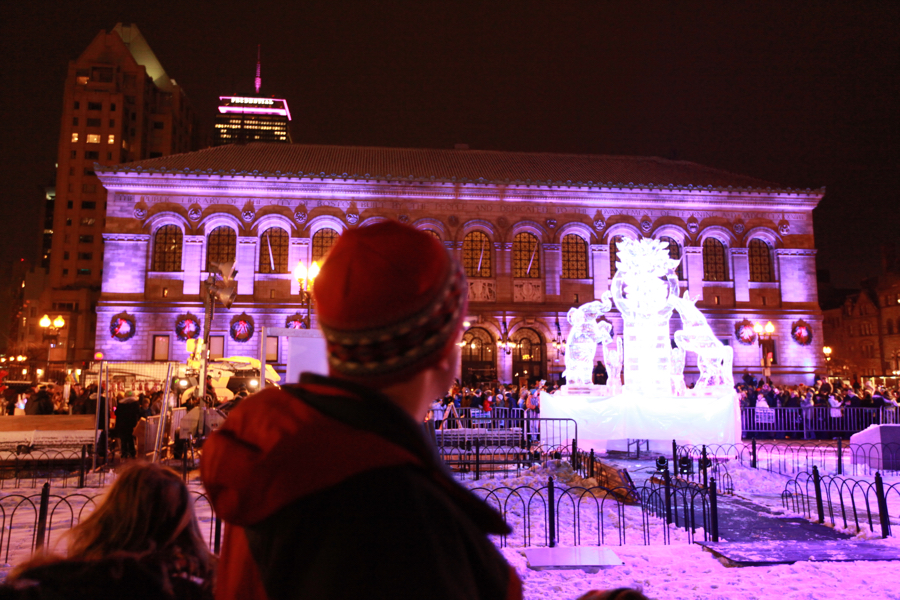 Ice sculptures, fireworks, music, and merriment. First Night, Boston's annual New Year's Eve spectacular, will bring the goods once again on December 31, attracting crowds to the city for some family-friendly fun to close out the decade. If you're planning on joining in on the fun, here's what you need to know about the big night.
Take the damn MBTA
For the sake of your sanity, be sure to make use of public transit as you make your way to Back Bay. The good news is the T is totally free at night on New Year's Eve beginning at 8 p.m., and will stay open late, shutting down at 2 a.m. Trains will also be running on a rush hour schedule to accommodate the crowds. Commuter rail trains will be running on a weekday schedule on the 31st, as will RIDE, buses, and ferries (heads up: the ferries will be shut down on the 1st).
Plan ahead for parking
If you must drive in, First Night organizers suggest you use the SpotHero app to find and book available spaces in garages.
Show up early to see live ice-sculpting
Ice sculpting generally begins a few days ahead of First Night, but if you get there early, you can watch the pros put finishing touches on their masterpieces in Copley Square. They're usually finished by mid-afternoon. At night, the sculptures will be lit up the celebration. The list of sculptures this year includes a replica of the Mayflower, in honor of the 400th anniversary of the famous ship's arrival.
Beware the traffic restrictions
The first of the road closures kick in at 8 a.m., when police will close off Dartmouth Street between St. James Ave. and Boylston Street. Later, from 4 p.m. to 8 p.m., Boylston Street will be closed to car traffic between Ring Road and Charles Street, and Charles Street between Boylston and Beacon streets will close from 5 p.m. to 8 p.m. Tow zones will also be enforced around the Copley Square area all day, beginning in the wee hours of Tuesday morning.
Get a good spot for the fireworks
Be sure to get set up in time for either (or both!) of the two firework displays scheduled for New Year's Eve. The more family-friendly option is at 7 p.m., when the show kicks off above Boston Common. For the night owls, midnight fireworks will launch from Boston Harbor at, well, midnight. In Copley Square, you'll find the Copley Countdown, where (you guessed it), you can count down the final seconds of the decade, and also take in a pyrotechnics show on the roof of the Fairmont Copley Hotel.
Put on your dancing shoes
The first musical performances start at 11:45 a.m. on Tuesday, and they keep going pretty much nonstop until midnight. The main stage in Copley Square will host musical talent beginning at 7:30 p.m. Check out the full schedule here.
Comedians, artists, and musicians from near and far will perform across six performance venues in Boston's Back Bay this New Year's Eve. Click the link below for First Night's full performance schedule. https://t.co/FP6MHf6vaJ

— FirstNight (@FirstNight) December 11, 2019
Don't be afraid to stray from Copley Square
While the majority of the programming goes down in Copley, there are other events you can check out, including a performance at the Church of Christ Scientist on its giant organ, which is one of the largest in the world, and the Frog Pond Skating Spectacular on the Common.
Heads up: Some of the events require tickets
Everything is free (those ticket buttons you might remember from First Nights past are long gone), but if you want to see one of the many acts scheduled to perform at the Boston Public Library, you'll have to show up in person and claim a first-come-first-served ticket. Organizers recommend you get there a half hour ahead of time to secure one.
Don't miss the parade
The "People's Procession," a parade from Copley Square to Boston Common, returns this year. Come for the brass band, stay for the giant puppets. It starts at 6:30 p.m.
---
---