News
The New Normal in Boston: Everything Is Canceled
It's gonna hurt. But we know what we need to do to stop the spread of coronavirus.
---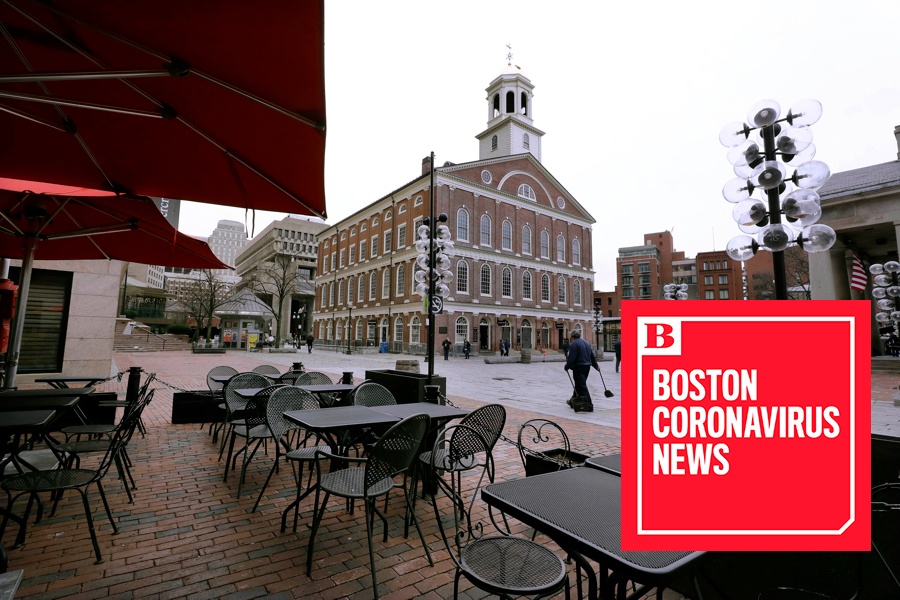 In the past week what it feels like to live in Boston has changed drastically. The St. Patrick's Day Parade, one of the city's most iconic traditions, was called off on Monday. Restaurants and museums are closing, parties and meet-ups written about by this very magazine continue to be nixed. The greater Boston area, a region internationally renowned for its universities, has become a living Education Connection commercial. Even the Boston Marathon, which hasn't skipped a race for the past 124 years, has been postponed. Just as we were spying beer garden and patio margarita season over the horizon (not to mention Red Sox Opening Day, which has also been postponed), an increasingly unavoidable reality is closing in: Life in Boston, as we know and love it, is on indefinite hiatus.
Painful as it is, it's for the best. If we know one thing right now, it's that waiting until things get more dire is about the worst mistake we can make. And while, sure, slamming on the brakes for life in a city like Boston isn't easy—it's honestly pretty jarring to be told that the booming metropolis you live in has pressed pause—the sooner we reckon with the fact that the benefits of holding gatherings of any kind are far outweighed by the risk of mass infection, the better. I say this as someone who has personally felt this virus' financial sting: my wife, who plans events at a local college, is now temporarily out of a job, as both colleges and events basically no longer exist. But we can't go on pretending that we can get by without some serious adjustments to how we live our lives.
We already have a homegrown cautionary tale. Cambridge-based Biogen, thanks to a meeting seen as a major nexus point for the Boston outbreak, now has a special section in state health officials' regularly published coronavirus updates dedicated to "Biogen employees/contacts." The hotel that hosted it, the Marriott Long Wharf, has closed down indefinitely. You don't have to be a PR expert to know that is not great. But at the very least, the Biogen fiasco has also offered companies a worst-case scenario against which to make smart decisions. Don't want to end up like Biogen? Cancel the mixers and meet-and-greets, and if possible, let everyone work from home.
Some companies have already taken this, as well as the wisdom of public health officials, to heart, and as a result some of the biggest shows in town have shut down. TD Garden is, for all intents and purposes, closed for business, as all professional sports have been canceled. A nearly sold out Billie Eilish concert slated to bring nearly 20,000 fans of the pop star to the arena on March 19 has also been called off.
ComicCon Boston was supposed to happen next weekend at the Boston Convention and Expo Center, and then got canceled. Every Boston cultural institution—including every major museum and the aquarium—has closed down. All Boch Center theaters are shuttered, and the Boston Symphony Orchestra will no longer perform, for at least the rest of the month. And the cancelations just keep rolling in.
Innumerable other performances, DJ sets, and comedy shows planned at smaller venues in Greater Boston will have to be shut down. The Encore Boston Harbor, despite canceling several performances planned at the casino, and in spite of a confirmed COVID-19 diagnosis in its midst, remains open under a strict new illness screening protocol for guests and staff. Further on down the line, Boston Calling, perhaps the city's biggest public gathering of the summer, has yet to announce whether it will still try to go on, even as others in the festival circuit, including Coachella and South by Southwest, have either rescheduled or pulled the plug entirely.
The thing is, we already know what we as a city should do, before the whole of Boston becomes another instance of an outbreak site doing too little, too late. Other countries—not to mention states—made calls we were hesitating to make. New York Gov. Andrew Cuomo on Thursday moved to ban all gatherings larger than 500 people, and for events with fewer people, to cut the maximum crowd size to half a venue's capacity. Friday afternoon, Gov. Charlie Baker issued guidance to prohibit events with more than 250 people. The order does not apply to public spaces like grocery stores or Logan Airport. At least for now, he is not calling on schools statewide to close unless the virus poses a specific threat. Several school districts have closed schools on their own already, while many including Boston Public Schools remain open.
Mayor Walsh has issued strict new guidance for city-run events, limiting them to a 25-person cap, which does not apply to privately-run gatherings. According to a Bloomberg report on Thursday, scientists are saying that Massachusetts today looks a lot like Italy did two weeks ago. We have about 100 cases here, compared to Italy's 159 a fortnight back. By March 10, Italy had 12,462 cases. And while that seems like a panic-inducing thing to read, it doesn't have to be: We still have time to get this right. In Italy, the outbreak reached frightening heights in part because the Italians were initially reluctant to take dramatic social distancing steps. Meanwhile, the virus was spreading undetected and soon, the entire country was under lockdown.
The math here is simple. The less contact you have with people and the things that other people touch, the smaller the chance that you'll contract the virus. If you're young and in good health, the risks of severe complications may be low, but carrying the virus could be disastrous if you pass it on to someone who's more vulnerable.
So, what, exactly, should we all do? Some proper coronavirus etiquette, including hand-washing, mouth-covering, and distance-keeping, is a good start. So is working from home if you can. But also coming to terms with the fact that you're about to spend a lot more time on the couch and a lot less time commingling with your fellow Bostonians is what we all need to do right now. Maybe buy a puzzle or finally read Common Ground, like you've always said you would. Maybe you can just do a movie marathon of the bay state's oft-overlooked female stars. This is a moment to not be dumb about unnecessarily putting yourself in a place where you're going to spread this thing, but if it's helpful to you, consider it more time to spend with your cat.
This isn't the end of the world (at least I don't think it is; who knows!), but we have to stop pretending that we can ignore what's in front of us. The next few weeks are going to be weird ones. They will put strain on the economy, on families, on kids without reliable access to food (here's how you can help with that, by the way). The sooner we accept that the near future is going to be anything but normal, the sooner—we hope, anyway—we'll actually be able to get through it.
This story has been updated.
---
---