Featured Listing
Founded in 1784, Derby is one of the oldest co-educational day schools in the country for students from Pre-K through Grade 8. Our mission remains the same now as it was two hundred years ago: to impr...
Day
56 Burditt Ave
Hingham, MA 02043
Featured Listing
The Chestnut Hill School is an independent, coeducational elementary school comprised of a preschool (starting at age 3), an all-day Kindergarten, and grades 1 through 6. CHS has maintained its legacy...
Day
428 Hammond St
Newton, MA 02467
Featured Listing
Boston University Academy is an academically rigorous independent day school located on the Boston University campus. BUA is the only high school in New England that is part of a major research univer...
Day
1 University Rd
Boston, MA 02215
Featured Listing
How does Nobles inspire leadership for the public good? At Noble and Greenough School, we are experts on adolescent development. Our excitement about learning and our commitment to students translate ...
Day/Boarding
10 Campus Dr
Dedham, MA 02026
Featured Listing
An innovative, independent school on the South Shore of Boston, Inly School inspires students to be creative thinkers and self-motivated, lifelong learners. Inly's preschool through middle school pr...
Day
46 Watch Hill Dr
Scituate, MA 02066
Featured Listing
As the world becomes increasingly interconnected, success depends on collaboration, creativity, critical thinking, and problem solving. At The Rashi School, education is forward- thinking, keeping pac...
Day
8000 Great Meadow Rd
Dedham, MA 02026
Featured Listing
At Shore Country Day School, a co-educational private school in Beverly, Massachusetts, extraordinary teachers and a transformative approach inspire Pre-K to Grade 9 children for the rest of their liv...
Day
545 Cabot St
Beverly, MA 01915
Featured Listing
You've imagined this world for your child. A nurturing community that instantly becomes a second home. A place where children are eager to unearth new passions and talents. A school that provides en...
Day/Boarding
525 Waltham St
Newton, MA 02465
Featured Listing
Xaverian Brothers High School is a premier, Catholic, college preparatory school for boys. Our mission is to challenge young men in grades 7 through 12 to become their best, not just as students, but ...
Day
800 Clapboardtree St
Westwood, MA 02090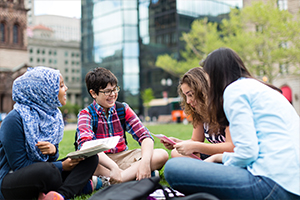 Featured Listing
Recognized as one of the region's premier independent schools, Commonwealth School, a coeducational day program for students in grades 9-12, is dedicated to adventurous intellectual and artistic exp...
Day
151 Commonwealth Avenue
Boston, MA 02116