Featured Listing
Woodward is an independent, college preparatory, day school educating girls in grades 6-12 since 1894, with a mission to honor and cultivate each student's academic and personal potential to enrich ...
Day
1102 Hancock St
Quincy, MA 02169
Featured Listing
Thayer Academy is an independent, co-ed day school in Braintree for grades 5-12, founded in 1877. Thayer is excited to introduce a new grade 5 for 2018-2019, in which students can participate in proje...
Day
745 Washington St
Braintree, MA 02184
Featured Listing
Located in the heart of Boston's Back Bay, Kingsley is a leading elementary, independent day school embracing the best institutional practices and curriculum, in harmony with our core Montessori met...
Day
26 Exeter St
Boston, MA 02116
Featured Listing
As a school for boys, Belmont Hill understands what makes boys tick—how they think, act, and develop in mind, body, and spirit. Hallmarks of Belmont Hill include its extraordinary faculty, who devel...
Day
350 Prospect St
Belmont, MA 02478
Featured Listing
Waldorf High School of Massachusetts Bay (WHS) is a grade 9-12 independent school located in Belmont, just 20 minutes from downtown Boston, easily accessible by train or bus. At the heart of WHS, are ...
Day
160 Lexington St #101
Belmont, MA 02478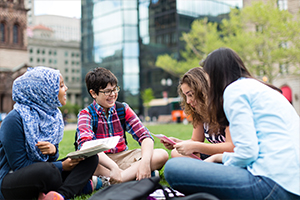 Featured Listing
Recognized as one of the region's premier independent schools, Commonwealth School, a coeducational day program for students in grades 9-12, is dedicated to adventurous intellectual and artistic exp...
Day
151 Commonwealth Avenue
Boston, MA 02116
Featured Listing
Boston University Academy is an academically rigorous independent day school located on the Boston University campus. BUA is the only high school in New England that is part of a major research univer...
Day
1 University Rd
Boston, MA 02215
Featured Listing
Offering a world of learning in Boston's Back Bay, The Newman School is a private high school providing students the right balance of a stimulating and challenging curriculum in a uniquely supportiv...
Day
247 Marlborough St
Boston, MA 02116
Featured Listing
At DCD, we believe that balance matters—in learning and life. We combine academic challenge with support; pedagogical tradition with innovation. Strong scholastics combined with outstanding arts and...
Day
90 Sandy Valley Rd
Dedham, MA 02026
Featured Listing
Since 1880, Newton Country Day School has educated girls of all faiths to be compassionate leaders of a global society. The School bases its mission on the vision of St. Madeleine Sophie Barat, who es...
Day
785 Centre St
Newton, MA 02458