About
Mount Alvernia Academy (MAA) is an independent Franciscan Catholic school, enrolling boys and girls from Preschool through Grade Six. Overlooking Boston College and downtown Boston, our beautiful campus is home to a caring community where students discover their unique God-given gifts. 
Since 1927, MAA has educated the whole child, intellectually, socially, emotionally, and spiritually. Our award-winning STREAM program, school-wide service initiatives, and integrated social-emotional learning give students the tools they need to build a foundation for success. Our students go on to thrive at some of the best Independent, Catholic, and Public schools in the Greater Boston Area. You can schedule a tour by emailing [email protected].
Awards or Certifications:
Blue Ribbon School for Academic Excellence

New England Association of Schools and Colleges (NEASC)

National Environmental Education Development (NEED) Project Massachusetts Elementary School of the year (2019) 

Third Honors: Secretary of Energy and Environmental Affairs Awards for Excellence in Energy and Environmental Education (2019)
What is your teaching or educational philosophy?
Mount Alvernia Academy (MAA) provides an exceptional education for children from Preschool through Grade Six, preparing the 21st-century learner for the challenges of tomorrow and building a foundation for future success. 
At MAA, we believe that, if a child feels safe, happy, and loved, learning will take place. Students are nurtured and challenged by our dedicated faculty and staff who implement a dynamic curriculum that embraces every child's unique learning style and utilizes a variety of instructional approaches. 
Our rigorous curriculum includes an award-winning STREAM program and small group reading and math instruction, helping students develop the critical thinking, creative thinking, and organizational skills they need to succeed. Students also have foreign language classes beginning in Preschool, technology class beginning in Kindergarten, music, art, and more, providing a well rounded academic program that gives students the opportunity to discover their passions and potential. 
Furthermore, social-emotional education, community service, and spiritual education are integrated into the daily lives of our students. Our full-time school counselor works both in and outside the classroom to help students develop the tools they need to foster healthy relationships and grow in confidence. At MAA, we educate the whole child and believe the partnership between home and school is vital to help children realize their full academic, social, and spiritual potential.
What is your mission statement?
Rooted in the teachings and values of St. Francis and St. Clare, the Mission of Mount Alvernia Academy is to educate and nurture students in a challenging academic environment to become life-long learners and compassionate leaders who share their God-given gifts with the world. We welcome students and families from all faith traditions and are committed to making MAA's education affordable for all who want to enroll.
Children's Mission Statement: "God made me to live, not just for myself, but to share my gifts with others. I will follow in the footsteps of Jesus, Saint Francis, and Saint Clare to make the world a better place."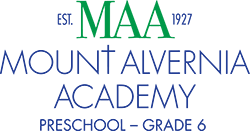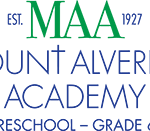 Keywords:
Preschool to sixth grade, co-educational, catholic school, independent school, after-school and extended day programs, pre-k, kindergarten, private school, elementary school, independent elementary school, independent catholic school, catholic elementary school, STEM learning, STEM program, holistic education, social-emotional learning, community service, STREAM, STEAM