Featured Listing
As the world becomes increasingly interconnected, success depends on collaboration, creativity, critical thinking, and problem solving. At The Rashi School, education is forward- thinking, k...
Day
8000 Great Meadow Rd
Dedham, Massachusetts 02026
Featured Listing
Cultivating the analytical mind and expressive voice. At Waring, we offer a full program of intellectual, aesthetic, and physical activities for students. The program balances academic rigor...
Day
35 Standley St
Beverly, Massachusetts 01915
Featured Listing
At DCD, we believe that balance matters—in learning and life. We combine academic challenge with support; pedagogical tradition with innovation. Strong scholastics combined with outstandin...
Day
90 Sandy Valley Rd
Dedham, Massachusetts 02026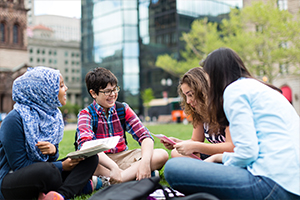 Featured Listing
Recognized as one of the region's premier independent schools, Commonwealth School, a coeducational day program for students in grades 9-12, is dedicated to adventurous intellectual and ar...
Day
151 Commonwealth Avenue
Boston, Massachusetts 02116
Featured Listing
German International School Boston is a bilingual independent school serving students from age 3 to grade 12. At GISB, children develop native-level proficiency in English and German as they...
Day
57 Holton St
Boston, Massachusetts 02134
Featured Listing
As a school for boys, Belmont Hill understands what makes boys tick—how they think, act, and develop in mind, body, and spirit. Hallmarks of Belmont Hill include its extraordinary faculty,...
Day
350 Prospect St
Belmont, Massachusetts 02478
Featured Listing
St. Mary's Lynn is a Catholic, college-preparatory school serving grades 6-12. Our rigorous academic and extracurricular programs encourage young men and women to reach their spiritual, in...
Day
4491
Lynn, Massachusetts 01902
Featured Listing
Find something you're really interested in and pursue it with great passion." That is 2002 graduate Leslie Dewan's advice to Winsor girls. The groundbreaking inventor and MIT Ph.D. cou...
Day
103 Pilgrim Rd
Boston, Massachusetts 02215
Featured Listing
Charles River School is an innovative, progressive independent PreK-8 school located in MetroWest Boston. At CRS, we believe in learning through discovery, value children as individuals, and...
Day
6 Old Meadow Rd
Dover, Massachusetts 02030
Featured Listing
How does Nobles inspire leadership for the public good?
At Noble and Greenough School, we are experts on adolescent development. Our excitement about learning and our commitment to stu...
Day/Boarding
10 Campus Dr
Dedham, Massachusetts 02026