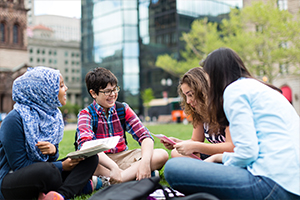 Featured Listing
Recognized as one of the region's premier independent schools, Commonwealth School, a coeducational day program for students in grades 9-12, is dedicated to adventurous intellectual and ar...
Day
151 Commonwealth Avenue
Boston, Massachusetts 02116
Featured Listing
German International School Boston is a bilingual independent school serving students from age 3 to grade 12. At GISB, children develop native-level proficiency in English and German as they...
Day
57 Holton St
Boston, Massachusetts 02134
Featured Listing
Founded in 1961, Austin Preparatory School, also known as Austin Prep, is a private coeducational, Catholic independent day school that offers wide-ranging opportunities. The academic progra...
Day
101 Willow St
Reading, Massachusetts 01867
Featured Listing
Waldorf High School of Massachusetts Bay (WHS) is a grade 9-12 independent school located in Belmont, just 20 minutes from downtown Boston, easily accessible by train or bus. At the heart of...
Day
160 Lexington St #101
Belmont, Massachusetts 02478
Featured Listing
Choosing the right educational path from the very start empowers your child for the future. At Bay Farm Montessori Academy, learning means exploration, and children discover that learning is...
Day
145 Loring Street
Duxbury, Massachusetts 2332
Featured Listing
Join us at Park Street School and Park Street Kid's located in the heart of Beacon Hill's continuous, integrated faith-based education for children, toddler through sixth grade where in ...
Day
67 Brimmer St
Boston, Massachusetts 02108
Featured Listing
Dexter Southfield is an independent school for students in grades Pre-K-12, located on a 36-acre hilltop campus in Brookline, MA. In each of the school's three divisions, teachers encourag...
Day
20 Newton Street
Brookline, Massachusetts 2445
Featured Listing
Charles River School is an innovative, progressive independent PreK-8 school located in MetroWest Boston. At CRS, we believe in learning through discovery, value children as individuals, and...
Day
6 Old Meadow Rd
Dover, Massachusetts 02030
Featured Listing
Brimmer and May, an independent co-educational day school, from Pre-K-12, inspires thinkers and doers through a global approach to learning and well-rounded exposure to science and the arts....
Day
69 Middlesex Rd
Newton, Massachusetts 02467
Featured Listing
St. Mary's Lynn is a Catholic, college-preparatory school serving grades 6-12. Our rigorous academic and extracurricular programs encourage young men and women to reach their spiritual, in...
Day
4491
Lynn, Massachusetts 01902