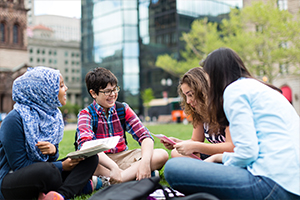 Featured Listing
Recognized as one of the region's premier independent schools, Commonwealth School, a coeducational day program for students in grades 9-12, is dedicated to adventurous intellectual and ar...
Day
151 Commonwealth Avenue
Boston, Massachusetts 02116
Featured Listing
You've imagined this world for your child. A nurturing community that instantly becomes a second home. A place where children are eager to unearth new passions and talents. A school that p...
Day/Boarding
525 Waltham St
Newton, Massachusetts 02465
Featured Listing
Boston University Academy is an academically rigorous independent day school located on the Boston University campus. BUA is the only high school in New England that is part of a major resea...
Day
1 University Rd
Boston, Massachusetts 02215
Featured Listing
Brimmer and May, an independent co-educational day school, from Pre-K-12, inspires thinkers and doers through a global approach to learning and well-rounded exposure to science and the arts....
Day
69 Middlesex Rd
Newton, Massachusetts 02467
Featured Listing
Founded in 1645, and located on 117 acres in West Roxbury, Roxbury Latin is a small, independent day school for boys in grades 7-12. We are committed to the character development and rigorou...
Day
101 St Theresa Ave
Boston, Massachusetts 02132
Featured Listing
Portsmouth Abbey School is a Catholic, co-educational boarding and day school for students in grades 9-12. The school is located on a beautiful 525-acre campus along Narragansett Bay, just a...
Day/Boarding
285 Corys Ln
Portsmouth, Rhode Island 02871
Featured Listing
Founded in 1961, Austin Preparatory School, also known as Austin Prep, is a private coeducational, Catholic independent day school that offers wide-ranging opportunities. The academic progra...
Day
101 Willow St
Reading, Massachusetts 01867
Day
1359 MA-2
Charlemont, Massachusetts 01339
Day
1190 Liberty St
Springfield, Massachusetts 01104
Day
5 Lowell Avenue
Winchester, Massachusetts 01890