Kitchens 2014: Get Cooking
Location Lexington
Designer Jodi Geran, Dalia Kitchen Design
Interior Designer Terrat Elms Interior Design
Contractor Whitmore Brothers Construction Co.
Hutch Cabinetry Bleached-walnut Refectory cabinets, Christopher Peacock.
Island Lighting Aurora pendants in crystal finish, Niche.
Countertrop Honed Calcutta quartzite, Interior Stone & Tile.
Hood "Bonanza" with custom color by Prizer Hoods, Boston Appliance.
Butcher Block End-grain walnut block in offset checkerboard, Grothouse Lumber Company.
Ranges BlueStar 60-inch Platinum Series, Boston Appliance.
The "cooking wall," as Geran calls it, was of utmost importance to the couple, one of whom is a restaurant owner. It includes 7 feet of custom-designed ranges, a 10.5-foot cobalt-blue hood, and a professional salamander broiler.
As with any kitchen renovation, this project came with its challenges. The 11-foot hood, for instance, was so long that it didn't fit in the spray booth at the factory; instead, the royal-blue hue was applied in a rented auto-body shop.
 
The Christopher Peacock white walnut cabinet, which looks like a vintage icebox, doubles as a mini office and pantry.
 
The original kitchen was done in the French-country style, much like the rest of the home. Part of Geran's challenge was to design a more-modern kitchen that still respected the original aesthetic.
 
"I have a lot of clients who tell me their favorite color is blue or red or green, but this is the first client I've had [who was] willing to commit to it in such a dramatic way." —Jodi Geran, Dalia kitchen design
 
---
Get That Look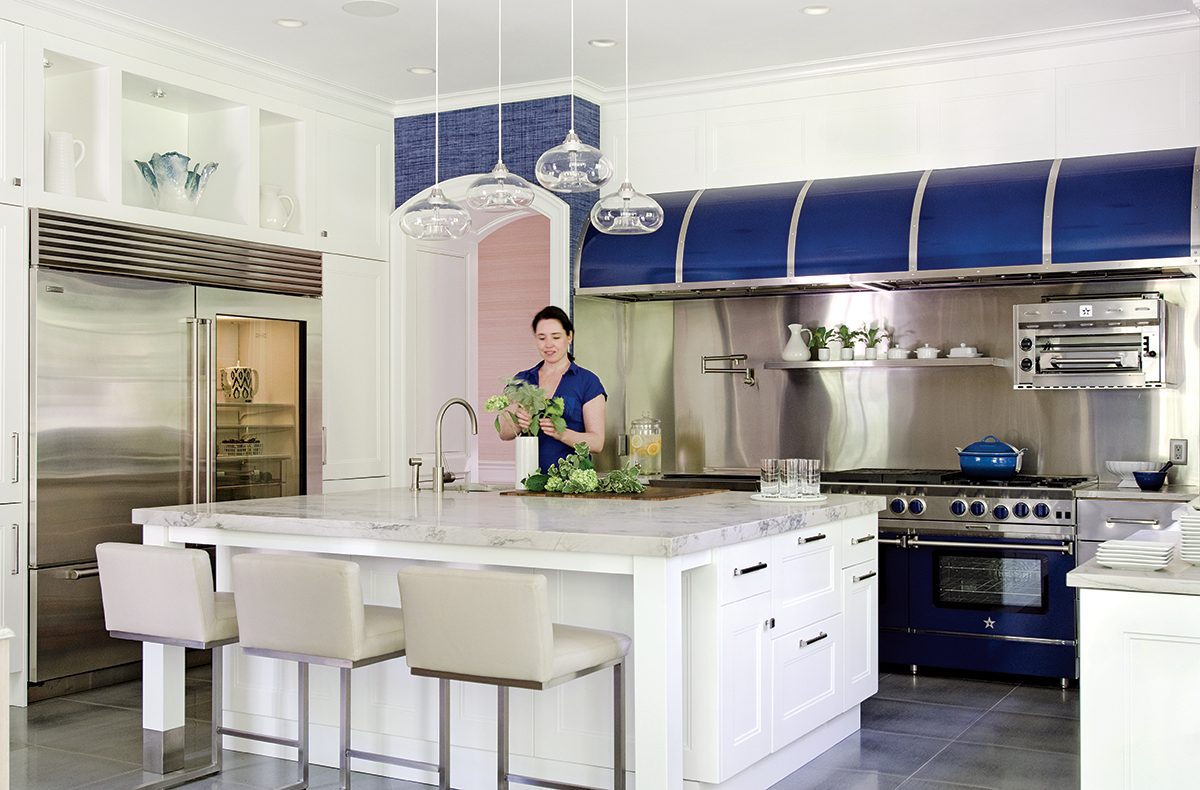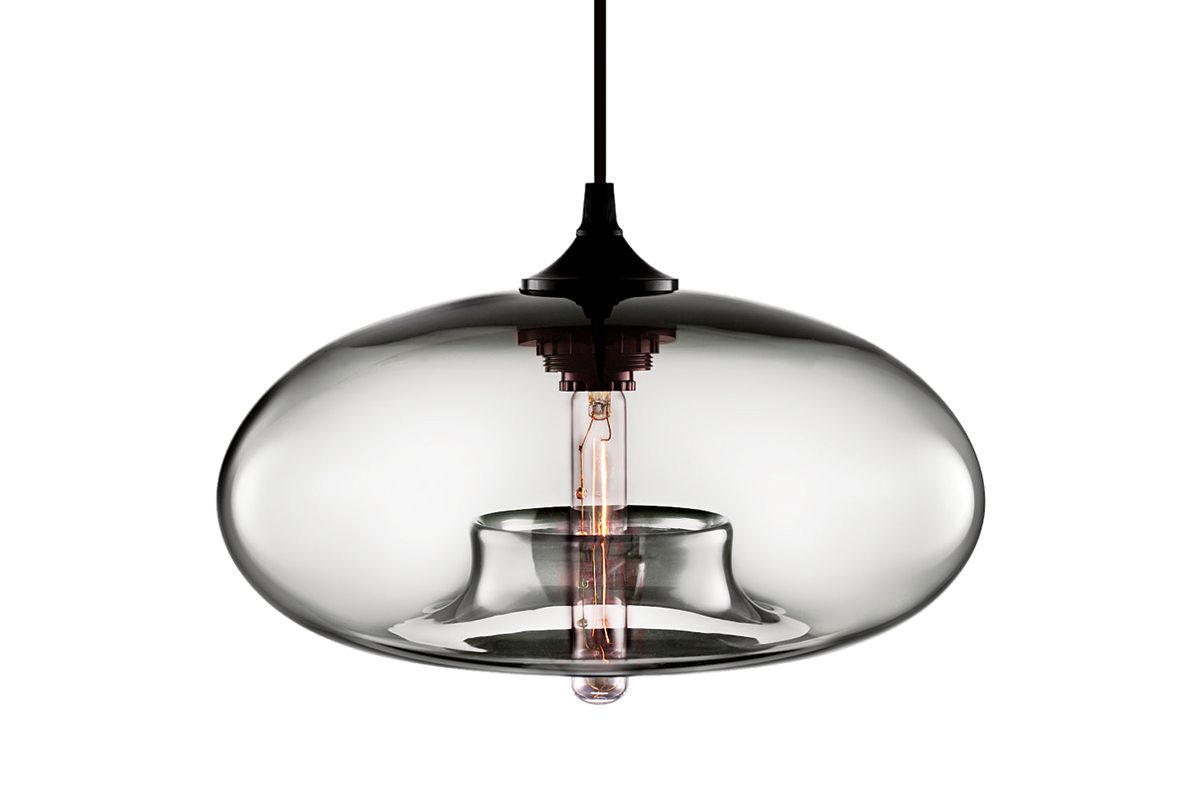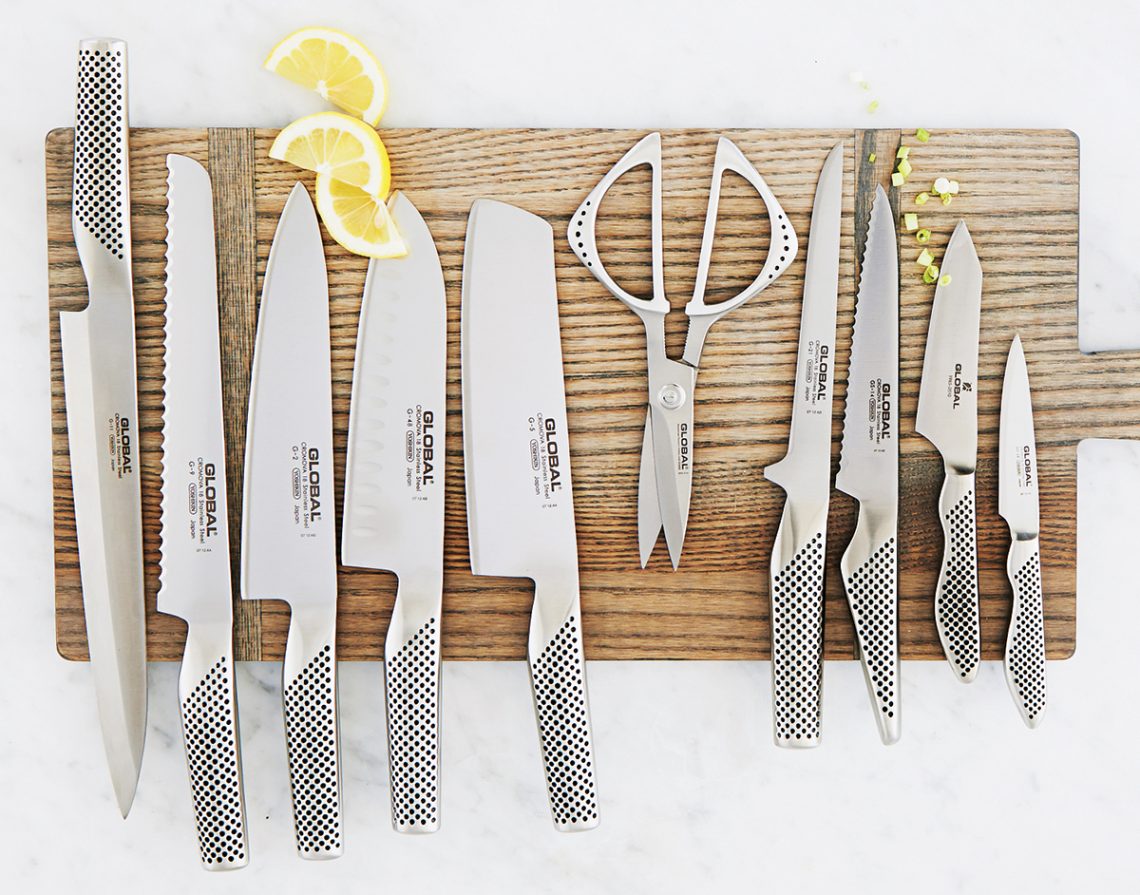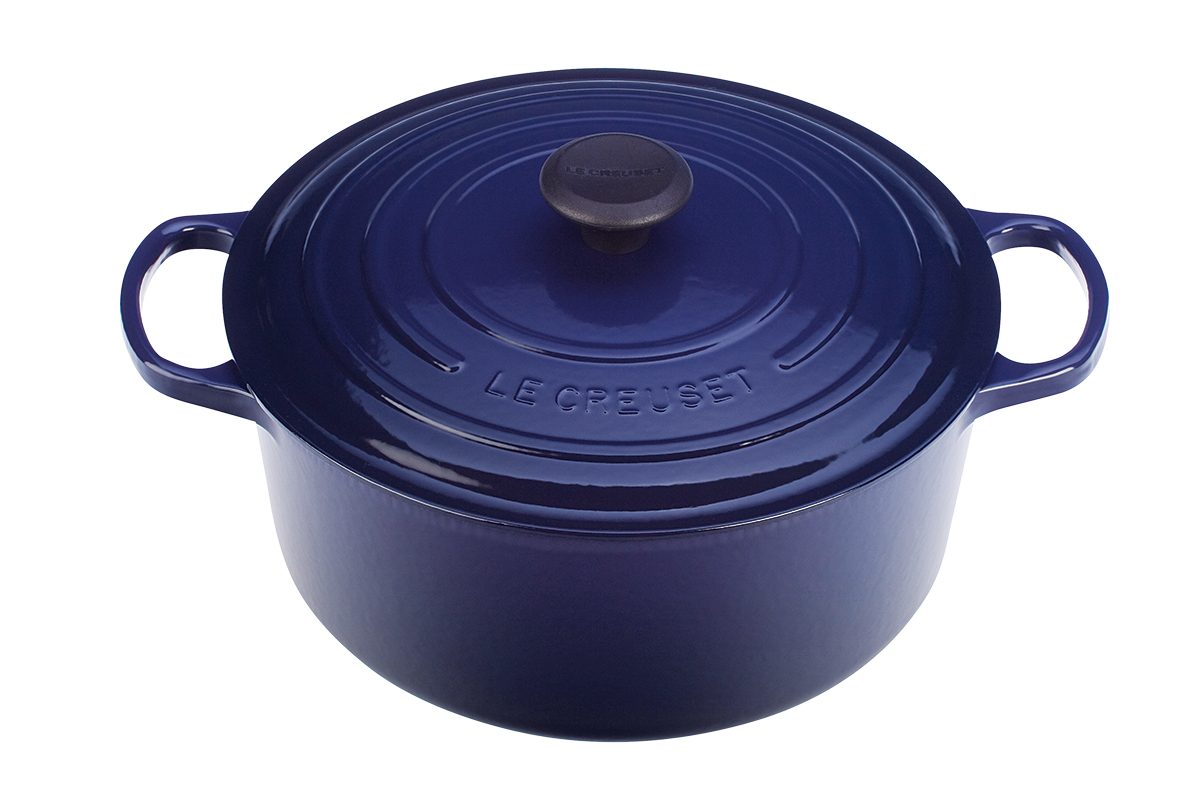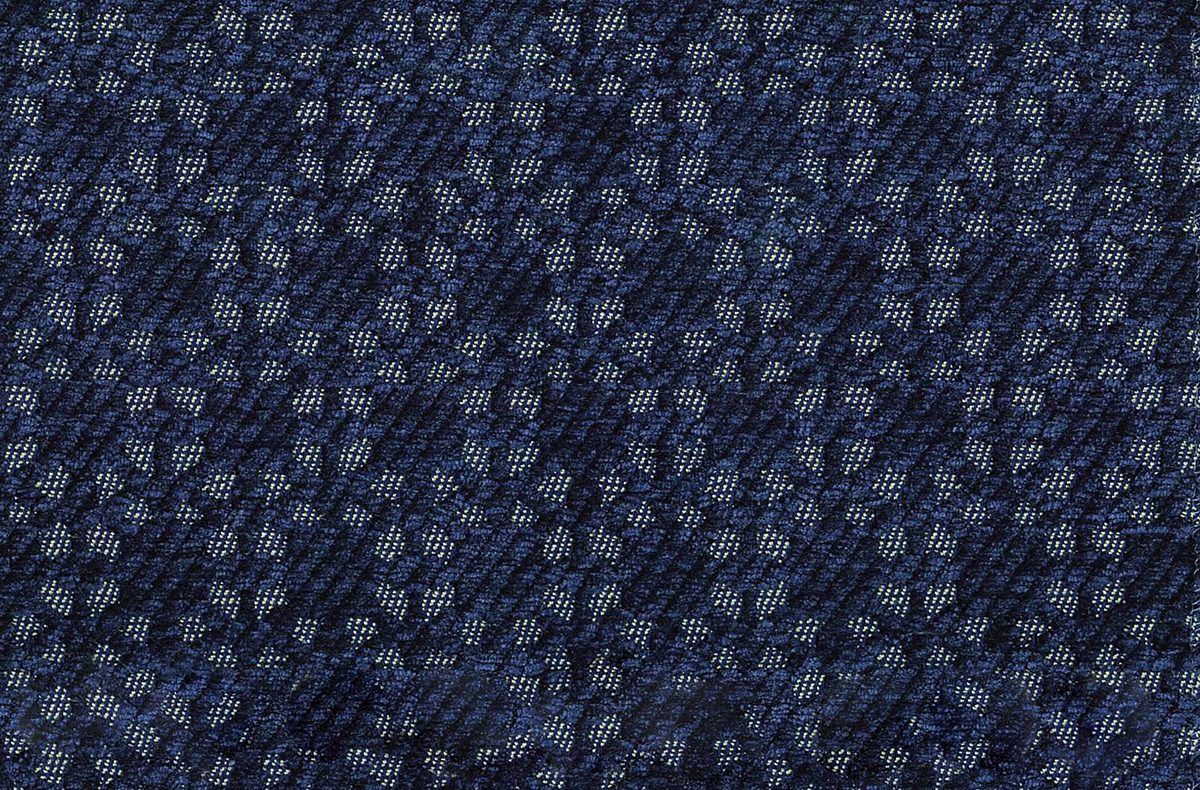 ---
Location Cambridge
Architect Ann Beha Architects
Lead Designer Catherine Truman
Contractor Thoughtforms
Hood Greenheck interior with stainless enclosure, Jarvis.
With a 9-foot cooktop, ventilation was a priority in the design of the kitchen. Truman came up with a modified Greenheck hood to handle heavy-duty cooking.
Range Viking 60-inch duel-fuel, Jarvis.
Designed for a family of five that loves cooking Asian cuisine, the range includes a burner specially fitted to accommodate a wok.
Cabinets Custom walnut, Thoughtforms.
Countertops Absolute Black granite, Adamo.
Backsplash Custom stainless steel, Thoughtforms.
Sink Julien J7 stainless undermount, AES Mechanical.
Paint Flat China White, Benjamin Moore.
Microwave Viking convection, Jarvis.
Flooring Walnut with custom stain and tung-oil finish, Carlisle Wide Plank Floors.
Truman and her clients traveled to a veneer factory in Ohio to select the walnut tree they would use for the cabinets. The result is a flame pattern, which Truman bookmatched throughout the project.
 
Truman found ways to incorporate her clients' love of entertaining: The butler's pantry is smartly tucked between the kitchen and dining room, and the appliances were chosen specifically to support large meals and parties.
 
The dramatic wood of the cabinetry is complemented by a two-story wall of windows that
faces a terrace and garden, allowing plenty of natural light to stream in.
 
Location Manchester-by-the-Sea
Interior Designer Kristina Crestin Design
Kitchen Designer and Builder David McWilliam, McWilliam Woodworking
Architect Olson + Lewis Architects
Contractor Anderson Contracting Services
Cabinet Color Pavement, C2 Paint.
Countertops Soapstone, Athena Marble and Granite.
Barstools Evan counter stools, Robert Allen.
Range Wolf 48-inch gas, Tri City Sales.
Backsplash Oceanside glass tile, the Tile Source.
Paint White Dove, Benjamin Moore.
Sconces E. F. Chapman "Boston Functional Library" lights, Visual Comfort & Co.
Refrigerator Sub-Zero 48-inch, Tri City Sales.
Crestin created a kitchen large enough to accommodate the whole family: on one side, plenty of room for prepping and cooking, and on the other, a space generous enough for the kids to spread out their homework and projects.
The homeowner was wary of bold colors, Crestin says. Subtle blue sea-glass tile was the perfect compromise—muted and soothing, it has an iridescent shine.
 
To add interest to the Restoration Hardware pendant lights above the kitchen island, the homeowner painted the inside of the shades a robin's-egg blue.
 
One of Crestin's design challenges was working with the kitchen's expansive floor plan. A custom-made table filled the space, but it took several shopping trips to find a supplier that offered soapstone slabs large enough for the counters.
 
Location Londonderry, New Hampshire
Designer Karen Swanson, New England Design Works
Interior Designer April Kvetkosky
Cabinets Shakertown doors with Parisian inset, Pennville Custom Cabinetry.
Countertops Caesarstone Frosty Carrina polished quartz, Boston Granite Exchange.
Island Countertop Calacatta marble, Boston Granite Exchange.
Backsplash Savoy subway tile in rice paper, Ann Sacks.
Butcherblock Walnut with sapwood end grain, Grothouse Lumber.
A white hutch cabinet with large glass doors displays the homeowner's large dishware collection. The upper cabinets feature doors on a sliding track, an innovative shift from typical hinged doors.
 
"A good cabinet installer is one of the most important aspects of the construction process." —Karen Wwanson, New England Design Works
 
The island was built off-site as a single piece, including the baseboard molding and marble-slab countertop. The end result is an island that looks like a luxe piece of furniture.
Swanson was able to get a high-end look for less by combining economical options with a few splurges where they would have the most impact. The island countertop, for example, is stunning Calacatta marble, while the perimeter countertops are done in more-affordable Caesarstone polished quartz.
 
By updating what was already there, Swanson was able to make the kitchen chic and contemporary without blowing the budget, eliminating an awkward and dated peninsula bar and reimagining the cabinetry, but keeping all the plumbing and appliances in place.
 
Source URL: https://www.bostonmagazine.com/property/2014/09/02/kitchens-2014-complete-guide/
---