Weekender: New Orleans
Vibrant and welcoming, NOLA is abuzz with decadent hotels, restaurants brimming with Gulf seafood, and an arts scene that continues to push boundaries. Friday jaunt to The Big Easy, anyone?
---
The Devil's Details
---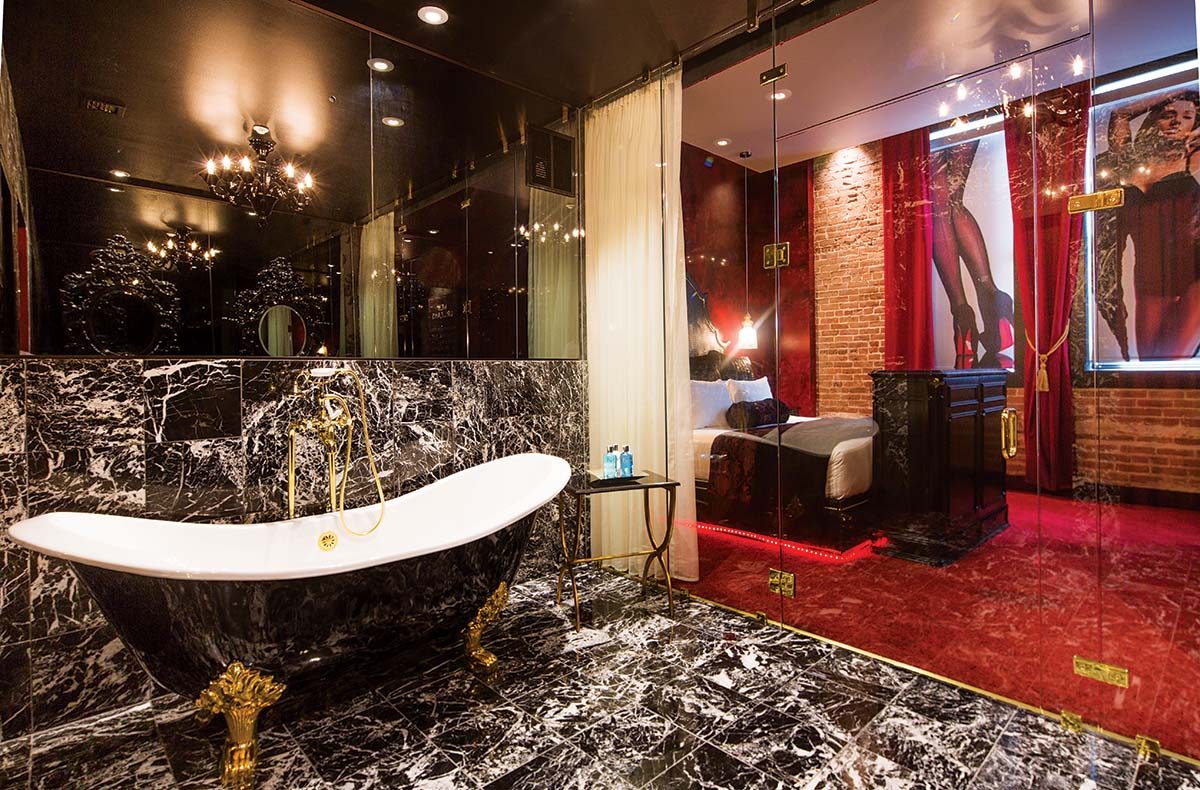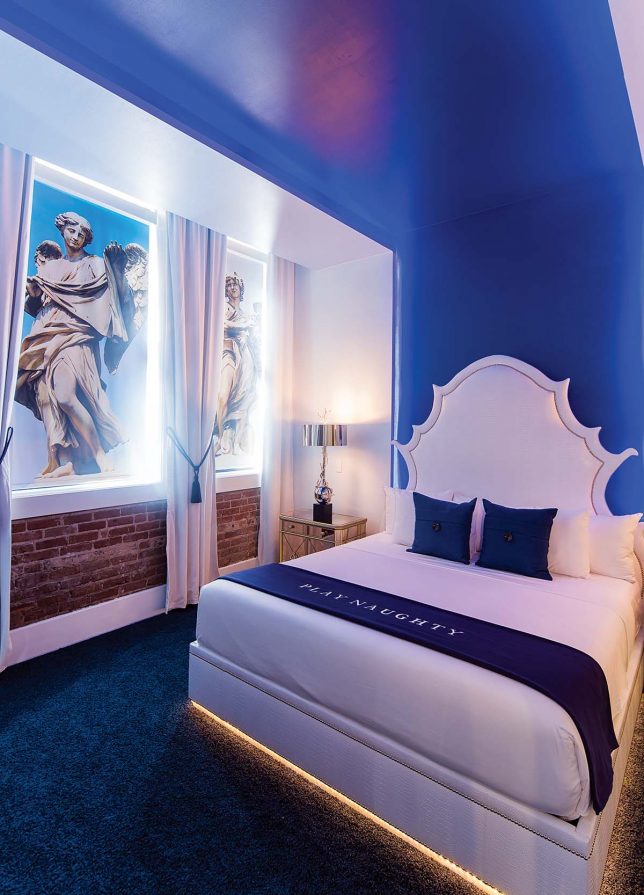 The Saint Hotel, in the French Quarter, poses a dilemma for the ages: Will you choose heaven or hell? Two newly renovated suites, named after the archangels Michael and Lucifer, make it a tough call. The Archangel Michael suite is done in soothing shades of blue and white, with 10 floor-to-ceiling windows and white leather couches—not to mention bold window shades printed with saint statues. The Archangel Lucifer suite, meanwhile, tempts with black Carrara marble, seductive red walls, a black claw-footed bathtub, and a private stage complete with a flashy disco ball. The choice is yours.
Plenty of Fish in the Sea
Opened by chefs Ryan Prewitt, Stephen Stryjewski, and Donald Link in 2013, Pêche, in the Warehouse District, serves seafood sourced straight from the Gulf, so you get fresh perfection whether you order the Louisiana shrimp roll, the smothered catfish, or the crab- and-jalapeño capellini.
Sweet Tooth
District Donuts Sliders Brew offers exactly what its name suggests: handcrafted doughnuts, exotic sliders, and cold-brew coffee on tap. Doughnut flavors like "maple sriracha with candied thyme" whet the palette, while the brick interior and woodwork lend a chic feel to this loft-inspired spot. Need a real meal? Don't miss the fried chicken, the tofu sliders, and the doughnut croque-monsieur.
The Local Fiesta
Central City's Casa Borrega serves up authentic Mexican tamales and tostadas in a renovated 1891 Greek Revival home. The vibrant spot is adorned with antique artwork and repurposed items, including a stained-glass window from San Antonio, iron chandeliers, and other salvaged elements from buildings in New Orleans, Texas, and Mexico.
Hotels
Audubon Cottages
These seven boutique cottages in the French Quarter (just one block from Bourbon Street) offer the feel of a private residence with all the luxury of a five-star hotel. Guests enjoy one- and two-bedroom suites and a private saltwater pool (rumored to be the oldest in New Orleans) with a brick sun deck. Constructed in 1798 and renovated in 2012, this historical site was named after the naturalist painter John James Audubon, who lived here while completing his famed Birds of America series.
The Hotel Modern
This 135-room boutique hotel features a bright, contemporary style but still pays homage to classic NOLA charm: Its Lounge Bellocq is named after the historical photographer E. J. Bellocq and his legacy of Storyville pictures from the early 1900s.
Magnolia Mansion
Considered the gateway to the Garden District, this renovated Greek Revival manse is near the streetcar line and the French Quarter, but beware: It's supposedly haunted.
Restaurants
Marti's
Marti's opened its doors anew in 2013 after the original incarnation closed in 1988. With a charming, old-world New Orleans exterior and seasonal dishes from chef Drew Lockett, you'd be hard-pressed to find a more classically Louisiana spot in the French Quarter.
Ivy
Chef Sue Zemanick serves up eclectic small plates at this enchanting candelit restaurant, which features prominent velvet wallpaper from the London designer Nicky Haslam.
Booty's Street Food
Opened by travel filmmaker Nick Vivion and journalist Kevin Farrell, this hip gastropub offers a varied menu of "international street food," with global items like South Korean grilled octopus skewers, Vietnamese bánh mì, and Argentine-style dumplings.
Art
"Mark of the Feminine"
Curated by Regine Basha, this exhibition at the Contemporary Arts Center highlights work from a broad range of female-identified modern artists in the Greater New Orleans area.
Runs until 10/4, cacno.org
Lee Morais
Formerly the director of education at the New Orleans Museum of Art, Lee Morais holds his latest exhibition of collages and giclee pastels at the Foundation Gallery, to benefit the New Orleans Area Habitat for Humanity.
9/6–10/26, foundationgallerynola.com
Lesley Dill
Mixed-media artist Lesley Dill covers many of her sculptures—on display at the Arthur Roger Gallery this fall— in typography.
10/4–10/25, arthurrogergallery.com
---