Five Office Roof Decks With Breathtaking Views
This is office envy to the extreme.
---
Nothing breaks up the daily nine-to-five grind like a healthy dose of fresh air.
For a few select office buildings in the city, that fresh air comes with a side of breathtaking views. Polished and modern roof decks are sprinkled among the skyline—these office oases provide restorative pockets of open space outfitted with plenty of seating and greenery.
The majority of these tantalizing terraces are only open to employees, so the office envy here is real. Below, ogle at five office roof decks that are truly riding high.
---
101 Seaport Boulevard — Seaport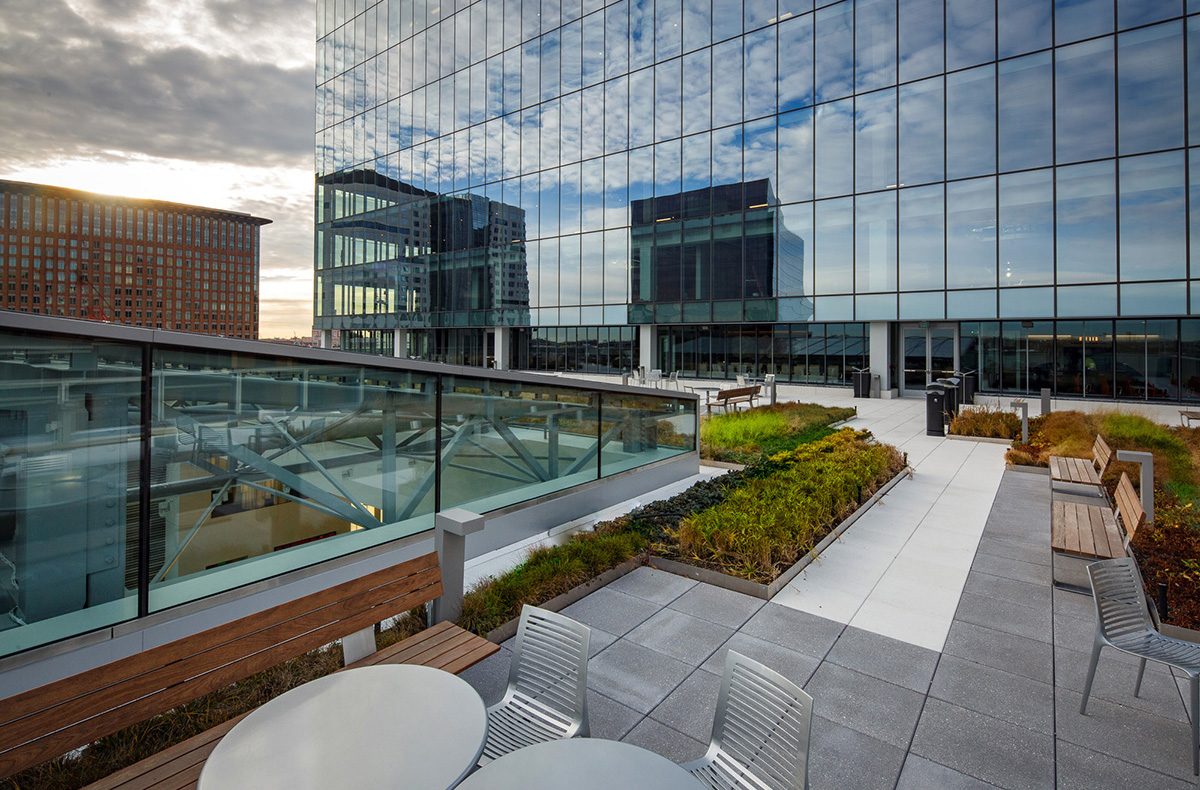 The roof deck atop the fifth floor of Seaport Square's first office tower is a leafy green sanctuary with a contemporary twist. Imagined by Copley Wolff Design Group, the space is a whopping 15,642 square feet. The deck is planted with green roof trays that contain a mix of native and adapted ornamental grasses, perennials, and sedums. A glass atrium introduces clean lines to the space, and sets of silvery seating offer sweeping views of the waterfront and the ICA.
---
75 State Street — Financial District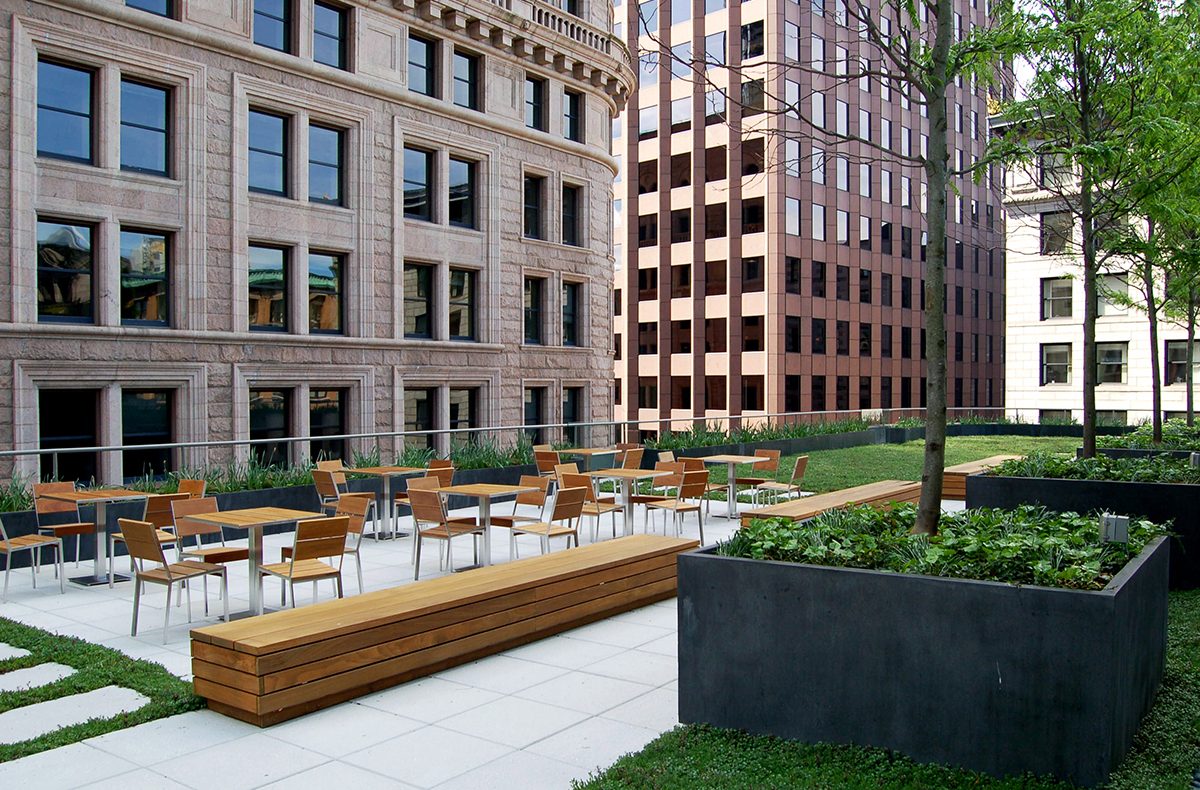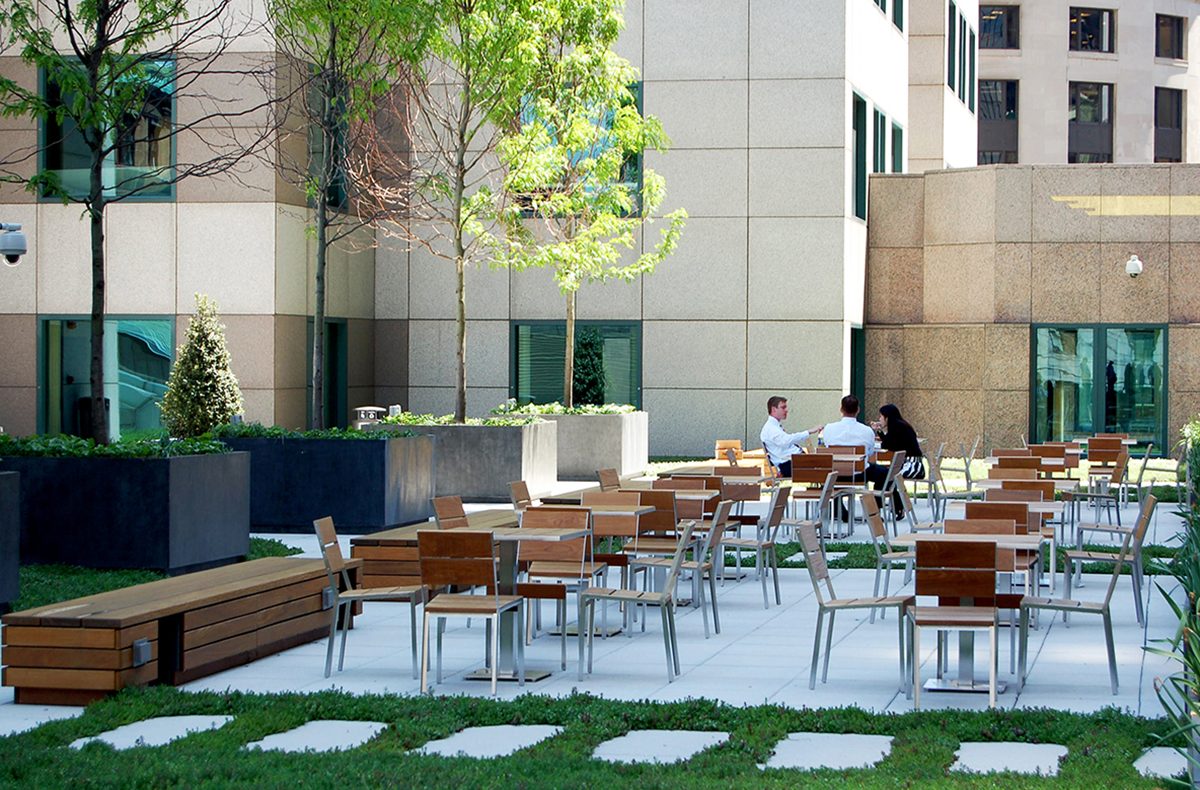 Situated on the seventh floor of the iconic State Street skyscraper, this terrace was laid out with flexibility in mind. Copley Wolff teamed up with CBT Architects to design the tree-filled rooftop, ensuring tables, chairs, and other seating areas could be rearranged to create open spaces for small gatherings and events. A row of trees in the center of the deck provide a canopy of shade and add warm hues to the rooftop in autumn. Low-maintenance sedums are planted all around, and a few ornamental planters feature flowering plants for pops of color throughout the space.
---
Two International Place — Financial District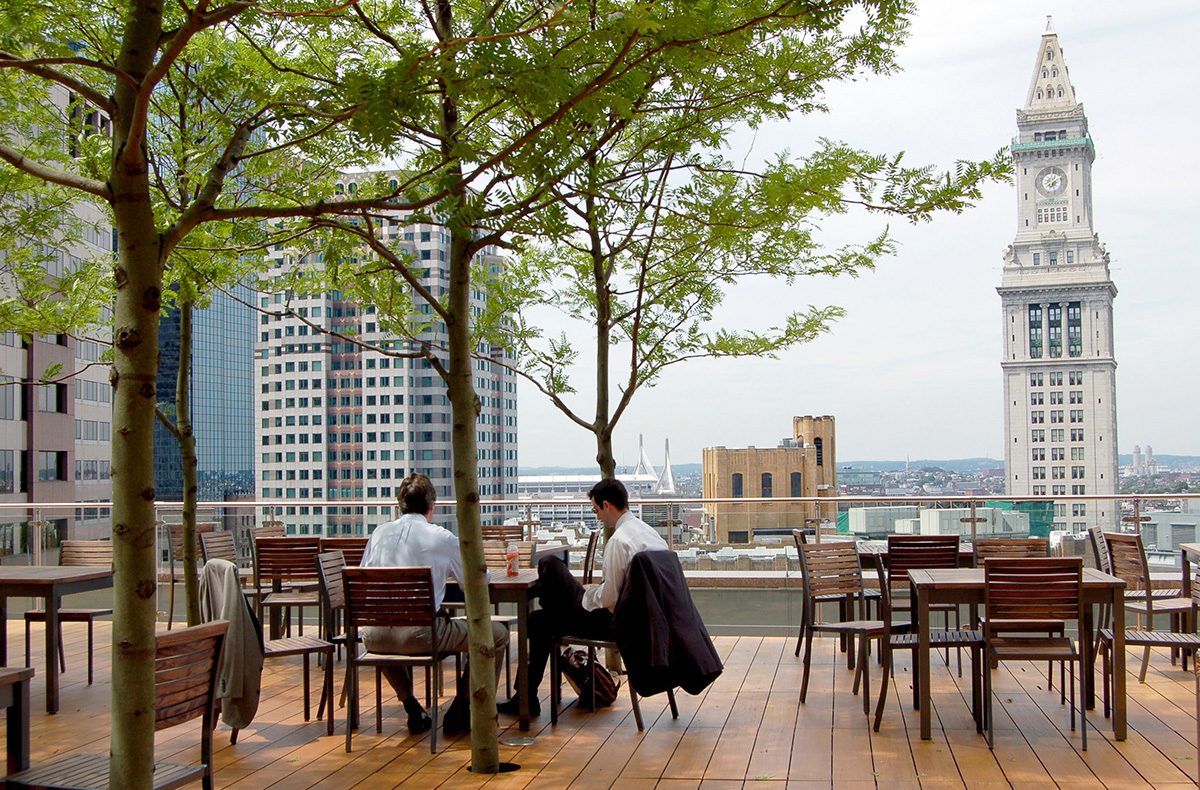 This 5,125-square-foot roof deck is meant to play up the building's vantage point, maximizing city and harbor views. To do this, Copley Wolff gave it multiple levels, furnishing them with wooden benches and moveable tables and chairs. The deck can accommodate large group functions as well as smaller meetings. There's a live green wall that provides privacy from nearby buildings, and planters filled with trees, shrubs, and perennials heighten the space's sense of scale.
---
450 Artisan Way — Assembly Row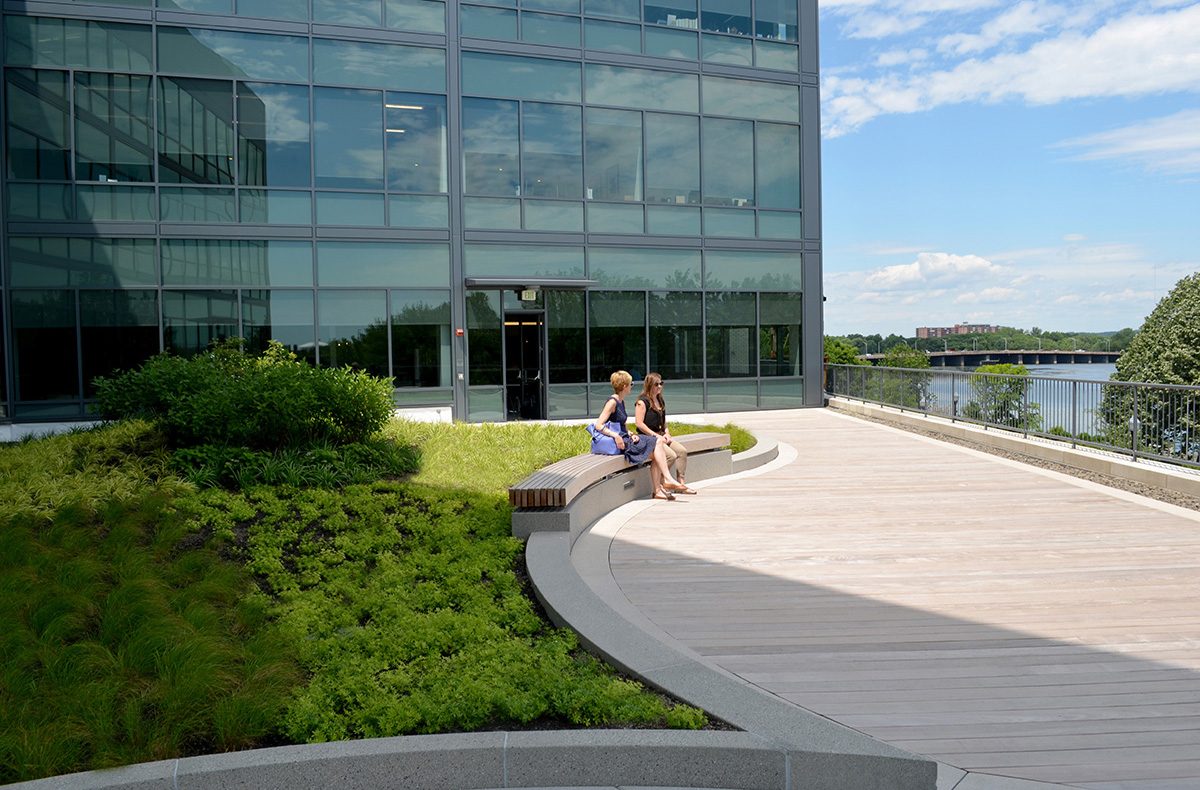 The built-in planting system atop this riverfront office building in Somerville is, to put it simply, impressive. A mix of wind and shade tolerant plants were incorporated into the greenery. Sweet woodruff can be found in many of the roof's planters, which exude a delicate fragrance during warmer months. Horticulture was used to create a visual connection between the roof deck and the ground level by incorporating the same variety of grasses.
---
Independence Wharf Observation Deck — Financial District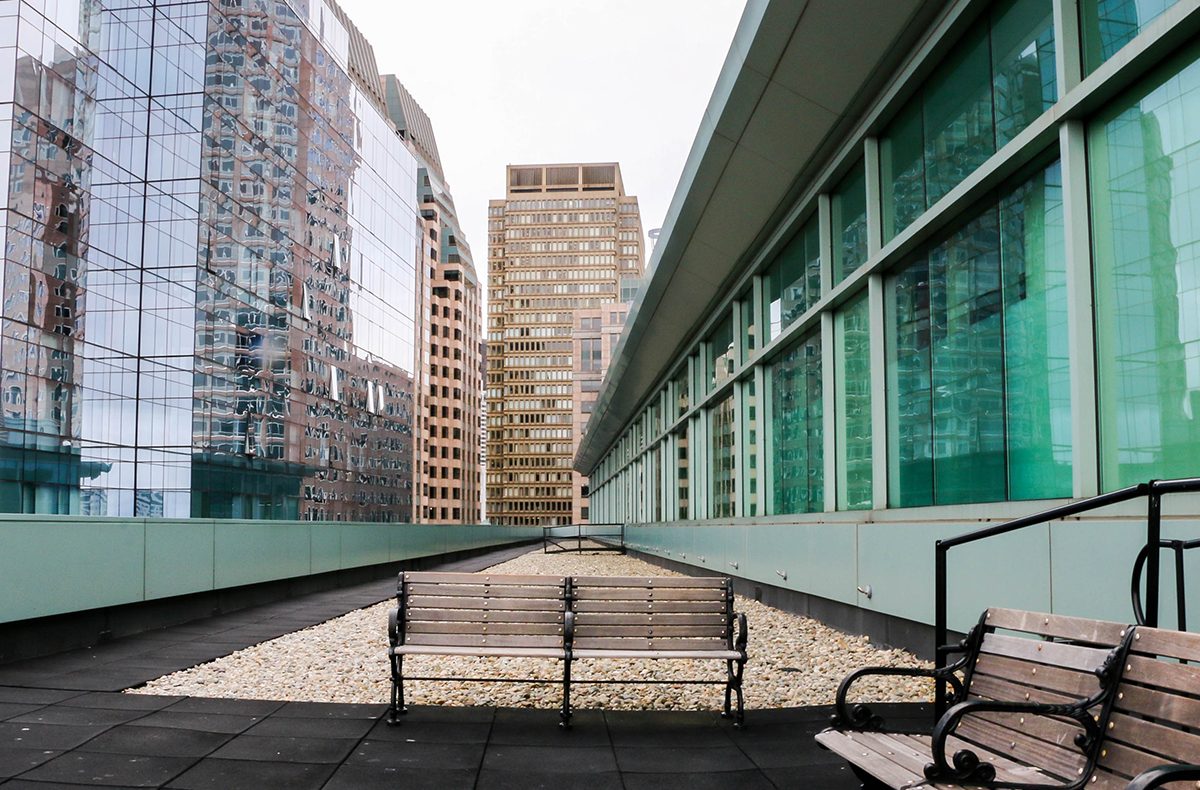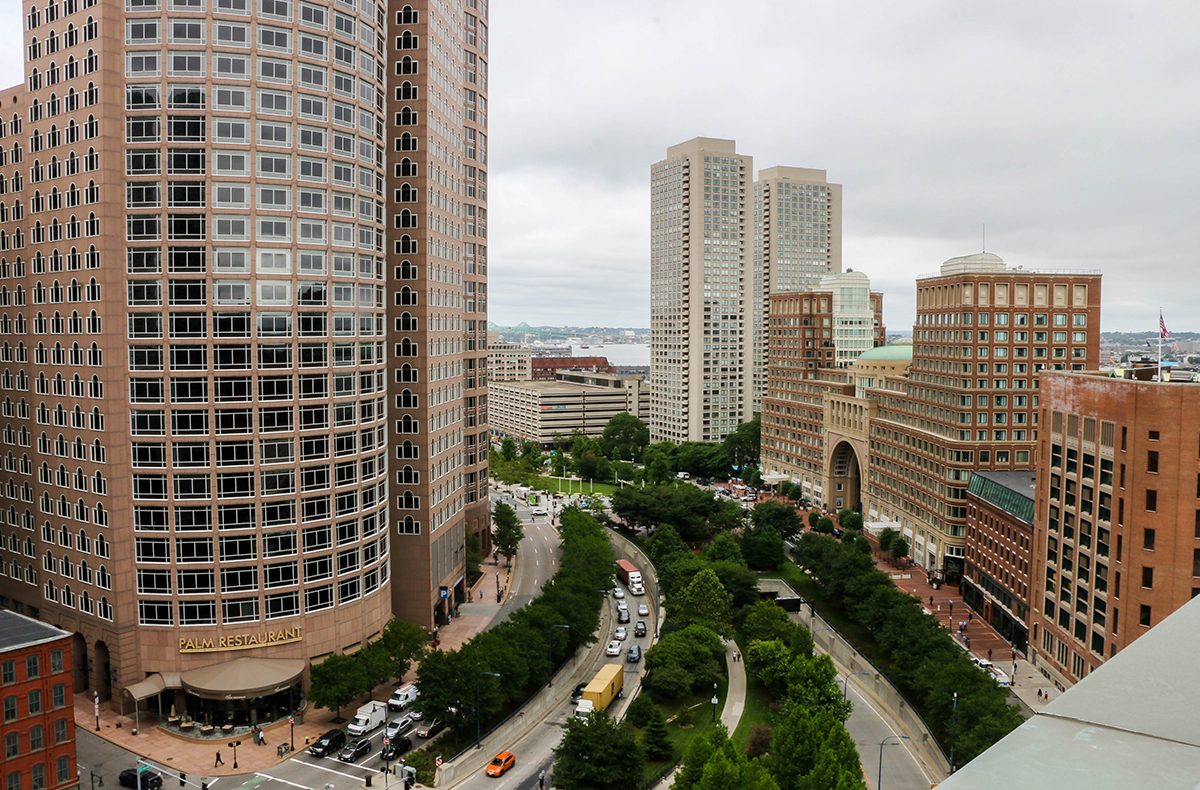 Along the banks of the Fort Point Channel, the renovated Independence Wharf boasts a 14th-floor observation deck for its employees and the public alike. The underrated roof deck is conveniently located along the Harborwalk, and offers panoramic vistas of the Seaport on one end and the Greenway on the other.
This deck is open to the public.
---