A Look at Peter Donohoe's Carlisle Property
Patrick Ahearn Architect designs a multi-use, work-hard-and-play-hard homestead.
---
Peter Donohoe has never done anything halfway. A career athlete, he spent his youth competing in track and field before discovering a passion for bobsledding in his early thirties, eventually representing his home country of Ireland in the sport at three World Championships and in the 1998 and 2002 Winter Olympic games. Since landing in Boston, he's offered cardio- and core-based conditioning to professional and recreational athletes, including dancers at the Boston Ballet and racecar drivers through the Porsche Club of America (he owns two Porsches himself).
In 2011, seeking to settle outside the city, Donohoe bought a nearly 3-acre plot of land in a new Carlisle subdivision. He envisioned a homestead that could accommodate both his personal and professional pursuits without one interrupting the other: a main house with multiple outdoor spaces for entertaining and room for guests; a carriage house to keep his cars; and a barn that would serve as a personal training facility and office space for his wife, sports psychologist Sharon Chirban. Donohoe had admired friends' homes in Wellesley and Osterville, both by Boston-based architect Patrick Ahearn. "It turned out we had lots of things in common," Ahearn says. "We're both Porsche-philes with an interest in architecture. I'm Irish-American and he's Irish-Irish. We were fast friends."
Site planning, Ahearn says, was the first step and the biggest challenge—it took a few months to perfect because the land was very hilly. The natural spot for the main residence, high on the knoll, would give the house a certain prominence that didn't easily suggest intimacy. There was also the matter of context: Donohoe wanted something stately, but not showy, to fit with Carlisle's farmhouse aesthetic. "He had a vision of a grand country house, and enough land to accommodate it," Ahearn says, "but we didn't want the house to read that large from arrival, or to sacrifice privacy." Could multiple guests stay for a weekend while retaining autonomy? Could Donohoe and Chirban's daughters hang out at the pool with their friends without being disturbed by classes in the barn or Peter's tinkering with his cars? ("I have a couple of daughters myself," Ahearn says, "so I understand the 'Dad, go away' thing.")
Ahearn's design approach, he says, became one of "scale and sensibility." He began with the client experience. Business visitors barely get a glimpse of the main house before encountering a secondary driveway that leads to the fitness barn—meaning clients can come and go without interacting with Donohoe's family or guests. The barn is finished with board-and-batten siding and surrounded with playful landscaping to help it read as part of the compound.
Several outdoor spaces—a covered porch, second-floor decks, terraces, and gardens—create a variety of settings where family and guests can have their alone time; three of the upstairs bedrooms have access to private outdoor spaces. The property is surrounded by new stone walls made to look old, while the painted clapboard carriage house looks like it was built long ago.
The shingled house resembles a gambrel cottage, even though its interior exceeds 7,000 square feet. A single main corridor services spaces "so you're not walking through rooms to get to another room," Ahearn says. Varying ceiling heights, French doors, and a mix of textures that includes beadboard, glass, and stone further delineate spaces to break down the home's size. The large kitchen is divided by half-walls and columns into a breakfast room that overlooks the bluestone patio and the pool. The living room features a stone-veneer fireplace, while a formal dining room fulfills Donohoe's dream of weekend-long dinner parties. Altogether, these details create what Ahearn calls "drama that's intimate in scale."
Décor came together later, with input from two interior design firms—Duncan Hughes Interiors and Dewing Schmid Kearns—that worked with a mix of existing and new furniture and artwork that reflects the modern farmhouse aesthetic: cozy, functional, and impressive but not overly refined. "Think of it like an old New England homestead," Ahearn says. "If you add up the square footage, it's a lot. But when you break it up into pieces, it's quite manageable."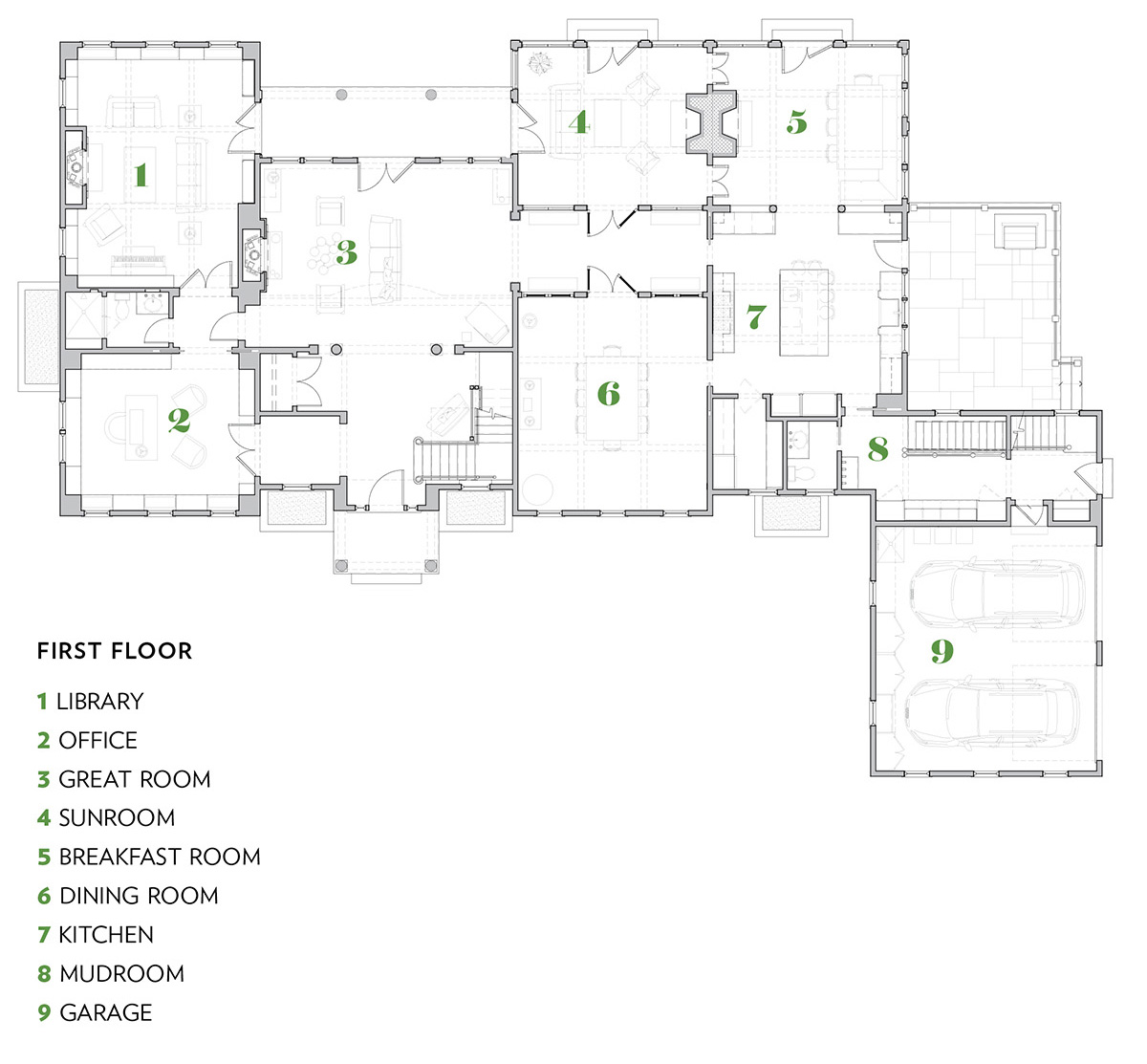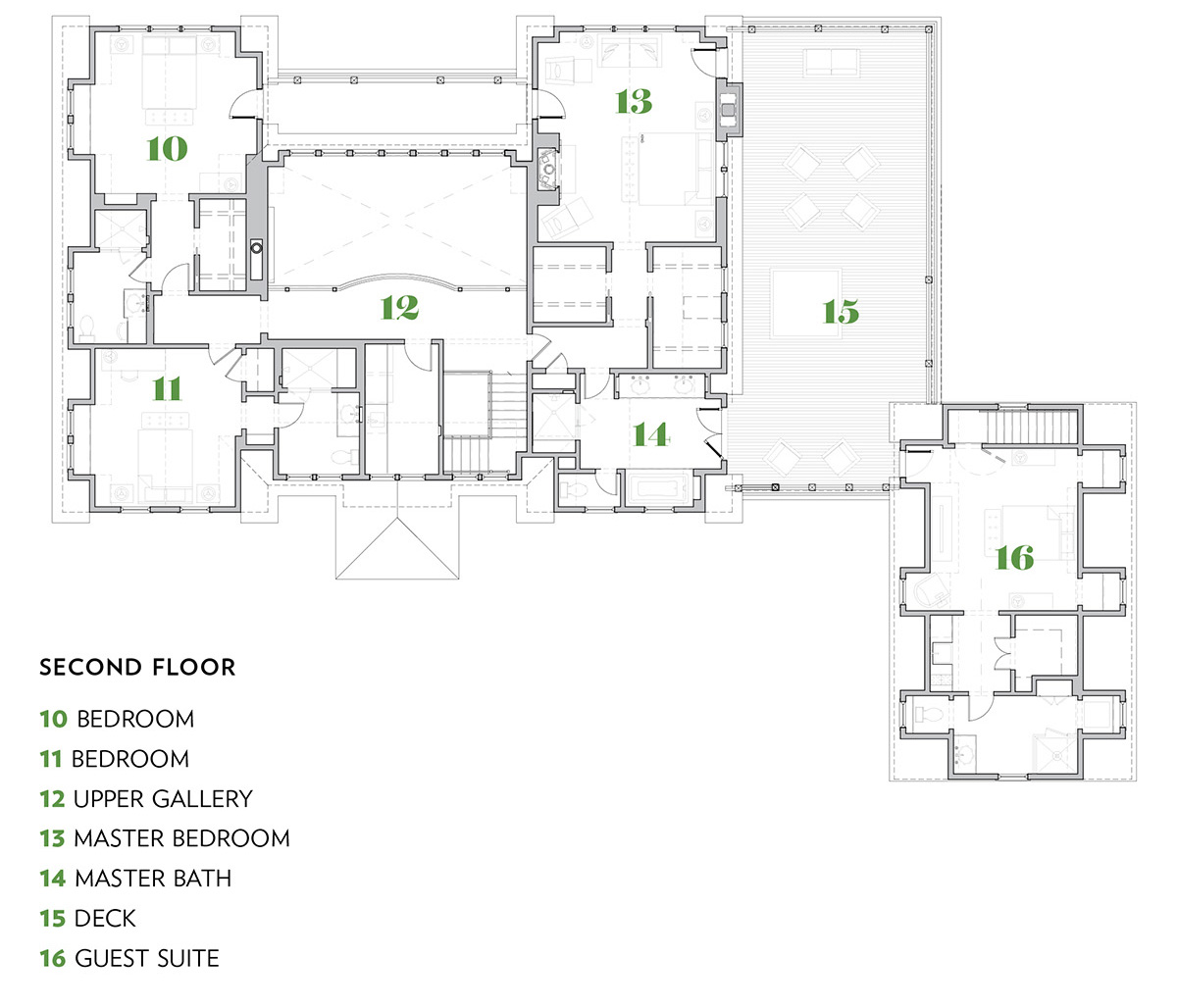 ---