Kitchens Guide 2017
Teeming with bespoke cabinetry, clever storage solutions, and the finest finishes, five local projects provide plenty of big ideas for your next renovation.
---
The New Classic
Embrace color.
Location: Concord
Size: 358 square feet
White kitchens are a design tradition, making the unexpected black-and-green palette in this stunning Concord space—designed by Dewing Schmid Kearns Architects + Planners—all the more daring. "I'm not afraid if you're not afraid," project manager Michelle Ouellette recalls telling her clients.
The bespoke color selections set the tone for the rest of the kitchen, which boasts a slew of custom features. To accommodate the ergonomic needs of the household's primary cook, for example, all of the appliances were stashed along one wall, complete with an antique-mirror backsplash and stainless steel cabinetry. On the opposite side, cabinetmaker Kochman Reidt + Haigh constructed open glass shelving as an alternative to traditional uppers, which would have blocked the light from the new windows.
The center of the room, accented by an Arhaus crystal chandelier, hosts two islands. Designated specifically for baking prep, the rear island (near the pantry) includes storage both below its stainless steel top and in the columns that connect it to the ceiling. The adjacent marble-topped piece, outfitted with one of three sinks in the kitchen, functions as a gathering space. "Every nook and cranny is being used efficiently for something," says DSK interior designer Emilie Tucker. "No space is left unused or unexplored."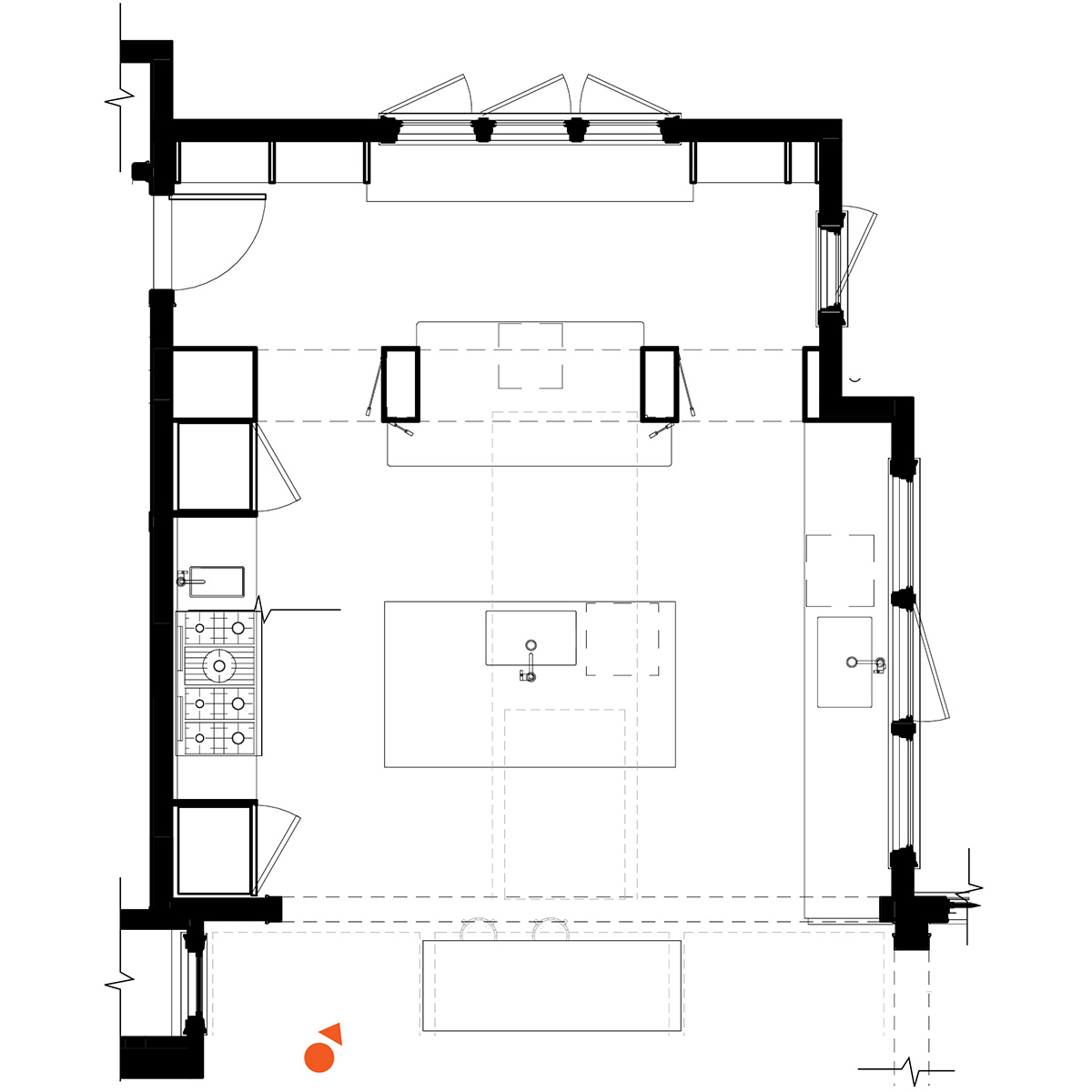 THE FACT FILE
Architect/Interior Designer Dewing Schmid Kearns Architects + Planners
Contractor J.W. Adams Construction
Appliances Miele dishwasher, Sub-Zero refrigerators, Wolf range and steam oven, all Jarvis Appliance
Cabinetry Custom maple, Kochman Reidt + Haigh Cabinetmakers
Cabinetry Paint "Emerald Isle" and "Stout," both Benjamin Moore
Countertops "Imperial Danby" marble, Marble and Granite
•   •   •
The Light Saver | The New Classic | The Addition Kitchen | The Dynamic Redo | The Modern Minimalist
•   •   •
---