Living Modern: Out of the Box
Merge Architects designs a Lexington home that brings the outside in.
---
Imagine being able to enjoy the great outdoors without ever stepping foot outside. Thanks to Fort Point–based Merge Architects, that's a reality at this Lexington home, owned by an MIT engineering professor and his young family. Though the initial charge was to renovate and expand the family's small Cape to provide views of the extensive garden and grounds from anywhere in the house, Merge principal Elizabeth Whittaker had other ideas. Her biggest challenge? "Convincing [the clients] that tearing down the existing house would actually be more efficient," she says. From there, she designed a new two-story, 1,975-square-foot "box" that blurs the lines between indoor and outdoor space. Here's how she did it.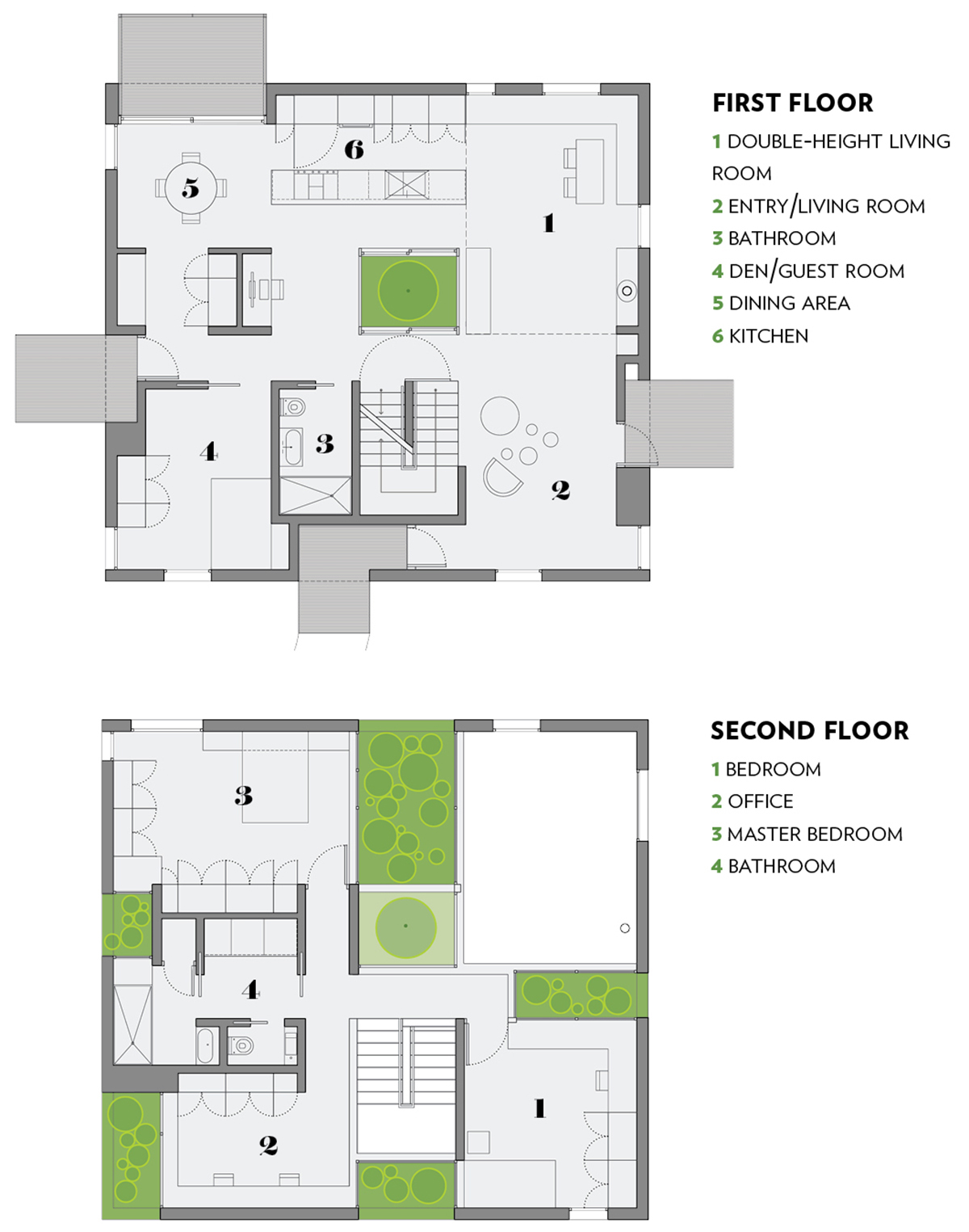 INTEGRATE THE SPACE
Taking down the existing home to its foundation, Whittaker organized the new structure around a 5-by-6-foot central courtyard garden and five recessed gardens—each paired with a different room—scattered throughout. "We designed the house to bring the landscape literally within the interior space," she says.
MAXIMIZE THE VIEW
Floor-to-ceiling, thermally insulated windows were the general rule. "The glass has an ephemeral effect, at times transparent and other times reflective, depending on the time of day," Whittaker says. Slots carved into the house's exterior, meanwhile, provide every inside space a view of the outdoors.
THINK AHEAD
Whittaker used simple, durable materials in order to allow the house to develop a patina over time. The exterior is made of Cor-Ten steel, which will darken and then rust, further blending in with the trees. Inside, white oak flooring and accents of steel mimic the exterior steel rainscreen.
CONSIDER THE LAND
Whittaker and her team worked with the requirements of numerous exotic species, including more than 65 varieties of Japanese maples and a Himalayan birch. They also created entryways on each façade, making it easier to access the grounds. "There really isn't a 'front' or 'back' of the house," she says.
LIGHTEN UP
All-white interiors capture natural light and "let it modulate throughout the day and seasons," Whittaker says. She also designed the oak stairway to run perpendicular to the central courtyard, ensuring that the two would "be in constant dialogue," she adds. "One will always appear in relation to the other."
Architect Merge Architects
General Contractor Evergreen Group Company
Steel Fabricator Ramos Iron Work
Windows Schüco
---