Clear Potential
A couple builds a second home—and a relationship—in Stowe, Vermont.
---
Jeff Merselis, a Boston-based healthcare exec by weekday and an avid skier by weekend, had been house-hunting in Stowe, Vermont, for years when a home on a rural, sloped piece of land came up for auction in July 2015. It was a great deal—but after years of neglect, the place was in need of major work. He presented the plans and some photos to Jeremy Jih, a Boston architect he'd started dating recently, and asked him what he thought. "It was your typical Brady Bunch house," Jih recalls. "It wasn't terribly bright inside, it hadn't been taken care of, and there was a lot of water damage."
And yet, there was plenty of potential. The house, originally constructed in 1978, had a strong footprint and breathtaking views of Mount Mansfield. It had been well built, once. Jih told Merselis: Buy it immediately. "And then all of a sudden I owned it," Merselis says. "And it was in dire need of help."
In abstract terms, Merselis knew what he wanted. He dreamed of a four-season getaway that was modern but low-maintenance. He wanted the home to be a place where friends could bring their kids and their pets; he wanted it to be wheelchair-accessible to accommodate his aging relatives; he wanted it to withstand all the messy accoutrements of country living, from wet ski gear in winter to muddy hiking boots in spring. He didn't want to be too precious about the design. Utility was key.
Beyond all that, he left the details up to Jih. The architect took inspiration from James Turrell, an American artist known for using light as a medium, to create quick renderings of a two-level, 5,000-square-foot house with glass sides, taking maximum advantage of the landscape and views. Structurally, he'd dismantle the existing house to its three-sided hearth and rebuild from there, each side of the hearth serving as the base for a new three-sided section of house.
Each section would intersect with one of three very different topographies: The living room would overlook the side of the mountain; the bedrooms would have views of an intimate meadow area with some apple trees; and the kitchen would face the driveway. A glass curtain wall that wrapped continuously around six of the house's nine sides would provide visual continuity, but also help regulate temperatures, keeping out the elements. Sculpted louvers would help ensure privacy. "Once I saw the renderings, I was completely sold," Merselis says. "It was so far beyond anything I imagined possible."
Jih got to work right away, focusing on getting most of the exterior work done—and the house sealed—before winter set in. He spent a quick month formalizing the design, enlisting Burlington's Acme Glass to build the curtain wall before even hiring a contractor. Construction started in early December of that year, and Jih drove to Stowe weekly to supervise and interview contractors. After meeting more than a dozen, he and Merselis settled on Alex McKenzie of Cypress Woodworks, who oversaw the remainder of the build, with Jih driving up at regular intervals.
Throughout, function runs parallel to style. "The design is clean not just for the sake of modernism but also for real utility and unfussiness," Jih says. Accessed through an entrance in the two-car garage, the lower level serves as the activity center, featuring a hallway with lockers and storage for skis and boots, a sauna, and a game room. In the kitchen and living area upstairs, and in all five bedrooms, Jih called on black polished concrete flooring with radiant heat for physical warmth and western red cedar ceilings—which reach as high as 13 feet—for visual warmth. "I chose materials that were pretty much impossible to destroy," Jih says. "Concrete instead of delicate wood floors, countertops made of durable quartzite." The biggest challenge, of course, was ensuring comfort. "The house itself is a contradiction—on a mountain in Vermont is where a glass house traditionally should not be," Jih says. "But the radiant floor means that people are warm even while the ceilings are very tall, and the glass is extremely insulated." As a result, he says, the house is highly energy efficient—even in the middle of winter.
Remarkably, Merselis marvels, he and Jih had no disagreements—rare between an architect and a client building a house, but perhaps even more so between partners. By the summer of 2016, the couple was bringing friends to visit; Merselis also rents the house on occasion through VRBO. "Jeff gave me a tremendous amount of trust and respect, so I was very careful to deserve it," Jih says. "But he was also easy. He had very specific needs but was open to my ideas, which meant I had lot of freedom. He really was the perfect client."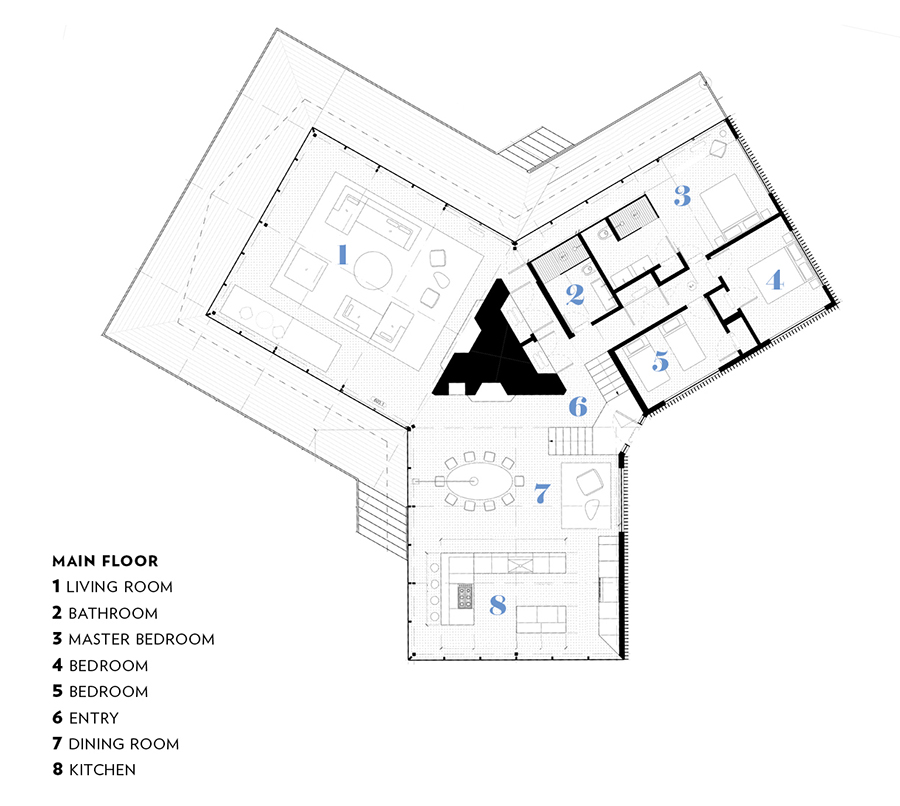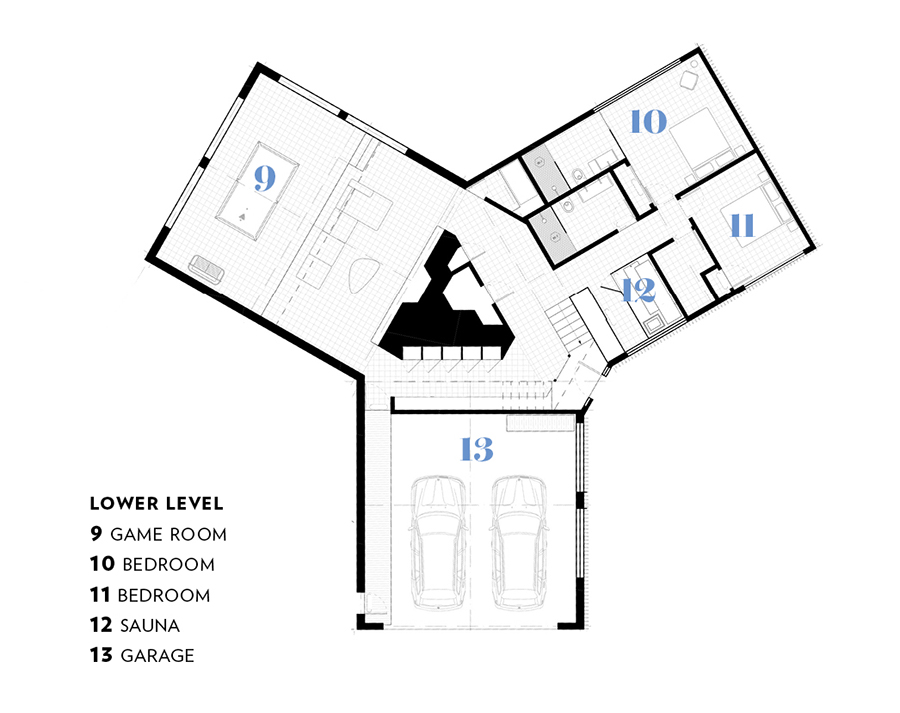 ---