Urban Family: It Takes Two
Interior designer Alina Wolhardt, of Wolf in Sheep Design, brings color and cohesion to a home in Charlestown. —By Marni Elyse Katz
---
Although Nicole Morales knew just the look she wanted, once she started to redo the three-bedroom Charlestown home she shares with her husband, Dennis Baden, and sons Diego and Mateo, she realized she needed help to pull it all together. So Morales turned to interior designer Alina Wolhardt, of Boston-based Wolf in Sheep Design. To address the home's humdrum décor and lack of storage, Wolhardt started with pieces the couple already owned, adding functional but fun accents that reflect the young family's lifestyle. She also introduced a stylish green palette, which begins in the entry and flows throughout. "It makes the whole house cohesive," Wolhardt says.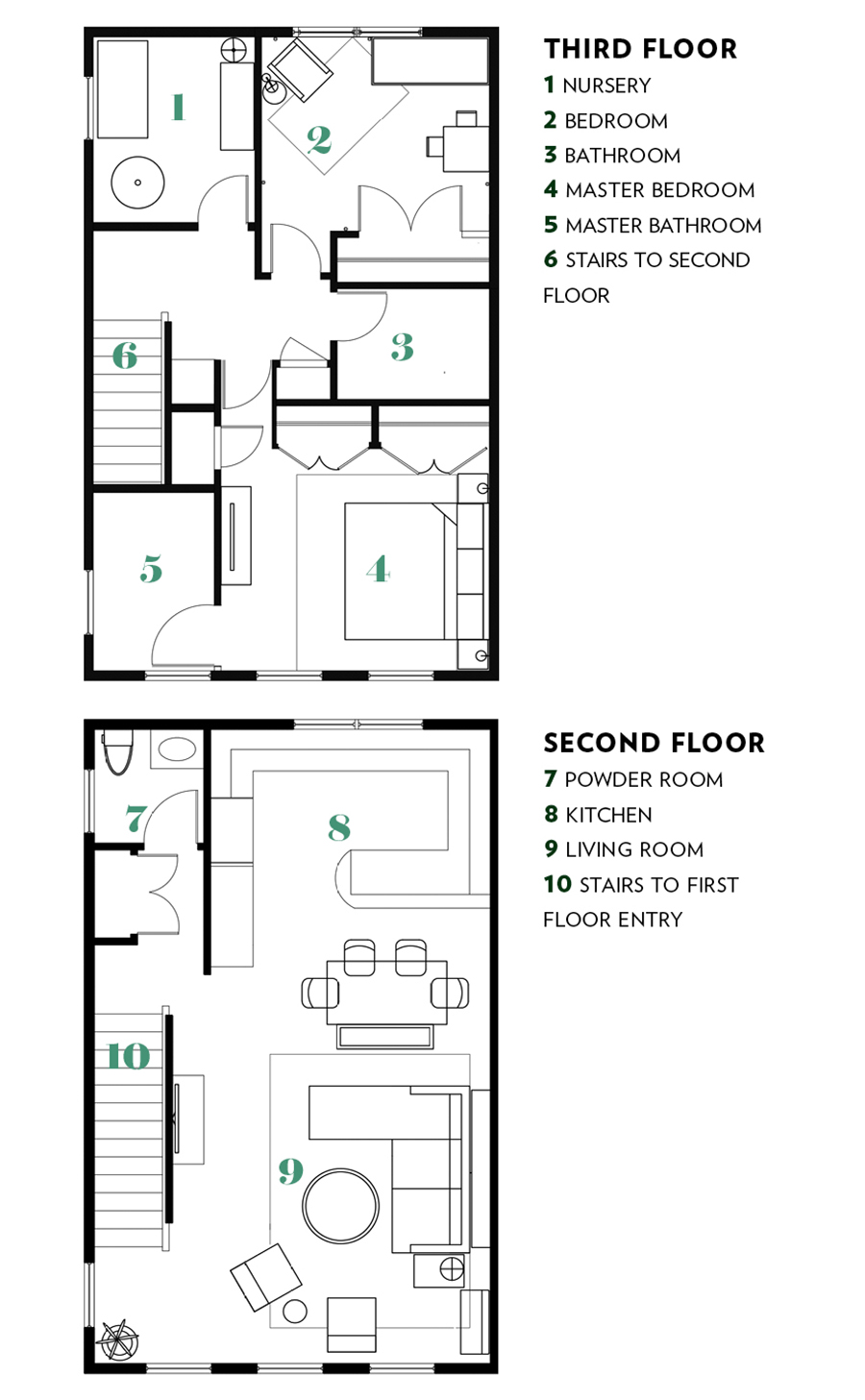 CELEBRATE THE PERSONAL
Plush velvet-and-brass chairs from Mitchell Gold + Bob Williams elevate the seating area in the living room, where Wolhardt created a gallery wall from artwork the couple has collected in their travels. A landscape by a Chilean relative of Dennis's anchors the grouping, which includes a painting of an orange tree from Seville and a copper mask from Buenos Aires. "Nothing is of high value, yet [the pieces] have one thing in common: They make us happy," Morales says.
REFURBISH RATHER THAN REPLACE
Working with existing pieces helps cut costs. To upgrade the powder room off the kitchen, the designer treated an unattractive wenge vanity to new brass hardware and fixtures, as well as coats of Benjamin Moore's viridescent "Once Upon a Time." An oversize mirror from Rejuvenation makes the space feel bigger and reflects the new Schumacher wallpaper, inspired by the couple's recent trip to Portugal.
MAXIMIZE SMALL SPACES
To remedy the lack of efficient storage in the entry, Wolhardt designed built-in cabinetry with a bench, hooks, drawers, and a shoe pantry for the 14-inch-deep space by the door. "Spending money here improves the property," Wolhardt says. "The house was sorely missing this functionality, which is so important for a family."
PLAY WITH PATTERN AND COLOR
Wolhardt also transformed the entry's décor, using Cole & Son's tropical "Miami" wallpaper on the back panel of the new cabinetry, painted in Benjamin Moore's "Blue Gaspe." The bench cushion, upholstered in a soft cotton blend that echoes the wallpaper's op-art geometrics, forms the perfect perch for pulling on shoes. "The small space gave us an opportunity to do something unexpected," the designer says.
LET IT FLOW
The kitchen, eating area, and living room all share one space. By swapping the positions of the bench and the chairs accompanying the couple's reclaimed-wood dining table, Wolhardt was able to both improve flow and create thoughtful boundaries: The backless bench now opens to the kitchen and eating area (making it easy for their preschooler to join them at the table), while the chairs provide visual separation from the living room.
Cabinetry Doriss Design Workshoppe
Interior Designer Wolf in Sheep Design
Painter/Wallpaper Installer Jens Thoresen Jr. Painting
---