Top Places to Live 2018: Boston
From Charlestown to East Boston, here's where to find the last great deals in the city.
---
THE DEAL
9A Monument Square #4, Charlestown
Asking price: $599,000
Sale price: : $605,000
Days on market: 55
Size: 719 square feet
Bedrooms: 1
Bathrooms: 1
---
Charlestown
It turns out you don't have to give up Boston's soft-glowing gas lamps and brick sidewalks if you're house hunting on a budget. Charlestown brims with old-world charm—and its historical row houses come at a comparative discount. "A lot of these [listings], you could almost double the price if it were South End, Back Bay, or Beacon Hill," says agent Frank Celeste of Gibson Sotheby's International Realty. Case in point? Celeste recently sold an 1875 three-bedroom, single-family townhouse with exposed brick, a private courtyard, and plenty of period details for nearly half a million less than the price of similar properties in the South End. "I think more and more people are realizing that you can get a much bigger bang for your dollar here," he says.
Dorchester
Right now eyes are on the South Bay Town Center project, which will add more than 400 apartments, a Wahlburgers, and dozens of new stores when it is finished this year. But there are many more options in Boston's largest neighborhood. Doug Bosse, a partner at Old Towne Real Estate Co., suggests setting your sights on Adams Village. It's undergoing a transformation, too, and a tasty one at that. The Industry, a classic American steakhouse, opened there last summer. "It seems to be jam-packed almost every night," Bosse says. The neighborhood features other new additions, like Lucy's American Tavern, Molinari's, and Landmark Public House. "Everything is right at your fingertips," Bosse says, pointing to the local florist, dry cleaner, grocery store, and butcher shop, all just a 10-minute walk from the Ashmont T stop.
Roslindale
No longer is Roslindale where Jamaica Plainers turn when they're priced out of the neighborhood. Refreshingly affordable Rozzie is now a hip enclave where residents sip Trillium IPAs and buy veggies at the farmers' market in Roslindale Village. "People are attracted to its small-town feel, cosmopolitan restaurants, and funky independent businesses," says Josh Muncey of RE/MAX Destiny. Despite its growing popularity, Roslindale has plenty of low-cost housing options—for now. A total of 135 single-family homes sold for under $500,000 here last year. And while the median price per square foot for single-families rose 6 percent from 2016 to 2017, the median for condos jumped only one percent. "If you're looking for a good deal, be open to condos," Muncey says. Overall, there are lower prices per square foot to be had in Prospect Hill, still within walking distance to Roslindale Village and its commuter rail stop.
East Boston
Hear us out on this one. We know Eastie's waterfront is hot right now. With the soon-to-come ICA satellite and water taxi services, property values are surely spiking in Jeffries Point—but it's the inland neighborhoods where value abounds. Coldwell Banker agent Ryan Persac points to two spots: First, check out Eagle Hill, where there's a solid inventory of homes, including single-families, multifamilies, and condos. With a plethora of options, it's tough not to score a deal. Then there's Orient Heights. "That neighborhood right now is not on the radar of most buyers," Persac says. It's chock-full of single-family homes, complete with driveways and front and back yards. "It almost feels suburban," says Persac, adding that values will skyrocket once Suffolk Downs is developed.
---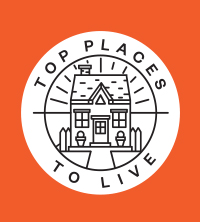 See more from Top Places to Live 2018.
The Boston Home team has curated a list of the best home design and home remodeling professionals in Boston, including architects, builders, kitchen and bath experts, lighting designers, and more. Get the help you need with FindIt/Boston's guide to home renovation pros.
---