How a Squam Lake Vacation Home Became a Peaceful Retreat
Product designer and MIT lecturer David Rose invites nature into his New Hampshire getaway.
---
You'd expect the inventor of an umbrella that lights up when it's going to rain and a prescription bottle cap that glows when it's time to take medication to design a vacation retreat brimming with smart technology: lights that go on when you enter a room, perhaps, or shades that go up and down with the sun. "That's what I'm known for," admits David Rose, whose work as a product designer, author, and lecturer at the MIT Media Lab centers around "elegantly embedding technology into everyday things."
Yet when it came time to rebuild their family's vacation home on Squam Lake in New Hampshire, Rose and his wife chose not to go all in on the smart-home features. Their goal instead was to build a house tied to nature—a home where indoor and outdoor living spaces would flow seamlessly. "We wanted a place to teach our children about the pleasure and calm and beauty of nature, its rejuvenating qualities," Rose says. With 100-year-old white and red pines and views of a crystal-clear lake, the Roses' property was perfect. But their 1970s-era house—hampered by low ceilings, small windows, and a utilitarian layout—felt disconnected from its environs.
So the couple reached out to Tom Murdough, of Boston-based Murdough Design, to reimagine the four-season getaway. On their wish list (after "exterminate ants forever"): a mudroom, a large kitchen for group cooking, a guest suite, a study space, a media room, a crafts area for their two kids and, most important, big windows to let in both light and the surrounding scenery. Murdough and his team came back with a simple, 4,200-square-foot "wood-clad box" with a wide, sloped roof and "ample connections to the outdoors—a modern take on a traditional cabin," the team says. The exterior would feature subdued colors and natural textures (think: dark-stained cedar siding), plus lots of glass, which reflects the trees and helps camouflage the structure. Inside, there would be a choreographed sequence of spaces—"from open and airy," in the common areas, Murdough says, "to cozy and cocoon-like" in the family's sleeping quarters. This concept appealed to Rose and his wife, who've traveled abroad extensively and sought to emulate aspects of Japanese design—specifically the idea of "progressive disclosure," in which one takes a "well-curated path through the home," Rose explains.
With the Roses' enthusiastic okay, the team moved forward with the project in May 2016, first reorienting the house to face north for more-expansive views of the mountains. Additionally, they elevated the house nearly two feet, which "makes it feel like you're floating in the trees on the first and second floors," Rose says, and provides natural light to the walk-out basement, where there's space for kids' crafts, games, and TV viewing.
A wooden path leads from the driveway to the home's glass front door. From the mudroom, visitors are greeted with 270-degree views of the cove through expansive windows on either side of a blackened-steel fireplace in the living area. The adjoining kitchen includes custom walnut cabinetry and large swaths of stainless steel, chosen not just for its indestructibility but also to "subtly reflect what's around it, picking up the colors of the landscape and the dappled light," project manager Rob Potish says. A guest suite lies on the other side of the first floor, cleverly separated from the common areas by a central staircase. Designed to feel like it's outdoors, the staircase features cedar siding—the same material found on the home's exterior—and a wall of glass facing the forest.
The theme of indoor-outdoor living continues upstairs, too. For the catwalk that overlooks the living area, for example, Murdough and Rose chose to extend the structure's stainless steel decking and ultrathin cable railings to the exterior cantilevered balcony as a way of "diminishing the sense of something being either inside or outside" the house, Murdough explains. On a practical note, the catwalk's wide reach also helps connect the level's various spaces, which include a light-filled study, two cork-floored bunkrooms, and a large master suite.
Throughout the year-plus renovation, "David was open to experimentation and testing ideas," Murdough says appreciatively. And vice versa, Rose says of the architectural team, who also understood the practical concerns of lakeside living—such as the need to disguise pine needles on the white oak floors. Together, they created a "tranquil respite from a plugged-in city life," Murdough says.
And, it turns out, the technophile doesn't miss the automation: "I didn't want to spend all my time explaining how it all works," Rose concedes with a chuckle.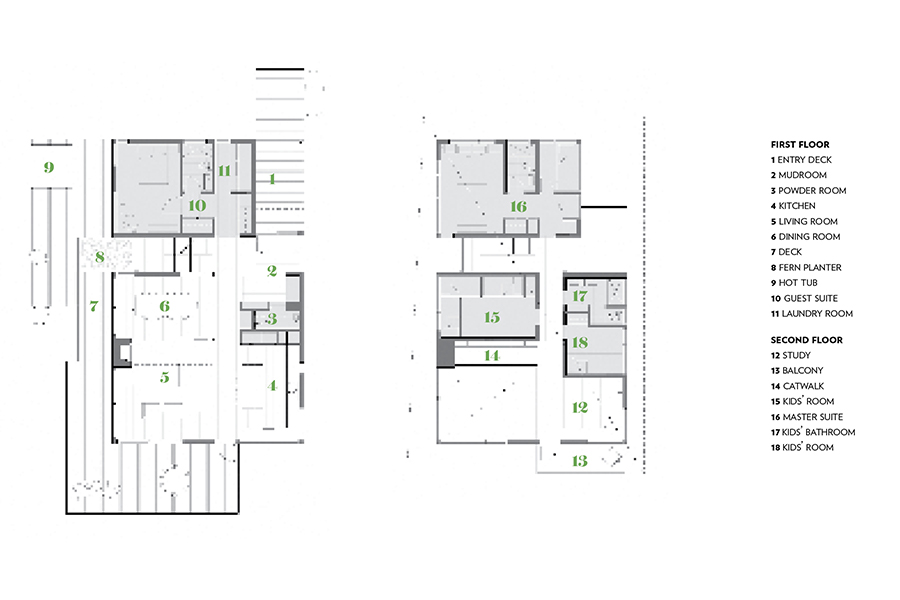 Architect
Murdough Design
Contractor
Denali Construction
Landscape Contractor
Richardson & Associates
Structural Design
RSE Associates
---