Inside A Family's Energy-Saving South End Home
ZeroEnergy Design injects a historical row house with amenities for modern-day living.
---
When Maria and Darin relocated with their 10-year-old son, Miguel, from a new build in Jamaica Plain to a 19th-century row house in the South End, they had their hearts set on creating a modern, net-zero-energy home. "Individuals can do small things to make a difference," Darin says. Although unable to achieve their net-zero goals due to the neighborhood's energy grid configuration, the couple did get a family-friendly space with the clean-lined aesthetic they adore, along with energy-saving retrofits. Here's how the team behind Boston-based ZeroEnergy Design pulled off this smart and contemporary renovation.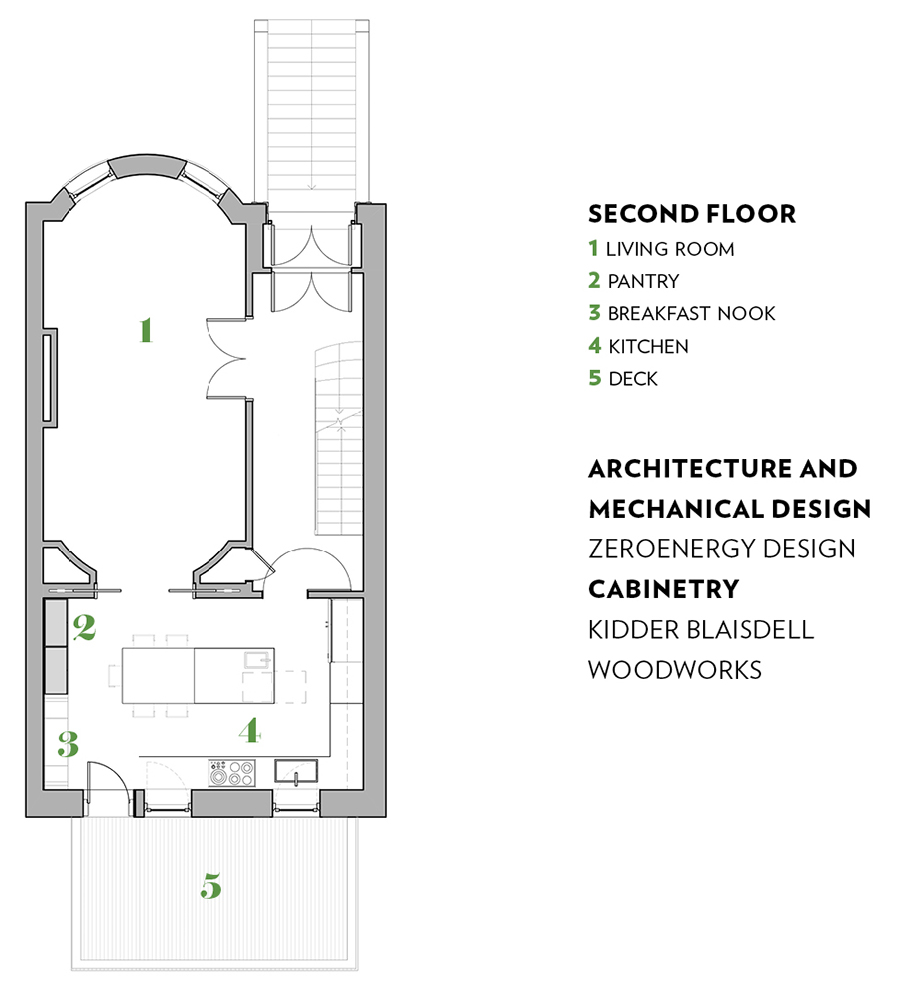 PRESERVE THE PATINA
"Some things aged gracefully; others did not," says architect Stephanie Horowitz, who retained a few aspects of the home's original design, such as the living room's mahogany doors and window casings. The team installed new oak flooring throughout—except in the office, where they left the existing pumpkin pine floorboards. "We wanted to preserve some of it as a historical artifact," project manager John Mucciarone says.
BANISH A BAY WINDOW
When it came to the kitchen's bay window, everyone agreed it—as well as the French doors leading to the deck—had to go. "They like to cook, and needed a long run of counter," Mucciarone says. By flattening the wall and reconfiguring it with two rectangular windows and a single door to the deck, they were able to build a 12-foot quartz-topped counter, which includes the main sink, an electric range, and an induction cooktop.
CARVE OUT A NOOK
Rather than overwhelm a second kitchen wall with cabinetry, Horowitz and Mucciarone created a café-style dining alcove. "It's nice to have a place away from where food prep is happening," Horowitz notes. For meals, the family sits around the custom mahogany table attached to the island. Mahogany distinguishes the table from the lighter beech veneer of the cabinets, while referencing the historical details in the living room.
RAISE THE CEILING
Conscious of moving from a house with a yard to a condo with limited outdoor space, Maria and Darin wanted to ensure their son had an outlet for active play. The architects raised the ceiling in the fourth-floor play area to incorporate obstacle-course-like features—including a wall-mounted climbing pegboard and hanging cannonball holds—inspired by those seen on one of Miguel's favorite television shows, American Ninja Warrior. The open space, which can be partitioned via a stacking door with frosted glass panels, also works well for building with Legos or hosting sleepovers.
MAKE AN ENTRANCE
To avoid interrupting the classic beauty of the living room, Horowitz and Mucciarone devised a family-friendly entryway, complete with a powder room and a mudroom at street level. "We had many conversations about the family's morning routine and what happens when they get home at the end of the day," Mucciarone says. The new layout makes it easy for Miguel to grab his backpack, then wheel his bike (stored under the stairs) out onto the sidewalk. After school, he can wash up in the powder room before proceeding upstairs. "The design supports the process," Mucciarone adds.
---