Real Estate
So You Want to Live in the North End
Navigate the market with our trusty neighborhood guide, and spend your weekends comparing cannoli shops.
---
Boston's own Little Italy, the North End, is a study in contrasts. It's a neighborhood with European roots where parades and pastries seem to flow from every street corner, but at the same time, has been adopted by a younger generation—the kind that favors green smoothies over gelato and pumpkin spice lattes over Prince spaghetti. While the old days of Italian charm certainly aren't gone, the North End has changed significantly in recent decades. It's still an enclave for the city's Italian community, but real estate companies have done their best to capitalize on the neighborhood's proximity to downtown and the waterfront, therefore pricing out many of the European immigrants who established the neighborhood in the first place.
As one of Boston's most highly coveted residential areas, it often feels like the only people buying in the North End these days are wealthy retirees, finance bros, and Bruins players. There are significantly fewer Italian grandmas yelling out windows of fifth-floor walkups nowadays, but you'll still find plenty of old-timers sitting in plastic lawn chairs on the sidewalks. (They look straight out of an episode of The Sopranos.) Aside from countless Italian restaurants, the neighborhood is filled with historical homes and buildings, too, from the Old North Church to the famed Skinny House. Perhaps the most wonderful aspect of the North End is the neighborhood's fierce pride in itself. Folks who grew up or run businesses in the area love to celebrate the community, particularly during the annual revelry of Feast season.
The downsides? Locals say the rodent problem has gotten worse. There's also a fair amount of litter—and one-too-many sidewalk bar brawls. Residents who don't have cars generally have to schlep to Whole Foods in Beacon Hill to shop in a real supermarket. It's virtually impossible to snag a parking spot, and you'll always be weaving in and out of hordes of tourists, scoops of gelato in hand. However, it's those same tourists who keep the money flowing into the North End, thanks to oversized plates of pasta being served up on every street, and block-long lines to get into Mike's Pastry. (But seriously, go to Maria's instead.)
---
Prices at a Glance
Median condo price: $819,000
Average rent price: $3,674 per month
---
What You Can Buy
A Brick-and-Beam Condo
75 Fulton Street #52, Boston
Price: $825,000
Size: 945 square feet
Bedrooms: 2
Bathrooms: 1
A Contemporary Renovation on Hull Street
55 Hull Street #1, Boston
Price: $1,225,000
Size: 1,179 square feet
Bedrooms: 2
Bathrooms: 2.5
---
Public Transit Options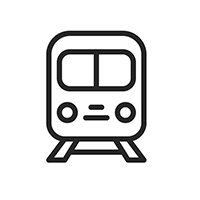 The Haymarket and North Station stops on the Green and Orange Lines
The Aquarium stop on the Blue Line
---
What a Real Estate Agent Says
For the past 3 to 4 years, we've been seeing low inventory and high demand in the North End. While we're seeing a slight uptick in fall inventory, it just isn't keeping up with the demand. The North End is roughly one of ten neighborhoods in Boston with an average asking price around $1,000 per square foot. Since the beginning of 2018, we have seen 10 sales between $363,000 and $500,000, 31 sales between $500,000 and $749,000, 11 sales between $750,000 and $1 million, and 8 sales over $1 million. Inventory is low, but you can certainly find a place to call home in your price range if you're not afraid of putting in a little TLC or embracing a smaller living space.

My advice for buyers thinking about a near-future purchase in the North End is to start early and work with a real estate professional who understands your needs and timeline, and ultimately someone you trust to put in the work. In a neighborhood like the North End, who you know matters. Working with a neighborhood-focused agent who has their finger on the pulse of the market and years of connections within the neighborhood will make all of the difference in your search.

I've had the most success finding clients hidden gems by starting three to six months in advance and working the connections I've made over the past 10 years of living and working in such a close-knit community. My advice for anyone looking for a "deal"? Stay on top of properties that may be slightly over your budget but are still sitting on the market heading into the winter months. Properties won't last on the market if they are priced correctly, but you may find a motivated seller if a property was originally priced too high and their bottom line begins to soften. Timing is everything.
—Danielle D'Ambrosio, The D'Ambrosio Group
---
Markets and Speciality Shops
Boston Public Market
100 Hanover St., Boston
Golden Goose Market
179 Commercial St., Boston
Bricco Salumeria & Pasta Shop
11 Board Alley, Boston
Salumeria Italiana
151 Richmond St., Boston
Polcari's
105 Salem St., Boston
Going Bananas
65 Salem St., Boston
---
Perks
It would be a crime to create a guide to the North End without celebrating its food scene, from the Sicilian slices at Galleria Umberto to the strong cappuccinos at Caffe Vittoria. Yes, some restaurants are tourist traps, but know that you'll return home feeling stuffed no matter where you dine. Wondering which spots you should check out first? Consult our Food Lover's Guide to the North End.
---
Did You Know?
Local business owners have long fought to keep food and beverage chains from setting up shop on Hanover and Salem Streets. So when Pinkberry opened on Hanover Street in 2013, they were welcomed to the neighborhood with smashed windows, a sign so ominous that only dead fish wrapped in a bulletproof vest would have been clearer. The frozen yogurt shop closed in 2016, and then nearby chain Peet's Coffee and Tea suffered the same fate in 2018. It's no surprise that Starbucks didn't even dare open its doors in the North End this year after the neighborhood rose up in a battle so significant it made national news, with Mayor Marty Walsh stepping in to ask the development company to cancel their plans. (Starbucks lovers, fear not. There's one on Commercial Street.)
HOME PRICES BY ZILLOW AND RENT PRICES BY RENTCAFE. ICONS VIA GETTY IMAGES.
---