So You Want to Live in Hyde Park
It's with good reason that Hyde Park's motto is "A Small Town in the City." The southernmost neighborhood of Boston can feel worlds away from downtown, despite being just a couple stops away on the Commuter Rail. An epicenter of manufacturing in the 19th and early 20th centuries, Hyde Park filled up as Bostonians fled the city's cramped neighborhoods in search of living space, fresh air, and natural beauty.
Hyde Park has a suburban vibe with pockets of industrial areas, which are remnants of its history as a manufacturing hub. (Some things continue to be produced in town, however, like the beloved My Grandma's Coffee Cake.) Today, you'll still find plenty of warehouses, especially in the peaceful Readville neighborhood, where Capes and other small homes also dot its leafy streets.
It's hard to miss the influence of Readville native and former Boston Mayor Thomas Menino in the neighborhood, with everything from the YMCA to a wing of the Hyde Park branch of the Boston Public Library bearing his name. Fairmount Hill, known largely as an Irish and Italian neighborhood, is filled with historic Colonial and Victorian homes. Lively Cleary Square, meanwhile, is a true mishmash, combining fast food joints, run-down storefronts, and beautiful historic structures like the Vertullo Building, likely the oldest and only surviving wooden commercial building in the district, and the Everett Square Theatre. The Cleary Square area has a large Haitian population, as well as bubbles of Latino groups. 
The last few years have seen debate over development in Readville, particularly near the Commuter Rail station. Mayor Walsh has long eyed the area as a potential spot for growth, so change may be imminent. And as for that Commuter Rail, it does often run late, but locals say being only a couple stops from Back Bay Station is tremendously easy for those who work downtown.
Despite the fact that the neighborhood is within city limits, outdoorsy types enjoy Hyde Park's proximity to the Blue Hills and Stony Brook Reservation. Some residents aren't crazy about the lack of shops or nice restaurants. While you won't find a ton of fine dining, there is plenty of international food and a few local favorites like Ron's Ice Cream, an ice cream and bowling alley combo, Tutto Italiano, and the Fairmount Grille.
---
Prices at a Glance
Median single-family home price: $445,000
Median condo price: $310,000
Average rent price: $2,300 per month
---
What You Can Buy
An Expanded Cape with a Pool
23 Brush Hill Terrace, Hyde Park
Price: $599,000
Size: 1,800 square feet
Bedrooms: 3
Baths: 2
A Loft Condo in a Former Factory Building
1 Westinghouse Plaza #207, Hyde Park
Price: $374,000
Size: 1,027 square feet
Bedrooms: 1
Baths: 1
---
Public Transit Options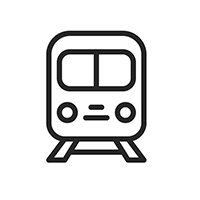 The Fairmount, Hyde Park and Readville stops on the Commuter Rail
---
What a Real Estate Agent Says
People should be thinking about Hyde Park as a real city community where you know your neighbors. Right now, Hyde Park is a very hot neighborhood for buying and selling. It is more affordable than some of the surrounding communities, such as West Roxbury, Roslindale, and Jamaica Plain. Having said that, we have seen a substantial increase in home sales and market values, keeping up with the rest of the city, and maybe even surpassing other neighborhoods.

Hyde Park is the most southern point in Boston, bordering both Milton and Dedham. So, even though we are still in Boston, the neighborhood has a suburban feel to it. We have backyards, quiet streets, more parking, great public transportation, Commuter Rail stops, and easy access to the highway. We offer lots of activities for families. People just enjoy living here.

Some of the neighborhoods that used to command higher prices were Fairmount and Readville. But now, all of Hyde Park is equally desirable, such as the Golf Course neighborhood. It all depends on your budget and the size of the home you need. We have some great older Victorians, as well as Capes and ranches. Some of the smaller homes could be consider a "deal." Of course, there are always houses coming on the market that need work, so if you are willing to use a little sweat equity and do some of the work yourself, you can still get a deal here.
—Judy McNulty, Tierney Realty Group
---
Grocery Stores

Shaw's
1377 Hyde Park Ave., Boston
Stop & Shop
1025 Truman Pkwy, Boston
America's Food Basket
942 Hyde Park Ave., Boston
Price Rite
870 River St., Boston
---
Perks
When compared to the rest of Boston, real estate prices in Hyde Park are quite palatable. As of May 2018, Hyde Park's average asking price is $285 per square foot, with a low end of $196 per square foot and a high end of $419 per square foot. That means Mattapan is the only other neighborhood in Boston that's considered more affordable. Since Hyde Park is less densely populated than most areas of the city, you're much more likely to be able to buy a property with a sizable yard. And as one resident told us, "It looks like Milton but you pay Boston city taxes." 
---
Did You Know?
In the late 1800s, Hyde Park was known for taxidermy. Respected ornithological publisher 

Frank Blake Webster

 opened the Museum and Naturalist's Supply Depot, where

  

students could learn to mount moose, deer, or elk heads. Fast forward to 2018, and Hyde Park made headlines for animal heads once again when a woman found a severed goat head on the hood of her car and a photo of herself under the wipers. Though no reason for the discovery was given, 

WBZ reported

 that the woman immediately drove to the closest police station…with the goat head still on the car.
In addition to its industrial influence, Hyde Park was synonymous with harness racing in the early 20th century. The Readville Trotting Park, located on the grounds of 

Camp Meigs

, was known as one of the finest tracks in the world, drawing thousands of fans for a day at the races. As the years went on, it became known as the premier spot for 

auto racing

. By the early '30s, the track was modified to allow more speed using an interesting material—the fill that was 

dug up

 during the creation of the Sumner Tunnel. The track ultimately closed in 1937, and was almost abandoned by World War II. The Readville Race Track later became the site of a Stop & Shop warehouse and distribution center.
Home and rent prices by Zillow and HOTPADS. Icons via GETTY IMAGES.
Source URL: https://www.bostonmagazine.com/property/2018/11/06/hyde-park-neighborhood-guide/
---