Waltham and Worcester Had Some of November's Fastest-Growing Rent Prices
A new report from Zumper indicates both cities jumped 15.7 percent since last year.
---
In a city like Boston, where residents regularly shell out almost half of their income to pay rent, deciding to move somewhere cheaper can feel like a no-brainer. Plenty of disgruntled Bostonians have sought greener pastures in nearby places like Waltham and Worcester, and for a fraction of the cost of city living.
A new report by apartment rental platform Zumper suggests those greener pastures are all too green. The site's monthly Boston metro report concluded Waltham and Worcester tied for the largest year-over-year rental growth rate this November. Both Waltham and Worcester rent prices are up 15.7 percent since last year; Waltham's one-bedroom rent price average is now $2,290, Worcester's average is $1,330.
While Worcester's rent prices have grown since last year, it's still one of the cheapest places to live on Zumper's list, along with Lowell, Lawrence, and Fall River.
And among the report's other findings? Cambridge eked out Boston as the most expensive city for the month, clocking in at a one-bedroom average of $2,510. Boston came in second at $2,480, while Brookline was a close third at $2,400 per month.
To crunch the numbers, Zumper analyzed active listings in November 2018 across 16 cities in Massachusetts: Cambridge, Boston, Brookline, Waltham, Somerville, Medford, Quincy, Newton, Framingham, Malden, Haverhill, Lowell, Worcester, Brockton, Lawrence, and Fall River. Half of the 16 cities had average rent prices above the state's median of $1,893 per month. Read the full report here.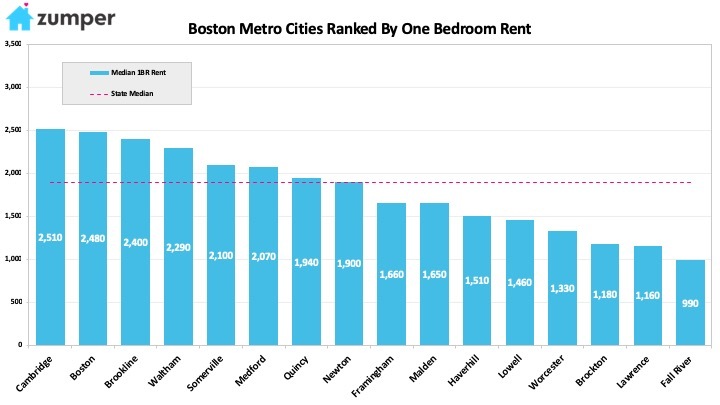 ---