So You Want to Live in Coolidge Corner
Navigate the market with our trusty neighborhood guide, and spend your weekends at one of the area's coolest indie theaters.
---
From the moment the T sails into Harvard and Beacon Streets, Coolidge Corner comes into view as both quaint and bustling. Take a stroll down Harvard Street and you'll see an area filled with independent businesses and iconic establishments, like the Coolidge Corner Theatre and Brookline Booksmith. Quieter streets outside the Corner are lined with apartment buildings and multi-family homes—and the occasional single-family, too. The neighborhood is exceedingly charming, a classic taste of a thriving mid-century town center. While it's certainly idyllic, there's a bit more to the story.
It would be ridiculous to assume that living in Coolidge Corner is in reach for most people. The fact is, if you're looking to buy a property in Brookline, you understand that you'll be spending a significant amount of money. Those who buy there often do so for two major reasons: education and accessibility. While the Green Line has its share of problems, being right on the C line is a whole lot better than stopping every 50 feet on the B. If you're a driver, traffic can be quite congested, and finding a parking space can be very tough. But the proximity to the Longwood Medical Area and downtown are still major draws.
Because Coolidge Corner has gotten so expensive, staying put has become increasingly challenging for renters, owners, and businesses alike. Not even the chains seem to be able to stay open—longtime Harvard Street tenant Peet's Coffee and Tea recently shuttered. In terms of inventory, Coolidge Corner is mostly condos, which outnumber single-family homes by a margin of at least 10 to 1. In fact, only four single-family homes sold in 2018, with an average sale price of $2.267 million. The areas closest to Boston University are naturally student heavy, which can be noisy, though the Brookline police don't tolerate partying like they do over in Allston and Brighton. In fact, Coolidge Corner gets pretty quiet at night, which, depending on your preference, could be outrageously boring or blessedly stress-free.
---
Prices at a Glance
Median single-family home price in Brookline: $1.86 million
Median condo price in Brookline: $764,000
Average rent price in Brookline: $3,450 per month
---
What You Can Buy
A Teeny Studio Right on Beacon Street
1407 Beacon Street #8, Brookline
Price: $349,000
Size: 324 square feet
Bedrooms: 1
Baths: 1
A Three-Bedroom Townhouse
12 Marion Terrace #12, Brookline
Price: $1,399,000
Size: 1,972 square feet
Bedrooms: 3
Baths: 2.5
---
Public Transit Options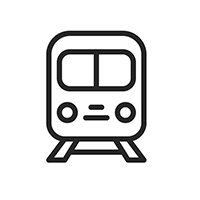 The Coolidge Corner stop on the Green Line.
The 66 bus is also popular.
---
What a Real Estate Agent Says
Coolidge Corner remains one of the hottest areas in all of Greater Boston and the housing costs reflect that fact. Coolidge Corner has been a strong market for many reasons, including diversity, shopping, transportation, and schools. The "hottest" area of Coolidge Corner is up for debate. The area closest to BU on the north side of Coolidge Corner is thought by some to be too student-oriented. The area on the southern end of CC closer to Beacon Street is thought to be too crowded and commercial to others. I like them both equally. Parking remains a problem in Brookline in general but especially more densely packed CC. There is no overnight parking in Brookline.

Unfortunately, there are no bargains in Coolidge Corner, either. It's hot, and correctly priced properties are snatched up in seconds, often with multiple offers. If you are looking in Brookline, you should have an agent, be prepared to put your best foot forward, and accept that you may feel like you are overpaying. Before you start looking, have your finances in order. If paying cash, have a proof of funds letter. If mortgaging, have a pre-appoval from a reputable lender. Above all, remain patient!
—Margaret Szerlip, Karp Liberman Group, Compass
---
Grocery Stores

Trader Joe's
1317 Beacon St., Brookline
Stop & Shop
155 Harvard St., Brookline
Whole Foods Market
1028 Beacon St., Brookline
---
Perks
Brookline's public schools consistently rank very high, and represent families from all over the world. In fact, at the Coolidge Corner School, about 30 percent of students are in its English as a second language program. On the other hand, some residents do say classes can be crowded. In any case, the public schools certainly know how to take advantage of their location—John F. Kennedy's birthplace is right on Beals Street, and each year, third graders engage in a four-week study in collaboration with the JFK National Historic Site.
---
Did You Know?
Many of Boston's Jewish neighborhoods were wiped out during the 20th century. But Brookline has managed to remain a Jewish stronghold, with Coolidge Corner serving as its epicenter. Brookline's Jewish community took shape during the early 1900s, and by the time the 1920s came, they had already two major synagogues: Ohabei Shalom, which had relocated from Boston, and Kehillath Israel. But before they acquired their own properties, Brookline Jews had to make use of what they had, gathering in private homes and local buildings. One of those gathering spaces was the second floor of the iconic S.S. Pierce building, the stunning Tudor construction with a clock tower that greets you at the intersection of Beacon and Harvard Streets. Called Whitney Hall, after Beacon Street developer Henry Whitney, the space was a home for everything from vaudeville performances and dances to prayer circles and concerts.
HOME PRICES BY ZILLOW, RENT PRICES BY HOTPADS. ICONS VIA GETTY IMAGES.
---