LDa Architecture & Interiors Designs a Modern Family Home in Newton
An architect's new abode speaks to his love for his profession and his family.
---
Architect Treff LaFleche says what makes modern houses so interesting is, simply, that "they glow." And he should know. After a divorce led him to sell his house in Newton, the LDa Architecture & Interiors principal and cofounder purchased a ranch in town to renovate for himself. Those plans changed, though, when LaFleche remarried and decided with his wife, Jody, to build a new, more contemporary abode on the lot instead. "Fortunately, I like modern design," Jody says, "so I was really excited about going in that direction."
Apart from its aesthetic, the couple wanted their new house to be energy efficient and feel connected to the site, which overlooks busy Commonwealth Avenue and its carriage lane. But most important, it had to accommodate the five children they have between them. They wanted all of their kids, who range in age from 16 to 31, to feel like it was their home—whether they lived there full time or not.
Finished in the summer of 2017, the resulting 4,600-square-foot house—decidedly modern with bold geometric volumes, large expanses of glass, and an eye-catching butterfly roof—certainly fits the bill. To address the couple's desire for sustainability, rigid, inches-thick insulation wraps the exterior and the roof, eliminating energy loss caused by thermal bridging and limiting air infiltration. "Think of it as a winter overcoat around the house," Treff says. Remarkably close to achieving net-zero performance, the house also boasts interior spray-foam insulation, an electric heat pump, an energy-recovery ventilation system, and 71 solar panels—all strategically placed on the roof so they can't be seen from the street. "Structurally, it was a challenging house to build," says Denali Construction's Jim DePaolo, who worked with the couple alongside Treff's daughter (an architecture student), LDa architect Virginia Ofer, and former LDa project manager Dean Hofelich. "But I knew what I was getting into. Treff knew exactly what he wanted to do. He's very patient, very methodical."
Inside, the design is just as thoughtful. To give a distinct identity to each space while preserving an open-concept layout on the first floor, Treff designed a series of partial walls to separate the common rooms without closing them off. "There's no doubt that the trend in residential design is open concept, but how do you have a lot of open space but feel like you're not in the same one space all the time? That's what walls can do: create enough separation so that the function of the kitchen doesn't compromise on the formality of the dining room or the lounginess of the living room," he says. "You know the room is there and you get glimpses of it but you're not exactly on top of it." Adhering to that ethos, the foyer opens to a formal dining room on one side and a music room on the other. The kitchen, meanwhile, shares space with the breakfast area at the back of the house. Here, Treff and Jody make use of the sleek Poliform cabinetry and U-shaped island, which includes a Miele cooktop—intentionally placed in the middle of the kitchen—and a nifty ventilation hood that's flush with the ceiling. "Prepping, cooking, and enjoying a meal have become much more celebratory," Treff says of the space, where the couple regularly entertains their children and friends.
The fun continues in the adjacent living room: the family's favorite hangout. Like the other rooms in the house, LDa interior designers Dean Sawyer and Kathy Holl centered the scheme for this space around neutral grays, which make the room feel cozy without detracting from the views of the surrounding property (designed by landscape architect Matthew Cunningham). "Like old sunrooms, sleeping porches, or side porches, this room is building on that long history of a room at the end of the house that is open on three sides and exposed to nature," Treff says. "We humans like to dwell in these types of transitional spaces. Here's how we are as close to being outside as can be, without literally being outside."
Of course, when the family needs a break from this space, there are bedrooms for everyone to spread out in, too. The house features a first-floor guest suite, four upstairs bedrooms with en suite bathrooms, and even a spare bedroom in the finished basement. "It really is a family house. The kids had a lot of input on their spaces," Sawyer says. "Treff did a lot of the architecture and when it came to the interiors, he really opened his net and got everyone involved."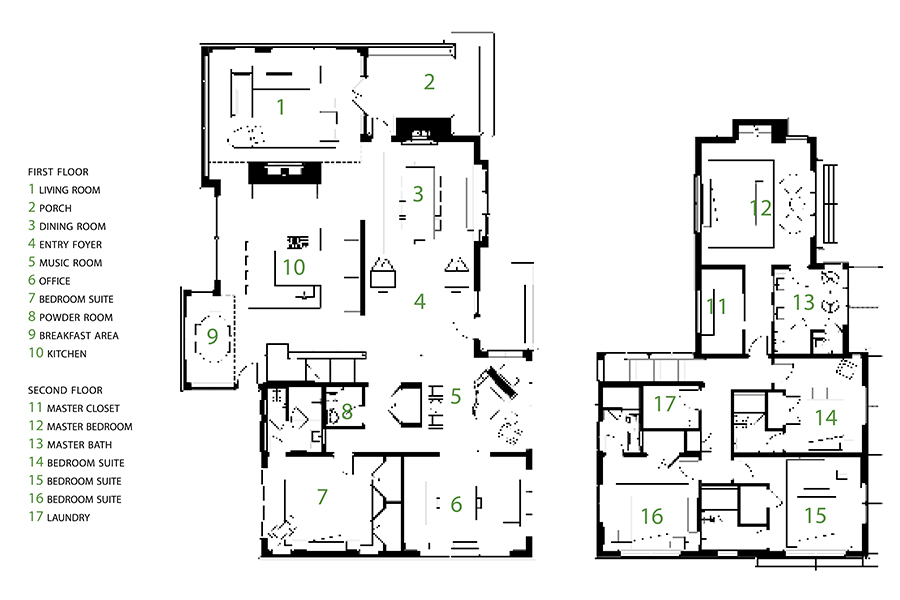 Architect/Interior Designer
LDa Architecture & Interiors
Contractor
Denali Construction
Landscape Architect
Matthew Cunningham Landscape Design
---