So You Want to Live in Medford
Navigate the market with our trusty neighborhood guide, and spend your weekends exploring the outdoors at the Fells.
---
Like Everett and Malden, Medford was originally part of Charlestown. But this city of over 50,000 residents will probably remind you more of Somerville—no shocker, since it's right next door. Medford Square is picturesque, but not exactly lively; instead, it's a leafy, peaceful town center with quiet side streets. The town caters toward a population that includes everyone from Tufts students and life-long residents to young families drawn in from Somerville by the (relatively) reasonable single-family home prices.
Residents flock to Medford for several reasons, with proximity to the city of Boston reigning supreme. Whether it's a 15-minute drive or 10-minute ride on the Commuter Rail from the West Medford station, Medford residents tell us that the accessibility of the city is one of its best qualities. There's a livable quality that's harder to find closer into Boston. It has some great restaurants, like the menu-less Nappi's and beloved Bob's Italian Foods, and is particularly family-friendly, with lots of great activities and resources for kids and parents alike.
But like any town, it's not all suburban bliss in Medford. Some traffic lights are a mess, which endangers both drivers and pedestrians. Multiple residents mentioned a strong "yuppie vs. townie" tension that certainly isn't benefitting anyone. And while Medford kind of resembles Somerville, it's not as progressive: One former resident told us she's been subjected to homophobic shouts from cars multiple times.
Medford home prices have been increasing steadily, and the crowds will only continue to flock there as the Green Line Extension continues right over the border in Somerville. Like the rest of the Boston area, Medford is in need of additional affordable housing if it wants to keep its lifelong residents. Just last week, the Medford City Council passed a zoning change that requires new larger housing developments to include a minimum number of affordable units.
---
Prices at a Glance
Median list price for a single-family home: $648,000
Median condo sale price: $569,000
Average rent price for a 1-BR: $1396
---
What You Can Buy
Address: 16 Princeton St. Unit 1
Price: $770,000
Size: 2,150 square feet
Bedrooms: 3
Baths: 3
A Cape within Walking Distance to Medford Square
Address: 160 Ashcroft Rd.
Price: $589,000
Size: 1,150 square feet
Bedrooms: 4
Baths: 1.5
---
Public Transit Options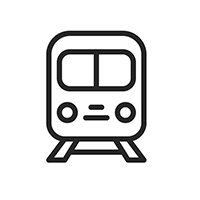 The Orange Line Wellington stop.
The commuter rail to West Medford stop.
Several buses, including the, 94, 326 Express, 95, and a few others.
---
What a Real Estate Agent Says
"During the past few years, Medford has quickly grown into a real estate hotspot as developers capitalize on the market's growing desirability. Medford's proximity to Boston, accessibility to transit, and the recent addition of retail with trendy amenities attract buyers who hope to blend an urban and suburban lifestyle.

In addition to retail and amenities, Medford offers more living space for the money. The housing stock primarily consists of single-family homes and two-family conversions situated along tree-lined streets in well-established neighborhoods with a sense of community. As green space continues to diminish in Boston, buyers can move a few minutes outside the hustle and bustle to Medford, where residents can access twelve parks, two beaches, and plenty of recreational facilities like horse stables, tennis courts, and an ice skating rink.

With six distinct neighborhoods, Medford's property values continue to rise, year over year. Demand outweighs supply, resulting in an average of 18 days to an offer in 2018, per MLSPIN. Last year, the median sale price was $620,000 with a sale price to list price ratio of 103%, meaning sellers are almost always seeing competitive offer scenarios and over-asking sale prices."
---
Grocery Stores
Wegman's
3850 Mystic Valley Parkway
ALDI
630 Fellsway
Whole Foods Market
2151 Mystic Valley Parkway
Stop & Shop
471 Salem St.
---
Perks
Medford residents get the best of both worlds. Natural beauty is plentiful thanks to the Middlesex Fells Reservation, a 2200-acre state park that dips into Medford, as well as the trails along the Mystic River, which are great with kids and dogs. Residents can even catch some rays at Wright's Pond, an adorable swimming hole that's only open to the town's residents. But along with the natural beauty comes accessibility to Boston proper: Not only is Medford accessible by the Orange Line, Commuter Rail, and several buses, but it's right off 93 and allows a short 10 to 15 minute drive into the city.
---
Did You Know?
Medford is well-known for its former residents, ranging from former New York City Mayor Michael Bloomberg to Amelia Earhart, who lived in Medford while working as a social worker. But perhaps one of the most mysterious Medford residents throughout history is Elizabeth Short, known as the Black Dahlia. Though she was born in Hyde Park, Short lived in Medford as a teen before heading to Los Angeles. It's there that she was brutally murdered, a story that's been used in feature films and TV many times over. Though Short's killer was never officially determined, a memorial plaque sits on a stone in Medford, honoring the life of a beautiful young woman taken too soon.
HOME PRICES BY ZILLOW, RENT PRICES BY RENTCAFE. ICONS VIA GETTY IMAGES.
---