On the Market: A Quaint Oceanfront Cottage in Provincetown
Owned by the same family for 60 years, this gem comes with its own private beach, light-filled rooms, and a Conrad Malicoat fireplace to boot.
---
649 Commercial St., Provincetown
Price: $1,799,000
Size: 1,125 square feet
Bedrooms: 5
Baths: 1.5
Now that Labor Day has come and gone, beachy houses like this one might seem a little behind the times. But we still have another 20 days left of official summer, and this oceanside home lets you hold onto the sunshine all year long.
The cottage, which is said to pre-date 1850, is full of old-school details. White wooden beams stripe the ceilings, and white painted planks panel the walls, while wide windows and French doors bring the seascape into the room, too. At the center of the light-hued room sits a brick fireplace forged by Conrad Malicoat, the famed Provincetown sculptor known in particular for his creative fireplaces.
Quirky features throughout the home harken back to the Ptown of yesteryear. In the kitchen, low and doorless cabinets line three walls, while one upstairs bedroom—there are an impressive five puzzled into this 1,125-square-foot home—comprises a sink and toilet as well as normal bedroom fixings.
Another special bedrooms sits on the first floor, where natural wood walls mimic a classic Cape Cod dune shack, and cute green valance curtains hang above a window that wakes you up with an ocean view.
Adorable hand-painted furnishings and a private swath of beach make this home the perfect place to frolic through the summer days, and hibernate through the winter ones.
For information, contact Iskren Georgiev, Atlantic Bay Sotheby's International Realty, atlanticbaysir.com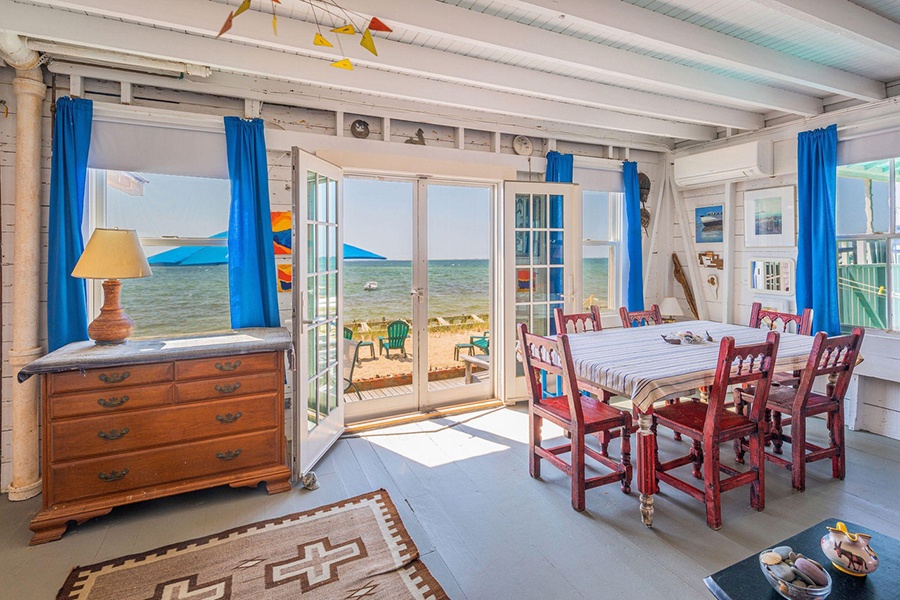 The Boston Home team has curated a list of the best home design and home remodeling professionals in Boston, including architects, builders, kitchen and bath experts, lighting designers, and more. Get the help you need with FindIt/Boston's guide to home renovation pros.
---