On the Market: A Rare Rhode Island Stone-Ender in Newport
Warm up in this antique home, which features eight-foot fireplaces and a beehive oven.
---
2 Wilbur Ave., Newport, Rhode Island
Price: $798,000
Size: 2,150 square feet
Bedrooms: 3
Baths: 2.5
If you peek around the corner from the salmon-hued facade on this home, you'll notice that on one side of the building, clapboard siding gives way to almost an entire wall of stone. This unique trait is part of what makes the John Bliss House so special.
In 17th century Rhode Island, so-called "stone-enders"—homes where a giant stone chimney takes up a wall—popped up all over the place. And this home, built circa 1680, is one of the oldest stone-enders in Newport. If you look closely, you'll notice a slight bulge in the masonry, which provides room for the beehive oven inside.
Though it may be hard to spot in the warmly lit photo, the beehive oven, a semicircular compartment used for baking, can be found toward the back of the dining room fireplace. And if such an antiquated fixture conjures up images of a creaky, dusty old house, rest assured that this Colonial is quite the opposite. A 2017 renovation welcomed in a sparkling new kitchen with deep gray quartz counters, a small window seat, and stainless appliances, among a list of other improvements. In a separate room with tiled floors and vaulted ceilings, a wooden wet bar faces a wall-mounted TV, creating the perfect nook for game day viewing or in-home date nights.
But if the history of the home is what you're after, the dwelling's many years shine through in nearly every room. The floors are made of wide pine hardwood and the ceiling beams are made of timber from the 1600s. A gas stove heats a third floor bedroom, and eight-foot fireplaces occupy the living and dining rooms. Pull a chair up to the hearth and bask in the warmth of this rare gem of a home.
For information, contact Holly McLear, Hogan Associates, hoganassociatesre.com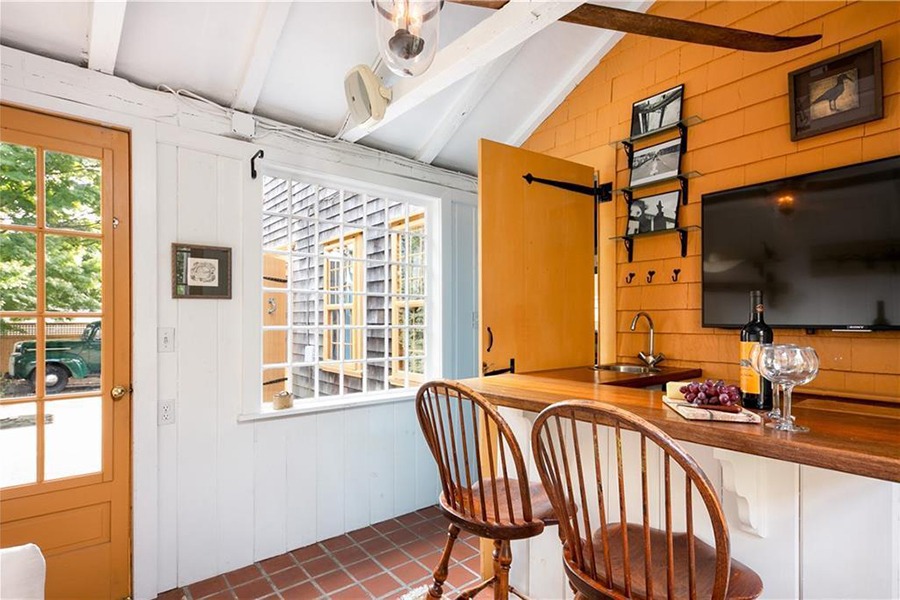 The Boston Home team has curated a list of the best home design and home remodeling professionals in Boston, including architects, builders, kitchen and bath experts, lighting designers, and more. Get the help you need with FindIt/Boston's guide to home renovation pros.
---