On the Market: A Color-Splashed Renovation in Portsmouth
Every room in this lively warehouse-turned-home is brimming with a different color—and plenty of panache.
---
129 State St., Portsmouth, NH
Price: $2,950,000
Size: 3,859 square feet
Bedrooms: 3
Baths: 4
Enter through the back door—a glossy portal color-blocked in electric shades of pink, green, yellow, and blue—and you'll get a hint at the interior design. Like the White House's famously color coded rooms, this kaleidoscopic home comprises 12 rooms, and almost every one is dedicated to a different bold hue.
On the second floor, the New Hampshire home's Red Room is actually painted in two slightly different shades—an orangey-red on the walls, and a bluish-red for the trim. A fireplace made of local fieldstone disrupts the monochromatic scheme on one wall, while frame molding and plenty of built-in bookshelves add depth to the others.
The kitchen embraces another fiery color: yellow. In the butler's pantry, the sunny paint covers the cabinets and walls, while 17th-century Dutch tiles adorn the backsplash and French Petite Granit tiles furnish the floors, which are fixed with radiant heating. In the adjoining eat-in, the pineapple yellow theme gets a break with a new wall treatment. Designed to look like an antique plaster wall from Tuscany, it features countless shades of lilac, pale blue, and yellow blended together—almost making the lavish 18th-century French chandelier look as if it's casting a rainbow of light around the room.
From the French blue sitting room to the rear foyer covered in purple panelling, each living space takes on a tone of its own. Surprisingly, though, the off-white master bedroom is the most neutral room in the house, making its balcony the star. The perch looks down into the gated courtyard three stories below, where a brick patio, ivy-covered archway, and peach and apple trees form a lush oasis in the middle of downtown Portsmouth.
But the residence wasn't always so opulent. When it was built in the 1880s, it served as a warehouse, and then later as an office space—incredible, considering how far the home is from giving off businesslike vibes today. It just goes to show that a few coats of paint and a lot of panache can go a long way.
For information, contact Jane Chase, Legacy Properties Sotheby's International Realty, legacysir.com.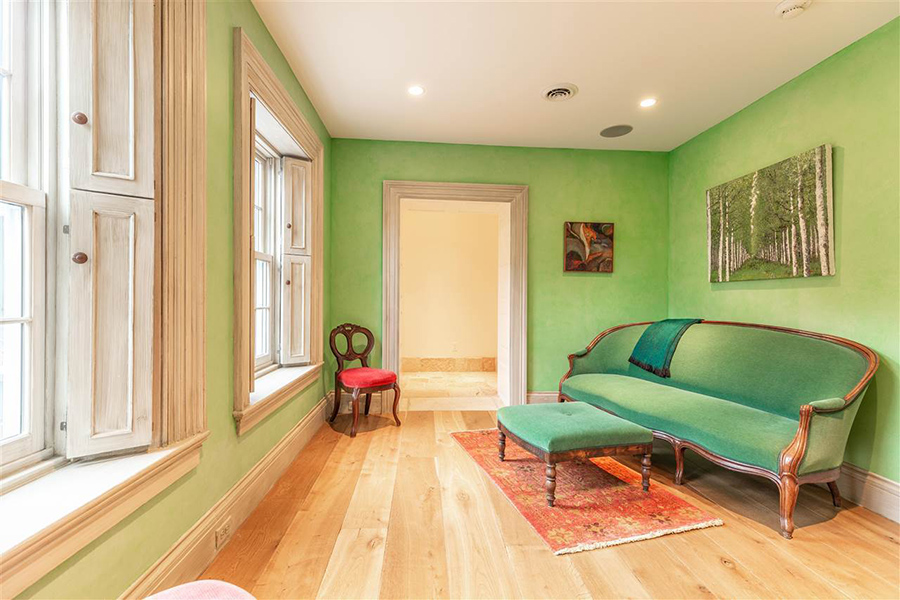 The Boston Home team has curated a list of the best home design and home remodeling professionals in Boston, including architects, builders, kitchen and bath experts, lighting designers, and more. Get the help you need with FindIt/Boston's guide to home renovation pros.
---