Handmade Furnishings and Earthy Materials Make This Minimalist Penthouse so Serene
Hacin + Associates fills a Back Bay penthouse with pieces by contemporary American makers.
---
The steel staircase that Hacin + Associates designed for a new Back Bay penthouse isn't just the focal point of a breathtaking custom home. For owners Barbara and Dick Couch, who spent their careers building Hypertherm, a company that pioneered new ways to cut metal, the staircase symbolizes their life's work. And to Bartek Konieczny, the metalworker Hacin commissioned to fabricate it, the staircase is an expression of gratitude to the people behind the tools of his trade. "When Bartek learned the clients' names, his jaw dropped," project architect Matthew Manke recalls. "He said that without their tools, his work wouldn't be possible." The Couches became equally enamored after Dick visited Konieczny's studio. "He's a true artist," Dick says.
The couple, who recently downsized from their family home in New Hampshire to a nearby condominium, hired Hacin to design an urban getaway where they could gather with their grown children and grandchildren. Their primary request, beyond a contemporary aesthetic, was that a custom steel staircase join the two floors in the new 5,800-square-foot space, which would be created by merging two units in a newly constructed building on Marlborough Street. Furthermore, it was very important to Dick that the textural etchings made by the Hypertherm cutting tools along the staircase's spine be a key design element. For Hacin, the markings dictated the artisanal nature of the entire project. "The makers are the costars," says David Hacin, the Boston-based firm's founding principal. "If this were a movie, there'd be a long line of credits."
The makers' marks and materials, which include wood, concrete, paper, leather, marble, and plenty of blackened steel, imbue character throughout the home. "Everything is elemental and of the earth," lead designer Jennifer Clapp says. "The concept is about using humble materials in honest ways." As part of this approach, designer Rebecca Rivers did what she calls "deep visual dives" on the internet to find artists who are pushing the boundaries of their mediums. Case in point: Tracy Kendall, the genius behind a three-dimensional, pleated-paper wallcovering that Clapp likens to origami. "The artist folds and stitches the simple material to transform it into this sophisticated thing," she says. When Barbara first saw a sample of the paper, which now envelops the entry hall, she chuckled. "I thought, That's not my idea of wallpaper," she says. "Now it's my favorite."
Handmade steel doors open off the hall into the gallery-like foyer, which is grounded by character-grade white-oak floorboards. From there, a pair of matching pocket doors with steel hardware allows easy circulation in and out of the family room. Deep gray tones and durable furnishings, including a table made from reclaimed beams, signal that this is the home's casual hangout space. "The scheme gets brighter as you move up," Hacin notes.
The staircase ascends in front of a two-story wall of glass and emerges in the main living space, an enfilade of rooms that stretches along Marlborough Street. Above, a site-specific light installation by Studio 1Thousand featuring some 1,000 LED diodes nestled into wire strands forms a curtain of soft, dimmable light. Rivers generated countless iterations to devise the ethereal configuration. "Barbara wanted it to feel organic, like rain," Clapp says.
In the living room, just left of the stairs, artwork made with smoke by local artist Sheila Gallagher hangs above the fireplace, setting a meditative mood. Multiple pieces crafted by American artisans orbit the Walter Knoll sectional, injecting a handmade feel into the minimalist space. Among them are Jan Jander's custom concrete coffee table, Kieran Kinsella's bleached-maple stump stool, and Caste's curvaceous plywood bench. "[These makers] have elevated everyday materials into incredible sculpture," Clapp says. "They are artists who happen to make furniture."
The functional spaces—the dining area and the kitchen—are aligned on the other side of the light curtain. In the dining area, a symphony of wood and leather furnishings by Studio Piet Boon sit under minimalist tubular lighting. A photograph of a rocky beach—purchased on Martha's Vineyard, where the family spends time together in the summer—adds a personal touch above the white-oak console. The kitchen is equally pared down but subtly accented with intentional details. A constellation-like light fixture by Brendan Ravenhill, for instance, highlights the 15-foot-long island, wrapped in marble slabs that boast finely crafted seams. "I love that we celebrate things as small as a joint," Clapp says.
The commitment to handmade items continues in the bedrooms, which hold custom pieces—like Volk Furniture's white-lacquered side tables with bleached-ash drawer fronts—that Hacin commissioned from different studios. Understanding that it would generate more-interesting results, the team granted the makers creative license in the design process rather than imposing strict parameters. "When collaborating, we've learned to take a step back [and] respect [each maker's] process," Rivers says.
The team credits the homeowners' generosity and engagement as the inspiration behind the collaborative nature they forged with the artisans. And the Couches, who had never built a custom home before, feel grateful that the design captured their intentions. "The space provides a sense of calm," Barbara says. "It's the place where we can exhale."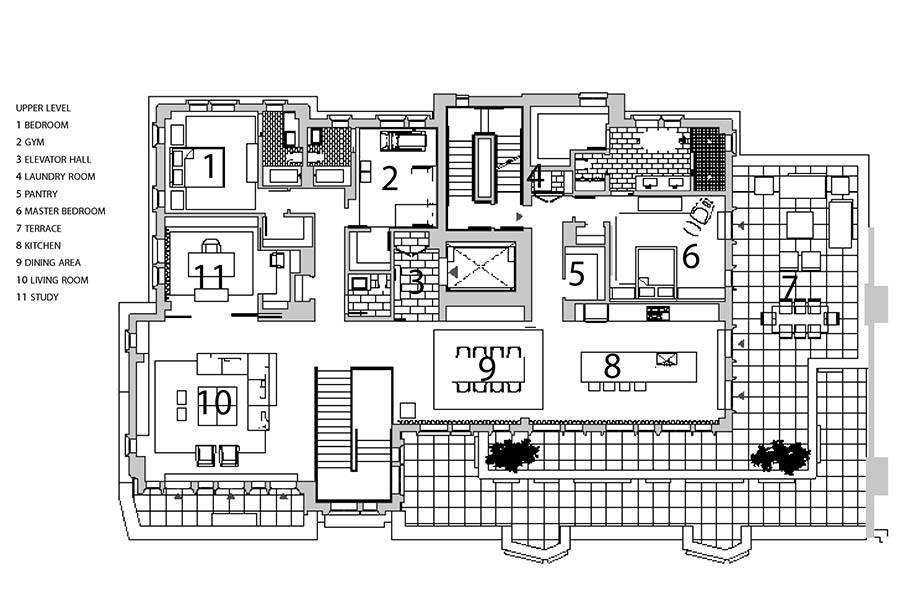 Architect/Interior Designer
Hacin + Associates
Contractor
The Holland Companies
Metalworker
Bartek Konieczny
Millworker
William Bray Cabinetmaker
---