On the Market: A Sumptuous Estate on a Maine Lake Isle
The secluded French country home comes with everything you could want—including a separate, private island of its own.
---
452 Phillips Way, Ellsworth, ME
Price: $1,485,000
Size: 6,000 square feet
Bedrooms: 4
Baths: 5
Who knew social distancing could be this luxurious? This Maine estate stretches out across five of this island's 20 acres, and, per listing agent Jamie O'Keefe, it's just one of two residences currently living on the lake-encircled land mass. A bridge extends from the enclave, parked in the midst of the massive Branch Lake, to the Ellsworth Mainland, which is only about 20 miles north of Bar Harbor and Acadia National Park.
At the end of a circular driveway, the stucco structure and its red hip roof were designed to make the home look as if it had been plucked from the French countryside and plunked down on an isle in the middle of Maine. Through the double front door, a plush interior unfolds. The master suite branches out into a walk-in closet, a walk-out terrace, and a pair of pearly white bathrooms, one of which is gilded with gold leaf accents. The recently renovated kitchen goes in on a sparkling white look, too, heightened by a custom gas range with brass burners from Italian brand Ilve and a stainless Sub-Zero fridge with a glass front.
Such an indulgent cookery calls for a leisurely start to the day: Toast a croissant, steam up a café au lait, and press a few oranges for a glass of fresh juice. Then, bring it all into the tiled dining area, which is surrounded by windows that look out to the in-ground pool, patio, and cabana. And when the urge strikes to shake up a refreshing quarantini, slide the cocktail through the kitchen's pass-through window and pick it up in the living room. One glance at the vaulted ceiling and whitewashed fireplace makes clear why it's referred to as the great room—and if it's balmy enough to enjoy a happy hour outdoors, a couple of sliders lead right out onto a deck overlooking the lake.
Amble across the landscaped yard and through some wooden grounds to arrive at a dock that opens up into a small deck. If your go-to date night joint has temporarily closed, a lakefront picnic as you watch a sunset is an amply romantic replacement. And if you ever find yourself looking for an escape even more remote than this private island locale, worry not: It comes with its own separate, private island. The 0.16-acre islet is a short ways from the shore, so you can hop on a kayak or skiff, or simply wade through the shallows and dry off underneath the sun.
For information, contact Jamie O'Keefe, The Knowles Company, knowlesco.com.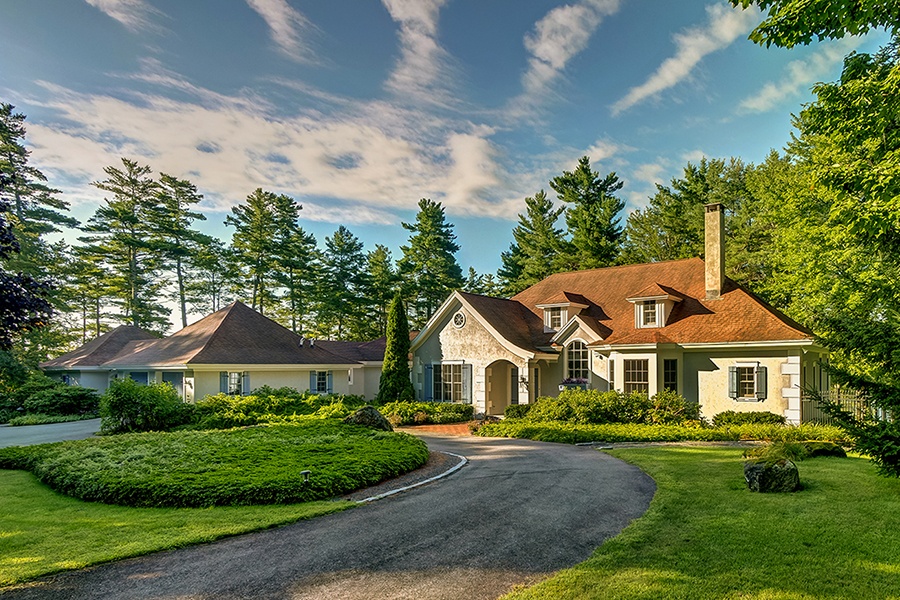 The Boston Home team has curated a list of the best home design and home remodeling professionals in Boston, including architects, builders, kitchen and bath experts, lighting designers, and more. Get the help you need with FindIt/Boston's guide to home renovation pros.
---