Boston Meets Bermuda in This Stylish Waterfront Pad
Mattye Dewhirst dresses up a Seaport condo for an out-of-town homeowner with a taste for island style.
---
When Mattye Dewhirst's client moved into a 1,266-square-foot pied-à-terre in the Seaport, she wanted to bring elements of home with her. "Her instinct tended toward dark wood and caning," Dewhirst says of the homeowner, who splits her time between Vero Beach and Bermuda. The designer, however, felt such furniture would read as too heavy in the sunny, sky-high unit. Her solution? Finding airy pieces that both nod to the classic, island-inspired silhouettes her client favored and sport sleek finishes that speak to the downtown locale. She also incorporated plenty of rattan, which feels right at home in coastal New England. "I reconciled her traditional taste with a more modern setting," Dewhirst explains.
Take Cues from the Cabinetry
The kitchen's minimalist cabinetry and polished quartzite countertop drove the aesthetic in the dining area, where Dewhirst surrounded a white pedestal table with curvy, high-gloss armchairs boasting breezy rattan panels. Given that space is tight, the designer appreciates that the rattan chair backs are essentially see-through while the frames, along with the pedestal table, disappear against the white walls.
Finesse the Finish
Identifying furnishings that paired traditional lines with contemporary finishes proved quite challenging for Dewhirst. "Pieces came in either very dark wood or distressed, shabby-chic whites," she says. On top of that, the client eschewed brass. After rejecting polished chrome as too stark and black as too bold, Dewhirst happened upon a brushed-silver coffee table for the living area. The catch? The top was glass, which the homeowner didn't like. "I had [Minas Marble and Granite] fabricate a stone top for it," the designer says of her solution.
Honor the Handmade
Dewhirst, who worked for Boston's Society of Arts + Crafts prior to launching her design firm, champions handmade wares. So when the client showed her an unremarkable but expensive globe light for the dining area, she wasted no time contacting Tracy Glover Objects and Lighting in Pawtucket to create a much more special, hand-blown chandelier for the space instead. Using the fixture's custom hues as a guide, the designer also hired Cambridge-based Andrew Iannazzi Studio Glass Design to craft a dinnerware set and vases. "I'd rather splurge on handmade pieces and watch local artisans blow the glass," Dewhirst says.
Pare Back the Palette
In terms of color, the client asked Dewhirst to stay neutral save for pops of blue and green. "She wanted the palette to work with the view rather than distract from it," the designer says. That meant picking a Turkish rug for the main living space, then adding barrel stools and a light fixture in colors that channel the client's Bermuda home, which overlooks olive-toned cedars and turquoise water. In the bedrooms, meanwhile, they opted for deeper marine-inspired shades with medium wood tones that Dewhirst felt could skew more traditional.
Have Some Humor
While Dewhirst adores gallery walls and installations, the homeowner wasn't too keen. Rather than let the guest bedroom walls go bare, though, the designer proposed applying a painterly wallcovering that depicts a forest with exotic birds behind the bed. "When they do an accent wall [on HGTV] I think, 'No!' but this paper made my heart and eyes smile," the homeowner says. As for the Woodchip & Magnolia wallcovering in the powder room, Dewhirst suggested the print featuring flamingos in high heels, betting her client would take a chance in a secondary space. She did. "I'm addicted to shoes so I cracked up when I saw it," the homeowner says.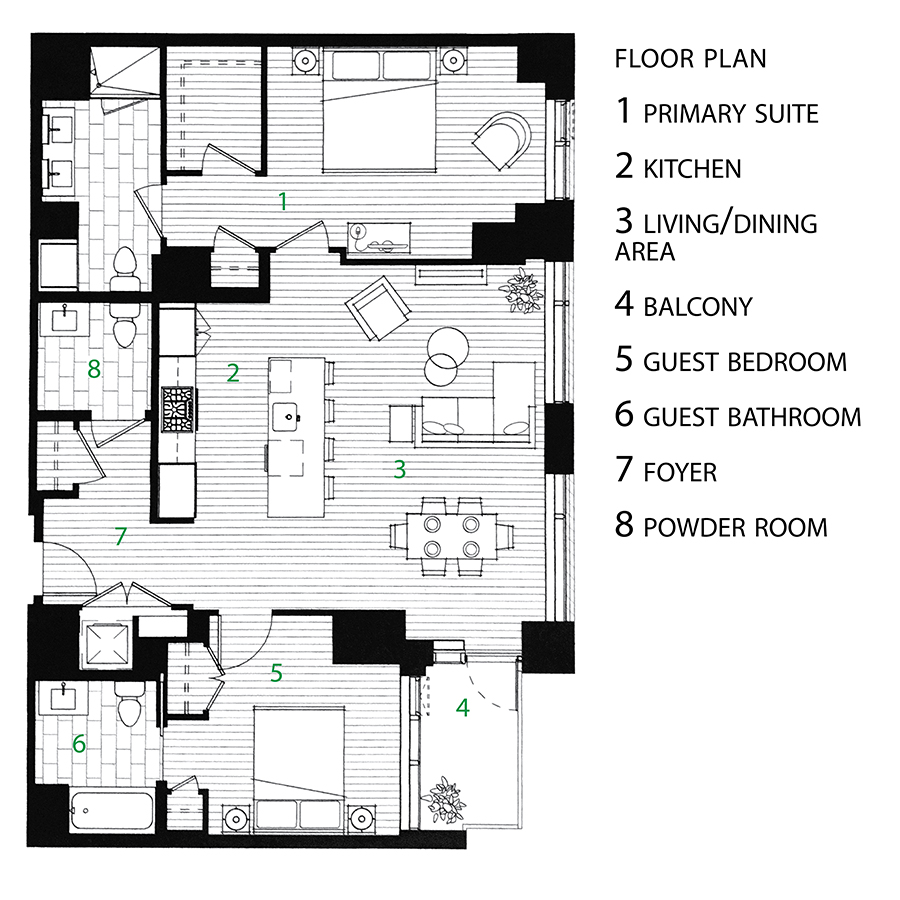 Interior Designer
Mattye Dewhirst Interior Design
Wallcovering Installer
Bradshaw Wallcoverings
Window Treatments
Dreamscapes of Boston
---