On the Market: A Country Cottage in Jamaica Plain
The owner of this cottage painstakingly rebuilt the place to be a peaceful escape for her and her three children.
---
110 Chestnut Avenue, Jamaica Plain
Price: $888,000
Size: 1,424 square feet
Bedrooms: 4
Bathrooms: 3
When Andrea Bredbeck bought this Jamaica Plain cottage 14 years ago, the first thing she did was demolish the place with the help of her three children. Despite the demolition, Bredbeck saved some of the original parts of the building, including the steel framing and concrete steps out front, which were part of the walkway system from when the house was originally built in 1920.
"It's always been about trying to keep as much of the original as I felt was possible, " she says. "Aesthetically and emotionally, allowing the building to carry the history it has was important to me."
When Bredbeck first purchased the property, she said the exterior was covered in vinyl siding. The land wasn't landscaped. Inside, the rooms were small, dark, and cramped. But Bredbeck, who works in trauma counseling but also dabbles in art, had a vision of making the place an escape within the city where she could raise her kids.
"I wanted to create a space that when people walked in, it felt like the space was hugging them," she says. "I have this basic designer principle that wherever I rest my eyes, I want it to be beautiful."
Bredbeck achieved her goal. Visitors are now welcomed by a terraced pathway leading to the house, and the cottage is surrounded by garden space. In this outdoor area, you'll find a fire pit, woodshed, and porch surrounded by flowers. There's also a brick patio (that Bredbeck added herself) for enjoying your morning coffee, and a shed with opening windows and a Dutch door that can serve as a playhouse, artist's studio, or tool shed.
Inside, Bredbeck created a cozy atmosphere with exposed brick, rough-hewn hemlock and spruce from a New Hampshire mill, and built-in shelving incorporated into the woodwork. A walk-in pantry that her daughter discovered knocking down a wall during demolition complements the country kitchen, which Bredbeck calls "most beautiful, high-functioning kitchen" she's ever had. The great room boasts a wood-burning stove set on a custom concrete hearth.
"I take a tremendous amount of pleasure and pride in taking spaces and making them functional but also beautiful," she says. "I'm an artist, so I see things how they can be, not only how they are in the moment. When I walked into the house, I had that feeling where your knees are weak where you're falling in love, only it was a building. It was not beautiful then, but it's beautiful now."
In addition to being home to Bredbeck, her children, and many pets, the lower level of the house has doubled as an Airbnb over the years. With its own parking, a separate entrance, and laundry, the one-bedroom, one-bathroom space could also double as a separate workout/studio space for future owners.
Whoever purchases it next, Bredbeck says she hopes they'll appreciate the space like she did.
"I hope people come in and love that building the way I intended it to be loved, and [the way] I did with my children," she says.
For more information, contact John Maxfield, Maxfield & Company Real Estate, maxfieldre.com.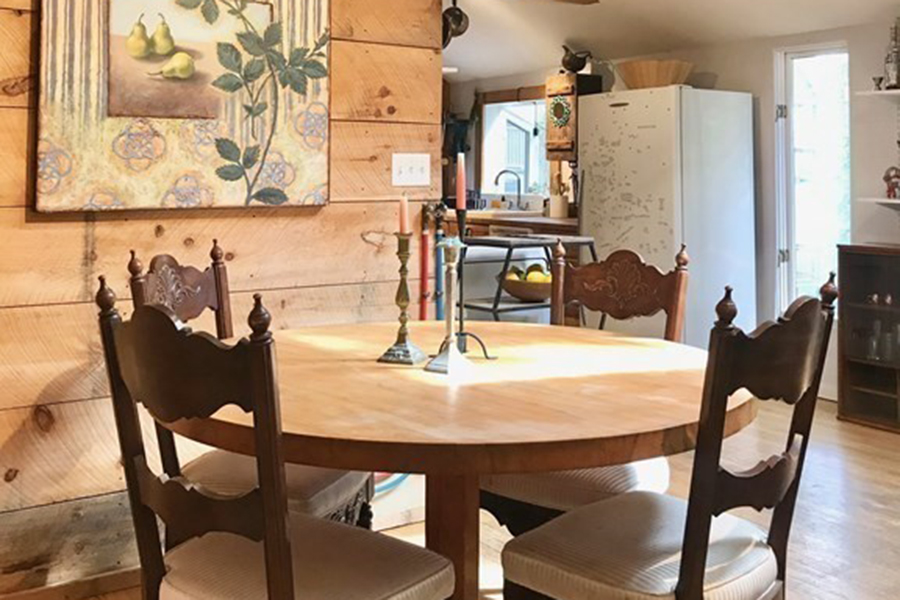 The Boston Home team has curated a list of the best home design and home remodeling professionals in Boston, including architects, builders, kitchen and bath experts, lighting designers, and more. Get the help you need with FindIt/Boston's guide to home renovation pros.
---
---