On the Market: An Eye-Catching Victorian in Reading
The current owners have spent years updating this antique house so you don't have to.
---
27 Hillcrest Road, Reading
Price: $995,000
Size: 2,560 square feet
Bedrooms: 4
Bathrooms: 3 full
The prospect of owning a historical home (and taking on all the updates that come with it) can be daunting. But this grand old Queen Anne and her majestic staircase are what drew Andy Friedmann and his wife to Reading 22 years ago. It was the summer of 1999 and the couple was looking at homes in towns along the commuter rail line. Friedmann recalls seeing an advertisement for a 100-year-old Victorian home and being intrigued.
"We weren't specifically looking at Reading, so it was the house that drew us to the town," he says. "When we walked inside, we fell in love immediately…The staircase was classic, beautiful old Victorian style. That was the first thing we saw and the first thing I fell in love with."
Friedmann and his wife made the house their home, raising their three children there while also updating the property to make it a space for a modern family. While the house still boasts period details—like the 10-foot tall ceilings and spindled front porch that appealed to the Friedmanns when they bought it—the outdated knob and tube lighting has been removed and old carpets torn up to reveal beautiful hardwoods throughout, making this property ideal for the historical home lover who wants a house that's both elegant and low maintenance.
"This is not your typical home that has a lot of old home problems," Friedmann said. "The electrical work has been updated, the plumbing work has been redone…We've made all that pretty easy."
Located on a corner lot on the west side of town, this house has curb appeal, between its classic Victorian turret and sky-blue shingled exterior. The home was white when the current owners first purchased it, but they found the paint kept peeling, so they decided to sand the home down and stain it. The result is a finished look that's stunning to look at and easy to maintain.
New buyers will find an expanded kitchen, laid out by architect Nancy Toomey, that the current owners built out after finding the old space to be a little small. They expanded the south side of the house to enlarge the kitchen and added tile floors, a plaster ceiling with speakers, a breakfast nook, and a granite island with a microwave. Cherry cabinetry, dual ovens, and a workstation complete the space.
"Someone could be doing homework at the counter and we'd have dinner at the kitchen table or in the nook," Friedmann says. "There's a beautiful view from outside into our backyard."
The family also redid the first-floor laundry room, family room, and bathroom. In addition to this, the house also boasts a walk-up attic that can double as bedrooms, and a redone sun-lit home office with a wall of insulated windows that has allowed Friedmann to people watch the street below as he works from home.
The upgrades extend to the backyard, which has become a hidden delight under the Friedmanns' green thumbs. Thanks to manure from the chickens once kept back there, kitchen compost, and minimal use of pesticides, this backyard is a garden lover's paradise where blueberry bushes, lilacs, fruit trees, and flowers flourish. It's also home to the Friedmanns' garden, where they grow sunchokes, asparagus, and tomatoes. Fresh garden veggies can be enjoyed on the stone patio, where Friedmann said the family enjoyed many a summer meal over the years.
"Whoever moves in I hope will continue the work, so it'll all be filled in with nice plants," he says. "It's a lot of fun."
For more information, contact Karen Herrick, RE/MAX Encore, remax.com.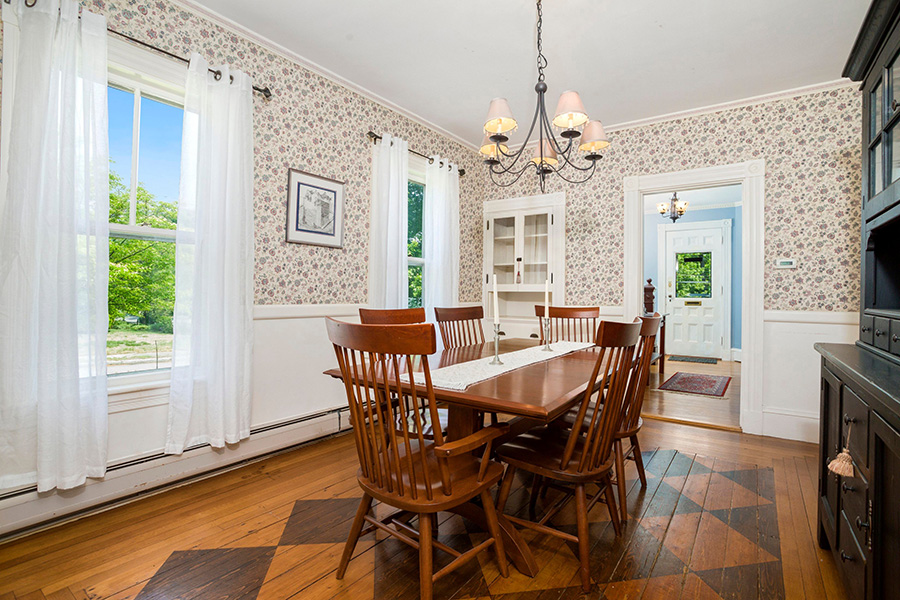 The Boston Home team has curated a list of the best home design and home remodeling professionals in Boston, including architects, builders, kitchen and bath experts, lighting designers, and more. Get the help you need with FindIt/Boston's guide to home renovation pros.
---
---