Guides
Top Places to Live 2023: Lessons in Real Estate
After years of seller romance and buyer heartbreak, Boston's sizzling-hot real estate market is showing signs of cooling off. Not to worry—we're here to answer all of your burning questions so you can finally land the house of your dreams.
---
Ask Erin
Should We Buy Now, or Later?
Dear Erin,
My fiancé and I spent the better part of 2021 and 2022 trying to find our first home. We've looked everywhere, from Saugus to Weymouth, and have had our hopes crushed more and more with each rejected offer. With interest rates higher than they've been in years, it feels like a bad time to buy a home now, but we would really like to find a place before our wedding in June. Do you think it's still worth trying to look this year, given the way the market's going?
Signed,
Happy in Love, but Heartbroken in Housing
Dear Heartbroken,
We all know what it's like to have your heart stomped on by Greater Boston's cutthroat housing market. But as with any other heartbreak, you have to be willing to put yourself back out there—even if lending rates are climbing.
Some things to keep in mind: The lack of inventory isn't going away (Greater Boston has long had the issue of having more buyers looking for a home than there is available housing), and home prices remain high. Still, Realtors say the story in 2023 is completely different than it has been over the past few years. "We're still in a seller's market," says Zechariah Cook, an agent and founder of the Bulfinch Team with Douglas Elliman. "But we've seen the market has stalled due to the increase of interest rates so quickly. There's a real opportunity for a buyer who's been beat up, beaten out, and is dragging along."
Just be sure you know what you're getting into. Giavanna Silva, an agent with Compass, recommends aspiring homeowners work with lenders who can tell them about the offers available for first-time buyers and agents who can help them negotiate the best possible deal so they can save money, even with higher interest rates.
What's it all boil down to? Yes, it's worth opening your heart (and Redfin account) again to find the perfect home. So what are you waiting for? Time to get back out there.
Top Places for First-Time Homebuyers
Framingham
Median Single-Family Price: $615,000
One-Year Change: 7%
Walk Score: 42
Residential Property Tax Rate: $13.09
As home prices during the pandemic shot up like weeds in a perfectly manicured suburban lawn, the idea of living in one of the state's "gateway cities" became even more appealing to those eager to break into the market. That includes Framingham, which is chock-full of shopping and restaurants but also offers quiet streets chock-full of Colonials and split-levels with classic charm. And with the average single-family home in the $600,000 range, you can spend a little less here than in Natick or Wellesley but still have easy access to Boston thanks to the commuter-rail line, which runs through the city and gets you to South Station in under an hour.
Roxbury
Median Condo Price: $490,000
One-Year Change: -2%
Walk Score: 71
Residential Property Tax Rate: $10.74
Boston proper has a (well-deserved) reputation for exorbitant housing costs, yet aspiring city homeowners on a budget don't have to abandon their city dreams: There are still neighborhoods where owning a home is more affordable. The average residence in Roxbury is priced in the $400,000 to $600,000 range, a far cry from the seven-figure listings you might find elsewhere in the city. Added bonuses of living here: You'll be in the geographical center of Boston and have access to downtown via the recently revamped Orange Line. Plus, the city is working to improve the local schools and streets, with plans to build a new elementary school and enhance the neighborhood's busiest corridors for improved biking and busing.
Melrose
Median Single-Family Price: $830,000
One-Year Change: 7%
Walk Score: 62
Residential Property Tax Rate: $10.42
Looking for a little more space to spread out? Real estate agents say Melrose is a community on the rise thanks to its small-town charm combined with close proximity to Boston. "It's always been a bedroom community," says Lorraine Gately, a real estate agent with Compass, but "it has gained in popularity in the past 10 to 15 years." While the average home might go for more than $800,000, "you still get more for your money in Melrose than you do in competing towns," says Gately's real estate partner, Jill Leeman. In addition to drawing newbie buyers in thanks to its three commuter-rail options, nearby Orange Line access, and bus system (all of which make your commute to the city just under 30 minutes), Melrose has an inventory of stunning Victorian homes set in a walkable town that should make anyone feel right at home.
---
Trend Watch
The Great Normalization
Why 2023 won't bring the housing crisis of '08.
The rumbles began when home prices started to drop last year. Has the housing bubble officially burst? Given what happened in 2008, it's only natural that homeowners would start to panic again. But rest assured: Experts say we're not on the same track. "I don't think it's a crash or crisis like 2008," says Jeff Tucker, a senior economist at Zillow. That situation, he explains, was the result of an imbalance of buyers and sellers: Many people were trying to sell homes they could no longer afford while at the same time, buyers began receding from the market because of the recession, creating a perfect storm that tanked value.
Such an extreme imbalance is hardly an issue now. Instead, what Realtors say we're seeing is actually more of a market normalization. Home sale prices hit an all-time high in June 2022, says Melvin Vieira, an agent with RE/MAX and the 2022 president of the Greater Boston Association of Realtors—and then interest rates went up to combat inflation, causing some buyers to recede and demand (and thus prices) to dip accordingly. But that doesn't mean things are crashing. "If you compare it year-over-year, you will see that there is a drop in average median home price"—but that was "because we hit an all-time record high," Vieira says. "I foresee prices holding steady and not really seeing a true drop. I foresee the market still being good."
---
Ask Erin
Should I Ditch the City for the Cape?
Dear Erin,
It finally happened: After years of putting off a return-to-office date, my company has now gone fully remote. The problem? I stuck it out in my Arlington Colonial, anticipating I'd be commuting back to the office at some point. Now that I'm completely untethered—and hopefully retiring in the next decade, anyway—I dream of relocating somewhere coastal where I can dock a boat, maybe the Cape. Is it too late to make a move?
Signed,
Beach Town or Bust
Dear Beach Town,
Don't fret! It's never too late to make a change. In fact, many people are still reshuffling their post-pandemic lives as the chips fall into place at the office. "COVID changed a lot of people's work life in the sense that it opened up more work-from-home and remote possibilities," says Nathan Ingham, an agent with Coldwell Banker Realty. "I know that a lot of [people] thought a flexible work arrangement was going to be a temporary COVID-era change, but in a lot of cases, those changes have stuck."
Buyers still want to move to towns within commuting distance of the city, Ingham says, but he sees more people heading further outside Boston, whether they're ready to buy a larger piece of land in a far-out suburb or are looking for a charming cabin in Vermont. And such opportunities are still available: Ingham's clients Tony and Annie Masero, for instance, originally bought a single-family in Medfield after moving out of their J.P. rental in early 2021. But in November 2022, when they realized they weren't going back to working in an office full-time, the couple decided to move again, this time to a larger Groton property. "The primary motivation was…wanting to be a little more self-sufficient and start growing our own food," Tony says. "Moving further out gave us more flexibility."
Even though they still commute into the city several days a week, the couple says COVID made them rethink what they wanted in a house. "Home was no longer just where we slept and ate," Tony says. "It was playing a bigger role in our lives, and so the town and land around it became more important to us."
---
Top Places For Exurban Pioneers
Mashpee
Median Single-Family Price: $750,000
One-Year Change: 11%
Walk Score: 34
Residential Property Tax Rate: $7.14
For many, the horrors of the pandemic actually opened the door of opportunity to buy a dream home in their favorite vacation spot: Cape Cod. Realtors say Mashpee, in particular, has been a popular option with Boston expats, given its proximity to the Sagamore and Bourne bridges, which allows for quick access to the rest of the state. Bonus: Data from the Cape Cod & Islands Association of Realtors shows Mashpee has more available housing stock compared to most other towns in this in-demand region, so it'll be easier to find a place and get right down to enjoying the town's beaches or Mashpee Commons, a shopping center with cute downtown vibes.
*Mashpee single-family price source: Cape Cod & Islands multiple listing service
Groton
Median Single-Family Price: $745,500
One-Year Change: 11%
Walk Score: 54
Residential Property Tax Rate: $15.64
Looking for the peace and quiet of the great outdoors with a side of sophistication and culture? Then check out this northwestern Massachusetts town, which offers more than 10 square miles of conservation land and 100-plus miles of maintained trails that the local Sustainability Commission works to protect by bringing green initiatives to the community (they most recently brought electric-car chargers to town). When you're not hiking, enjoy the newly opened Groton Hill Music Center, a 126,000-square-foot world-class music facility that offers both music lessons and performances from groups such as the Vista Philharmonic Orchestra.
Marblehead
Median Single-Family Price: $935,000
One-Year Change: 10%
Walk Score: 49
Residential Property Tax Rate: $10
No, it's not technically a remote island, but beachy Marblehead has long been a place that office workers shied away from in the past, given the long and windy off-highway commute to the city. But North Shore–based Realtor Dana Bull says newly remote employees should have no problem making themselves at home here, especially considering the top-notch schools, waterfront access, and charming shingled homes with updated interiors. "People thought they initially wanted to move west," Bull says. "But the shores now are more of an option."
---
Trend Watch
Buyers' Remorse
No longer satisfied with your pandemic-induced impulse buy? Here's why you might want to stay put for now.
So, it happened: You were one of the folks who bought a home in the middle of the market frenzy. You wanted to lock in those super-low rates, but instead, you now feel locked into a fixer-upper that doesn't fit your needs. Now you're back on Zillow flipping through listings, ready to throw that "for sale" sign right back up in the front yard.
Stop. Keep calm, and take that sign off the lawn. While home values are expected to hold over the long-term, Craig Brody, an agent with Douglas Elliman, says you're better off waiting to sell so you don't lose money on your home while prices are in the midst of a brief decline. "You're going to have to wait it out unless you want to take a loss," he adds.
Plus, the truth is that you're probably better off than you think. "If I had a client having buyer's remorse, I'd tell them, 'You're in a better situation now because you have options,'" Silva says. You could also consider taking some equity out to finance a renovation or remodel that'll leave you feeling a little better about your new space. If you're stuck somewhere you don't want to be, it might as well have the soaking tub of your dreams, right?
---
Ask Erin
I Want to Trade Up, But Will I Lose Out?
Dear Erin,
My wife and I are still in our starter home that we bought when we were newly married. Now, two kids later, our charming three-bedroom bungalow is starting to burst at the seams with our family of four (plus our pandemic puppy). We're starting to think about upgrading to a bigger house, one where our kids can have a playroom and we can have a home office. But as I flip through my Redfin app, I can't help but notice the news alerts rolling across the top of my screen about an impending recession. It's stressing me out thinking of paying a premium for a home only to have its value tank in the future. What should I do?
Signed,
Nervous Nelly in Norwell
Dear Nelly,
Poor financial forecasts are always going to gin up concerns over the security of your investments. But one thing you don't need to worry about is your home. Even as the market cools and real estate prices dip, local Realtors say the worth of a house in Greater Boston isn't going to drastically change any time soon. "The best part about living in Massachusetts is, as a whole, we actually hold our value," Brody says.
This is mostly thanks to eastern Massachusetts' "varied economy," as Gibson Sotheby's International Realty CEO Colleen Barry puts it. With so many different sectors—from tech and finance to eds and meds—driving the local job market, our area can still stay afloat even in the face of a potential recession. "We're not a one-trick [pony] scenario where if there's damage done to one segment of the economy, everything comes crashing down," Barry adds.
Unlike some parts of the country (like, say, Austin, Texas), Greater Boston didn't see an influx of people coming in during the pandemic, says Brody—which means we also won't see a sudden outpouring of people at some point in the future, when they decide to move elsewhere. Instead, Massachusetts has benefited from having long-term residents with roots here fueling the market, on top of a steady drip of transplants parachuting in for a killer job.
Of course, the value of your home over time may vary depending on exactly where you live, but Brody says anything near public transit or with Route 128 or Interstate 495 is a good investment. And if it's a newer home that doesn't need any work? Even better.
---
Top Places For a Good Investment
Cambridge
Median Single-Family Price: $1,870,000
One-Year Change: 4%
Walk Score: 90
Residential Property Tax Rate: $5.86
Cambridge has two big things drawing in new residents. For one, the jobs: Google is expanding its Kendall Square office, and new lab spaces are constantly popping up, luring in young professionals. Equally as important, though, are the burgeoning transit options. "Buyers love public transportation," says Manny Sarkis of the Sarkis Team with Douglas Elliman. "If they're not driving, they're taking the train or riding their bike." Good thing the city is dedicated to building 25 miles of protected cycling lanes, including along Mass Ave., and is convenient to several stops along the recently opened Green Line extension.
Newton
Median Single-Family Price: $1,610,000
One-Year Change: 6%
Walk Score: 57
Residential Property Tax Rate: $10.18
Is there a safer bet when it comes to housing than Newton? Even before the housing frenzy of the past few years, single-family homes here were already going for more than a million dollars, and prices have only gone up. In fact, they've literally doubled over the past decade, boding well for future long-term real estate investments. What, exactly, has people scrambling? It's close to Boston (like on the Green Line close), has stellar schools, and offers an array of unique neighborhoods, each with its own personality so you can tailor where you live to your needs. Case in point: Newton Centre and Newtonville always have new restaurants popping up, so foodies may not even need to head into the city for a great meal.
Waltham
Median Single-Family Price: $740,018
One-Year Change: 5%
Walk Score: 57
Residential Property Tax Rate: $10.32
There's a different kind of boom in Waltham—one created by the ever-expanding tech companies that call the city home (think Thermo Fisher Scientific and Stanley Healthcare). Those businesses are drawing top talent—and their families—to the area, something that Realtors say will help keep property values strong for the foreseeable future. And mercifully, those homes are still relatively affordable: Houses here typically sell in the $700,000 range, and the inventory is a good mix of spacious Colonial-style single-families and updated condos for those who need less space. Bonus: The Charles Riverwalk and downtown bars, restaurants, and cinema create a true downtown feel perfect for anyone making the move from Boston.
---
Trend Watch
Buyers Take the Lead
If you've been house hunting over the past year, you might have some expectations when it comes to what you need to do to close a deal. Thankfully, things are different now.
Request that inspection contingency. Actually, market experts say you should practically demand one. Almost a prerequisite pre-pandemic, this common practice fell to the wayside as buyers waived them to get a leg up with sellers.
Negotiate! Like home inspections, haggling also went temporarily extinct thanks to the all-out war among buyers, but as things cool off, it's in your best interest to talk the price down if possible.
Take your time. You no longer need to rush into a deal just to lock in a house. In fact, Dawn Ruffini, the 2022 president of the Massachusetts Association of Realtors, says that buyers are now carefully evaluating properties before putting their money out there. So don't feel pressure to jump in and commit.
Be realistic. While things might be leveling out, Massachusetts will never have what Compass agent Suzanne Koller describes as a true buyer's market. "We just don't have enough inventory," she adds. "We're not building the way they are in other parts of the country." That means you might still struggle to find listings you like, and when you do, don't expect to get it at a super-steep discount.
---
Ask Erin
He Wants to Stay in the City. I Don't.
Dear Erin,
My husband and I are at an impasse. He loves our life in the city, which revolves around shopping on Newbury Street, seeing shows in the Theater District, and eating at all of the city's best restaurants. I love our lifestyle too, but the 900-square-foot apartment we share in the Back Bay just isn't cutting it anymore. I'm ready to move to a place where I can have an actual garden, not just a planter box hanging out our kitchen window. Is there a place that's a good compromise of getting the space I want with the cosmopolitan feel and city proximity he desires?
Signed,
Searching for Square Footage
Dear Square Footage,
It sounds like you might be ready to take the plunge and move to the suburbs. I know, I know. You're probably thinking, The suburbs are lame! But they're actually having a bit of a moment, according to Compass's Koller. "The city is definitely coming back, but…the suburbs are kind of where it's at," she says. Once the kiss of death for hip, young people, closer-in 'burbs are now growing in popularity because they offer exactly what people like you and your husband want: A house where you can spread out in a community with dining and entertainment for those nights out that you so love. Many towns know their cute downtowns are drawing people in, so they're ramping up their business districts in light of this, Koller adds. "[People] want the downtown with cute shops, independent restaurants, coffee shops, and stores and being able to feel like they can connect with their community," she says. So the good news is you have many, many options of places to move to within the 95 belt that'll give you a quainter version of Newbury Street with that extra space you crave.
At the same time, you might also want to think outside the box (no pun intended) when it comes to finding a home in a commutable community. Does your perfect abode lie in a city outskirt that's served by the T? Would you consider taking the ferry to work? Real estate is competitive in these towns, so you may need to open your mind (and your checkbook) to different possibilities.
---
Top Places for Access to Boston
Hingham
Median Single-Family Price: $1,250,000
One-Year Change: 11%
Walk Score: 75
Residential Property Tax Rate: $10
Hingham might not be close to Boston by land, but if you're willing to travel to work by sea, it could be the answer to your "suburban but not too suburban" house-hunting prayer. Here, the homes run relatively cheaper than what you might find in closer suburbs (in the $1 million range), and the water views cannot be beat, especially from the ferry, which will get you to Boston's Long Wharf in under an hour. Don't feel like shuttling in? The walkable downtown, with shops, restaurants, and historical sites all overlooking Hingham Harbor, will rival any day out on Boston's waterfront.
Needham
Median Single-Family Price: $1,500,000
One-Year Change: 14%
Walk Score: 39
Residential Property Tax Rate: $13.04
Needham comes with all of your typical small-town trappings: excellent schools, a quick commute, and plenty of classic Colonial and Capes ideal for families. But what sets it apart is its downtown, full of charming boutiques and eateries offering an array of cuisines. The area also has active community organizations that get together to put on events like Fourth of July fireworks, adding to the classic Americana feel.
Brookline
Median Single-Family Price: $2,387,500
One-Year Change: 18%
Walk Score: 81
Residential Property Tax Rate: $9.97
The biggest request from house hunters these days, according to Esin Susol, a William Raveis sales associate, is a community that feels suburban but is still incredibly close to the city—which is precisely why Brookline continues to draw in so many eager buyers. They come for the shops and restaurants of Coolidge Corner, which easily bests any small town's Main Street, and the C and D lines that rumble through the area, offering an easy commute to downtown Boston and back. But they stay for a solid stock of both condos and regal single-families that offer plenty of distance between neighbors (though for a steep price—home prices here have nearly doubled over the past 10 years).
---
Trend Watch
No More Sellers' Market?
What to do if you're in a rush to offload your home.
Don't expect 2022 pricing in 2023. "Last year was irrational," Susol says. "We were putting houses on the market, and in two to three days without any contingencies, the houses were selling for $100,000 to $200,000 over asking." This year, you can't expect the same thing.
Be realistic about your "renovations." Did you upgrade your home's heating system? Redo the bathroom to add a new shower and bathtub? Good—tack on an extra few grand. But otherwise, don't expect much ROI on home improvements. "If you just change the color and you put a fountain in front of your house, those are cosmetic things based on your preferences that don't add any value," Susol says.
Compare the right numbers. When looking for comps, check what other homes in your area actually sold for. It seems obvious, but Susol says many people only see listing prices and assume their home can sell for the same number. What they don't realize is these homes don't always fetch the amount the sellers wanted.
Consider days on market. This can also help suss out how to list your home. If a similar Colonial down the street is still sitting there, chances are the price might not be right.
First published in the print edition of the March 2023 issue, with the headline, "Lessons in Real Estate."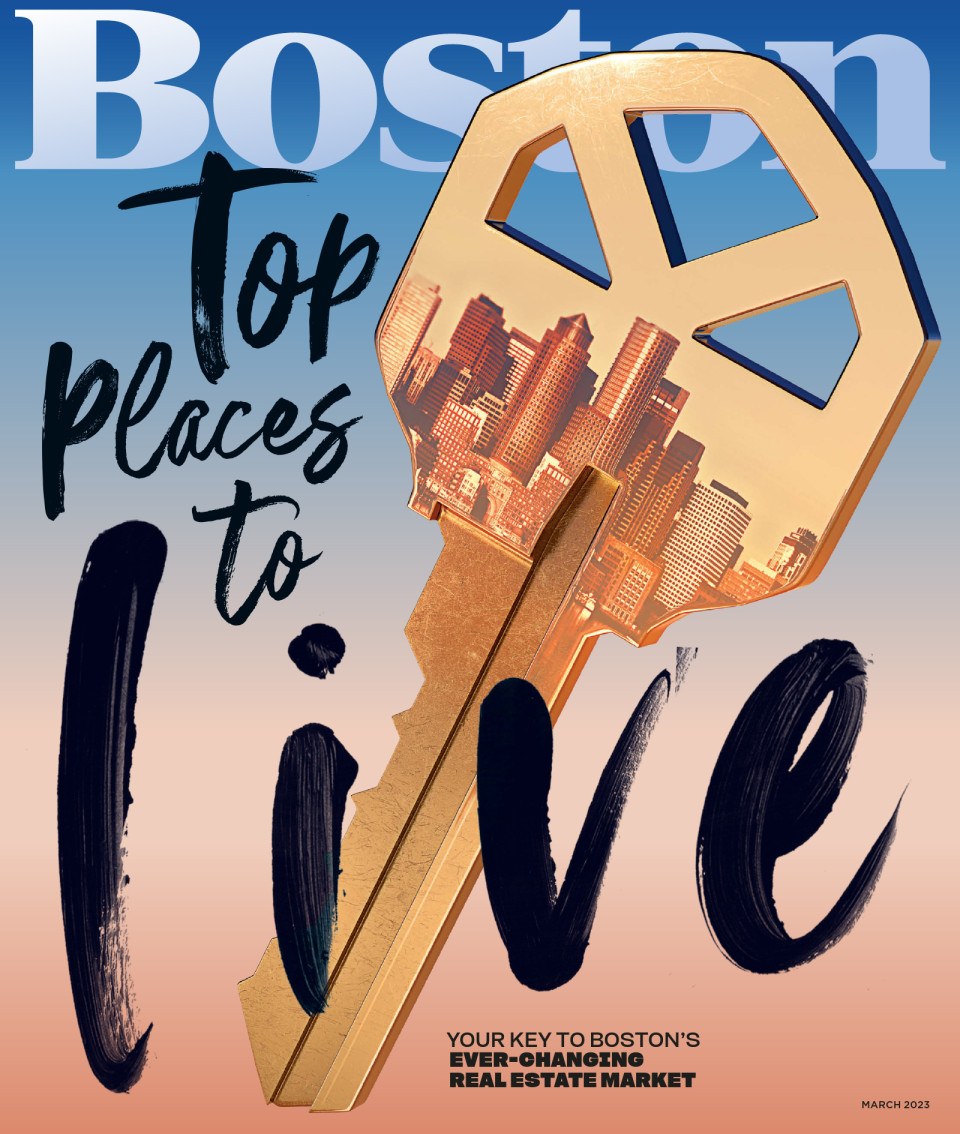 ---
Previously
---
---