So You Want to Live in Davis Square
---
Sign up for our weekly home and property newsletter, featuring homes for sale, neighborhood happenings, and more.
Forget "Slummerville." That old trope is tired, and as anyone who has taken a glance at real estate prices in Somerville these days knows, it's simply untrue. And Davis Square, a longtime focal point of the neighborhood, is a far cry today from the "wise guys and winos" of the past. But in order to understand the complexities of today's Davis Square, it's vital to take a look back at its past to see how this working class neighborhood became Somerville's shining beacon.
Somerville blossomed during the Industrial Revolution, with plenty of jobs, factories, and housing for blue-collar, immigrant populations—particularly those from Ireland, Italy, and Portugal. But the densely populated neighborhood was hit hard by post-WWII decline, and through the '60s, '70s and '80s, crime flourished, both organized and not. Somerville gained a reputation as Cambridge's red-headed stepchild, but the most influential change for Somerville was just around the corner. In 1984, the Red Line was extended into Davis Square—a gargantuan project that eventually demonstrated how a city transforms when mass transit enters the picture.
By the '90s, a second wave of immigrants found their home as Cambridge abolished rent control, and newcomers flooded Somerville in pursuit of affordable housing. An eventual housing boom in the 2000s kicked real estate prices into overdrive, and former factories were converted into office buildings and condos, while abandoned railroad tracks were ripped out to become the Somerville Community Path. But alongside this change came extensive upheaval in the form of displacement, racial tension, and dissatisfaction among the community.
These days, it's easy to see why Davis Square is the priciest pocket of Somerville. A decade ago, the square began to see homes that were purchased for $10,000 in the 1950s selling for well over $1 million. Now, that price tag is commonplace. Retail property is exorbitant, too—international co-living developer Scape's purchase of the Elm Street block that's home to beloved Irish pub the Burren, Jae's Cafe, When Pigs Fly bakery, and McKinnon's Meat Market sparked considerate uproar from locals. (The Burren's owner maintains that the bar won't be affected, however.) But these changes are important, because they represent the shift that many residents are desperate to prevent. Simply put, nobody wants Davis to become just another Harvard Square.
---
Prices at a Glance
Median sale price of all homes in Somerville: $725,000
Median condo list price in Somerville: $769,000
Average rent price in Somerville: $2,997
---
What You Can Buy
A Victorian Right in Davis Square
87 Wallace St.
Price: $1,289,000
Size: 2,277 square feet
Bedrooms: 4
Baths: 2.5
A Duplex Condo on a Hill Between Davis and Tufts
33 Mason St. #2
Price: $895,000
Size: 1,810 square feet
Bedrooms: 3
Baths: 1
---
Public Transit Options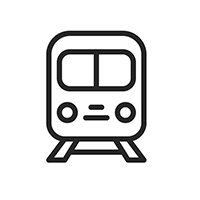 MBTA Red Line Davis stop
There are also several popular bus lines that pass through Davis Square, such as the 87, 88, 89, 90 and 94 and 96.
---
What a Real Estate Agent Says
"This beautiful, eclectic, and culturally diverse hub is located only five miles outside of Boston and is bursting at the seams with charm, character and individuality. There is something for all walks of life happening in Davis Square at any given time. The uniqueness of Davis Square, its charm that it oozes, its pride, and its individuality, make this one of the most desirable markets in all of Somerville. However, this real estate market is not for the faint of heart and requires buyers to bring their A-game. Properties almost always have multiple offers, resulting in a bidding war with the property eventually selling for far over the asking price. Each year properties are selling for 10-13% more than the previous year. There are not many markets like this in all of the U.S., thus making this a very attractive marketplace for investors.

It is imperative for a buyer coming into this market place to work with a seasoned real estate agent who has a full understanding of this marketplace, but more importantly, I highly recommend buyers work with a local bank that is knowledgeable of this marketplace as well.

There aren't many deals left to be had. Unless you are an investor with access to cash and can purchase an old home, renovate and flip–if done right, you are guaranteed to make a substantial profit. However, doesn't everyone who buys in the market luck out as they all see their homes increase in value year after year?

Davis square can easily be reached from many other outlying neighborhoods. If you are willing to take on a 20 minute walk, your chances of finding a place costing less than the above mentioned averages increases. This 20 minute walk places you in Teele Square, certain areas of West Somerville, parts of North Cambridge, Ball Square, and parts of the Tufts University area. Davis Square is sooo easily accessible from these sister neighborhoods that one wouldn't be lying if they said they too lived in Davis Square."
O'Necia Simpson, Coldwell Banker Residential Brokerage
---
Grocery Stores

Bfresh
240 Elm St.
Star Market
49 White St., Porter Square
Stop & Shop
105 Alewife Brook Parkway, West Somerville
---
Perks
Artists and musicians have always flocked to Davis Square, making it one of the Boston area's most beloved melting pots of creativity. Annual celebrations like Honk! Fest, ArtBeat, PorchFest, and SomerStreets keep Davis lively with culture, as does one of the Square's most beloved institutions—the Somerville Theatre, which was built in 1914 to house vaudeville, movies, opera, and stage performances.
On the culinary front, Davis Square is home to acclaimed hotspots like Dakzen and Spoke Wine Bar, as well as beloved watering holes like The Burren and Sligo Pub. Wherever you go, the area is filled with characters who give Somerville its unique quality: Wave to the squad of senior citizens that chat every afternoon in the Holland Street Au Bon Pain, or say hello to Mark, who tells you to "stay dry, and don't work too hard" as he sells the Spare Change News on a rainy day in the College Ave. side of the T. Somerville is brimming with passionate residents who will do whatever they can to preserve the city's independent spirit.
---
Did You Know
Somerville is home to a collection of "Bathtub Marys" that is said to number over 350. These Roman Catholic shrines are large figurines of the Virgin Mary housed under shelters that look like (and in some cases, are made of) half of an old bathtub planted in the ground. Popular with Italian, Portuguese, and other immigrants who found their homes in Somerville, these religious icons have for many newer residents become an eccentric feature to spot around town. (There's even a Tumblr and Instagram devoted to chronicling the collection.) While you'll find many of them in Eastern Somerville, some in the Davis Square area serve as remnants of the neighborhood's past, like this one pictured above. Located outside the Square, it sits in the shadow of construction—an example of how the city of Somerville continues to change.
HOME PRICES BY ZILLOW, RENT PRICES BY rentcafe. ICONS VIA GETTY IMAGES.
---