Cheap Eats in Boston from A to Z
Edited by Leah Mennies
---
Not to imply that Chinatown and Eastie aren't terrific terrain for scoring affordable meals (see: B, C, etc.). But in our opinion, in the year 2014, neither area, nor any other in Boston, for that matter, holds a candle to Allston, that gritty neighborhood brimming with undergrads and eateries priced accordingly. The meager-budget mecca is stacked with standout restaurants specializing in everything from Lebanese to Mexican to comfort-driven diner grub. Here are 10 pilgrimage-worthy dishes to get you started—but seriously, we could have devoted the entire issue to this stuff.
---
Ten Great Affordable Dishes in Allston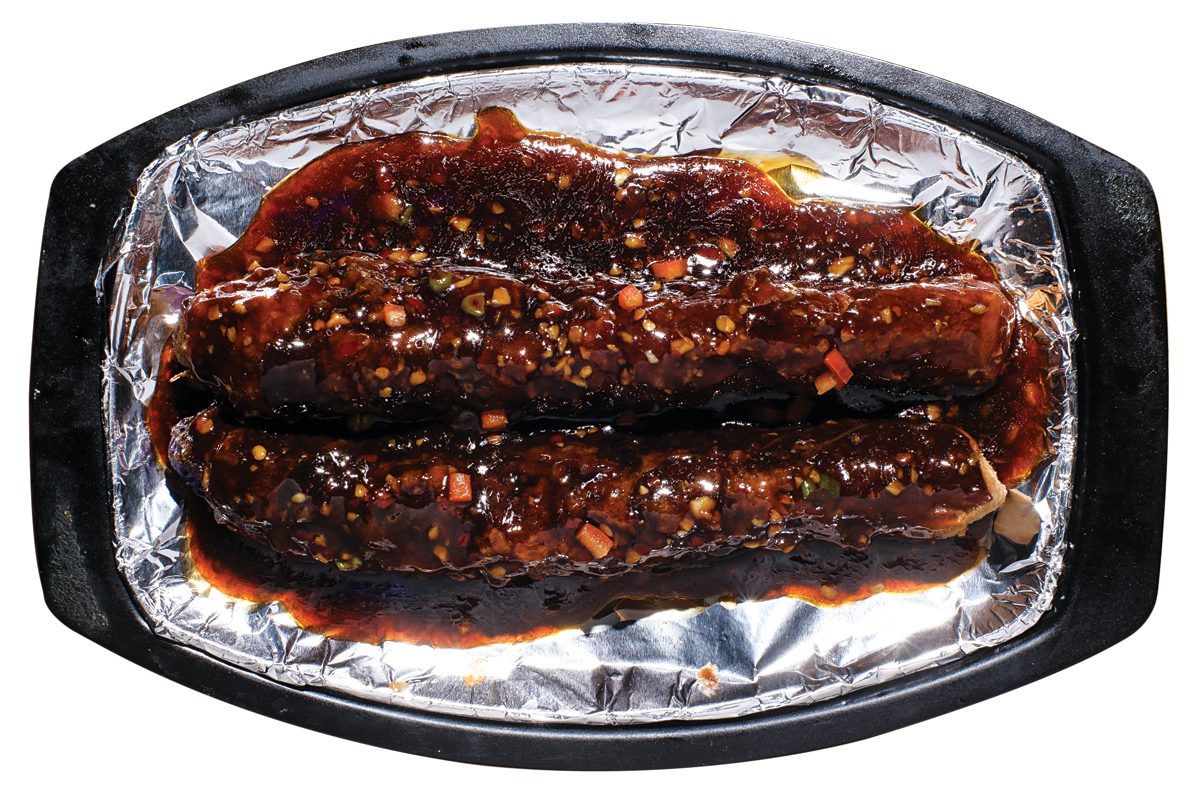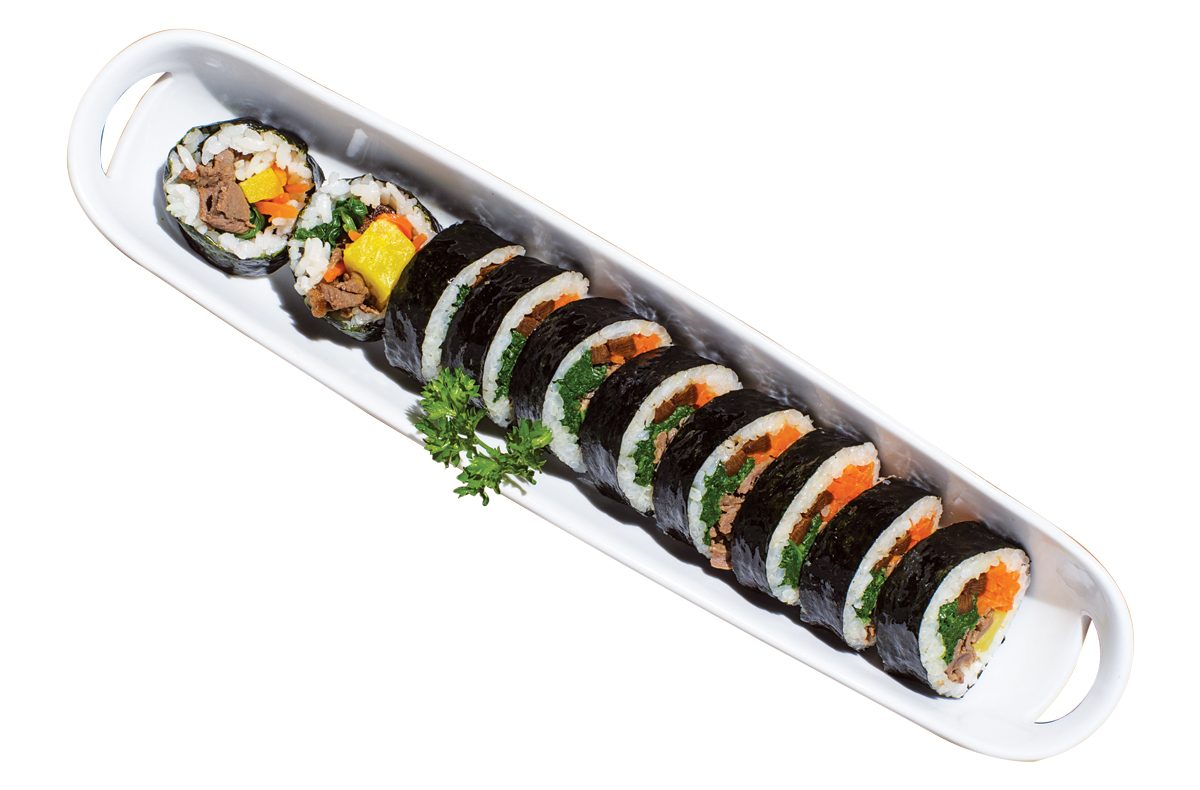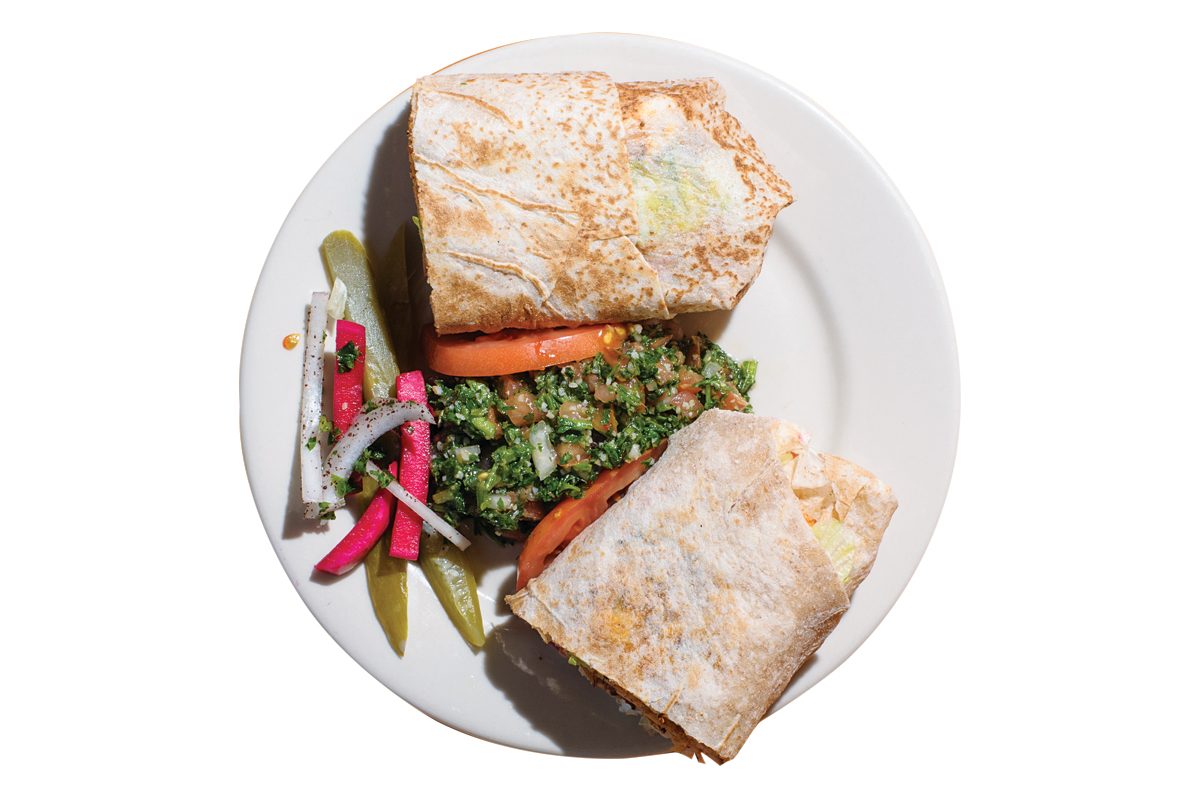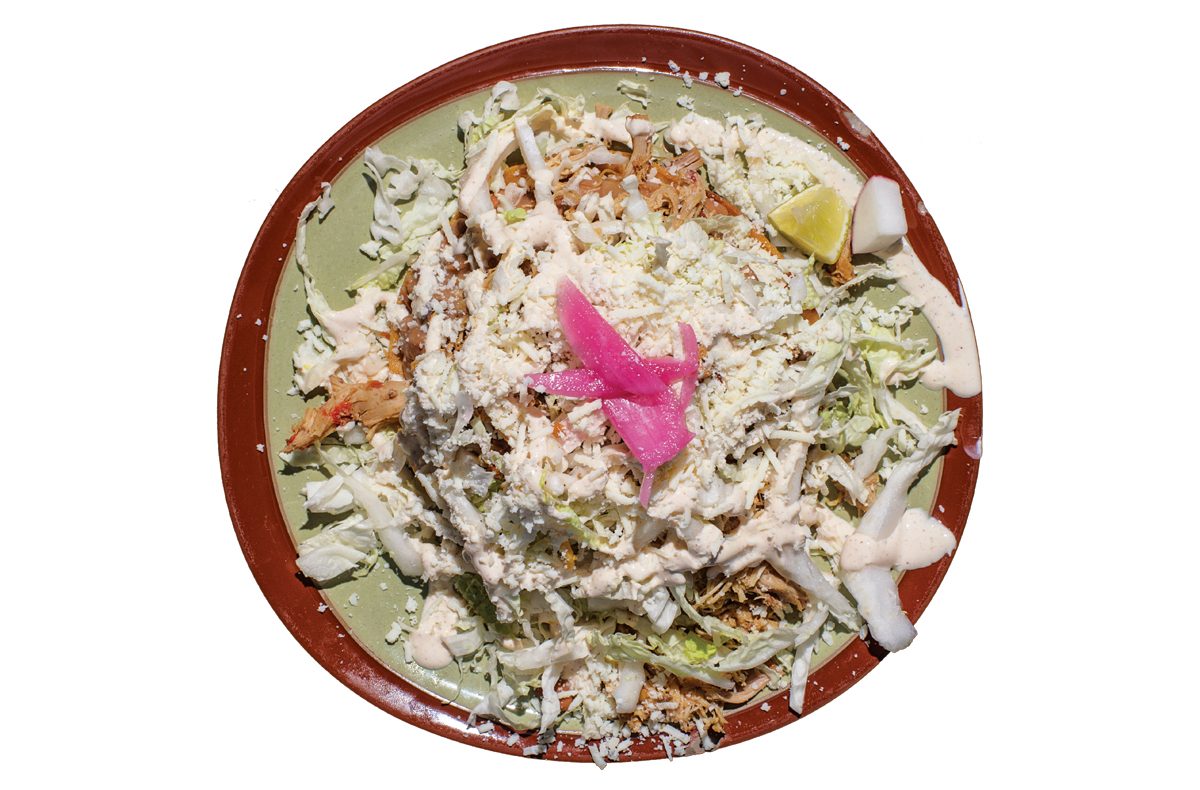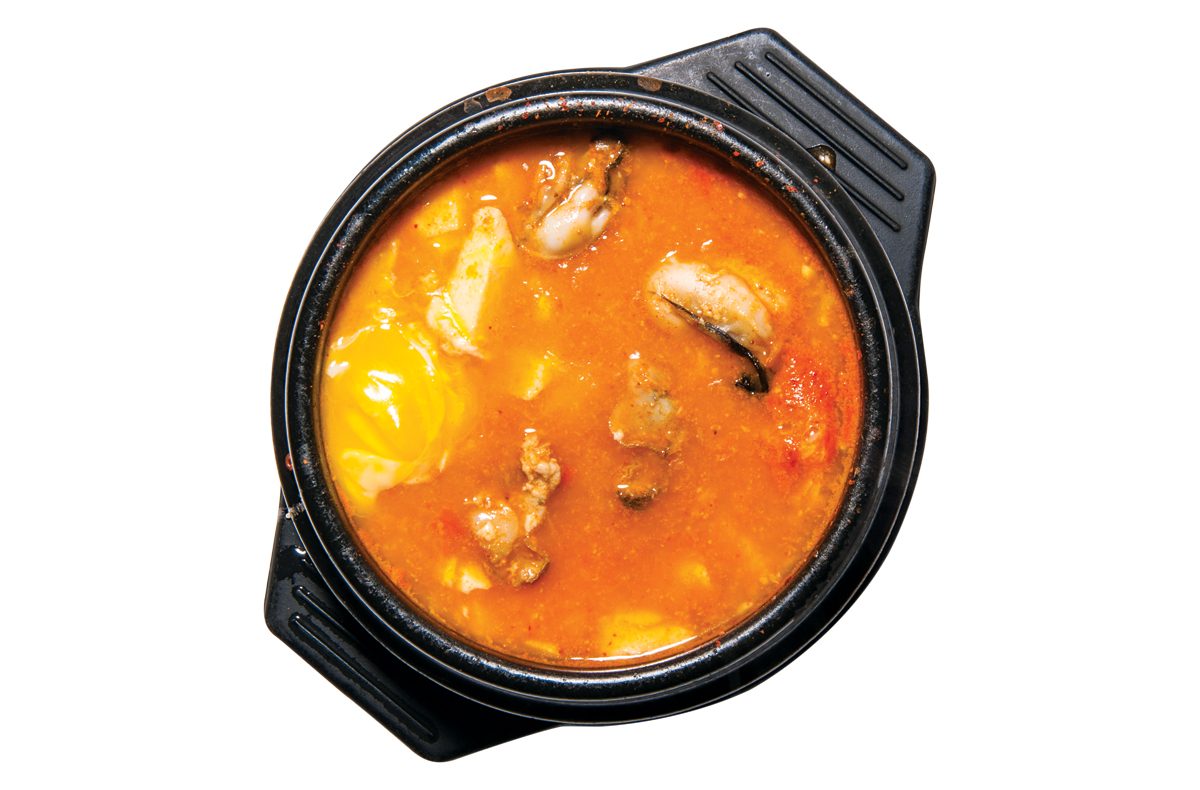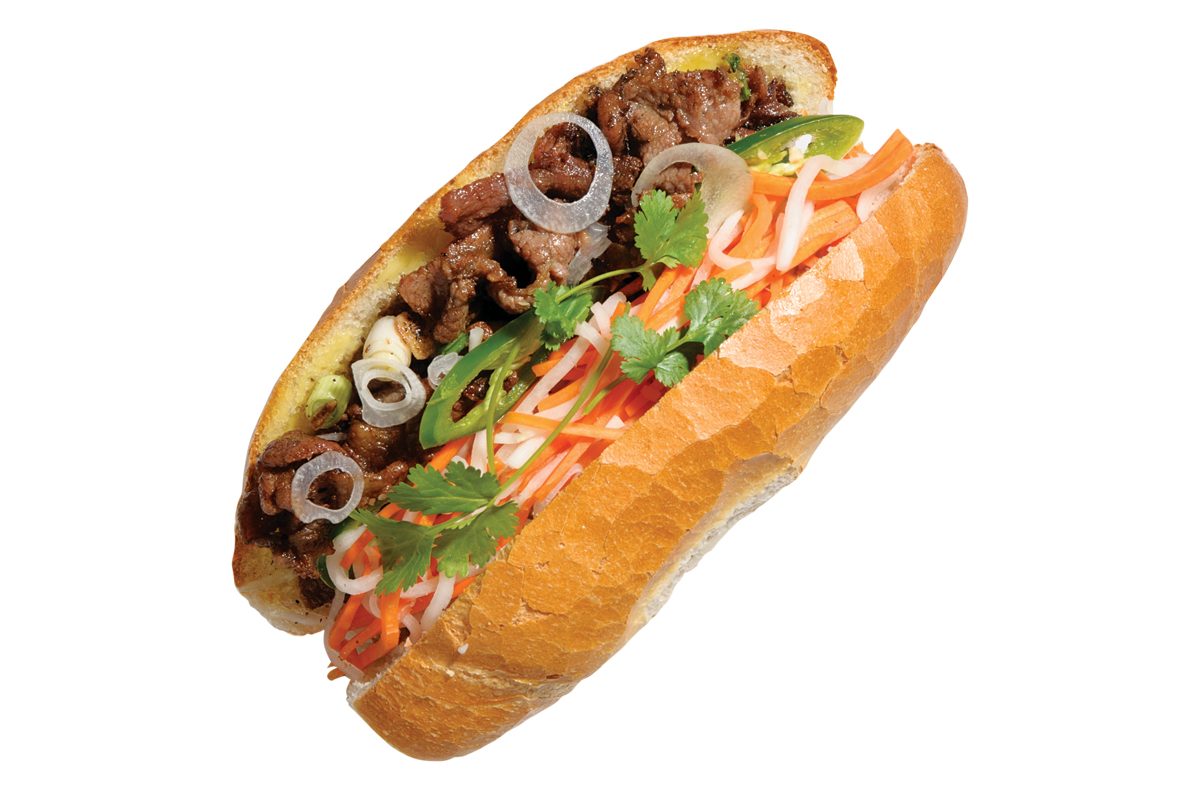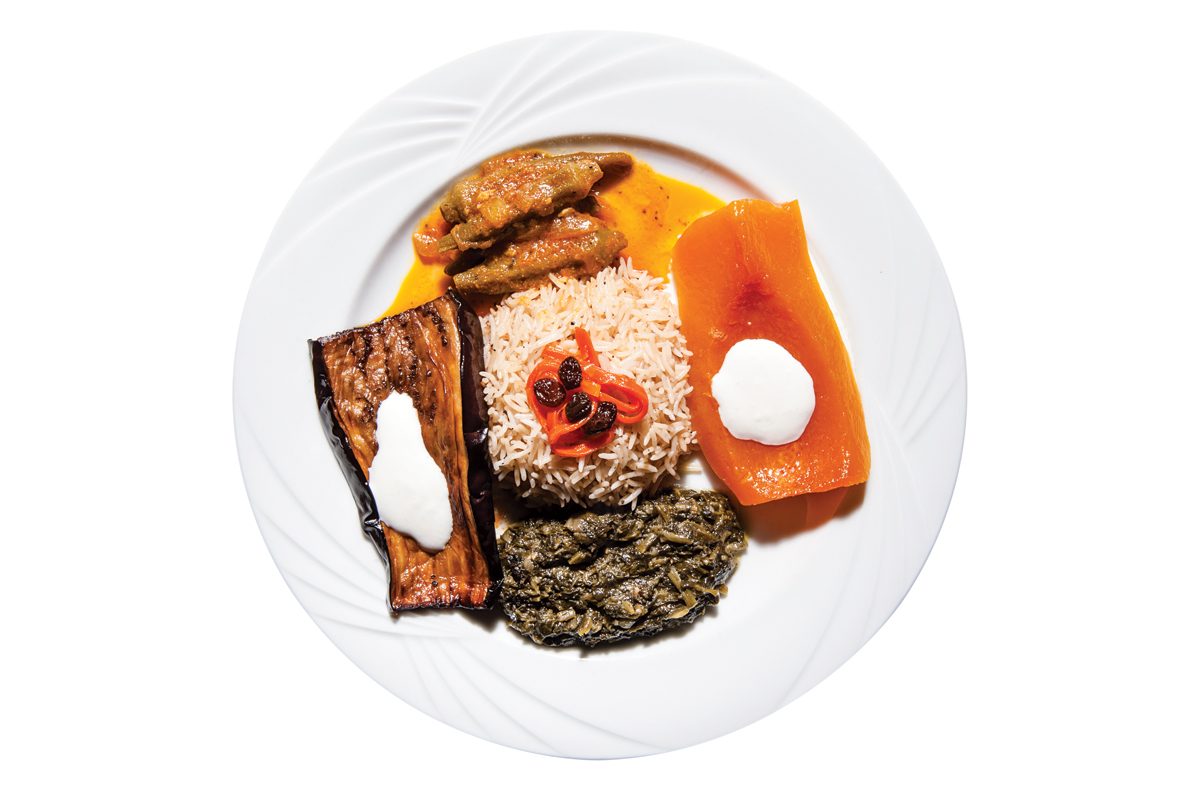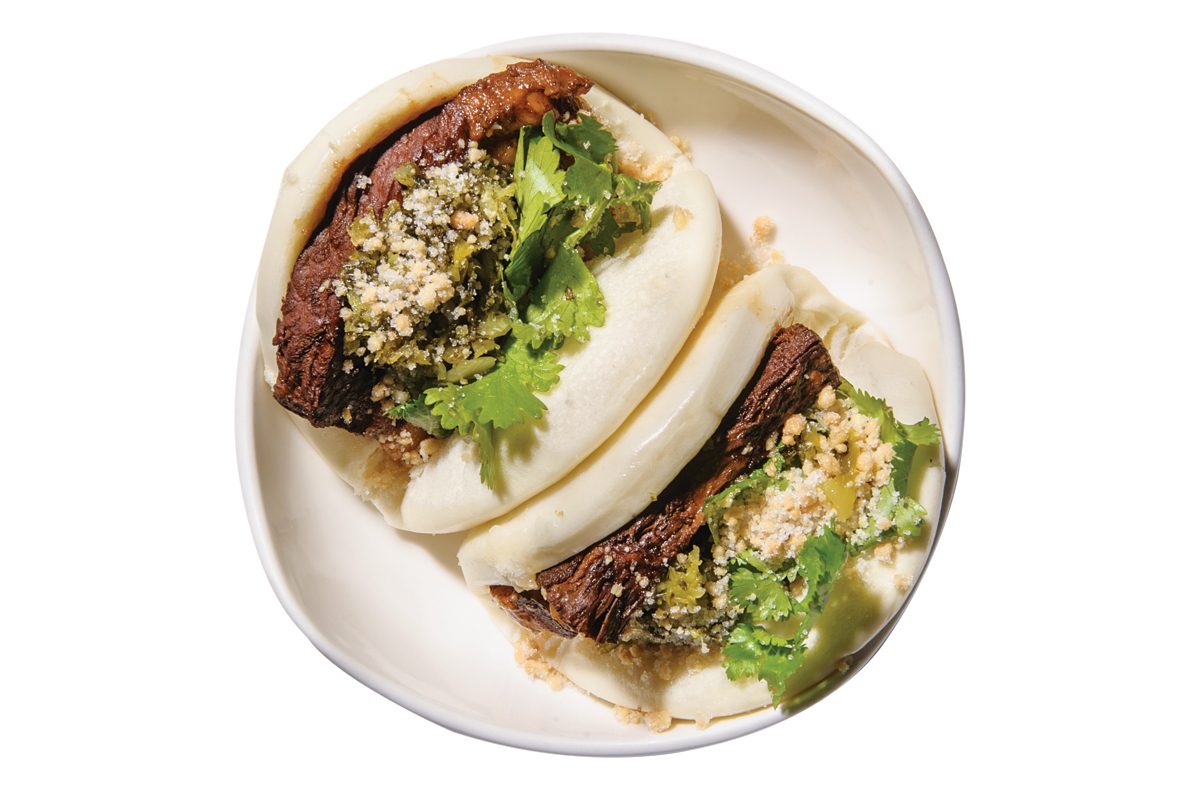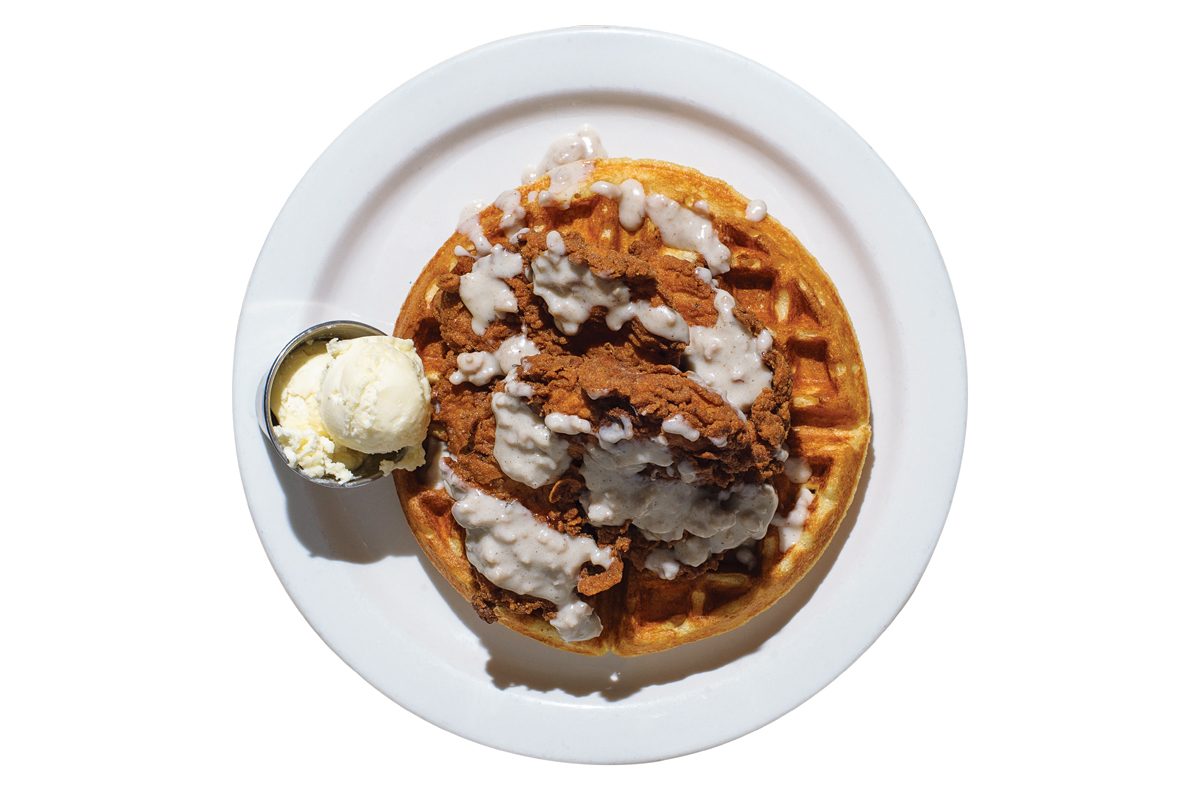 ---
Dewei Meng spent his college years in Boston missing the puffy steamed Tianjin pork buns he grew up eating in China. So late last year, the 22-year-old launched the food truck Meng's Kitchen, which serves northern Chinese sandwiches, dumplings, and, yes, said buns ($1)—a more savory variant of the sweet pork-stuffed Cantonese char siu bao that abound in Chinatown. Filled with ground pork and either leeks or cabbage, they can be found in all their warm, squishy glory most mornings from 7:30 to 10 near the Chinatown T stop.
Go to cityofboston.gov for the most up-to-date schedule.
Web Extra: Go behind the scenes at Meng's Kitchen.
A rejuvenating antidote to a night spent throwing back tequila, this Mexican breakfast staple is built atop tortilla chips sautéed in either red or green tomato sauce until they're soft in the center and crisp around the corners. Then: zigzags of crema, queso fresco, raw onion, a fried egg. Avocado and shreds of chicken grace the tomatillo version ($11.95, pictured) at Angela's Café. At Taqueria El Carrizal, find a pared-down red-sauce take ($9.99) with luscious refried beans.
Angela's Café, 131 Lexington St., East Boston, 617-567-4972, angelascafeboston.com; Taqueria El Carrizal, 254 Brighton Ave., Allston, 617-779-0022, taqueriacarrizal.com.
For a chocolate-frosted blast from the past, we turn to the other DD, where doughnuts start at $1.20. That said, the family-run bakery has also managed to keep up with the times: Enter the new maple-bacon doughnut, a custard-filled, syrup-frosted confection topped with two sizzling strips ($3).
199 Mystic Ave., Medford, 781-395-8422.
Sure, the eggs get all the titular glory, but a breakfast sandwich is only as good as the meat inside. That's the philosophy of Joshua Smith, chef-owner of Waltham newcomer Moody's Delicatessen & Provisions. Drawing inspiration from porcine memories of his New Jersey childhood, he created a gourmet take on pork roll, a breakfast meat usually of the "you don't want to know what's in this" ilk. For his refined version, Smith grinds together house-cured bacon and sausage, ferments it, adds maple syrup, smokes the whole thing, then slices it into rounds. The roll is seared to order with an American-cheese omelet, which gets cozy with Tabasco-spiked ketchup inside a buttery griddled English muffin ($5.50).
468 Moody St., Waltham, 781-216-8732, moodyswaltham.com.
Imagine, for a moment, that you could extract the charred, crusty exterior of a backyard burger and meld that with the porky texture of a sausage. And then deep-fry it. And then smother it with mayo, curry ketchup, and chopped onions before nestling the entire mess into a brioche roll. So anyway, the Dutch and Belgians call this street-food snack frikandel, and you can find an awesome rendition ($8) by way of downtown's Saus—no imagination required.
33 Union St., Boston., 617-248-8835, eatfrites.com.
Boston staffers confess to their naughtiest edible indulgences with a huge dose of pride (which, not for nothing, rhymes with "fried").
CHOCOLATE MILKSHAKE
$4.50, Mama's Place, gomamasplace.com.
"A great, half-melted chocolate shake is my Saturday ritual. Always chocolate, and always on a Saturday—calories, quite simply, don't count on the weekends." —Michele Snow, Designer
CHEESE FRIES
$6.50 for a large, Kelly's Roast Beef, kellysroastbeef.com.
"The fries are swimming in a suspension of perfectly engineered yellow-orange glop, and the name of the game is to mow through the pileup before the sauce turns to rubber—or your buzz wears off." —Carly Carioli, Editor
FRIED CHICKEN
$6.79 for a three-piece meal, Popeyes, popeyes.com.
"The crust's texture is flawless. I like to bite open a pickled jalapeño (59 cents) and squeeze the brine onto the chicken, which cuts through the fat, and, you know, adds a little green veg to the mix." —Jolyon Helterman, Editor at Large
CHINESE FRIED DOUGH
$1, Great Taste Bakery, greattasteboston.com.
"The Chinese name (youtiao) literally means 'oil stick.' Which is pretty accurate: It's a bread stick that's fried to such perfection that you need a napkin the second you tear off a greasy hunk." —Yiqing Shao, Associate Digital Editor
HOME FRIES
$2.50, Sound Bites, soundbitesrestaurant.com.
"Instead of crunchy hunks of potato, you get a creamy, griddled-till-golden brick of garlicky mashed potatoes that, semantics aside, is no-bite-left-behind good." —Courtney Hollands, Senior Lifestyle Editor
Those who thrive on dining at off-the-beaten-path spots would be smart to bookmark Boston's Hidden Restaurants (hiddenboston.com), an invaluable website from local blogger Marc Hurwitz. He surmises that he eats out 125 nights a year, scouring the Greater Boston area and beyond for no-frills, reasonably priced meals that score major points in the satisfaction arena. As fans ourselves, we asked Hurwitz for a cheat sheet to some of his current go-tos.
Five Hurwitz Faves:
INDONESIAN FRIED RICE
$10.50, 3 Country Bistro, Woburn.
"This savory veggie-studded dish from a tiny Asian eatery comes with a fried egg on top."
MAC 'N' CHEESE
$7.95, Winthrop Arms, Winthrop.
"Available by request, this off-menu mac features tubular cavatappi, a multi-cheese blend, and a beautifully browned crust."
DEEP-FRIED TURKEY
$13.95, Mrs. Jones, Dorchester.
"Available on Sundays, tender slices of turkey from this Lower Mills soul-food spot—with two sides and cornbread—are among the city's greatest treats."
BACON-WRAPPED SCALLOPS
$7.95, Kelley Square Pub, East Boston.
"A great rendition of an old-school appetizer from a very old-school spot in a residential part of Eastie."
CAJUN CHICKEN SOUP
$3.95 a bowl, Cronin's Publick House, Quincy.
"A very spicy and flavorful soup from a friendly bar located near the old shipyard."
In theory, choose-your-own-adventure pasta shops—where you pick a noodle, sauce, and toppings from a run-on list—should be cheap-eats heaven. In practice? Not so much. During a no-holds-barred carb crawl with Salty Pig chef—and pasta maestro—Kevin O'Donnell, we were foiled by pitfalls aplenty: unseasoned fettuccine, wan add-ons, insipid sauces. But the day wasn't a total wash. We found one place that nailed the concept—Bottega di Capri, where combos start at $6.50.
41 Harvard St., Brookline, 617-738-5333, bottegadicapri.com.
This protein-packed snack isn't just for survivalists anymore, as chefs and purveyors take it to molar-menacing new frontiers. Three to order: Sarma's slender beef slices with date molasses, fenugreek, cumin, and red pepper ($6); M.F. Dulock's peppery ground-style strips (about $2 apiece); and Bánh Mì Ba Le's sweet, thirst-inducing "meat candy" (our nickname; $10 for a half-pound).
sarmarestaurant.com • mfdulock.com • banhmibaleboston.com

Pad thai, shmad thai. Thai diners actually prefer this wider-noodled dish of chicken, scallions, egg, soy sauce, oyster sauce, sometimes squid, and always white pepper. Find quality renditions at S & I to Go ($7.50) and Pho Basil ($8.50).
For a city that largely pumpkins out by 2 a.m., Boston has a lot more going for it than you might expect when it comes to quelling hunger pangs after the clock strikes 12. Fancypants sashimi bar Uni's excellent $10 ramen (served after 11 p.m. on Fridays and Saturdays) may be the city's biggest breakout success in the after-hours-grub department, but it's hardly alone. Here, eight additional options (some new, some old standbys) for eating well, cheaply, and late—in some cases, until 4 a.m. –Joe Ricchio
A4 PIZZA
Food until 1 a.m.
The Scene: Sharing most of the same patrons from bars in nearby Union Square, Area Four's little Somerville sibling is ideal for collecting your thoughts while listening to a soundtrack of '90s-era hip-hop.
The Order: When the kitchen closes at 11, all leftover thin-crust pizza is offered at half price until 1 a.m. (on a first-come, first-served basis, for dine-in only). Toppings-wise it's a mixed bag, but it's tough to go wrong with any—especially once your order is warmed up in the roaring wood oven.
445 Somerville Ave., Somerville, 617-764-4190, areafour.com.
THE ABBEY
Food until 1:30 a.m.
The Scene: A relaxed dining room that buzzes with Brookline residents seeking a snack after a night swigging Belgian brews across the street at the Publick House (which stops serving food at 11 p.m.). It's generally quite busy, so be prepared to wait a bit for the food.
The Order: Truffle fries may now border on cliché, but this generous bowl ($5)—served with a small tub of roasted-garlic mayo—will remind you why they gained popularity in the first place.
1657 Beacon St., Brookline, 617-730-8040, abbeyrestaurant.net. 
ANCHOVIES
Food until 1:30 a.m.
The Scene: The dimly lit hangout, complete with Tiffany-style lampshades and plenty of old wooden booths, seems custom designed for hiding away—and many locals come here to do just that. And enjoy the aroma of tomato sauce and garlic that permeates the air, of course.
The Order: Basic cheese pizza ($9, with toppings ranging from $1 to $3) has a crunchy, buttery crust and sweet, tangy sauce and is substantial enough to warrant the time required to finish an entire bottle of bargain-priced chianti.
433 Columbus Ave., Boston, 617-266-5088, anchoviesboston.com. 
EASTERN STANDARD
Food until 1:30 a.m.
The Scene: This sprawling urban brasserie has established itself as the one place that label-hating hipsters, Fenway bros, trust-fund kids, service-industry professionals, and cougar packs can coexist in harmony.
The Order: Stick to classics like the superlative steak tartare with cornichons ($12) or the moules Provençal ($12), served in a fragrant broth and accompanied by warm, chewy bread. Once the late menu kicks in (11 p.m. weeknights, 12 a.m. weekends), four or five changing specials go up on the mirror above the bar, keeping matters interesting.
528 Commonwealth Ave., Boston, 617-532-9100, easternstandardboston.com.
FAIRSTED KITCHEN
Food until 12:30 a.m. (Sunday to Thursday); 1:30 a.m. (Friday and Saturday)
The Scene: The eclectic vibe of this Washington Square hot spot matches its varied following, most notably a contingent of off-shift servers, cooks, and bartenders perched at the bar on any given night.
The Order: Because even the shortest wintertime stumble from a nearby bar can chill you to the core, request the meaty, aromatic cumin-dusted lamb ribs ($13) finished with spicy vinegar and fish sauce.
1704 Beacon St., Brookline, 617-396-8752, fairstedkitchen.com.
JM CURLEY
Food until 1:15 a.m. (Monday to Saturday)
The Scene: A preferred haunt of the city's service-industry folks after a long day spent serving the general public.
The Order: The late-night menu is made up of two categories: burgers and "concretes," the latter essentially Dairy Queen Blizzards on steroids. Those who opt for burgers are given the option to "hook them up." We do so by tacking on a fried egg and veggie patty to our beef cheeseburger. The result is the mother of all burgers ($12, when all is said and done). Stoners would do well to order the Crunchy Hipster concrete ($7), which whips white-fudge pretzels, bacon, M & Ms, and Butterfingers into vanilla ice cream.
21 Temple Place, Boston, 617-338-5333, jmcurleyboston.com.
PEACH FARM
Food until 3 a.m.
The Scene: Dining in what is basically a brightly lit basement dotted with Pepto-pink tablecloths, the crowd here can range from post-revelry college students to dancers who work at Centerfolds down the street. You'll almost always spot a round table packed with chefs and cooks after a long shift.
The Order: Pair cold Tsingtaos with a bowl of clams simmered in a pungent black bean sauce ($12.95). The spicy dry-fried squid ($11.95) is the best in the city, with a crunchy, aggressively seasoned crust and tender seafood.
4 Tyler St., Boston, 617-482-3332, peachfarmboston.com.
TASTY BURGER
Food until 4 a.m.
The Scene: A laid-back bar scene turns into an absolute circus upstairs on the entrance level between 2 and 4 a.m., as an entire inebriated neighborhood descends in search of super late-night sustenance.
The Order: While the burgers ($4.25–$5.85) are a no-brainer, Tasty's hot dogs—lovingly called "shafts"—are equally great, particularly when covered in chili, jalapeño cheese sauce, and chopped onion ($5.25).
40 JFK St., Cambridge, 617-425-4444, tastyburger.com.
These local grocers offer ready-to-eat takeout that'll fill you up right.
---
Five Local Markets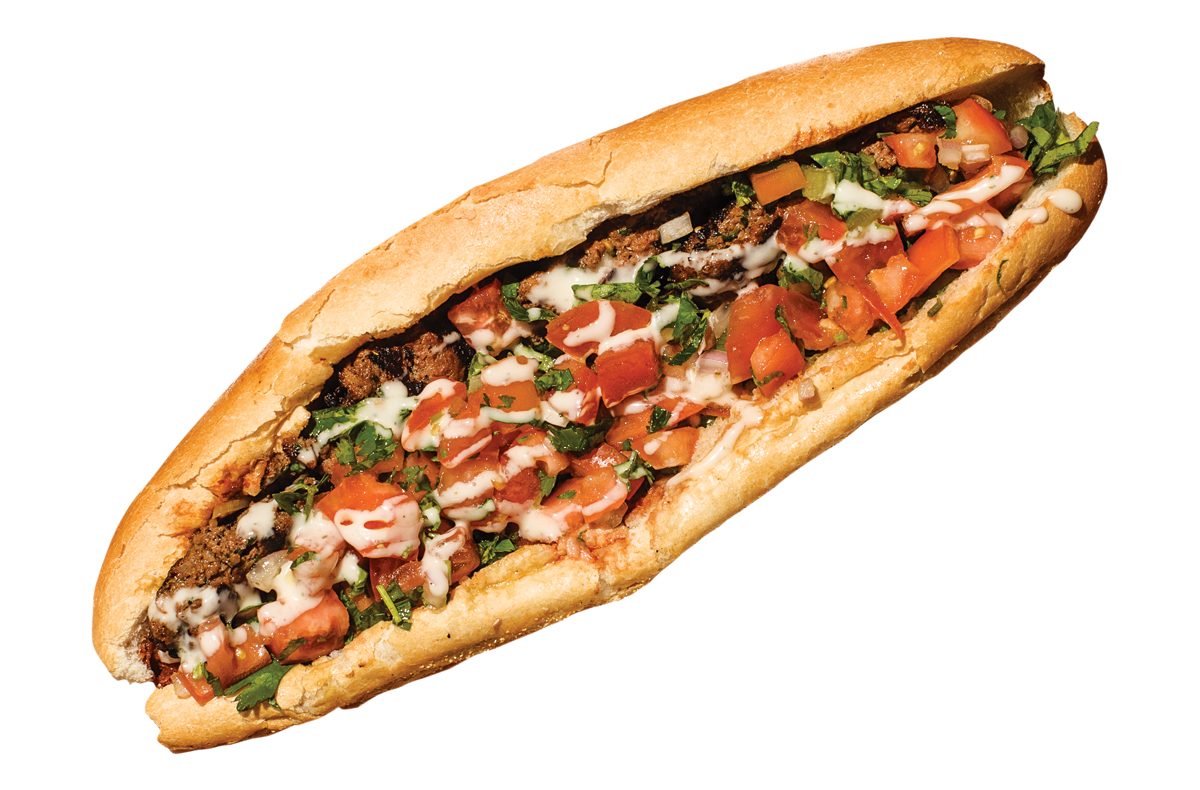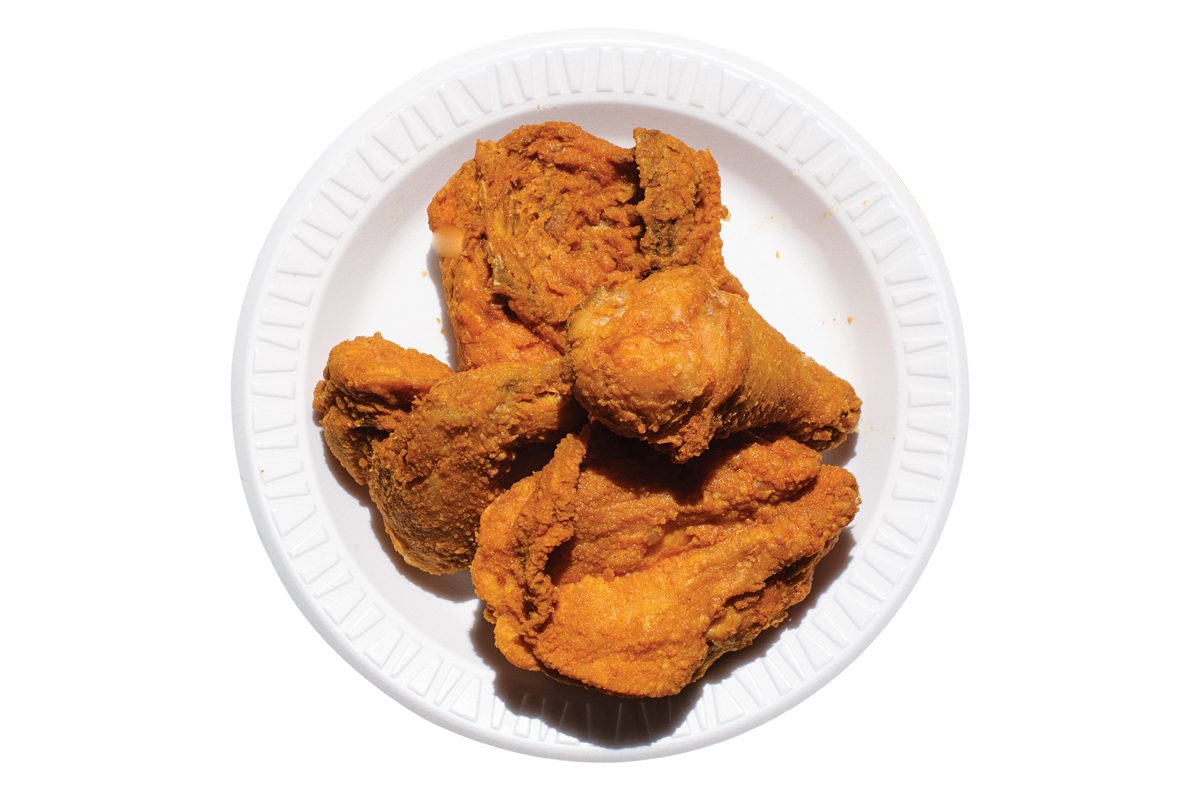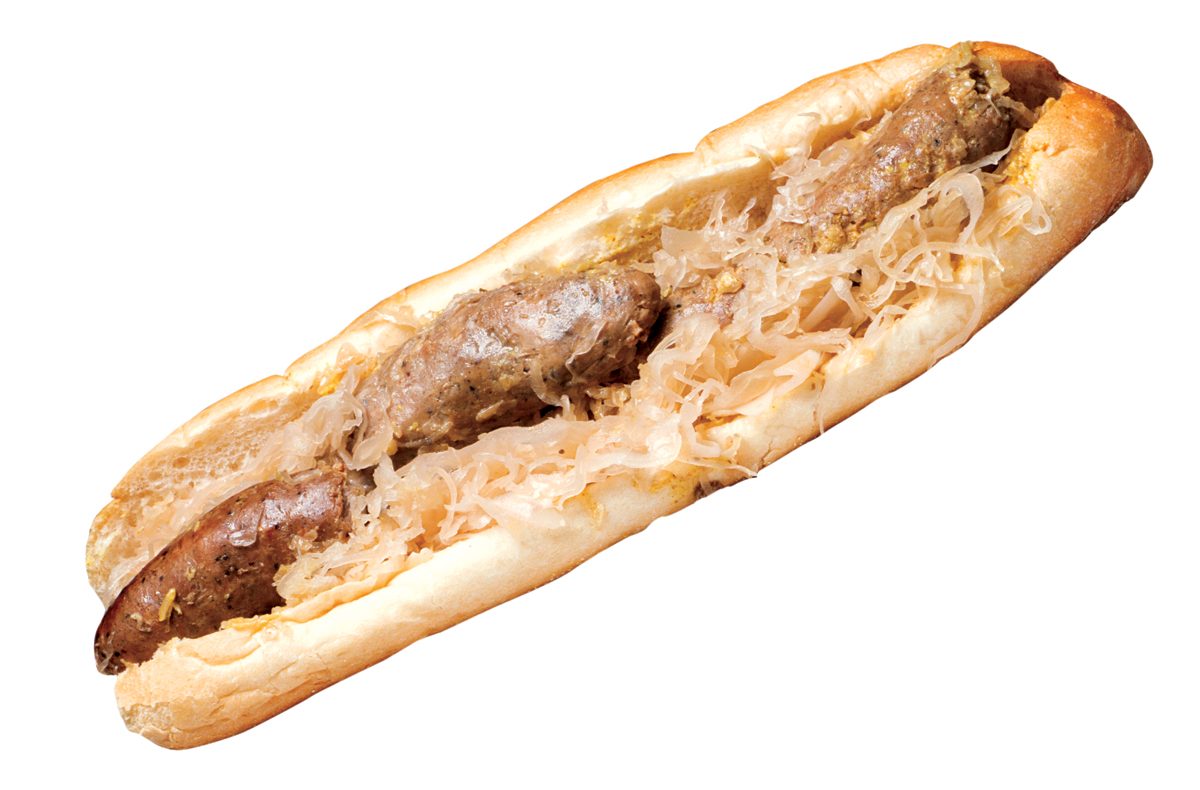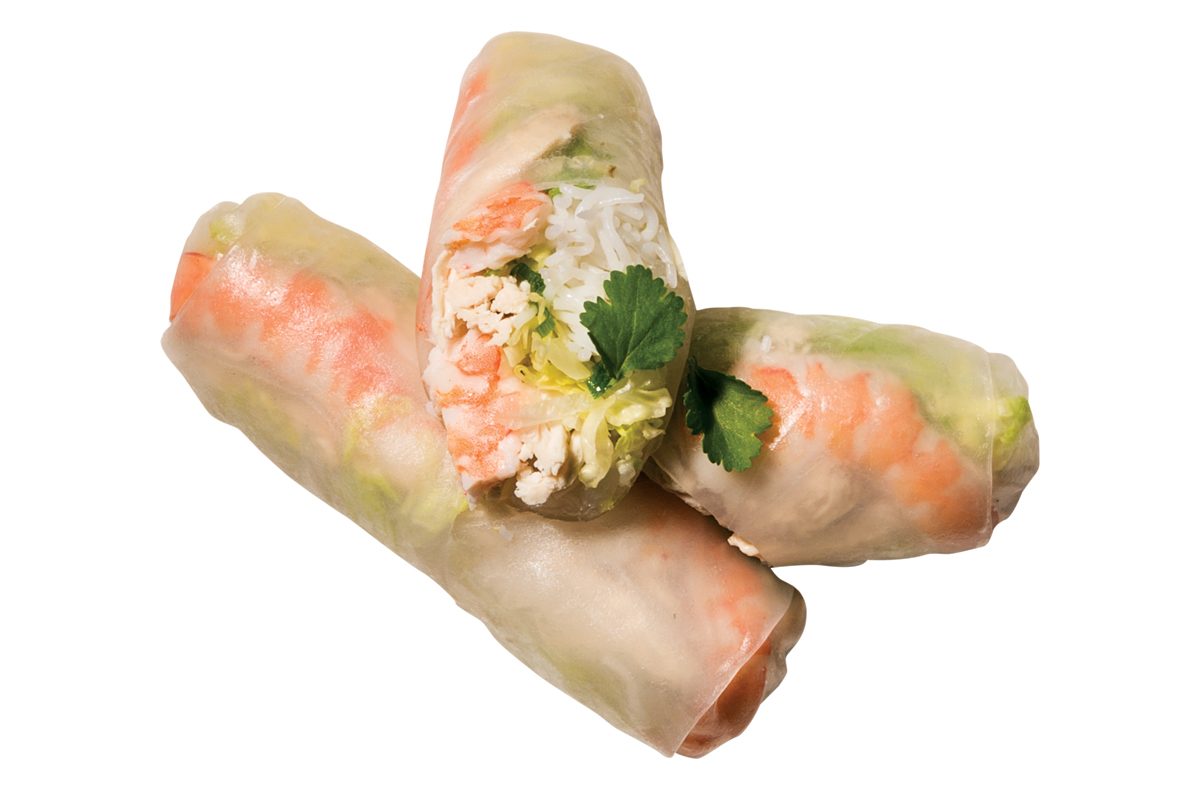 SEVAN BAKERY
Watertown, 617-924-3243.
This Armenian market and wine shop offers a host of tempting salads and spreads. For a truly portable bite, order a warmed-to-order creamed-chicken-and-onion-stuffed bogacha ($2.29), essentially a puffy, triangular Hot Pocket (in the best possible way).
ASSALAM MARKET
Cambridge, 857-242-3394.
This Iraqi-owned market resembles a smoke shop from the outside, but it's really a hub for Middle Eastern pantry essentials. Don't leave without a fresh-made kefta sandwich ($5.99), with grilled beef patties, diced tomato, tahini sauce, and a smear of harissa.

WALTHAM INDIA MARKET
Waltham, 781-899-6018.
Jarred curries, condiments, and sacks of basmati rice dominate the shelves here, but downstairs the mini food court is stocked with ready-to-eat kebabs, Indo-Chinese dishes, and salty-good fried chicken ($2.99 for two pieces).
DJ'S EUROPEAN MARKET AND DELICATESSEN
Dorchester, 617-436-9766.
More convenience store than full market, DJ's boasts a deli counter in back serving up Polish comfort food (a dozen pierogi with onions and bacon, $5.95) and tons of sandwiches (like house-made kielbasa with sauerkraut and onions, $3.95 for a small). 617-436-9766.
HONG KONG SUPERMARKET
Allston, 617-787-2288.
Formerly known as Super 88, this Asian superstore benefits from the food court flanking it—and we recommend not entering without scoring an order of soft, herbaceous fresh rolls ($4.40) from the Pho Viet's stand, which come with a thick, savory peanut sauce.
Gene Wu, who spent his formative years working at his parents' eateries in the northern Chinese city of Xi'an, always dreamed of opening a place of his own. After coming to the U.S. to study, he instead became a chemist—and worked in Billerica in that field for more than a decade before deciding to pursue his lifelong ambition. In 2011, he opened Gene's Flatbread Café in Chelmsford, which became so successful that last year he opened a second location on the fringes of Boston's Chinatown. And it's with a chemist's precision that he approaches each 17-hour day, arriving at the downtown shop at six o'clock every morning to calibrate and portion out the dough so he and his staff can hand-pull each order of thick, ropey noodles à la minute—then toss them with chili oil, garlic, and cilantro ($6) or immerse them in a meaty broth with slices of lamb ($11). This diligence only pays off, however, if you eat Wu's noodles the right way: "We try very hard to make them fresh," he says. "They are made with flour, so they will stick together if you don't eat it right away or mix it up. Freshest is best." In short: If you can't eat his noodles immediately, it's best to hold off until you can.
257 Littleton Rd., Chelmsford, 978-256-6789; 86 Bedford St., Boston, 617-482-1888; genescafe.com.
We flock to Korean-fried-chicken chain Bonchon for its signature crunchy-fried poultry, but there's a Japanese dish on this decidedly pan-Asian menu that's just as much of a crowd-pleaser (and filler-upper): okonomiyaki ($13.95), a giant, crispy pancake loaded with squid, shrimp, cabbage, and bits of bacon. The massive dish is topped with thick, sweet barbecue sauce, Japanese-style mayo, and curls of bonito flakes. Yup. It's a $14 pancake. Trust us.
57 JFK St., Cambridge, 617-868-0981; 123 Brighton Ave., Allston, 617-254-8888; bonchon.com.
Forget cronuts. This year, the pretzel is the baked good of choice for culinary hybridization. Overblown fast-food gambits aside (à la Chili's, Wendy's), there's still some genius to this trend, exemplified locally by the following not-so-knotty twists on the crunchy German snack. –Janelle Nanos
From left to right (shown above):
PRETZEL BAGEL
$2.50, Bagelsaurus at Cutty's, Brookline Village, cuttyfoods.com.
Baker Mary Ting Hyatt's in-demand bagels—available at Cutty's Friday and Saturday mornings from 8 a.m. until they sell out—are dipped in lye before baking and finished with sea salt. The perfect shmear? A dollop of mustard butter.

PRETZEL BAGUETTE
$2.50, Swissbäkers, Allston, swissbakers.com.
Order any sandwich at this expansive bakery and the default bread is this squat, 6-inch mini loaf that's also great on its own. The dough is doused in a salt solution before baking, rendering the loaves an appealing tawny brown. They're then topped with a touch of salt or pumpkin seeds.

PRETZEL CROISSANT
$3.30, Clear Flour Bread, Brookline, clearflourbread.com.
Buttery and flaky, this savory croissant is flecked with black sesame seeds and sells out quickly every weekend. Arrive mid-morning to snag one.
America may be home to the stuffed-crust pizza, but we've got nothing on Bolivia when it comes to gut-busters. See: Eastie spot Que Padre Taqueria y Mas's classic Bolivian dish pique a lo macho ($13.95), an eye-boggling platter of fried potatoes, seared chuck steak and Kayem hot dogs, fresh jalapeños, tomato wedges, and sliced onion, all crowned with a spider web of mayo and mustard. The locoto pepper sauce that pools at the bottom? Owner Victor Duran's family recipe. It's but one of many hand crafted dishes at Que Padre, which also sells empanada-like salteñas ($2.50 each) and bacon-wrapped Sonora hot dogs ($4 each). 617-418-7278
The North Shore–style roast beef sandwich is a rite of passage for locals. But how to choose one from the infinite field of competitors? After visiting more than a dozen old-school joints, it became apparent that in its best form (the larger, onion-bunned Super Beef, usually available), the sandwich has thin, rosy beef; a griddled roll; and masterfully applied James River barbecue sauce, mayo, and American cheese (called the "three-way"). With this in mind, we sleuthed out the best, and these five outmuscled the rest. –Richard Chudy
STEVE'S ROAST BEEF
$6.05, Malden, 781-397-8801, stevesroastbeef.com.
With rare, tender beef that's practically shredded, a slightly charred buttered onion roll, and evenly dispersed sauce, the Super Roast Beef (pictured) at this unassuming sub shop is the leader of the pack.

NICK'S FAMOUS ROAST BEEF
$6.25, North Beverly, nicksfamousroastbeef.com.
Pumped out of an open kitchen, this version masters the art of balanced excess: lots of sauce, lots of beef, and a heavily buttered roll.
JIMBO'S FAMOUS ROAST BEEF & SEAFOOD
$5.99, Reading, 781-944-0588.
In this anything but subtle sandwich, it's all about the meat, which is piled high into a giant roll.
MINO'S ROAST BEEF
$5.95, Lynn, minoslynn.com.
This pizza shop offers a sandwich on a doughy onion roll so wide it practically stretches into Revere—and the rest of the ingredients are perfectly proportioned.

LIBERTY BELL
$6.40, Melrose, libertybellmelrose.com.
The neatest, sexiest-looking sandwich of the bunch, this rendition boasts a slightly thicker slice of meat and a bun that's crispy on both the top and bottom.
Boston's full-boil obsession with ramen is actually quite logical. After all, it's sweater weather here for at least seven months of the year, and the chronic wind chill sends us scurrying for steaming soups with a near-Pavlovian fury. Of course, one can't—make that shouldn't—subsist on a single buzzy style of brothy goodness alone. The next time you're in need of a liquid lunch (or dinner), try one of these hearty meals in a bowl instead. –Courtney Hollands
---
Seven Souped-Up Soups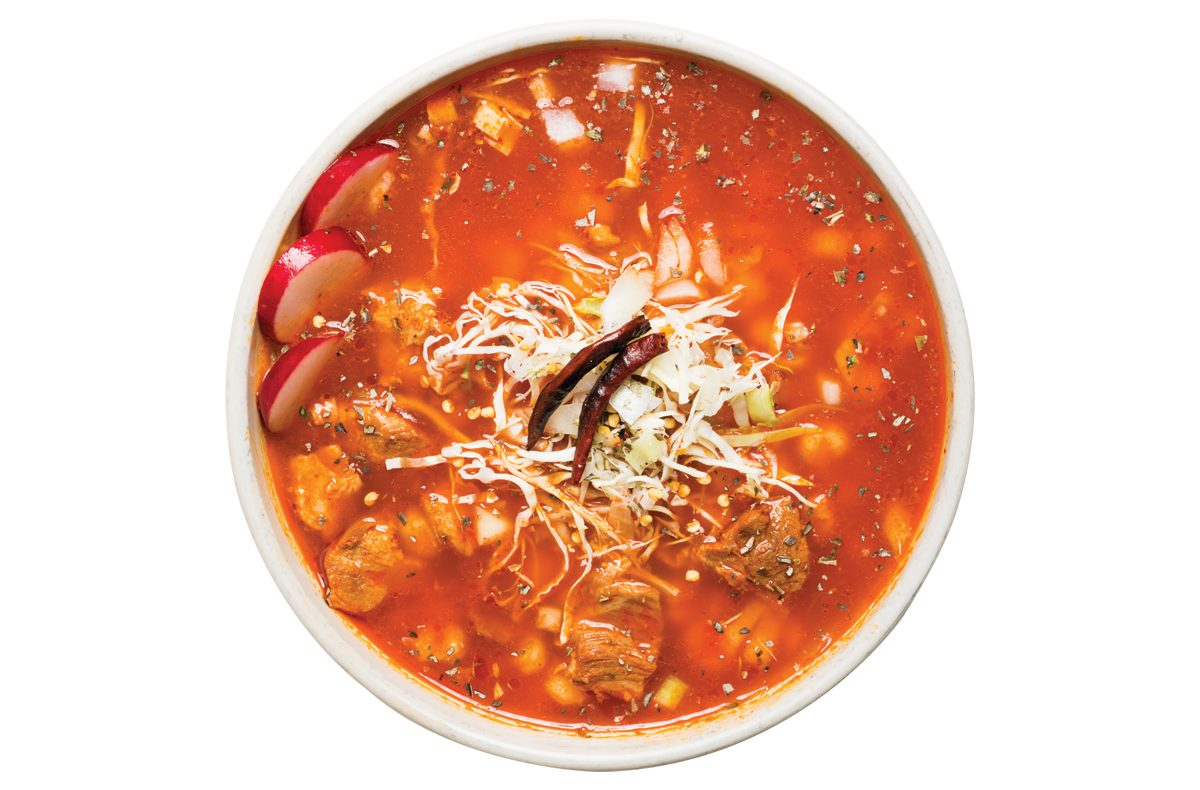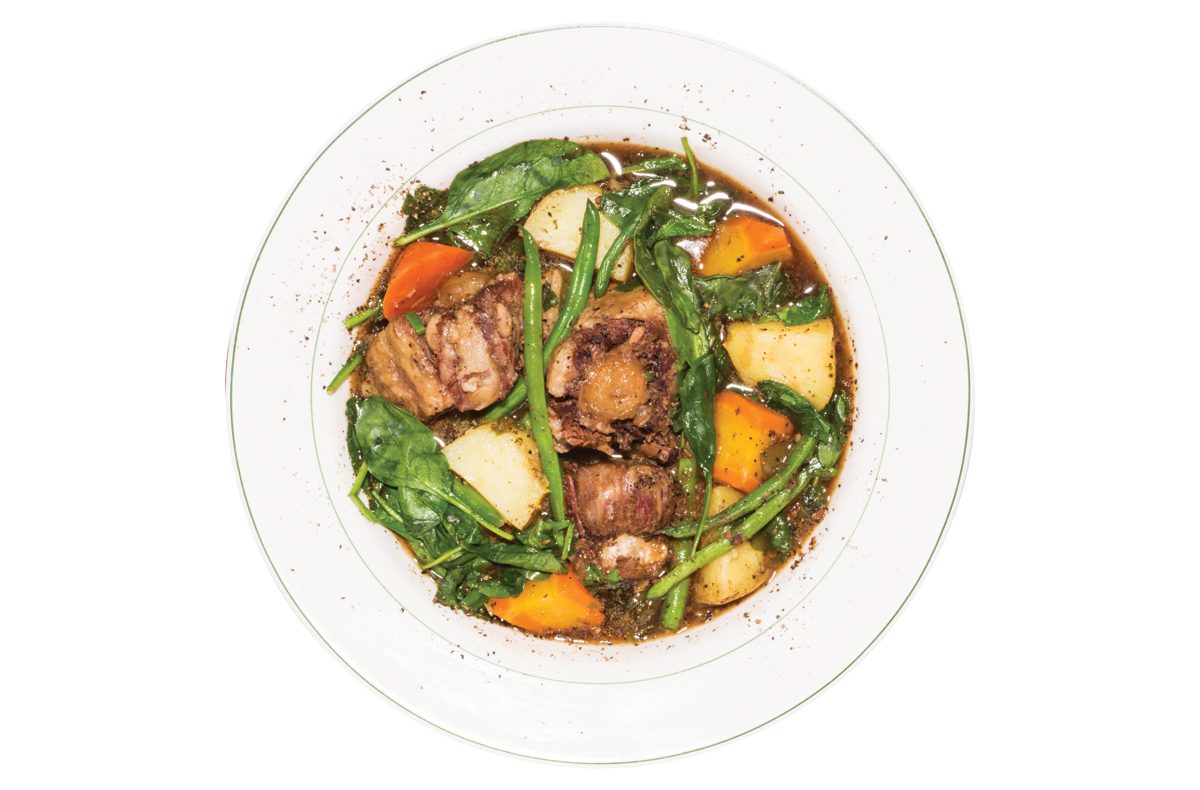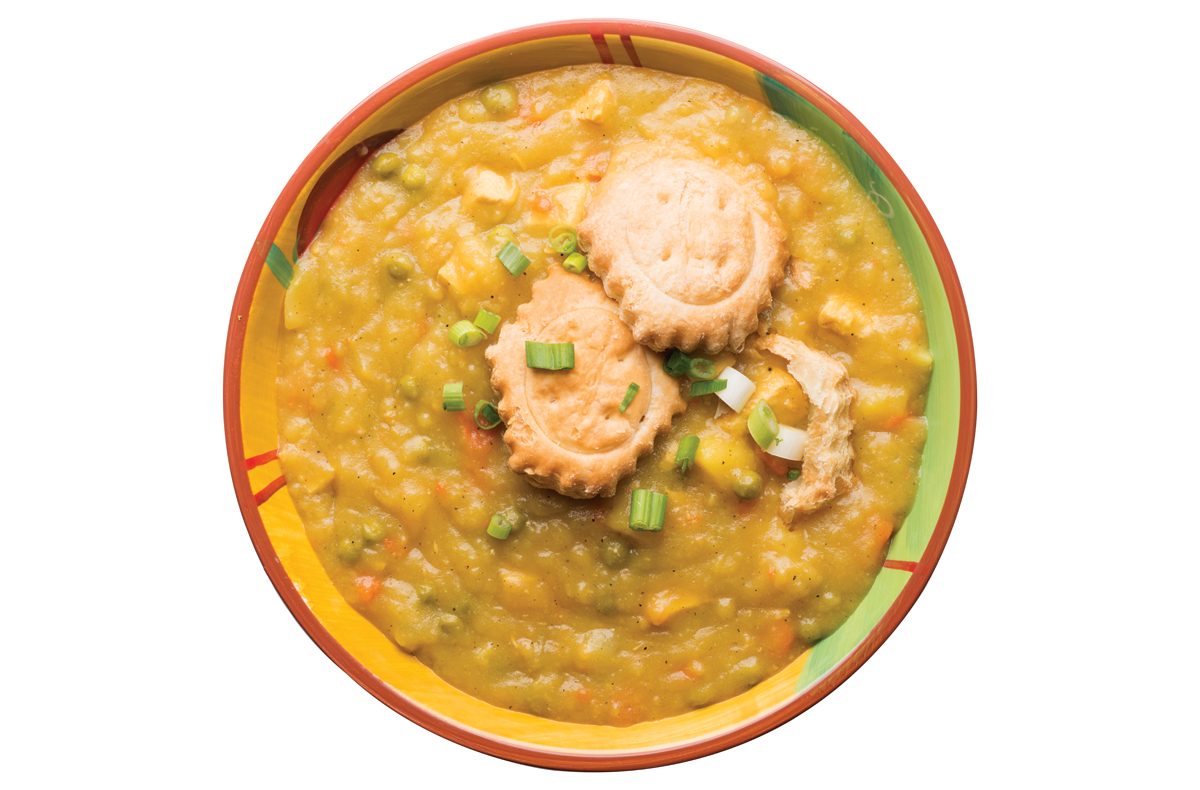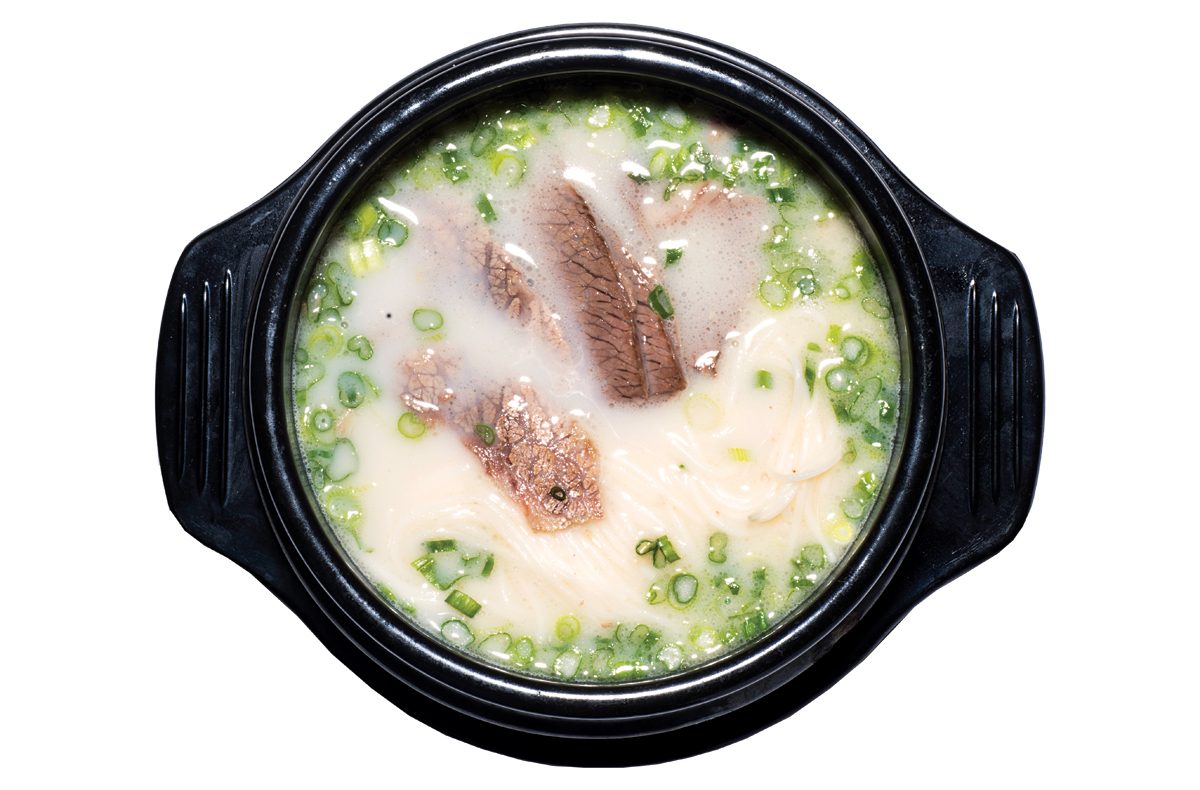 Web Extra: Check out seven warming bowls of pho (Vietnamese noodle soup).
---
O Ya chef-owner Tim Cushman is the man behind the city's priciest restaurant, where a 20-odd-course grand omakase rings in at $285 a head. His off-the-clock obsession is far cheaper: tacos. It makes sense. "Sushi in its simplest form is rice and a piece of fish, maybe a dip in soy—very simple. Same with a basic taco: a tortilla, cooked meat, onions, and cilantro," he says. While Tim and his wife, O Ya co-owner Nancy, religiously take on taco binges from Chicago to San Francisco, in Boston they mostly make them at home. So we treated them to a local taqueria crawl—13 places in two days—to discover which ones warrant a spot on their feeding schedule. Here, the seven that made the cut.
LENGUA TACO
$2, Taqueria El Amigo, Waltham, 781-642-7410.
Soft, pliable tortillas encase incredibly tender, well-seasoned cubes of beef tongue and come with a flavorful arbol-chili salsa on the side. Tim's Notes: "From the flavor balance to the quality, this is closest to the best I've had outside the Boston area."
CHICHARRON TACO
$2.25, Taco Loco, Somerville, tacolocomexican.com.
More reminiscent of extra-crisp carnitas than puffy pork skin, the pork strikes a great balance of tenderness and bite. Be sure to ask if you don't see them listed on the menu. Tim's Notes: "These were a little crunchy, chewy, fatty, and porky."
TINGA CHICKEN TACOS
$8 for three, Beantown Taqueria, Central Square, cambridgebeantowntaqueria.com.
This place boasts some serious tacos anchored by from-scratch tortillas—the best filling being the tinga, shreds of chicken in a fiery tomato-based sauce. Tim's Notes: "Great heat and flavor. The tortilla is sturdy but gentle."
LENGUA TACO
$2.25, Taqueria Jalisco, East Boston, 617-567-6367.
Tender braised tongue is enhanced by the four house-made hot sauces that accompany the tacos. Tim's Notes: "The tortillas are thin and delicate."
AL PASTOR TACO
$2.50, Anna's Taqueria, multiple locations, annastaqueria.com.
Served on a smaller tortilla than the rest of Anna's tacos, this one showcases spiced pork shaved from a spit and paired with pineapple, avocado sauce, and dried-chili sauce. Tim's Notes: "It's moist and the flavor is balanced—you can taste some chili, and there is a nice floral quality."
ENSENADA FISH TACO
$2.95, Dorado Tacos and Cemitas, Brookline, doradotacos.com.
On a big menu, the standouts are the Baja-style fried-fish versions, featuring fluffy, crispy beer-battered whitefish. Tim's Notes: "The fish is nice and moist, and the taco has a tang to it. It's like having fish and chips with slaw."
DALLAS SPICY BEEF TACO
$4, Lone Star Taco Bar, Allston, lonestar-boston.com.
Proof that Tex-Mex can be awesome, this homage to classic ground-beef tacos (pictured) is anchored by a fried, house-made tortilla. Tim's Notes: "It's an open-faced crispy taco—a clean version of Old El Paso taco night."
For the truly hard-core cheapskates—or big spenders caught light in the wallet—we upped the degree of difficulty, sleuthing out satisfying bites that top out at three singles. –Panicha Imsomboon
---
Eight Bites Under $3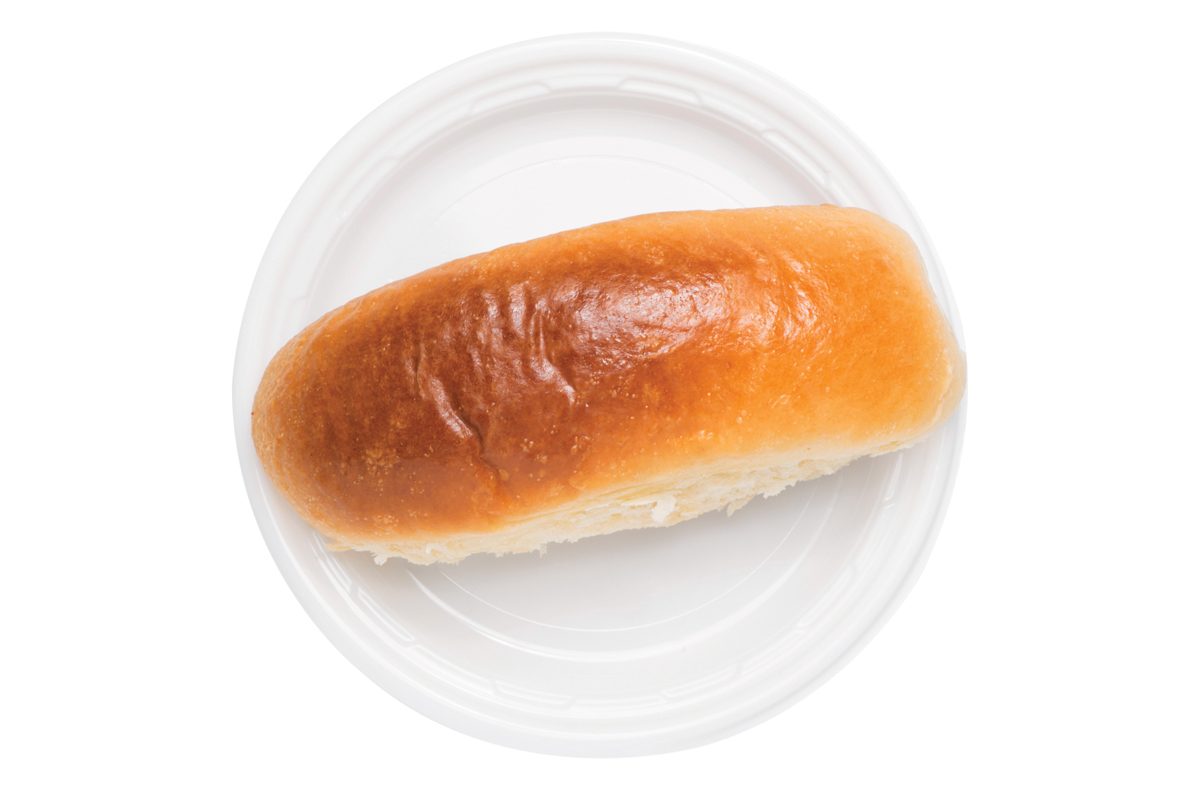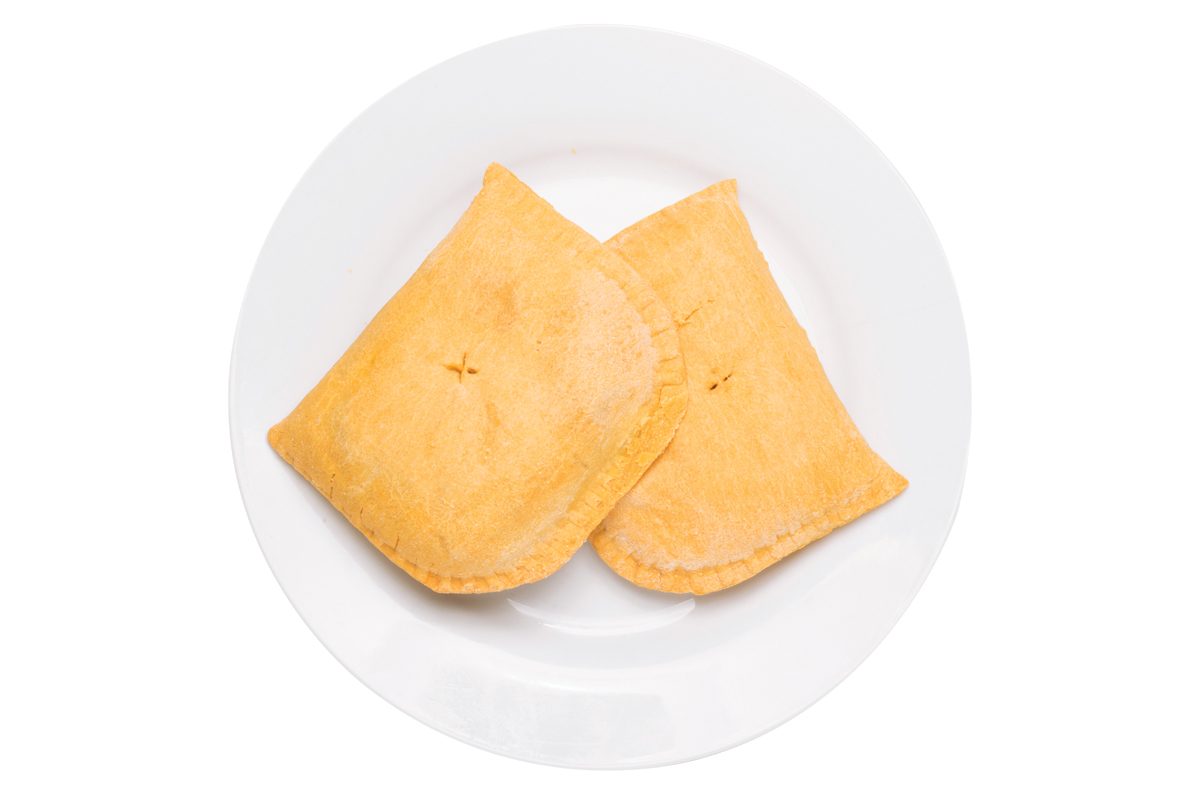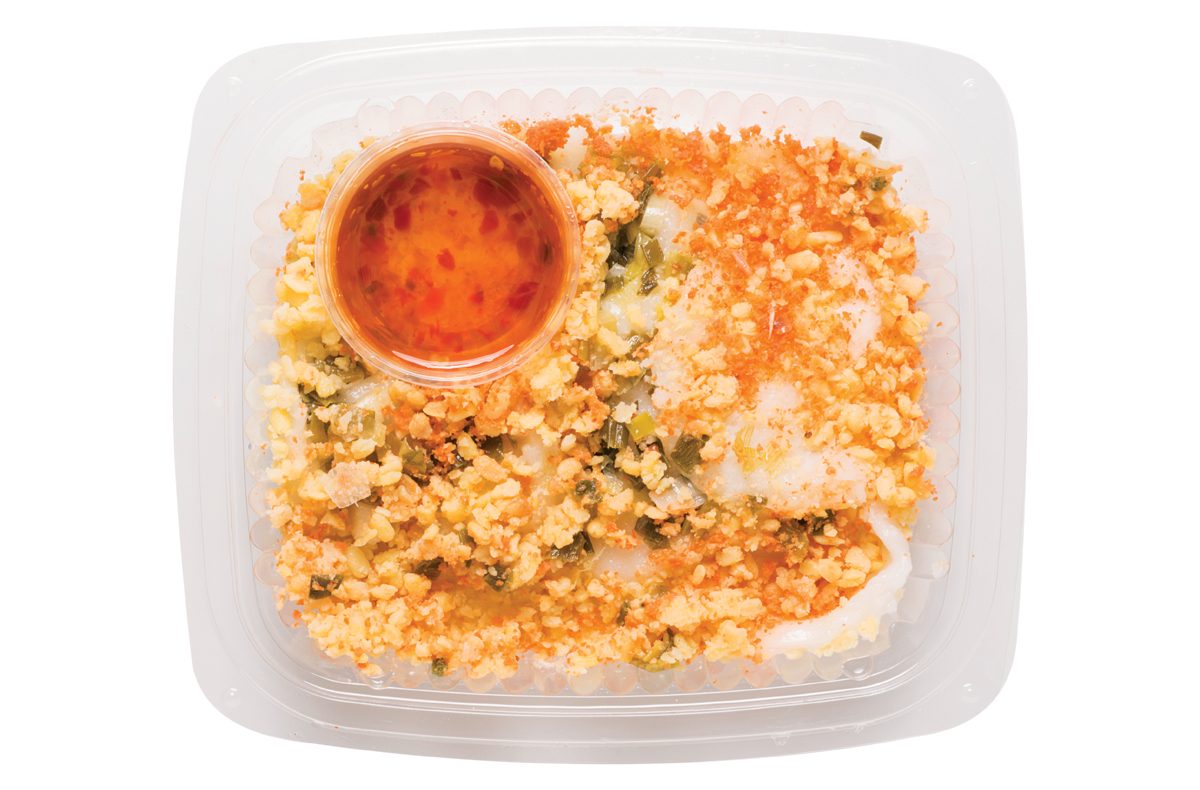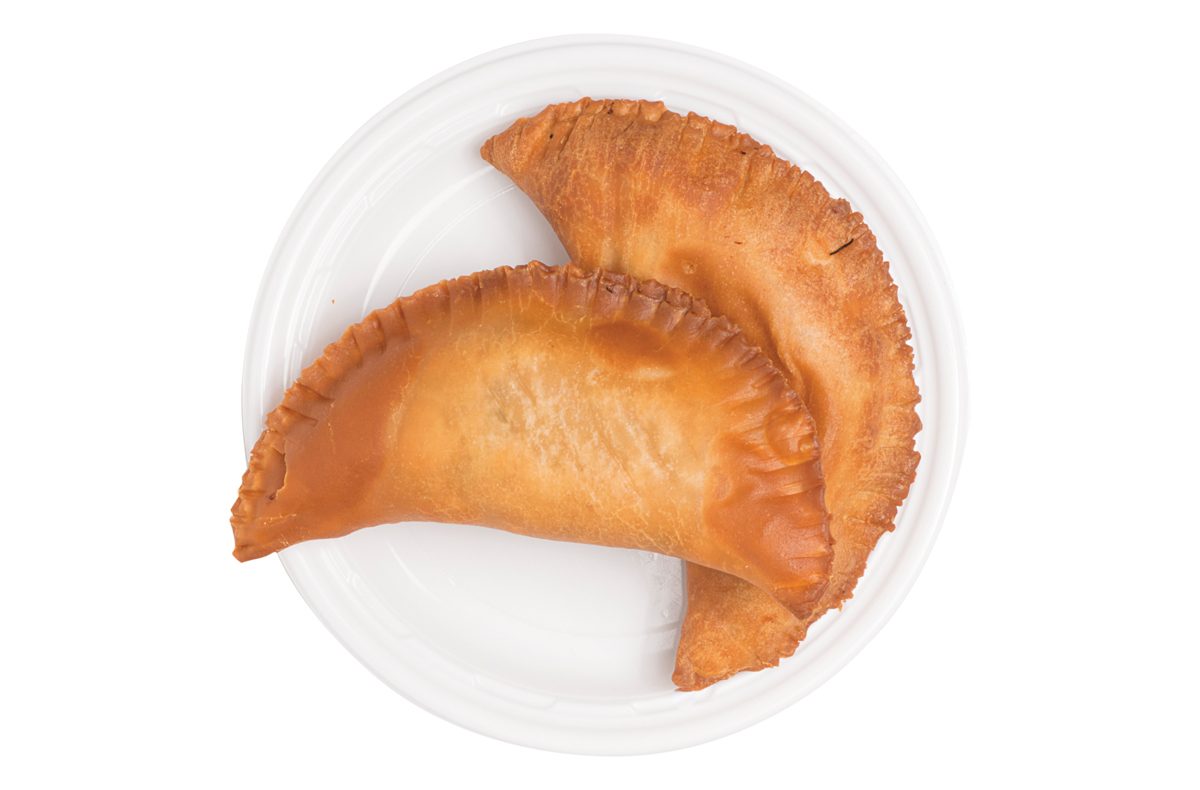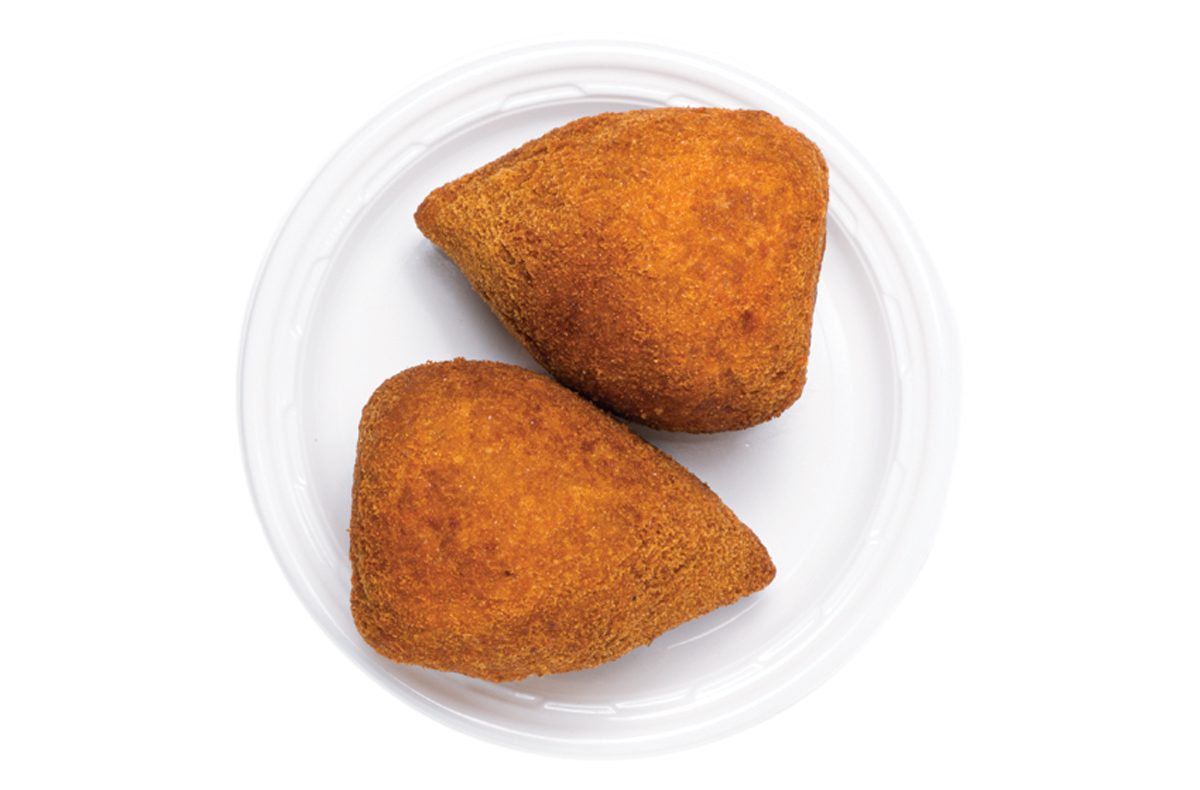 ---
Who better to guide us in the ways of hearty and thrifty eating than these three industry old-timers? A trip down memory lane, including plugs for their menus' star items. –Cassandra Landry
ARTHUR MANJOURIDES, 72
Chef and co-owner (with his brother and two sisters), Charlie's Sandwich Shoppe, South End.
Beginnings: Peeling potatoes and working the cash register at six years old for his father, Chris Manjourides, a part owner of the original Charlie's. "Every morning at 4 a.m., 100 pounds of potatoes. I would start to fall asleep. My father would come by and shake me awake, and I'd start peeling again."
Top Find: A bag of guns left by a customer on top of the refrigerator. "A lost-and-found of guns! You never had to go to the movies."
The Must-Order: Turkey hash, $7.15. Ground turkey, vegetables, and a blend of spices are combined, baked, then pan-fried to get those crispy golden bits a great hash demands.
HELEN METROS, 83
Server, Charlie's Kitchen, Harvard Square.
Beginnings: A former waitress at the now-defunct Oxford Ale House, on Church Street, Metros worked a shift at Charlie's Kitchen as a favor for a friend—and hasn't left yet. Although her current stint is going on 55 years, she says, "I'm not making a career out of it!"
Words to Live By: "It's nice to be important, but it's important to be nice."
The Must-Order: Double cheeseburger, $5.25. The combination of classic toppings—lettuce, tomato, pickles, and cheese—lets the perfectly seared beef patties shine.
PAUL DEUTERIO, 65
Owner and operator, Galleria Umberto Rosticceria, North End.
Beginnings: There since the place opened in 1974. "My father was a typical immigrant, doing whatever it took to get work, and back in those days it was a lot easier to open a small business than it is now. So we got drafted! It's like quicksand; once you're in it, you can't get out."
The Craft: "We do things that are labor-intensive, and most places don't. We do things by hand. We make all of our stuff ourselves."
The Must-Order: Sicilian-style pizza, $1.45. Burnt, caramelly cheese bubbles grace every thick, red-sauced square.
At $30, the "Rotisserie Chicken Family Meal" from Seta's Café looks like the priciest item on our list—until you learn what it gets you: a mahogany-skinned rotisserie chicken, silky garlic sauce, creamy hummus, lavash, handcut fries, and a bracing salad of farmers' market veggies, all made from scratch and served in a quantity designed to feed four—making it $7.50 a person.
271 Belmont St., Belmont, 617-484-7823, setascafe.com.
Boston excels in all the expected categories—oysters, lobster rolls. Less obvious: xiao long bao, the steamed, soup-plumped mini buns from China's Jiangnan region. What makes Dumpling Café's beauties ($6.95) the region's gold standard? Rich, salty broth; pillowy mounds of pork and crab; and delicate, thin skins.
695 Washington St., Boston, 617-338-8859, dumplingcafe.com.
Boston got its first taste of a yakitori joint, a Japanese small-plates eatery starring charcoal-grilled skewers of meat and vegetables (predominantly chewy chicken parts) a couple years back with the excellent but expensive Yakitori Zai. Now closed, the spot has paved the way for two new, more gently priced versions: Ichiban, near Symphony Hall, and Ittoku, in Brighton, both of which average $2 to $3 per skewer. Also at both, we suggest the following protocol: Gnaw the meat or veg off the skewer like a barbarian, take a sip of sake or beer, and repeat. Often.
Ichiban, 14 Westland Ave., Boston, 617-236-7907, ichibanboston.com; Ittoku, 1414 Commonwealth Ave., Brighton, 617-608-3630.
Full disclosure: Café Jaffa's owners probably spell this garlicky, jalapeño-spiked, Yemen-born hot sauce the Israeli way (s'khug), if they spell it at all: The gratis ($0) green goodness that gives the terrific lamb/beef shawarma salad ($9.95) its bracing zing and the chicken kebab ($7.50) its fiery subtlety isn't even listed on the menu. But we already had an S; moderately priced zebra isn't this town's forte; and honestly, the punchy house-made condiment is so addictive it seemed more fitting to save for last.
48 Gloucester St., Boston, 617-536-0230, cafejaffa.net.
Source URL: https://www.bostonmagazine.com/restaurants/2014/01/28/cheap-eats-boston/
---