A First Look at Stephanie Cmar's Stacked Donuts
The former Top Chef's pop-up shop is a gargantuan hit.
---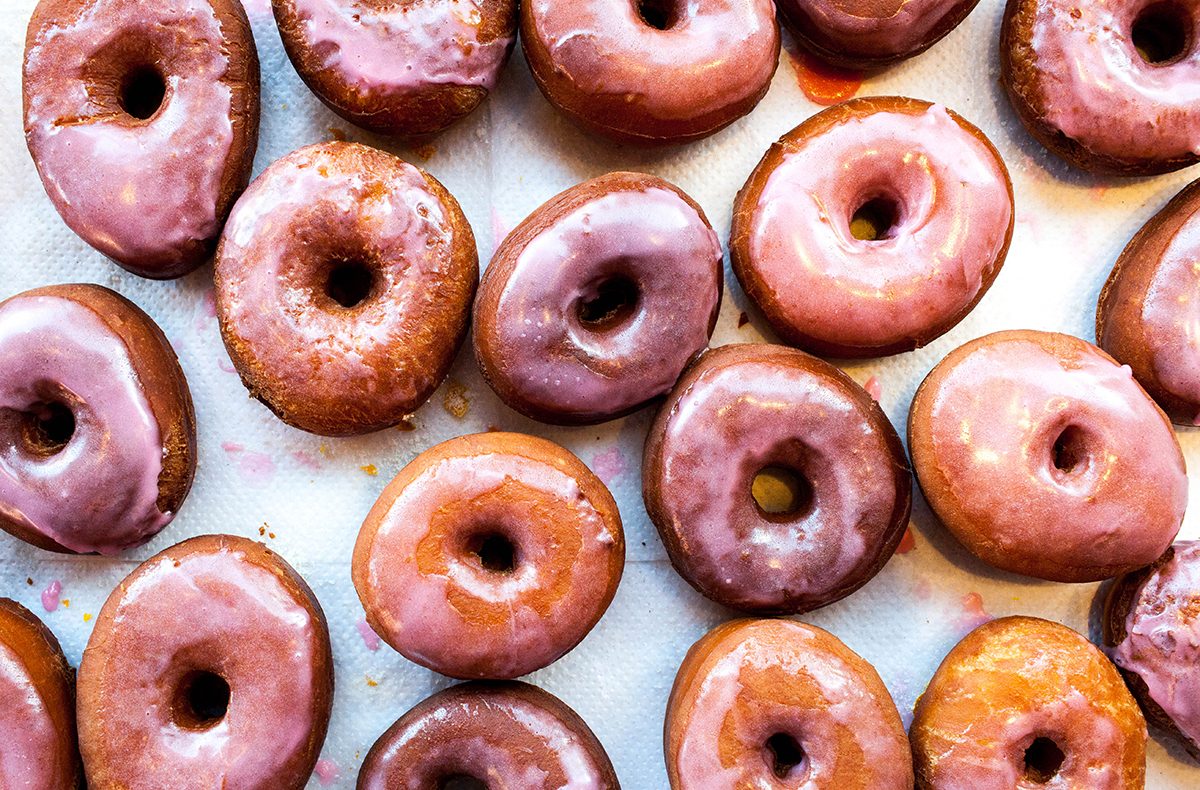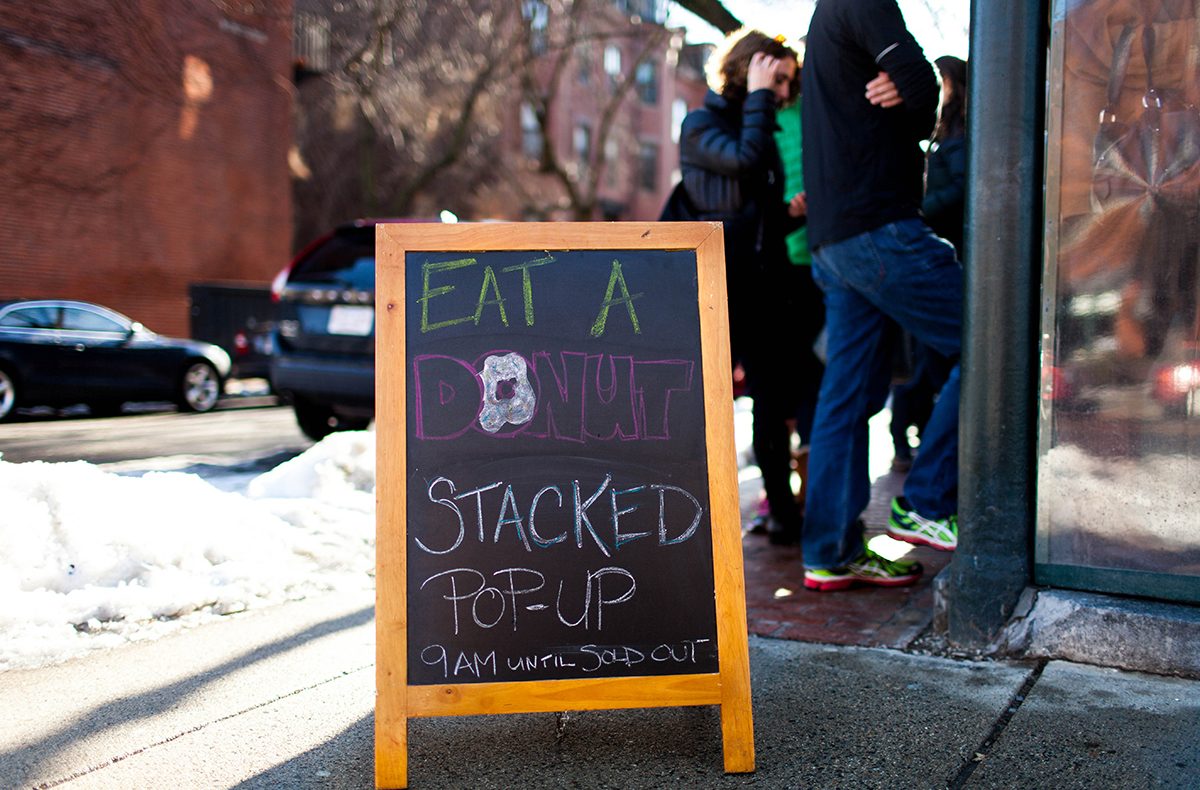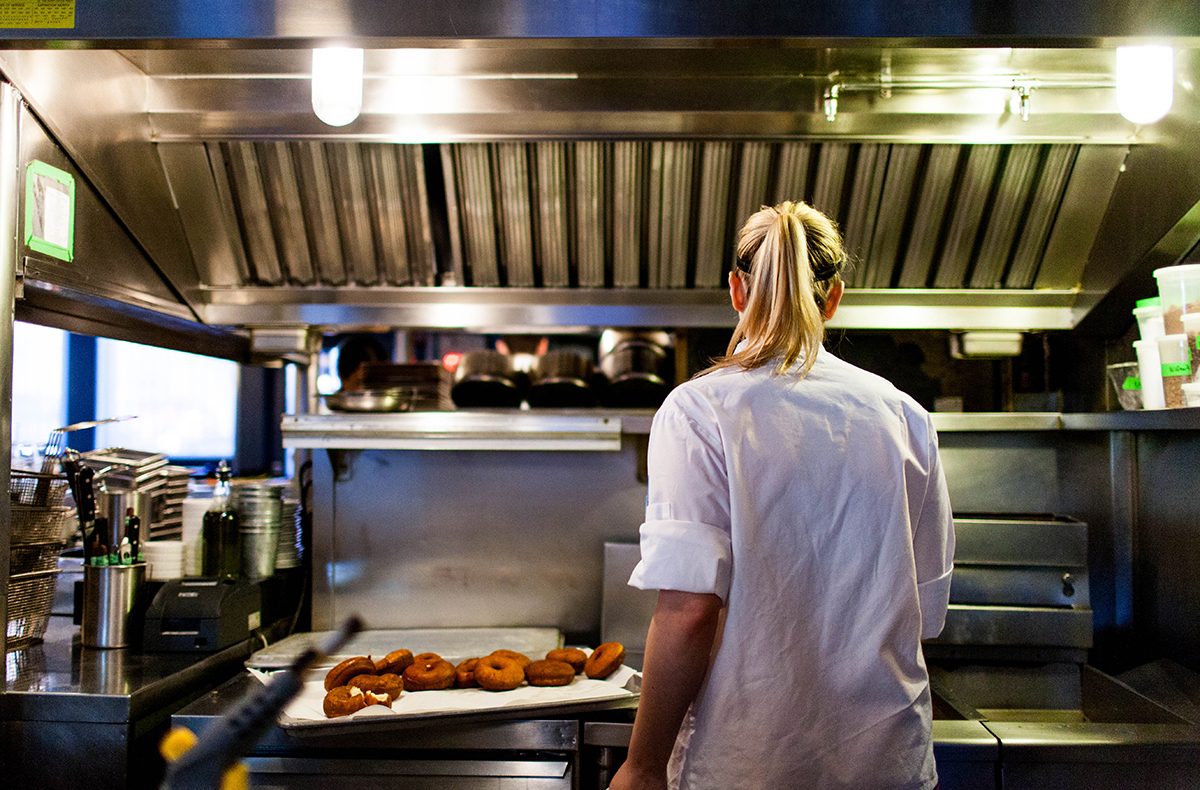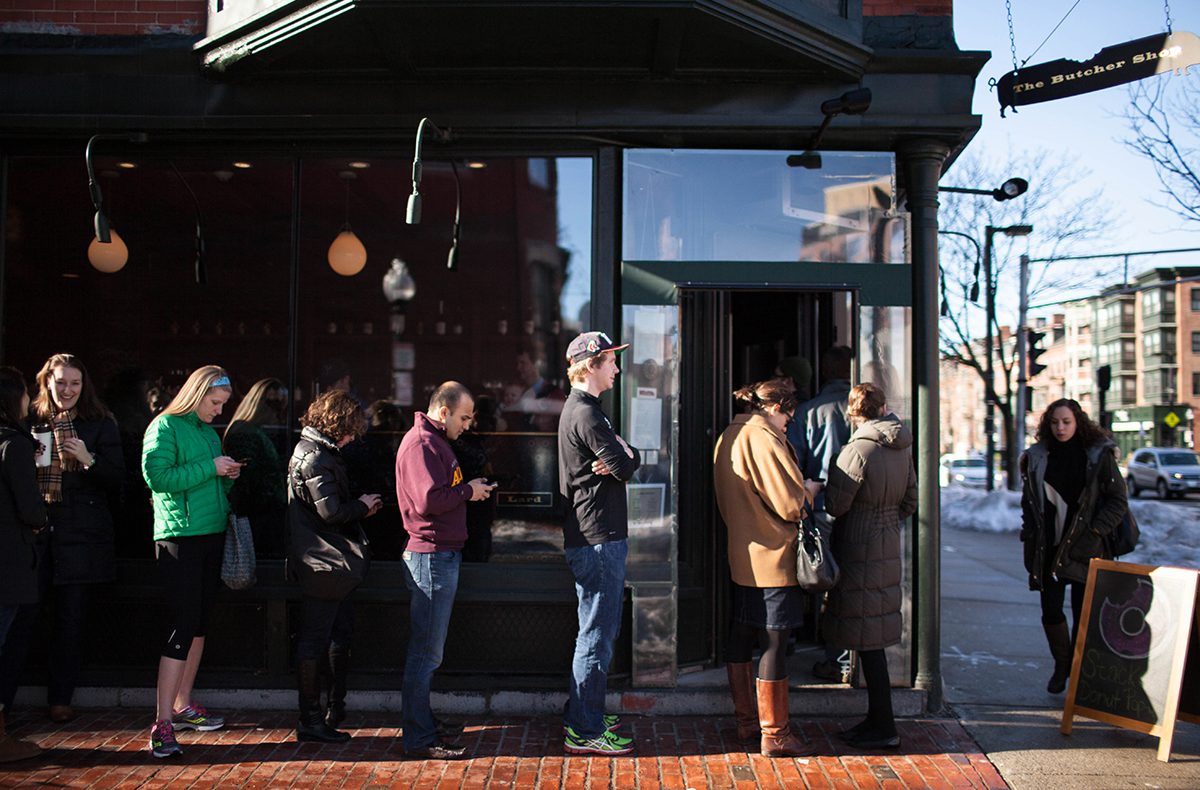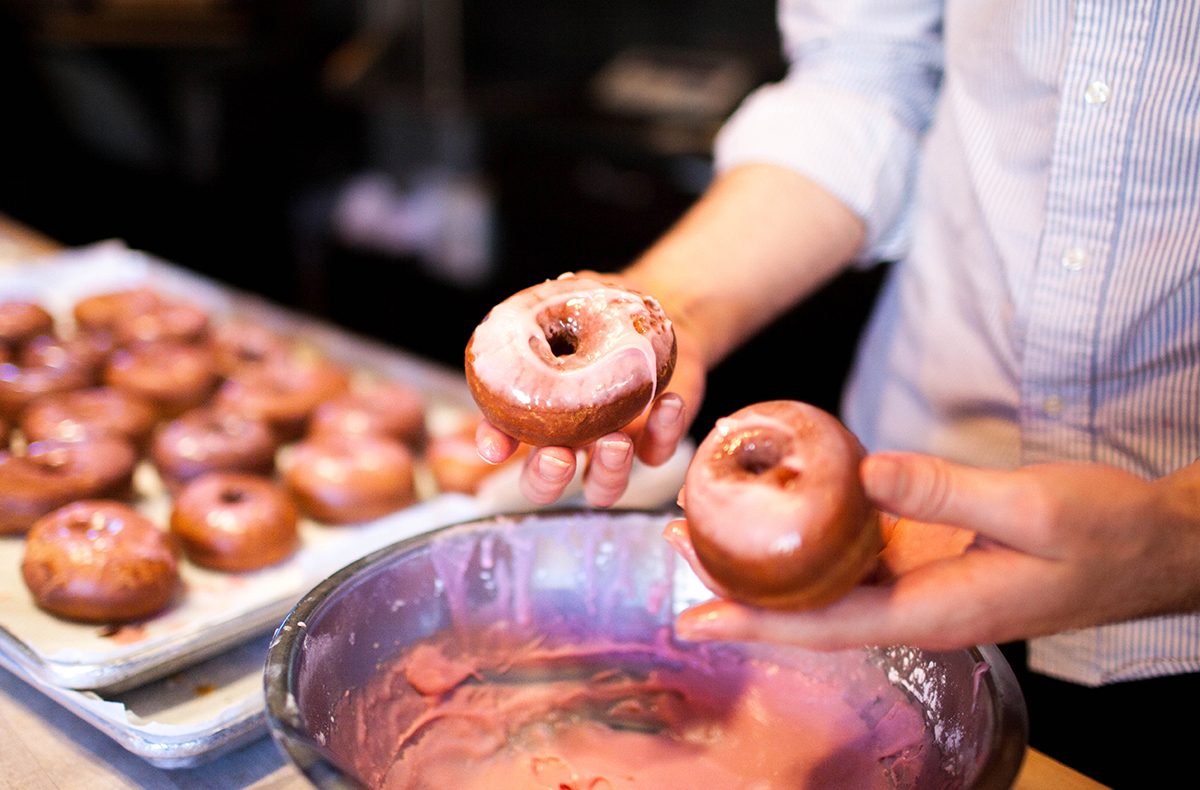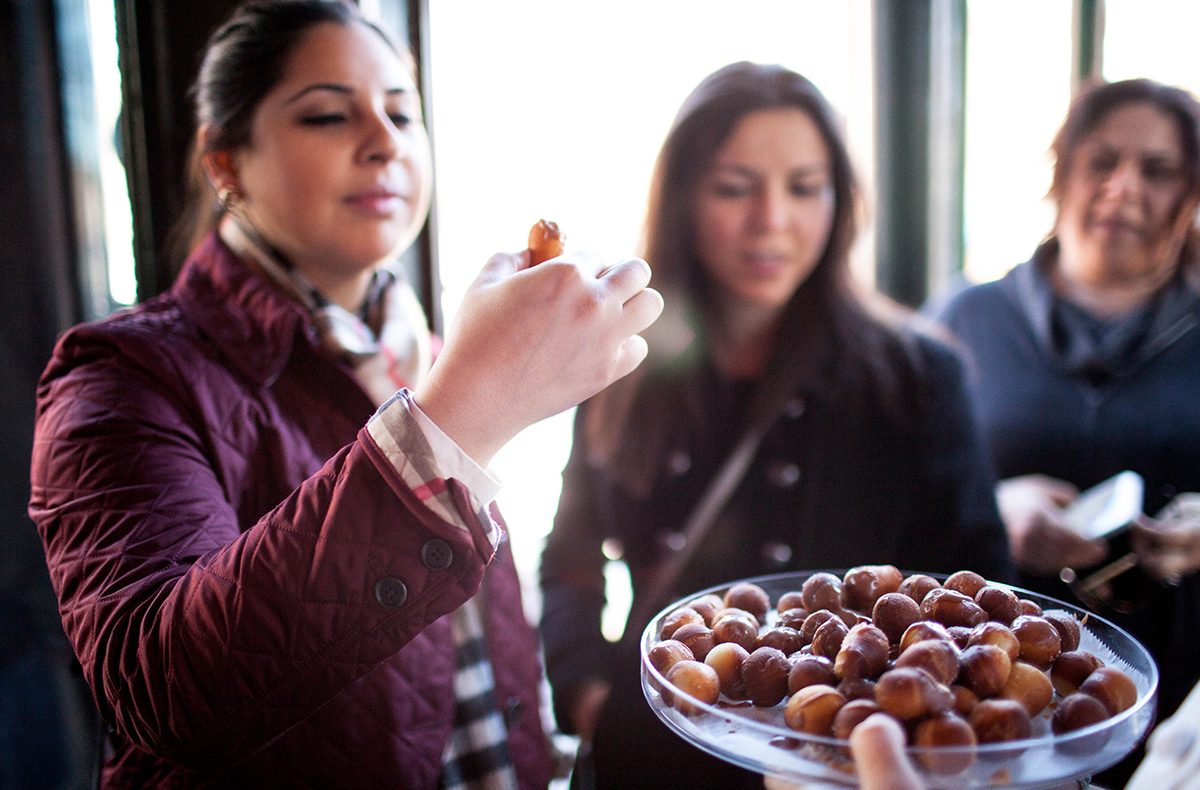 ---
Stephanie Cmar has eaten a lot of doughnuts in the name of research and can tell you her favorite spots in any borough of New York (she's partial to Chelsea's Donut Plant, which she describes as "the most incredible doughnut in the entire world"). She tends to wax poetic about the cozy interiors of Chicago's Donut Vault and the iconic rooftop sign of Randy's Donuts in Los Angeles. Ironically though, Cmar's "doughnut obsession"—for which she recently left her position as sous chef of No. 9 Park—was forged during one her lowest moments as professional chef.
After being eliminated in an experimental qualifying round challenge of Top Chef Season 10—a drastic alteration to the reality show's regular format that's since been ditched—Cmar was contractually obligated to fly back to Seattle to film the opening montage. "That was one of the toughest times in my life," says Cmar. "I was standing there having had such an opportunity, but knowing that I'd already screwed it all up."
Prematurely ousted, yet having to suffer through the humiliation of smiling and posturing for cameramen, Cmar and the rest of the eliminated castmates decided to blow off some steam by wandering around the city. "We somehow ended up in front of Top Pot Donuts," says Cmar. "I ate this amazing doughnut and decided to go home and figure out how to make it myself. That's how this whole thing got started. So, if I had never been there in Seattle, this never would have happened. I never would have thought of this on my own."
Without any formal training as a pastry chef, Cmar became engrossed in imitating that fortuitous sprinkled doughnut. "When I was at Stir, I literally made them for every class that I taught," says Cmar. "I would just change the names so that my chefs wouldn't know they were doughnuts. I would take them to The Butcher Shop so the dishwashers and the chefs could eat them and give me feedback. And at No. 9 I continued to make them for family meals and tasting menus."
Sympathetic to Cmar's vision, her former mentor Barbara Lynch has opened up the kitchen of B&G Oyster and The Butcher Shop storefront for three consecutive weekends. "When I took the job at No. 9, it was with the intention of retraining myself how to cook and to gain confidence. When I got promoted to sous chef I told them, 'I cant' tell you how long I anticipate being here. I don't know what I'm doing with my life.' I joked that I gave a year-and-a-half notice."
For the Stacked Donuts debut on February 22, Cmar's younger brother Wyatt traveled in from New York on a red-eye bus and worked without sleep, frying and glazing more than 230 doughnuts with his sister as a line grew outside The Butcher Shop. Although Cmar says she's played with "thousands" of variations, she limited her initial menu to two options: a citrus-glazed doughnut topped with candied blood orange peel and her take on a Boston cream pie, a Bavarian cream with chocolate frosting. Without a limit on the number of doughnuts people could purchase, Stacked sold out of doughnuts within 20 minutes, and Cmar, guilt-ridden, scrounged together the doughnut holes on display, as well as the scraps from her test batches and gave them away gratis for the dozens of unlucky patrons still huddled outside.
"I've been doing doughnuts for two years now, way before anyone considered them boutique or trendy," Cmar told me days before her first popup shop. "Everything is a food trend. You could argue that after Julie Child made roast chicken on The French Chef on PBS, that it became trendy. But if something is really good, like roast chicken, people will continue to eat it regardless."
As Cmar went down the line, apologizing for the insufficient supply, she vowed to double or even triple the amount for the following morning. After chatting with her friends and former colleagues from No. 9 Park, all of whom showed to lend support on her stressful new venture, Cmar and her brother locked the doors and began making a batch of doughnuts for their next shift. Wyatt took a picture of his exhausted sister, elbows-deep in ball of elastic dough and posted it on Instagram with the note: "Instead of 200, we are thinking 500+."
"I don't have any ideas where I want this [a brick and mortar] to happen. I don't have any money. I just have an idea. I would never want to do anything, or get investors involved unless I know this is something that Boston craves."
If sales on Cmar's first weekend as a gourmet doughnut purveyor are any indication, Boston shares her obsession. On Sunday, Stephanie and Wyatt made as many as 450 doughnuts and sold out in less than an hour.
To taste Cmar's evolving menu at Stacked Donuts, follow her on Twitter at @StephanieCmar.
---