Five Reasons You Should Be Eating at Mei Mei Street Kitchen
Biang Biang noodles, blowtorches, and yes, bugs.
---
When you walk into the Audubon Circle storefront of Mei Mei Street Kitchen—the brick and mortar extension to the popular Chinese-American food truck—the first thing you notice is a bookcase crammed with culinary tomes from everyone from Ming Tsai to Le Pigeon's Gabriel Rucker. But there's one cookbook in particular that's indispensable to the three sibling owners: Andy, Irene, and Margaret Li.
The spine on The River Cottage Meat Book is barely holding the pages inside, and several recipes have the faint evidence of past food spillage. When I visited in early March, Irene, one of the Meis (Mandarin for "little sister") is quick to pull it from the scores of others as she rhapsodizes about author Hugh Fearnley-Whittingstall's philosophies on sustainability and the humane treatment of animals. On Fearnley-Whittingstall's bio page, she even rubs her hand lovingly over his disheveled visage.
Books, and Fearnley-Whittingstall's manifesto in particular, are cornerstones to the Li family restaurant. Although Andy has past experience in management at Legal Seafoods and Harvest in Cambridge, the Lis are largely self taught. The pages of The Encyclopedia of Chinese Food and Cooking—a formative inspiration co-authored by the Li's paternal grandparents in 1970—are used as wallpaper inside the Mei Mei bathrooms. And when the restaurant introduced whole-pig butchery last month, Irene admits they learned through Fearnley-Whittingstall's YouTube videos.
But you would never guess it from the type of exciting cuisine Irene and her siblings now turn out on a regular, rotating basis. Yes, they still sell a lot of their Double Awesome (a scallion pancake sandwich with pesto, Vermont cheddar, and two slow-poached-then-fried eggs)—in fact, over 40,000 sandwiches since they opened in April 2012; utilizing over 100,000 eggs from Don Baffoni's Poultry Farm in Rhode Island. But Mei Mei is going far beyond the creative sandwiches and dumplings that still make them a food truck favorite. Here are five good examples of the dishes, ingredients, and techniques that are making Mei Mei Street Kitchen a culinary destination.
---
1. Biang Biang Noodles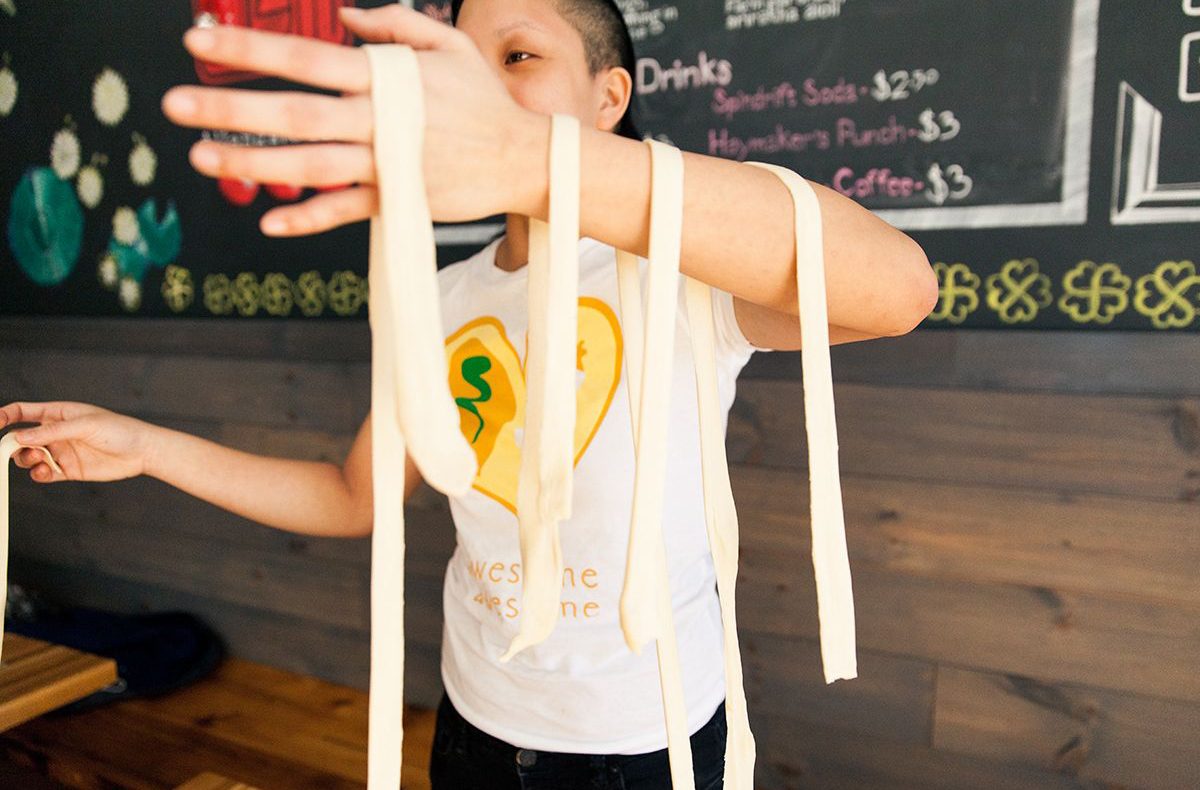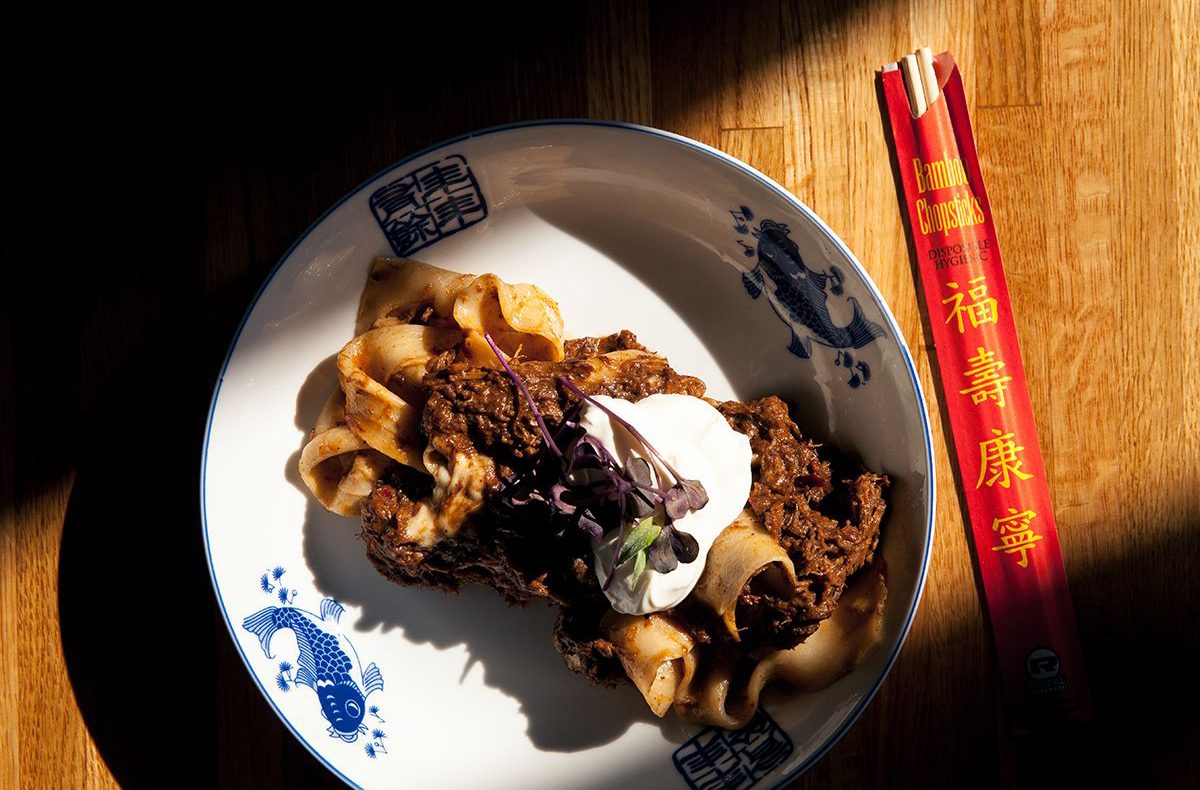 These broad, chewy noodles from the Shaanxi province are peasant food at its finest. Touted as one of the "10 strange wonders of Shaanxi," Mei Mei subs out traditional chili oil and garlic for hearty American chili. Made fresh daily, the Lis top the made-to-order noodles with slow-roasted beef chili, sour cream, and smoked scamorza cheese. The result is similar to Cincinnati chili, but with more complexity and heat because of the generous amounts of chocolate, masa, bourbon, red wine, and fresh and dried chilies in their meat sauce. Because of dishes like their biang biang noodles, Irene cracks, "we make Chinese food with cheese. We certainly love our dairy, no question."
Mei Mei is currently working on a vegetarian option and their version of a Cacio e Pepe (literally "cheese and pepper"), with Sichuan peppercorns, Cabot butter, and grated parmesan.
2. Everything Tastes Better With a Blowtorch
What began as a way to save on space and alleviate budget concerns— what Irene refers to as their "bootleg solution"—has become a bit of trademark at Mei Mei. Using a basic MAPP gas torch, they sear everything from leeks and cabbage to beef tongue and yogurt, adding texture, char, and smokiness to several of their dishes. They torch onions (see above) and pickle them for the seared beef tongue with nori and green sauce. You'll soon find scorched yogurt paired with honey and house-made granola. And in the summer, they char sweet Fantastic corn from Four Town Farm in Seekonk, then slather it in either butter, bacon fat, or barbecued schmaltz.
"The Fantastic corn is like eating candy," says Irene. "Just the smell of it is intoxicating. It would give you a stomachache if you ate a whole ear; it's that sweet. We were like, 'we can't cook this, it would be a travesty.' So we got the blow torch and just torched the outside enough to brown the kernels, while the inside remains cool and raw."
3. Hydroponic Greens
Irene calls her time on a rural farm in Milton, Vermont, while attending The Mountain School, a "life changing experience." She still maintains a zealous, hands-in-the-dirt approach to natural food, working at local farms whenever time permits, and encouraging her employees to work the fields where Mei Mei purchases their produce. Almost 100 percent of their ingredients are local, organic, sustainable, and seasonal, which can pose a problem come winter. Bored with root vegetables, the Lis found Finger Lakes Fresh, a hydroponics greenhouse that is also a division of Challenge Workforce Solution, which provides employment opportunities for people with disabilities. Now they have a year-round supply of lettuces, herbs, and bok choy that tastes good and fits their organic agenda.
"It's the holy grail of regional greens," says Irene. "You can get them in winter, they have a social mission, and they're delicious."
4. Kaizen's Fermented Perfection
The brainchild of Momofuku's David Chang, Kaizen Trading Company is a fermentation test lab and production facility that specializes in hozon (a thick paste made from fermented nuts, grains, and seeds) and bonji (a dark liquid made from single-variety fermented grains). Both products are made similarly as miso with salt and koji (Japan's "national fungus" also used in the production of sake).
Ribelle's Tim Maslow, an alumnus of Momofuku, was sent a box of samples. Specializing in Italian food, Maslow wasn't sure how to utilize the Kaizen products, so he sent them over to Mei Mei to experiment. "We really like these on vegetarian dishes because we think it gives them that nice umami punch," says Irene.
If you thought bacon and pancetta were the only ways to add salt, spice, and smoky aromatics, think again. The Kaizen smoked spelt bonji adds a startling level of depth and flavor to Mei Mei's salads and stir-frys. Lentil hozon is smoked and used like barbecue sauce. And their returning sweet and sour pork (made with a soy sauce and cranberry reduction) benefits from a hefty dose of the spicy chickpea gochu.
---
5. Entomophagy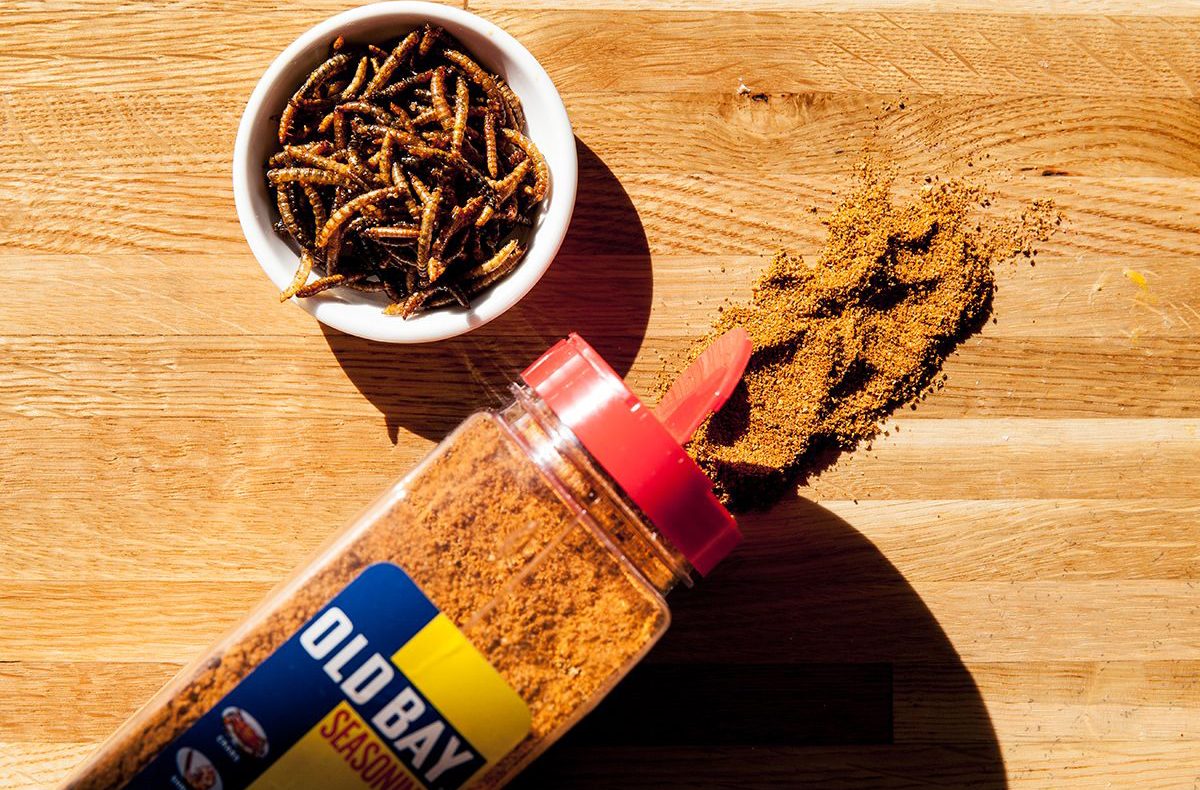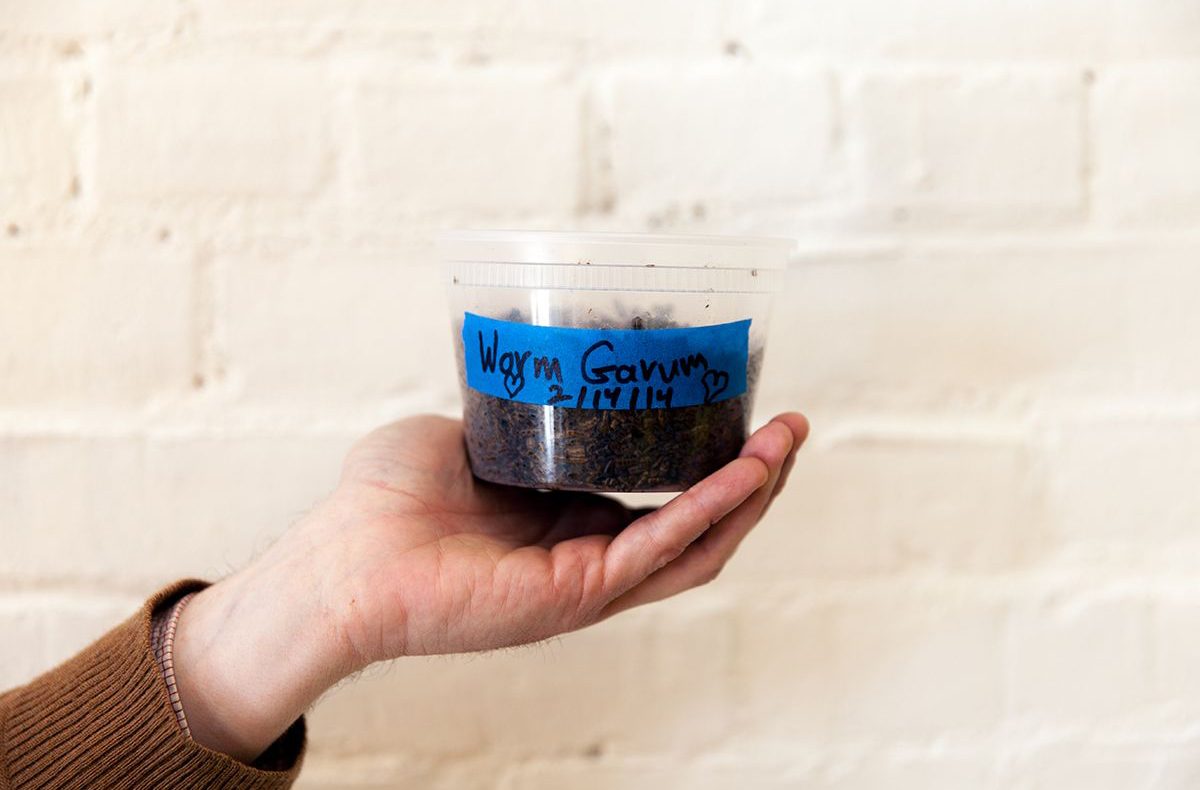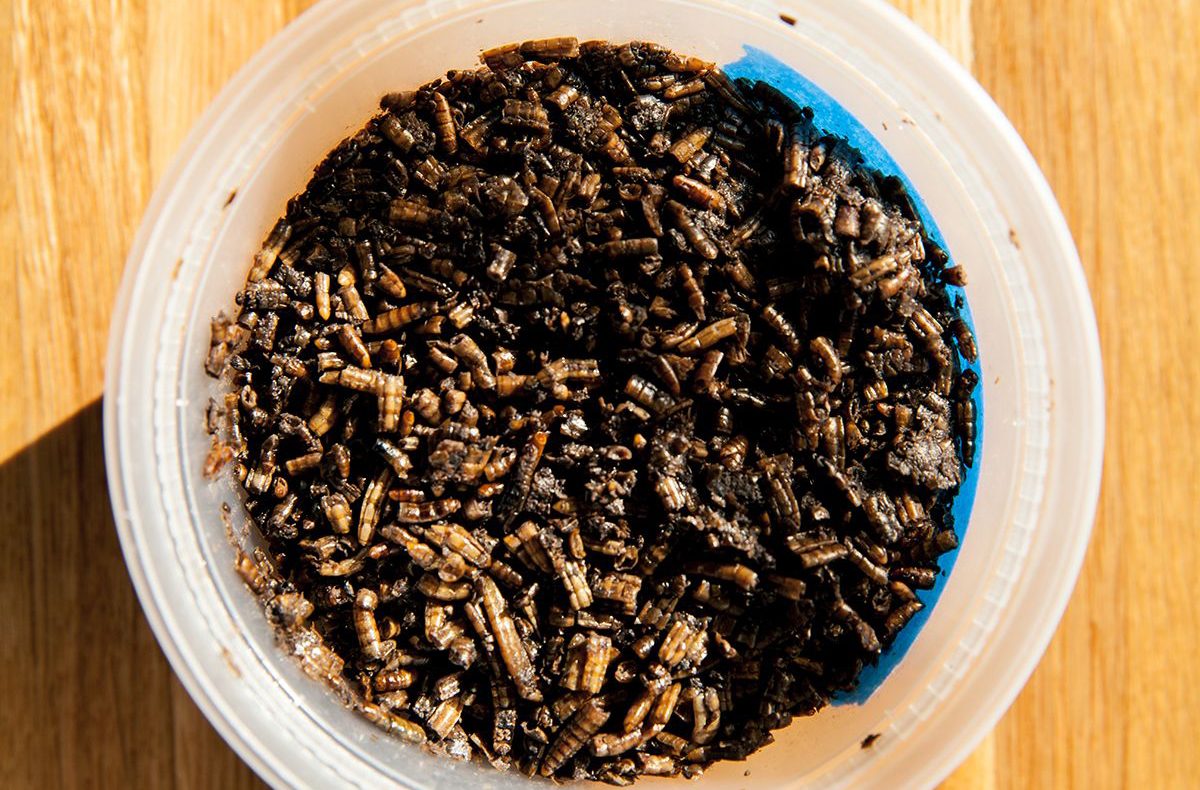 The New York Times caused an uproar last year when they covered New Yorker staff writer Dana Goodyear's book, Anything That Moves: Renegade Chefs, Fearless Eaters, and the Making of a New American Food Culture, which predicts the rise of insect consumption in the American diet. Eating bugs?!? Well, to fight out-of-control population growth and the massive amount of greenhouse gases produced by factory farming, scientists, and even chefs like the renowned Grant Achatz are looking for alternative sources of protein.
Now local chefs like Sofra Bakery's Geoff Lukas and the cooks at Mei Mei are working on entrees that incorporate entomophagy. Here's the thing: they're actually really good. These are still months away from becoming a reality, but Irene showed me fermented mealworms that tasted like parmesan cheese. There was a "bar snack" made from freeze-dried mealworms, which were flash-fried in a wok then topped with Old Bay. The result tasted like pork rinds coated in Doritos cheese spice. And who doesn't love fish sauce, the backbone of so much Vietnamese and Thai cuisine? Irene had made a garum from the fermented mealworms that could easily be incorporated in the same way as traditional fish sauce. Once again, these are in a developmental phase, but hopefully it's one they're brave enough to pursue—not just for the novelty aspect, but for the possibility of even more daring, flavorful food.
---