Five Reasons to Pay Somerville's Backbar Another Visit
With fat-washed spirits, olive oil cocktails, and a 'genius' way to wind down after work, this Union Square bar is as innovative as ever.
---
Even if you've been to Union Square's hippest watering hole—and seriously, if you haven't been to Backbar, what's your excuse?—it's easy to get lost along the way. Tucked behind Journeyman (its sister restaurant), down an alleyway off of Sanborn Court, and through a meandering hallway marked only by a discrete metal placard, this popular craft cocktail destination has the ambiance of a true Prohibition speakeasy.
Sam Treadway's innovative bar program (smoked ice cubes, anyone?) makes the mild confusion well worth the effort, however. The cozy cocktail lounge and its seasonal menu of creative "classics," "moderns," and even "mocktails," continues to push boundaries as it nears its third anniversary. Ahead, five ways that Treadway and chef Tse Wei Lim continue to keep Backbar patrons on their toes. Hint: chicken fat and pork buns are involved.
1. GENIUS HOUR
Between 4 and 6 p.m. on weekdays, patrons are encouraged to utilize Backbar's free wi-fi to finish up work on their laptops or tablets while unwinding with a cold libation and a bowl of chef Tse Wei Lim's highly coveted ramen. Initially limited to 10 bowls every evening (which usually sold out within minutes), Lim's ramen now benefits from a new partnership with Somerville's Capone Foods, who has taken Backbar's ramen noodle recipe and dramatically increased production. Now diners can casually roll in at any time during the two-hour window and slurp up a rotating menu of shio, miso, shoyu, toripaitan, and tonkotsu styles of ramen.
Also, save some room for Backbar's inspired pork and eggplant buns. Lim's fall-apart, soy braised pork belly runs in stark contrast to most versions, which are typically pan-seared to order and can become tough as jerky. And his vegetarian option, made with tender Japanese eggplant and a sweet and spicy sauce (a mixture of soy sauce, rice vinegar, honey, and red chili pepper), is a heat lover's dream.
---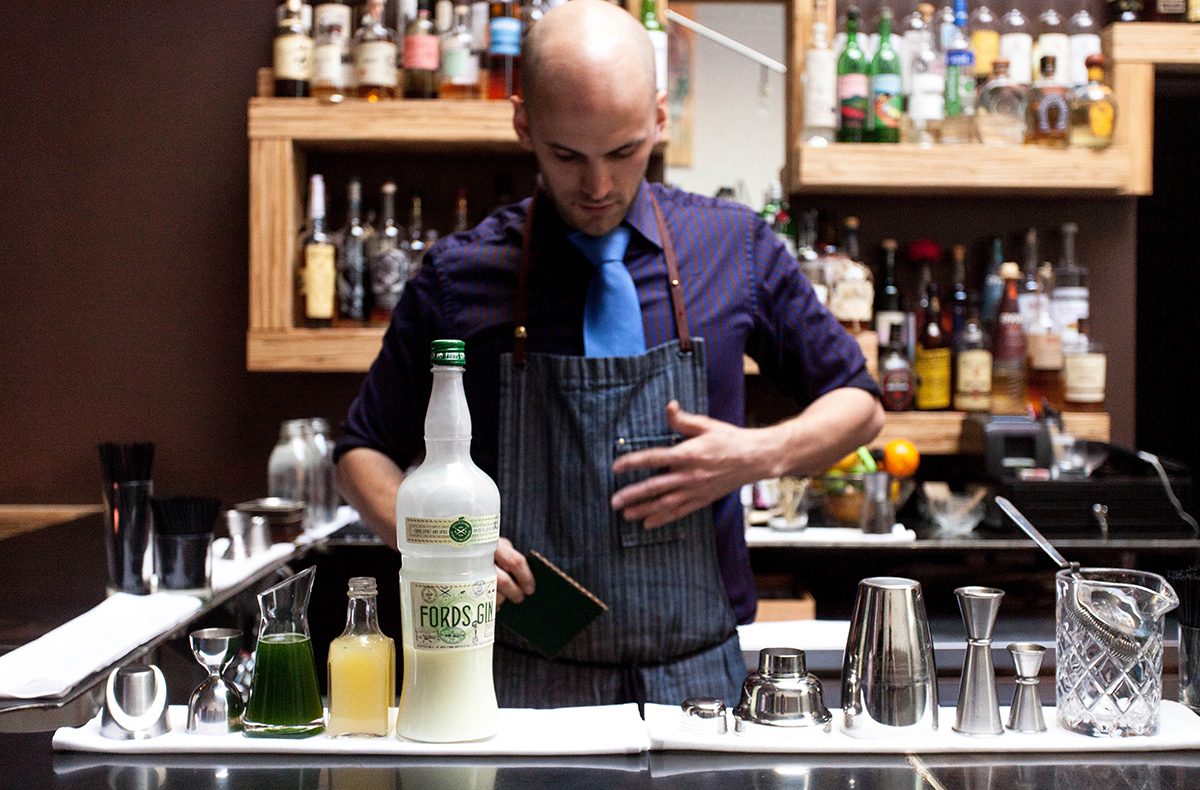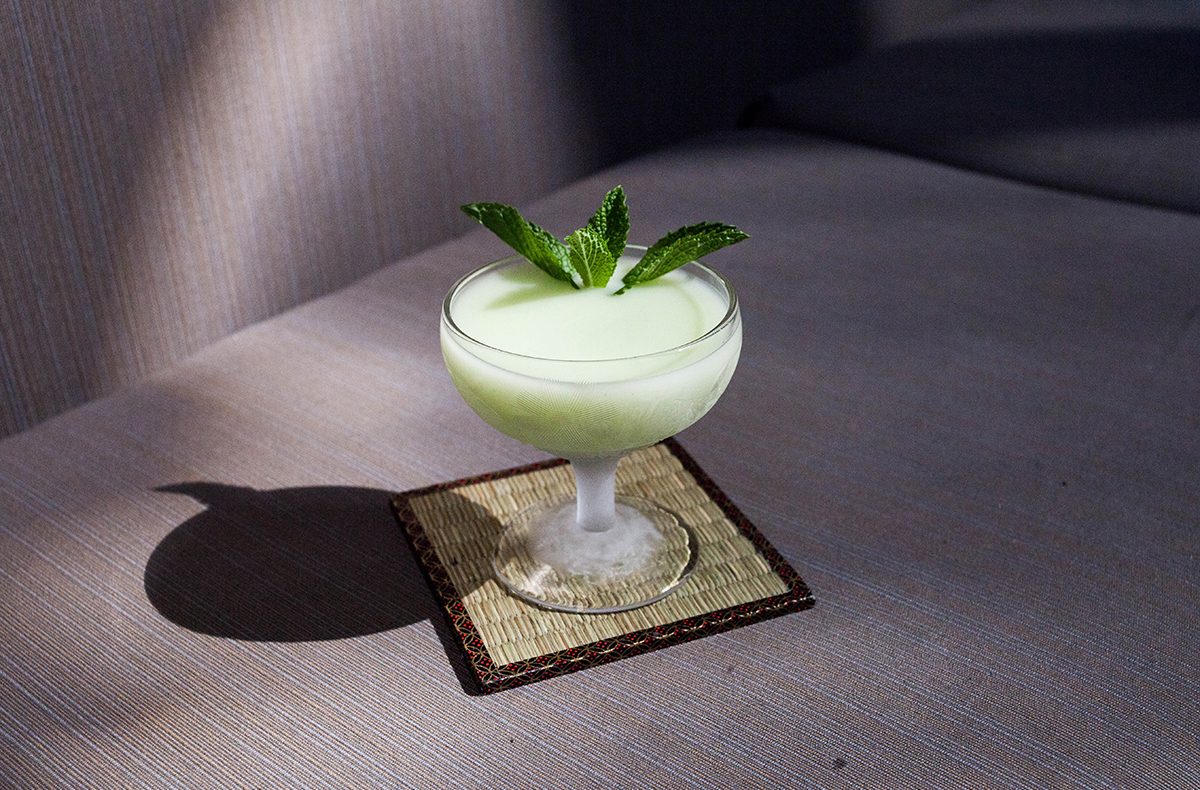 2. OLIVE OIL COCKTAILS
Adventurous bartenders are digging deeper in kitchen pantries to introduce unique and savory elements into classic cocktails. Oils, brines, and sour shrubs are becoming as ubiquitous as soda, cream, and an orange twist. For Backbar's "Green Courage" cocktail, Treadway developed not one, but two piquant creations: an olive oil-infused gin and spinach syrup he's dubbed "Popeye's Love." For the former, Treadway infuses Fords London dry gin with olive oil and mint, which adds fruity, peppery notes to the juniper-laced elixir. Xanthan gum, that indispensable tool of molecular gastronomy, binds the oil to the gin and thickens it, giving the finished product a silky texture.
Next up is the syrup, which is created by boiling down spinach juice with sugar and water. The shaken cocktail combines the gin and syrup with lemon juice and simple syrup. The final blend has an unexpected sweetness that complements its clean, herbaceous punch. "My intention was to utilize a grassy flavor that isn't seen very often in cocktails," Treadway says. "I also wanted to give it an intriguing texture that is heavier than an egg-white drink, but with that same enjoyable richness."
3. MILK PUNCH
Lush and viscous, yet as clear and honey-tinged as a fine sauternes, milk punch is a delicious study in contrasts. The 18th-century cocktail, a favorite of Benjamin Franklin, has always been up there in popularity with the Sazerac down in New Orleans, but contemporary mixologists all over are now experimenting with the shelf-stable combination of brown spirits, dairy-curdling citrus, sugar, and whole milk. Treadway makes two different eight-quart batches a month, each a seasonally specific take on Mary Rocket's original 1711 recipe.
"You just add boiling milk to booze, citrus, sugar, and spice, and then strain off the creamy curdled part," says Treadway. "You know the expression curds and whey? By having the acid in there, it curdles the milk and makes it easy to strain off. What you're left with is the whey protein. So you have this nice rich lactose mouthfeel without the creaminess."
This seasonal approach translated to a Pimm's Cup-inspired version last summer; a pumpkin-infused dark rum, cinnamon, and nutmeg variation in the fall; and a dessert-like walnut-brownie punch in January. Treadway's latest version is called the "Trail Mix" in honor of former employee—and owner of Beakers & Cream Ice Cream Sandwiches—Andrea Hasselbacher, who is currently hiking the Appalachian Trail. It contains a blend of rye whiskey, apricot brandy, walnut liqueur, crème de cacao (to elicit chocolatey M&Ms), and Punt e Mes sweet vermouth, which imparts that classic raisin component found in most trail mixes.
4. SPICY CARAMEL POPCORN WITH BACON
Don't be fooled by the dozens of imitators that have popped up around town—Treadway's original amalgamation of freshly popped kettle corn, chipotle powder, smoked paprika, ground cumin, gooey caramel, and house-cured bacon is still one of the finest bar snacks around. "Chef Lim and I sat down before we opened back in 2011 and brainstormed ideas for a complementary sweet and salty snack," Treadway says. "We talked about a lot of ideas, but I was the biggest advocate for making a caramel popcorn with lots of spice. Then adding bacon on top of that is just a no-brainer. Well, at least for me it was."
5. FAT-WASHED SPIRITS
Over the past couple of years, fat-washed spirits have been all the rage in cocktail hotspots like Portland, San Francisco, and New York. It's a fairly arduous process as a fatty protein (typically ham or bacon) is infused into a spirit over a period of time, chilled, and then strained repeatedly to remove any greasy remnants. Executed poorly, it's a waste of perfectly good bourbon. But done correctly, the process instills a subtle smokiness and salinity that adds an extra layer of complexity to an Old Fashioned or Bloody Mary.
Treadway takes it one step further though, utilizing all the leftover meat drippings from Journeyman to create concoctions like his foie gras-infused cognac and schmaltz-infused applejack brandy, the latter of which is a key component in his "Boon's Chicken Salad" cocktail. Named after one of Backbar's more intrepid regulars, Treadway re-conceptualized a Pisco Sour using the same flavors in a Waldorf chicken salad: Barsol Pisco instead of grapes or raisins, house-made pistachio orgeat, egg white, Berg & Hauck's celery bitters, cracked black pepper, tarragon, and the chicken fat-infused apple brandy.
"Boon is a great regular of ours who loves Pisco Sours as well as some of our weirder cocktails," Treadway says. "So, this is a combination really for him. There's no fat in the brandy, it's just the roast chicken flavor. On its own, it's not that pleasant of a spirit, but within the context of the cocktail it's brilliant."
---