How Eastern Standard Pulled Off Its Biggest Day of the Year
Thirteen hours of prep, 1,200 oysters, and 98 whiskey smashes later, take a look behind-the-scenes of the Kenmore Square restaurant on Marathon Monday.
---
What would happen if you combined the most popular pre-game hotspot for Red Sox home stands, a late-night beacon for exhausted restaurant industry personnel, one of the most coveted patios for al fresco dining on Easter Sunday, and a nine-year tradition at the 25.2-mile marker of the Boston Marathon, all in one spot? Only Eastern Standard can understand that whirlwind convergence after this year's Patriots' Day celebration. Oftentimes, a Mother's Day brunch service is enough to unnerve a veteran waitstaff, but what descended on the massive 220-seat brasserie, located in the heart of Kenmore Square, was a perfect maelstrom of back-to-back holidays, the revelry of a three-day weekend, and an unprecedented influx of runners and spectators for the Boston Marathon.
So, what does it take to prepare for one perfect day? Try 40 cooks, nine hosts, nine bartenders, three barbacks, 24 servers, 12 bussers, six food runners, three security guards, three room service attendants, eight managers, one hands-on owner, a general manager borrowed from its sister restaurant, Row 34, and 13 hours of monotonous prep time spread over the course of three days. Several employees worked 16 or 17 hours straight on Easter Sunday, took a power nap, and returned for a repeat on Marathon Monday. Assistant bar manager Naomi Levy tended bar until the early hours of the morning on Sunday, crashed on a couch at The Hawthorne next door, and returned to slinging Bloody Marys and whiskey smashes by 9 a.m. the following day.
Despite the incredible sweat equity and the staggering number of man hours, though, it's a day that Eastern Standard employees look forward to all year. "This is consistently the biggest and best day of the year for our staff," says Levy. "We'll have people lined up by 7 a.m. and there won't be an available seat in the house by 8 a.m. It's great! All the patio doors are open, so even being inside you can hear the runners going past, you can hear people blowing their whistles and shaking shakers; you hear the whole crowd roaring and cheering. All the noise from the street comes into the restaurant. … There's no way to not feed off that energy." Ahead, a window into the staff's preparation—and day-of crush—for this year's Marathon Monday.
• • •
---
13 Hours of Pre-Marathon Prep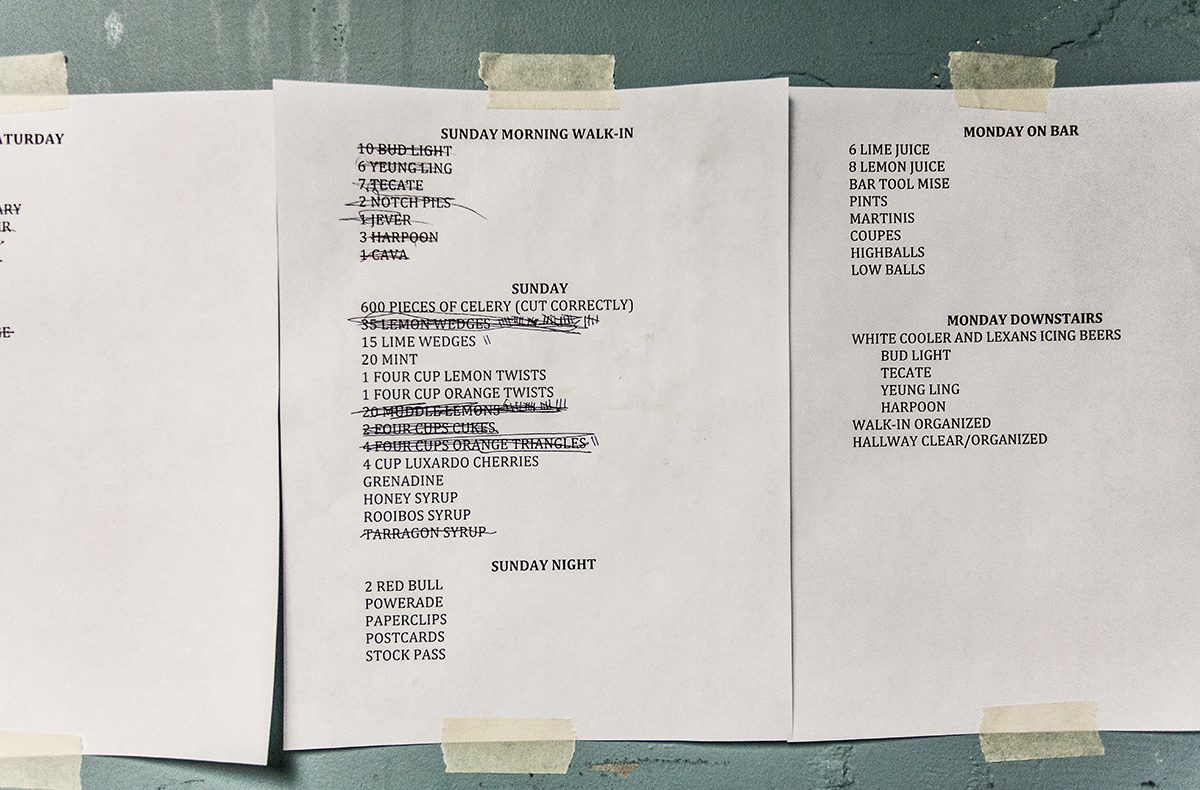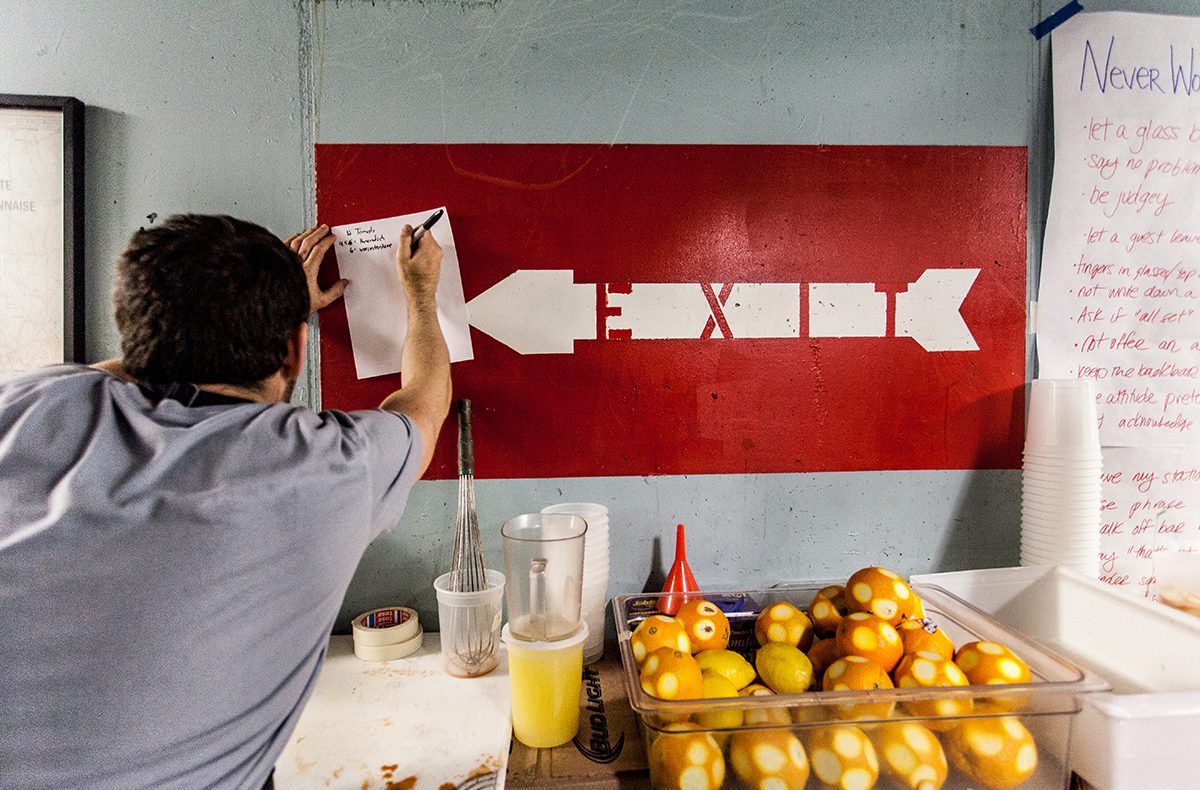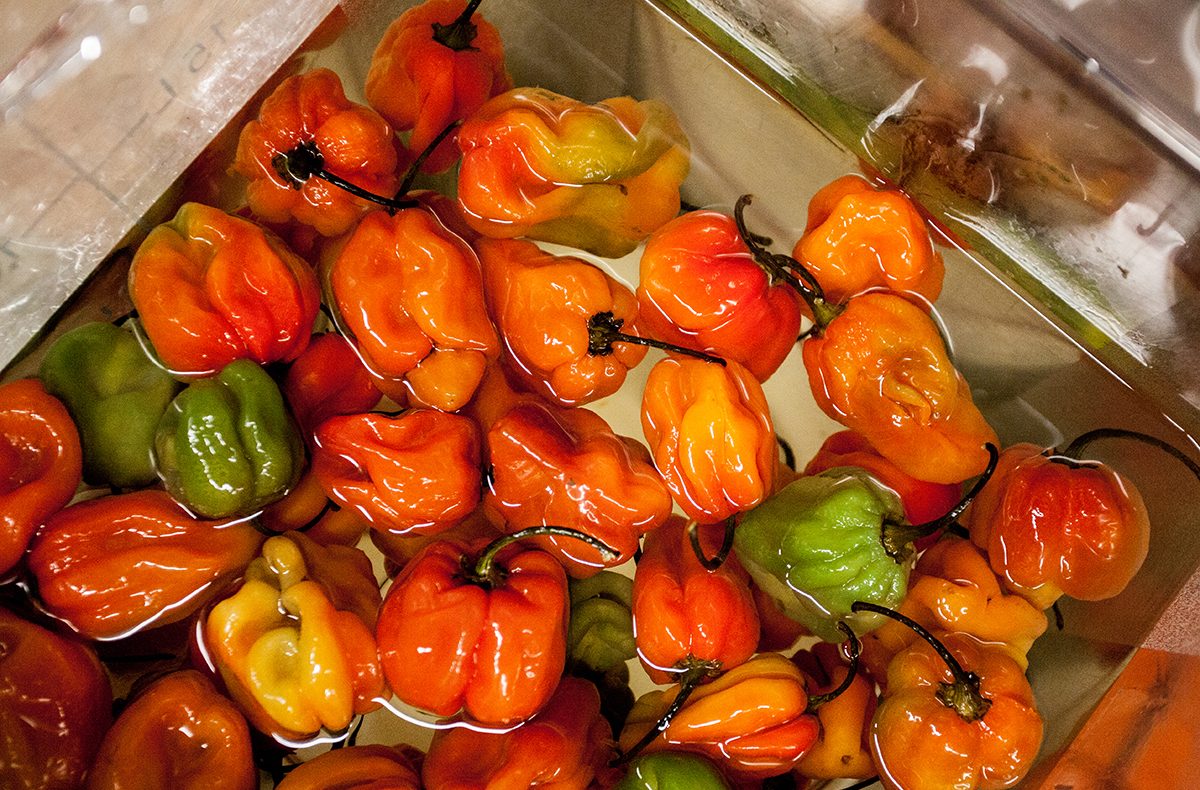 ---
It's 5:37 p.m. on Sunday. Bartender Cassie Moore dissects a quart of limes in mere minutes and then massages the inside of her palm. She's putting in three hours of prep after tending bar all afternoon. This is her third day in a row keeping this kind of schedule, first pouring drafts and mixing cocktails behind the stick, then descending into the bowels of Eastern Standard to slice citrus and celery. Moore wedges herself in between a 30-case stack of Bud Light and a towering pyramid of W.L. Weller bourbon and looks over her prep list. Beside her, fellow bartender Nick Morland plucks mint and packs it into wet paper towels, while Matt Whitney, another barman, finishes off cutting orange twists, the flayed orbs piling up like pock-marked Wiffle balls.
Down the hall, bartender Tom Mahne is on his knees next to a wall of kegs, stirring pungent horseradish into tomato juice with a two-foot long whisk. On Saturday night, Mahne whipped up over 75 quarts of Bloody Mary mix, which evaporated over the course of Easter Brunch, so now he's back at it. Last year, Eastern Standard sold 468 Bloody Marys, and they anticipate eclipsing that number this year. "We're aiming for over 500," Levy says. "I really think we can do it. So, we need to have at least 150 quarts of Bloody Mary mix on-hand."
By 7 p.m., the crew's earlier efficiency slows. Over the last several days, everyone has been putting in the same kind of arduous hours as Moore. Dubbed "The Infusion King" by his peers, Mahne is making a triple-batch of all the infused spirits on Eastern Standard's cocktail list, which includes rhubarb brandy and a fiery habanero-infused vodka.
Levy descends the stairs and takes stock of the walk-in behind Moore. Every wire rack is overflowing with wine, beer, and spirits. Levy ordered double the amount of everything Eastern Standard would normally go through in a week, including 12 cases of Reyka vodka and five cases of Ketel One, just for vodka sodas. Stacked in milk crates are 50 liters of Mahne's vegetable-infused vodka, 20 quarts of muddled lemons, 20 quarts of mint leaves, a bucket of 600 cleaned and quartered celery stalks, and six quarts of every type of house-made syrup.
Levy emerges from the walk-in with a pained look on her face. "I don't think we have enough olives," she says, instigating a chorus of groans.
"We pre-skewer all of our olives," she says by way of explanation. "This is our least favorite part of prep. It's the most tedious and it's smelly. Not only is olive brine not the most pleasant thing in the world, but it's freezing cold."
• • •
---
The First Shift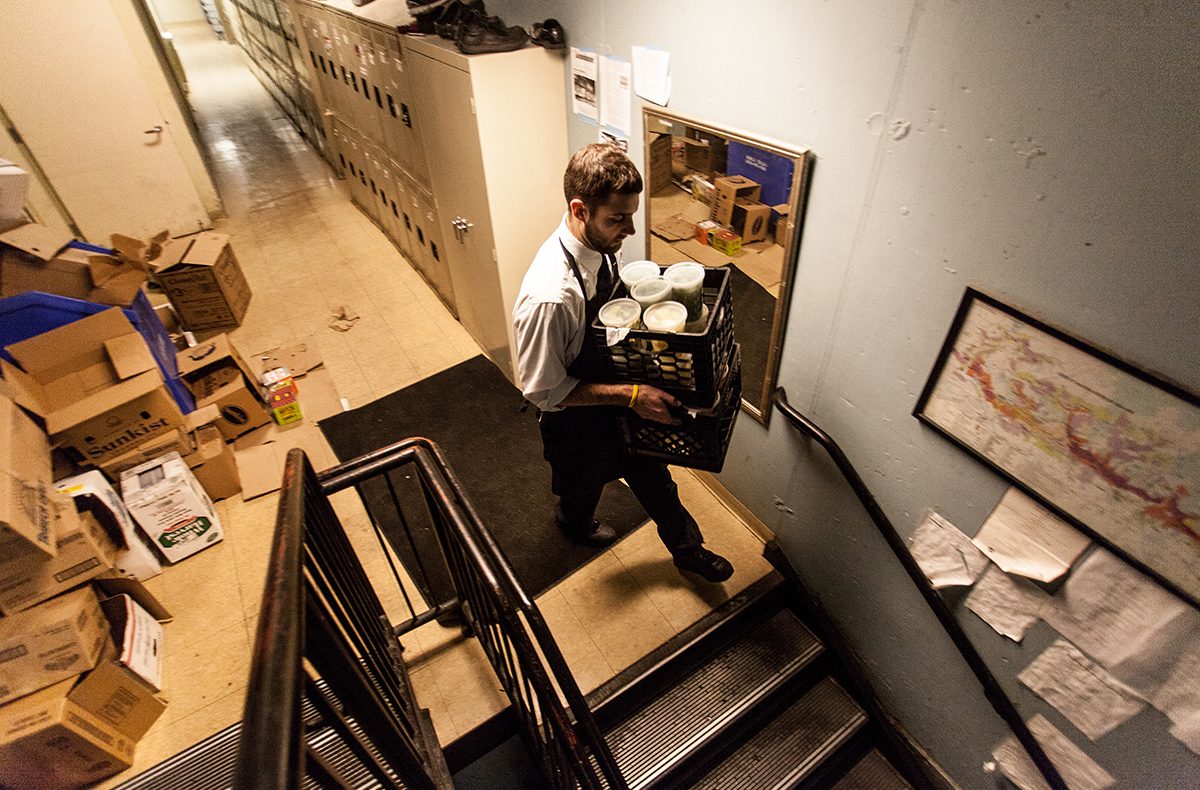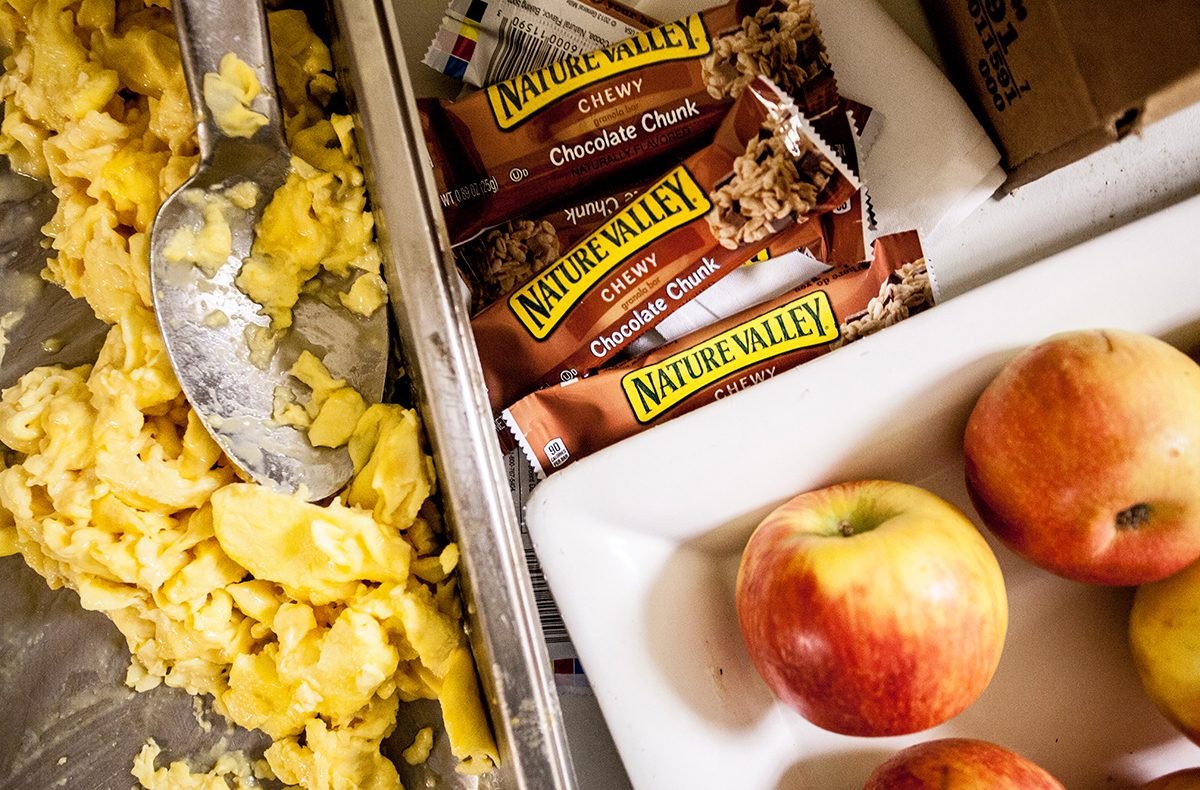 ---
Whitney is back on the bar by 5:30 a.m. Monday. In between slugs of espresso, he restocks muddled lemons and celery stalks he had packed into clear totes the night before. Afterward, he ascends two flights to the rafters above the kitchen to corral as many pint and cocktail glasses as he can find. The area, affectionately named "Glass Heaven," is rarely breached outside of Marathon Monday.
"On a typical Friday or Saturday night, we might have to come up here for some couple glasses and maybe five or six cocktail glasses," Whitney says. "Today, every single pint glass in this building will get broken out and used, and we still won't have enough cold glasses to go around."
Joining Whitney on the first bar shift is Hugh Fiore, a seven-year veteran of Eastern Standard. "I wait for this day all year. I couldn't even sleep last night I was so excited," Fiore says as he tosses Yuengling bottles into the beer well. He then leans in conspiratorially and whispers, "There's a lot of first-timers on staff though this year. I see some people walking very slowly this morning. That's not going to cut it. They have no idea what's about to hit them."
His point is emphasized by two waiters scrambling to find their keys. The desperate servers eventually try to break into the locked wine cabinet, first with a credit card, then a butter knife.
Just after 7 a.m., the first stragglers into the restaurant arrive: runners lodging at the Hotel Commonwealth, and marathon-viewing regulars like Brian Gannon, who has staked out the same corner booth on this day ever since Eastern Standard opened in 2005. Sous chef Nick Oldham picks up an oyster knife and shucks the day's first platter of briny Island Creeks. Even with the breach in last year's festivities, Eastern Standard served over 700 oysters, but raw bar specialist Adonay Murcia will have his hands full in a couple hours, cracking open almost 1,200 bivalves along with several hundred shrimp and lobsters.
Meanwhile in the kitchen, an army of line cooks works at a fervent pace. John Ortega dips giant hunks of brioche into a vat of egg wash and crams them onto a flat top already clogged with dozens of sizzling slabs. Pedro Marcamo uses the adjacent skillet to scramble eggs as another cook scrapes off the crinkly strips of bacon that line a baker's rack. They'll plate home fries alongside piles of scrambled eggs 173 times throughout the course of the morning.
Pastry chef Lauren Kroesser is in the corner clipping the ragged edges of an enormous bread pudding and setting aside the trimmings for the kitchen staff to munch on. Until 1 p.m., Eastern Standard is on a truncated "hybrid" menu that features highlights like fried calamari, grilled cheese, and hamburgers, so several cooks are either forming ground beef patties or heaping Vermont cheddar cheese slices onto house-baked rye bread. At the pass, Oldham will scream out "burger" or "grilled cheese" a combined 362 times.
By 7:45 a.m., all the bar stools are taken and only a smattering of tables are unoccupied. Cassie Moore has returned to help Whitney and Fiore, who are busy taking pre-orders for cocktails. Silver pitchers of Bloody Mary mix stand sentry and the bar is cluttered with flutes half-filled with orange juice. As soon as the clock strikes 8 a.m., the bar crew pops the corks on fresh cava and deftly fills each glass.
Just then, Mahne,"the Infusion King," runs by with a crate of rattling Bud Light bottles. "I was scheduled for 10 a.m. today," he says, trying to catch his breath. "But they called me in early just to help ice down all the beer they're selling."
• • •
---
The Final Push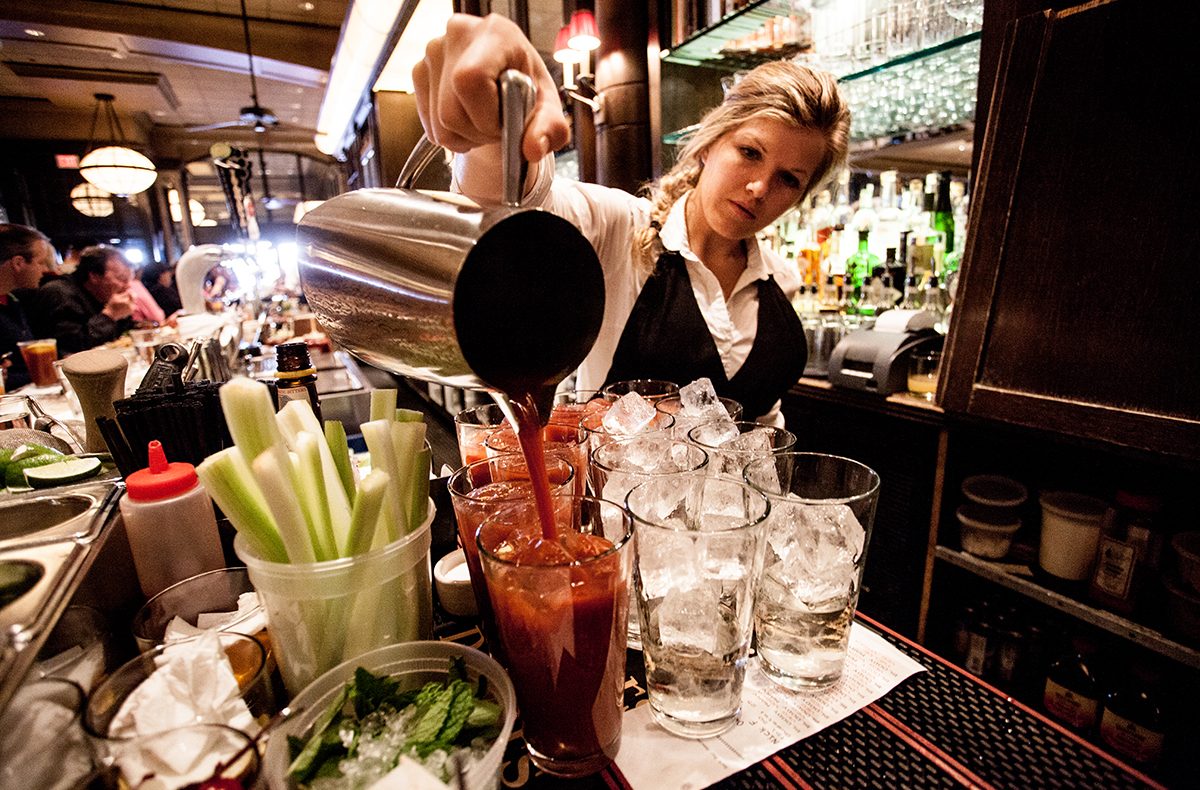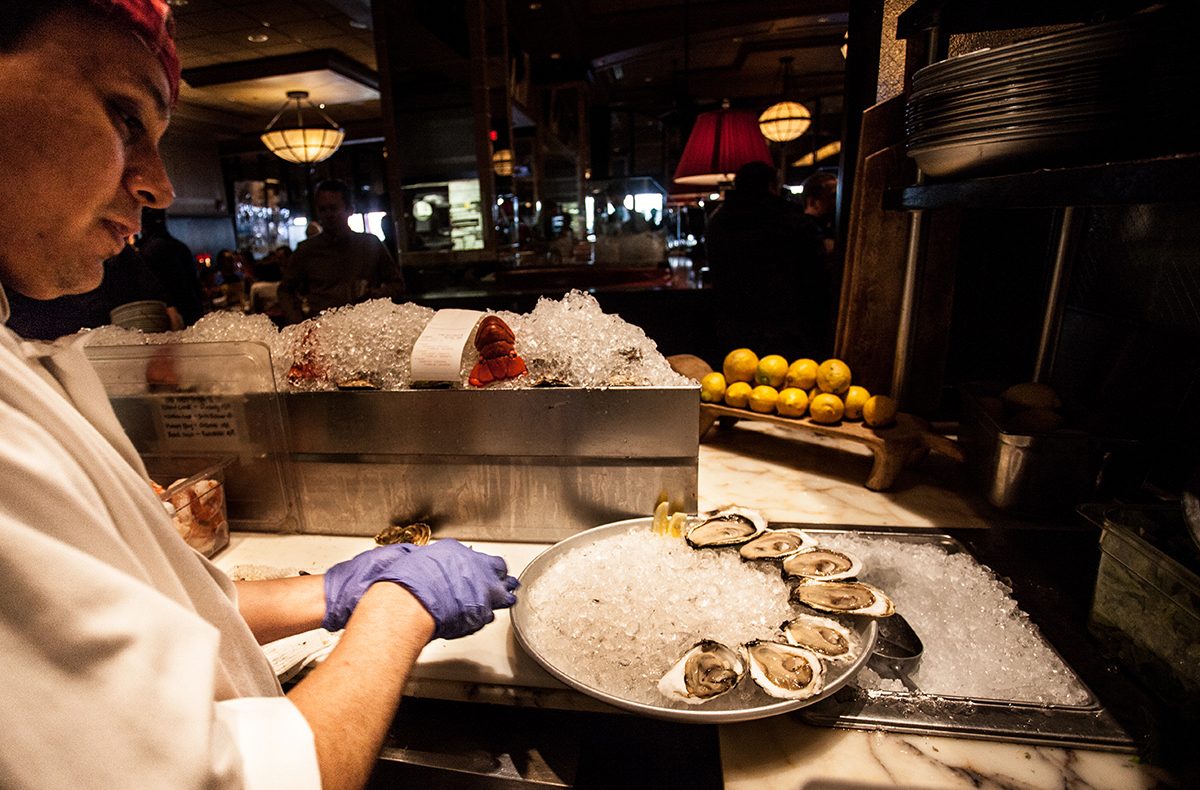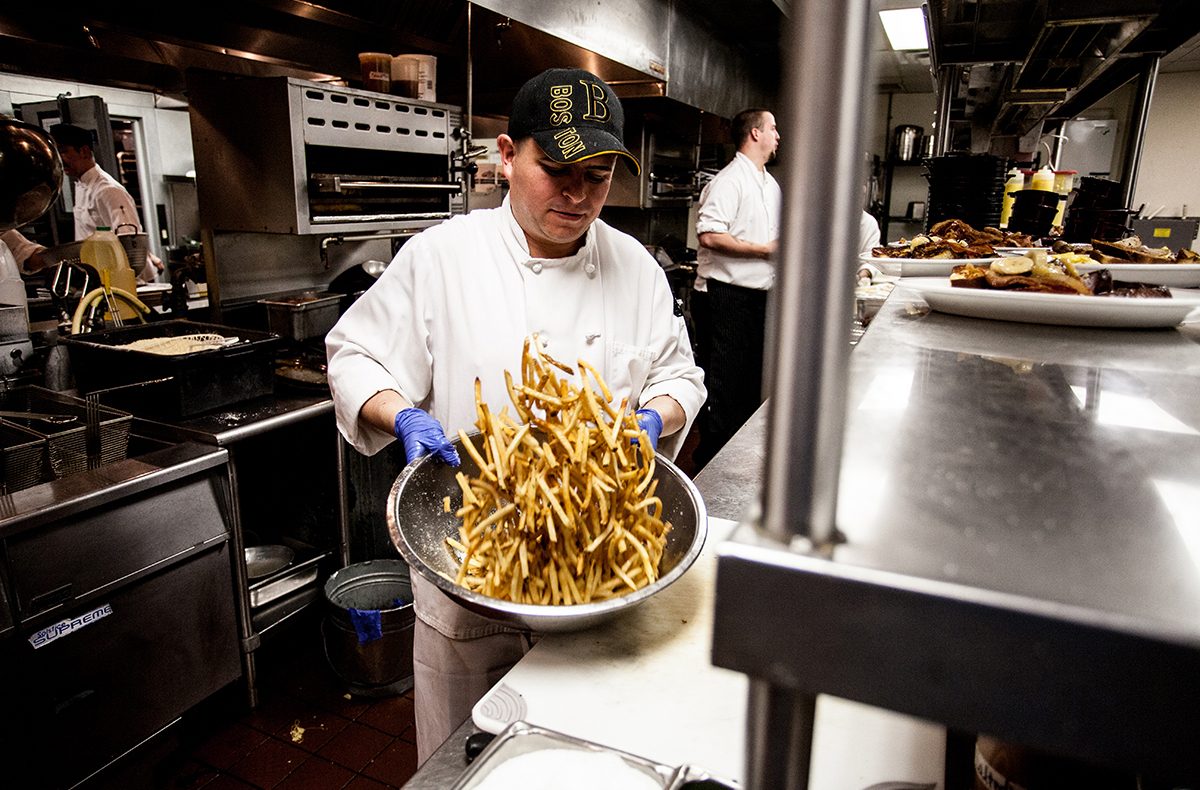 ---
Eastern Standard GM Andrew Holden stands at the head of the stairs and admires the chaos. It's now 1:32 p.m., and Eastern Standard is at capacity. To get anywhere near the bar, you have to shimmy your way through patrons singing along to "Sweet Home Alabama" and a full lineup of Creedence Clearwater Revival's greatest hits. By the increasing number of Red Sox hats and windbreakers, it's apparent that fans are sneaking out of the game early to stake out a spot before the bulk of the runners pass by the one-mile marker. Eight of Eastern Standard's most experienced bartenders—including Fiore and Levy—are now working side-by-side to whip up one of the 98 whiskey smashes or 238 mimosas they'll sell that day. Holden heads back downstairs to another area called "The Clubhouse" to grab the last of the extra chairs.
"This is our most casual day of the year," Holden says. "We try to accommodate our guests in any way possible. If someone wants to pull up three extra seats to a two-top, we'll do that."
The Clubhouse is a utilitarian hallway lined with stacks of chairs and a long fold-out table adorned with cold eggs, a pile of apples, yogurt, granola bars, chips, and three cases of Red Bull ordered specially for the staff. Manager Ricky Czachor has just clocked in and is talking to a server who is slouched against the wall, a blue Red Bull can dangling from his fingertips. They have to continually jump out of the way as bussers run past with carts of fresh, still-dewy pint glasses.
"This is my first year I haven't been here at seven in the morning because I closed last night," Czachor says. "I'm actually scheduled for 4 p.m., but I got here early to help reload and get the morning crew off their feet. I would have been here earlier, but I had to vouch for one of our line cooks, Miguel. He was having a hard time getting through security with his kitchen knives. They actually followed him in the door to make sure he was telling the truth."
Outside, over 50 people have accumulated, waiting to get in. Three managers in suits stand behind a red velvet rope keeping count of any exiting visitors in order to let new ones in.
"Whenever people ask what it's like to work at a restaurant in Kenmore Square, I always describe it as a day that does not feel like one restaurant," Holden says. "It feels like five or six restaurants in one. From the frantic pace in the morning, to folks going to the game, to the midday crowd here to cheer on the runners; it just feels like an onslaught. But the marathon is ingrained in the culture here. This is just one of those days, whether you're scheduled at six in the morning or you're coming in for the night shift, there's just going to be crazy activity around you all day. Yes, you're going to hustle, but it's a part of the fabric of the restaurant. I don't even think it's financially driven, I think it's just the spirit of the day."
---