Five Reasons to Visit State Park in Cambridge
Go for the barbecue spaghetti, preacher cookies, Mayberry's finest, and more.
---
With its rustic wooden siding, vintage bar mirrors, and a screen door marking its threshold, State Park in Cambridge is like entering Anytown U.S.A. It wouldn't be surprising to see an electronic bug zapper next to the stained glass mural constructed by local artist Daniel Maher. The tongue-in-cheek decor doesn't end there, though. Antique pinball machines, a shuffleboard table, and Bud neons line one corner of the restaurant. Opposite it is a perfect mockup of a retro basement rec room with faux wood paneling, a pool table, and a vase of fake flowers. Plates and glassware are a mishmash of bubble Depression glass and old ashtrays. Then there's the "Paddock Room", with 3D horse paintings standing sentry over a cowboy-studded affair. It's country roadhouse meets cozy neighborhood tavern. But instead of crossing the line into twee territory, the playful design serves only to highlight the rollicking atmosphere welcomed by State Park's team of owners (the same talent behind Hungry Mother). The same can be said for the cuisine of James Beard nominee Barry Maiden, whose regional specialties like Nashville hot chicken and the Kentucky hot brown have turned Kendall Square into a can't-miss dining spot.
Here are five reasons why State Park in Cambridge is worth a visit next time you're looking to unwind:
1. THE PARTY STARTER
With unruly weekend crowds and indecisive larger parties clogging up service, co-owner Rachel Munzer implored executive chef Barry Maiden to create an assemblage of snacks to whet people's appetites. Maiden complied with the State Park Party Starter, filled with riffs on savory bar bites like pickled eggs with beets, beer nuts, and fried pickled okra with scratch-made ranch dressing.
"Sometimes, people need guidance," Munzer says. "There will be times when it's really busy in here and customers want something to snack on. It's like great, try one of everything. We came up with this all-inclusive idea to take the thinking out of it. If there's five or six people in a party, it's the easiest way to get food on the table quickly."
Other snacks featured in the Party Starter include fried boudin balls served with a creamy creole mustard sauce, Narragansett cream cheese and house-made pepper jelly, bread and butter pickles, a bag of Utz chips, and soon to make its return, Maiden's pickled Andouille sausage.
"Instead of using cheap batter on the okra, we use Anson Mills cornmeal, which we direct ship from Carolina 130 pounds at a time. We make our own mayo and buttermilk ranch. Our panko-crusted boudin is extremely labor-intensive. Those are the little nuances that you don't think about as a consumer, but it makes a world of difference," Maiden says.
2. THE COCKTAIL PITCHERS
Unlike austere cocktail and craft beer bars, which frown upon the lowly pitcher and all of its guzzling, frat-boy associations, State Park has embraced the idea of communal quaffing. "We wanted this place to be as welcoming as possible," says co-owner Alon Munzer. "We want people to come with their friends and have a good time. We also wanted the drink list to be varied and to avoid that standard list of ten classic cocktails."
Pitcher choices include Jack Daniel's with Maine Root Mexican cola; a traditional Tom Collins; a Cape Codder with Tito's Vodka, Grand Ten cranberry liqueur, and Fruitations cranberry concentrate; and a Pimm's Cup made with cucumber-infused Pimm's and ginger ale. Each pitcher serves four people and the offerings change seasonally.
3. HUNGRY MOTHER'S INFLUENCE
---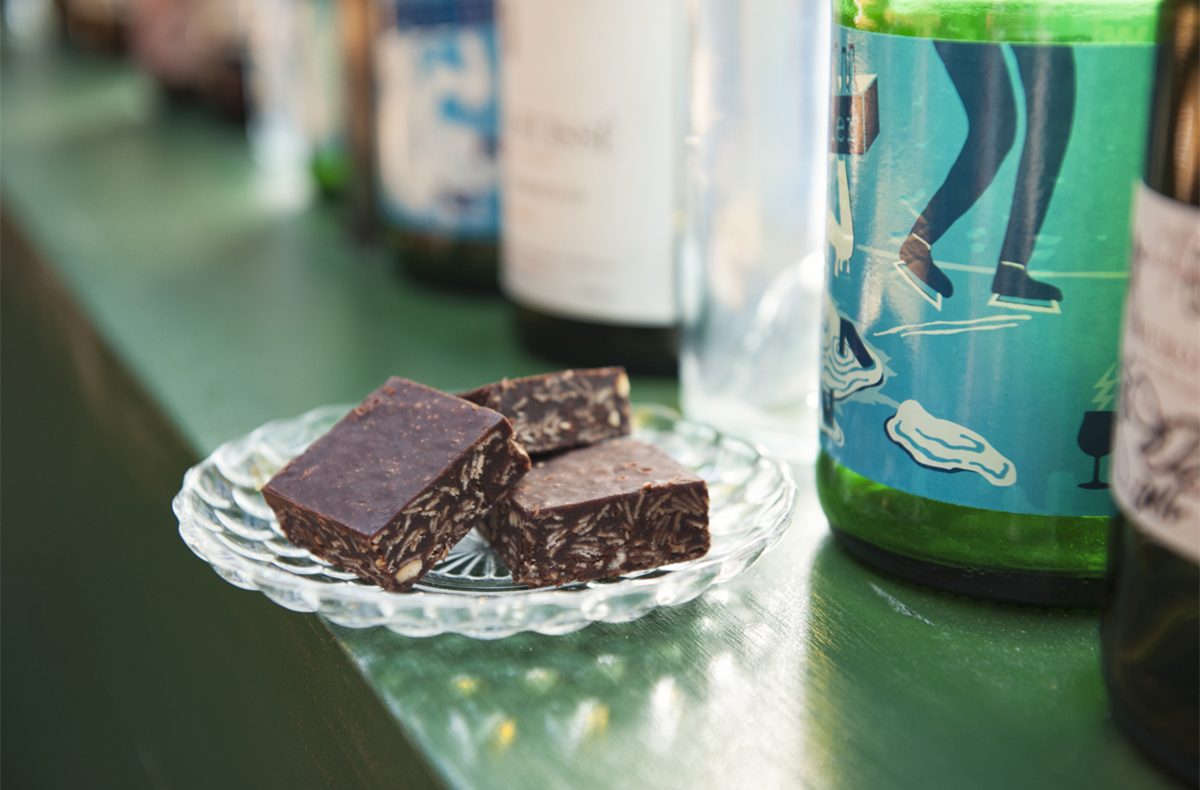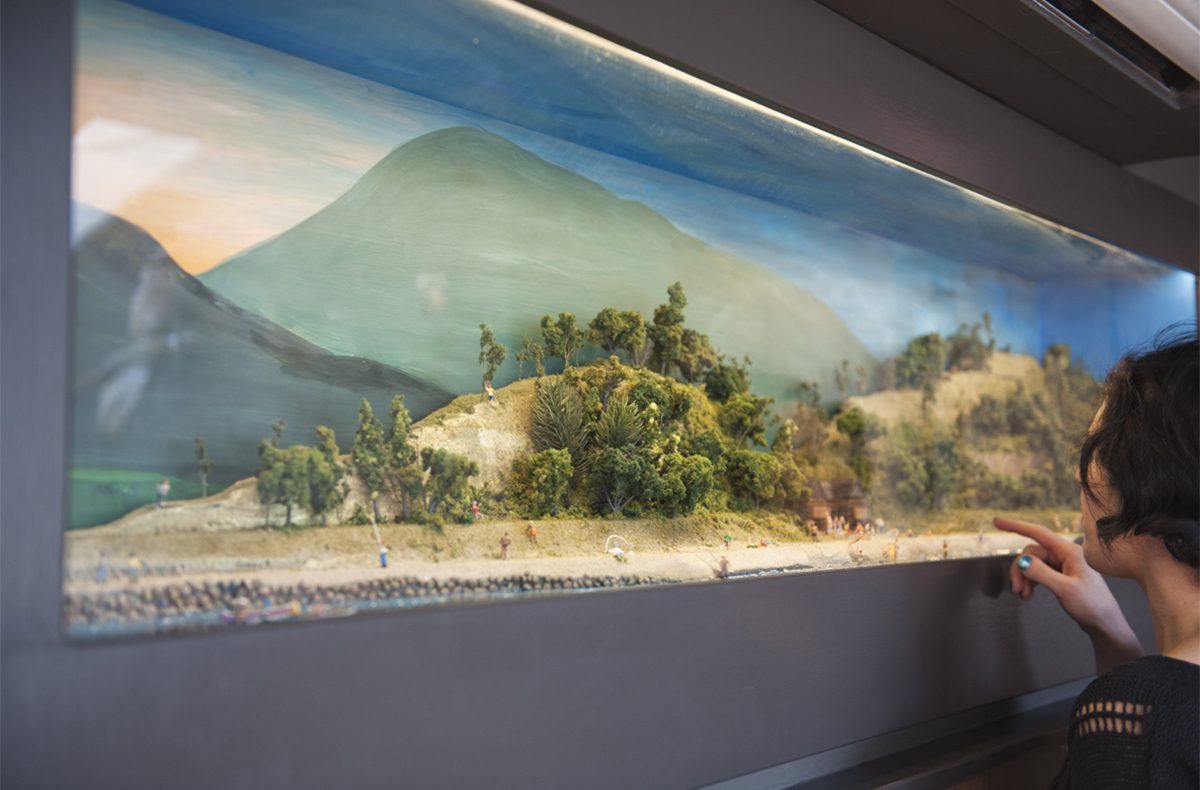 "Surfers on Acid is a traditional cheesy college shot which most nicer bars wouldn't dare put on their list," Alon Munzer says. "But when we opened Hungry Mother someone brought us a case of Genny Cream Ale as a welcoming gift. On top of that, we had all these different liquor samples hanging around, including Jäger and a bottle of Malibu rum. We whipped up some Surfers on Acid and they tasted great, so it became our house shot for a while. A beer and a shot is a very iconic combo, but we wanted to do something other than tequila or whiskey. It just made sense to pair a can of Genny's with something we have really fond memories of."
That's not the only tradition that's made it's way over to the State Park menu. Bar manager and co-owner Heather Mojer also included the shot-and-a-beer pairing of Toronto (rye whiskey, simple syrup, and Fernet Branca) and Miller High Life, a favorite of Hungry Mother sous chef Daniel Hixson. In the main dining area, there's a five-foot long diorama of Hungry Mother State Park in southwestern Virginia, constructed by Rachel and Heather. And the preacher cookies that come complimentary with each check at Hungry Mother are sold in large squares at its sister restaurant.
4. THE MEMPHIS BBQ SPAGHETTI
Inspired by Frank Vernon's signature dish at his famous Memphis dive, The Bar-B-Q Shop, Maiden douses al dente spaghetti noodles in barbecue sauce and pork burnt ends. Although it sounds like simple comfort food, tying the dish together proved elusive. Maiden spent months perfecting the delicate balance of sweet, savory, and tangy.
"The key is having pasta that's really well seasoned," Maiden says. "Most people don't do that. We have a ratio of salt that has to go into the boiling water. If you have bland pasta, the whole dish is going to fall flat, no matter how much barbecue sauce you put on top."
The noodles are topped with trim and end cuts from State Park's smoked pork shoulder, then slathered in a sauce that combines elements of Tennessee and North Carolina barbecue. "I took the best of both worlds, so the pronounced vinegar in Lexington barbecue versus a sweet tomato sauce, which you see in other parts of North Carolina," Maiden says. "We also incorporate sorghum and brown sugar, which is something used in Tennessee. … I wanted to maintain the integrity of the original, but add some body and complexity."
5. SNAPPY'S FAMOUS PORK CHOP
Mount Airy, North Carolina, might be best known as the birthplace of Andy Griffith, and subsequently the basis for the fictional town of Mayberry, but the real draw for visiting tourists is the late Charles Howard Dowell's famous pork chop sandwich at Snappy Lunch. Before he passed away in 2012, Maiden met Dowell and picked his brain regarding his pancake-battered, chili-coated legacy.
"I told him I was a cook and I asked him for his recipe," Maiden says. "He said, 'sure, see me on the way out.' So, after I was done eating I approached him and he said, 'are you ready?' Then he began rattling off the ingredients to me: milk, salt, eggs, butter. I just looked at him cross-eyed. I knew it was wet batter with all those things in it, but he didn't give me any proportions whatsoever."
With only a list of ingredients, Maiden began the painstaking process of reverse-engineering the Snappy's sandwich, eventually finding a comparable recipe he tops with coleslaw, mustard, and West Virginia-style hot dog chili. "It's basically pancake batter," Maiden says. "I put two-and-two together and realized it was a pork pancake covered in a chili sauce."
Although State Park's version of the Snappy pork chop got off to a slow start, it has since become a favorite at the restaurant. "When we first opened, we couldn't give it away," Maiden says. "But as soon as we put 'Staff Favorite' next to it on the menu—which, that's no lie—it's just taken off."
One Kendall Square, Building 300, Cambridge; 617-848-4355 or statepark.is.
---