A Brief History of Mike's City Diner's Famous Pilgrim
How Jay Hajj turned roast turkey, stuffing, and a Thanksgiving-inspired sandwich into a restaurant legacy.
---
It started off as a novel, yet simple plan: serve Thanksgiving dinner 365 days of the year. But when Mike's City Diner chef-owner Jay Hajj added it all together—roast turkey, stuffing, cranberry sauce, and even a side of viscous gravy—onto a braided sesame roll, his life changed forever.
"The sandwich and the roasted turkey is how we built our name over here," Hajj says. "I never imagined the business would end up like this. It's the best thing I've ever done."
That was 20 years ago. Back then, in Hajj's own words, Washington Street was a "ghetto" with boarded up building and a clientele that consisted mostly of pimps, prostitutes, and police. The native of Lebanon had been working in kitchens since the age of 12, but he'd turned to Mike's and Boston's South End as a chance for better, more family-friendly hours. At the time, Hajj's culinary background consisted mostly of Italian restaurants and a Brookline falafel shop. He had no prior experience with the hash, hamburgers, and pancakes that define greasy spoon dining.
That ignorance showed in Hajj's unconventional approach to classic American diner fare. Everything on Mike's City Diner's menu was made from scratch, including the turkey dinner Hajj assumed would become his restaurant's signature dish.
"Right from the beginning we were making our own turkey," Hajj says. "We knew that would bring people in. Back then, that was a really special item. We didn't have the food that we have now in Boston. It was a big, big deal to have fresh turkeys. Back then, after we baked them we would put them on tables at the front of the restaurant, so as soon as people would come in, that's the first thing they would see."
Diners were lured in by the golden birds and Hajj's conspicuous carving station, but he was still faced with a surplus of turkey and Thanksgiving fixings. Those ingredients became the byproduct of other offerings, including the Mike's Famous Pilgrim sandwich—foundational pieces that have sustained the restaurant for two decades.
Bucking conventional wisdom, Hajj prefers heavier birds. Since he opened Mike's City Diner, Hajj has made 30-pound turkeys fastened vertically on a wire chicken roaster. After a simple overnight salt and sugar brine, he plants the standing turkeys in a high temperature oven and roasts them in a rapid-fire, three-hour succession. Despite the accelerated cooking time and the girth of the turkeys, they emerge from the ovens consistently tender and succulent.
"We don't season the turkey at all," Hajj says. "We just brine it and bake it standing up and that keeps the juices in. That's the thing with big turkey, it's always moist. A lot of people stay away from big turkeys, but I always bake a lot bigger turkeys because they don't dry out. And as far as brining goes, you're all set as long as there's sugar, salt, and water in there. Of course, I like to throw in the lemon peel, orange peel, and sometimes a cinnamon stick. But when I'm in a hurry I'll just throw in the sugar and the salt and I've never seen that much of a difference."
Well before the current culinary infatuation with nose-to-tail cooking, Hajj was making a concerted effort to use every scrap of sinew, giblet, and bone in his turkey program. Mike's City Diner makes all their own soups, stocks, and gravies, which are derived from stripped turkey carcasses. Pan drippings are Hajj's secret weapon in his garlicky French bread stuffing, which he lets gestate for up to 48 hours before serving. Even the leftover turkey shards, typically the dark thigh meat diners are still somehow averse to, have inspired Hajj's most popular new breakfast item: a turkey hash.
"Jamie Bissonnette was eating at Mike's one time, and he turned to me and said, 'Hey Jay, I used to always go to Charlie's [Sandwich Shoppe] for turkey hash, why don't you make one.' I remember going into the kitchen and thinking, 'Yeah, why don't we make a turkey hash.' The last thing I needed was another menu item, but we had so much turkey that was being thrown out. So I went in and chopped it and seasoned it and within three hours I had put together a kickass turkey hash that now outsells the corned beef hash. The funny thing is, I was serving it for three years without ever putting it on the menu. I just forgot to put it on there, but we were still selling a lot of it."
Hajj's homage to the Manjourides family's famous hash notwithstanding, the restaurant is still best recognized for its Mike's Famous Pilgrim. From its early inception, the sandwich scored an overwhelming amount of publicity for Hajj's diner. Over the course of its existence, it has received the type of constistent acclaim that's lifted it above the rest of the menu and help transform it into a nationally recognized dish.
That was never more true than when Guy Fieri rolled up in his trademark '68 Camaro for a 2007 segment of "Diners, Drive-Ins and Drives." Fieri had high praise for the sandwich's layers of white meat turkey, dense stuffing, and cranberry sauce—an expert interpretation of the repurposed Thanksgiving classic.
Common sense tells you to never mess with a icon, but there is one component Hajj is attempting to amend. For years, the sandwich has featured one commercial ingredient, Ocean Spray cranberry sauce, which the chef buys by the bucketload. But Hajj is currently teaching his kitchen staff his own "simple" recipe using fresh New England cranberries.
"I am just so proud of owning Mike's," Hajj says. "The whole business itself, I just love running it. It's not like any other business. I've owned a few places before, but nobody can top the clientele and location at Mike's City Diner. A lot of that is due to the turkey. It's honestly been a blessing."
---
Building a Mike's Famous Pilgrim with Jay Hajj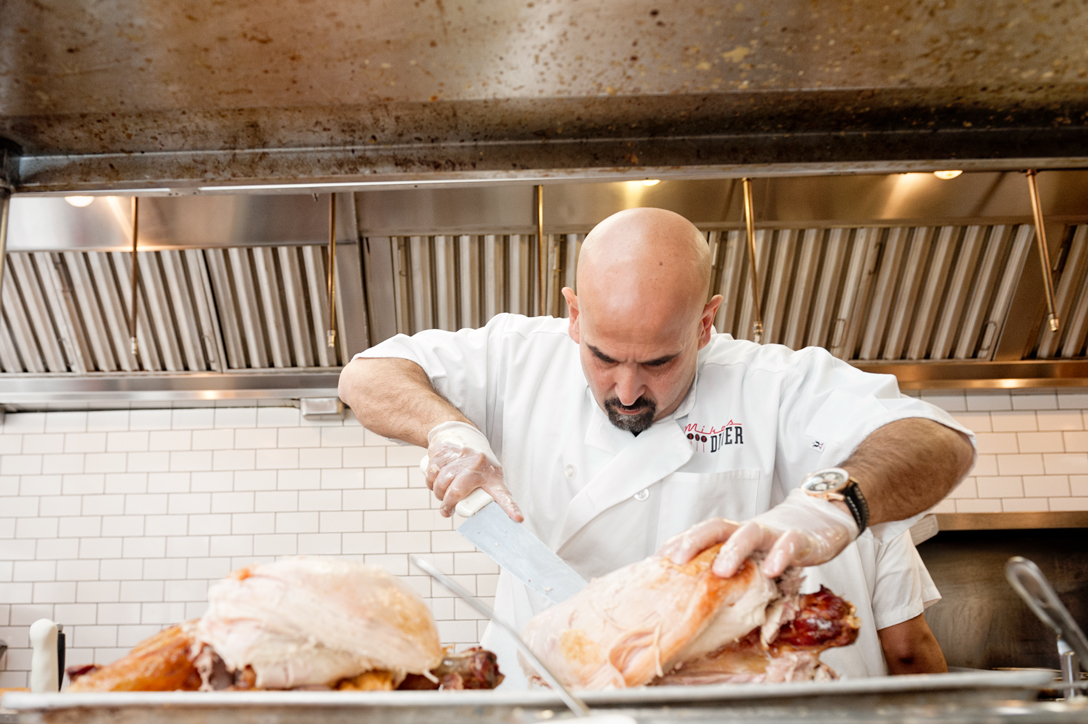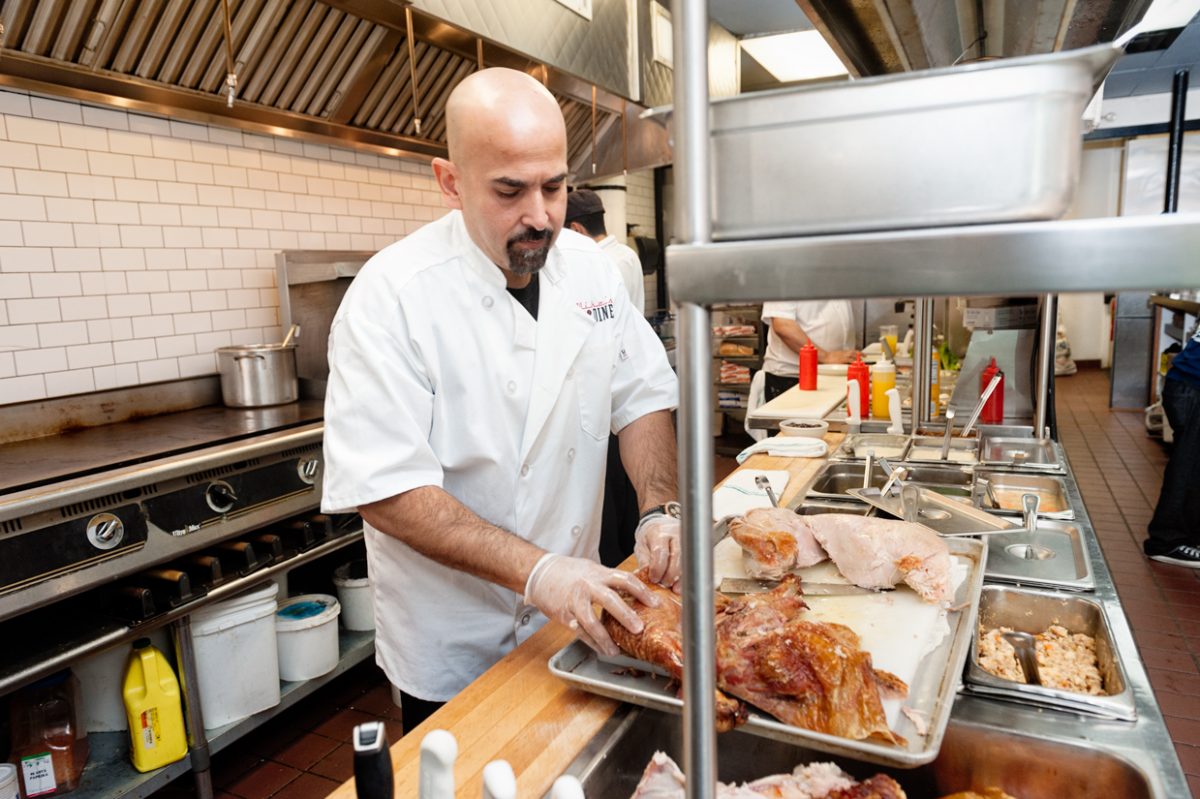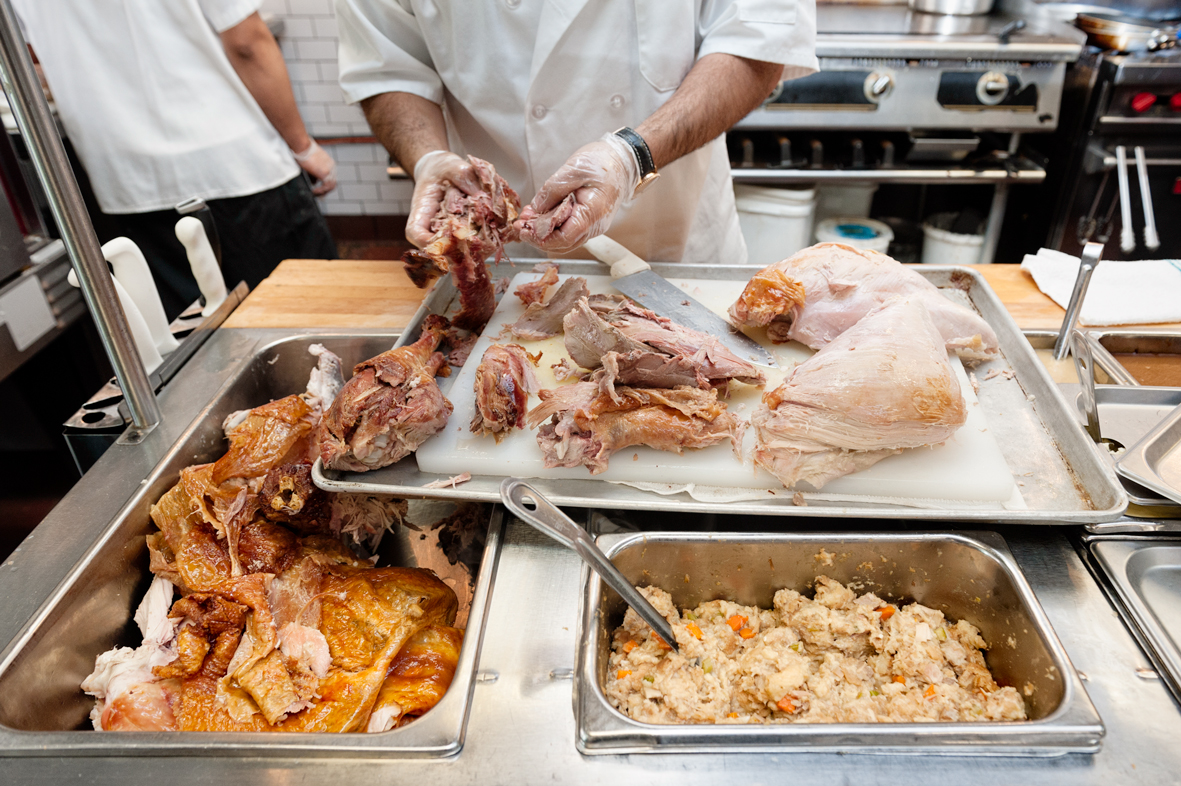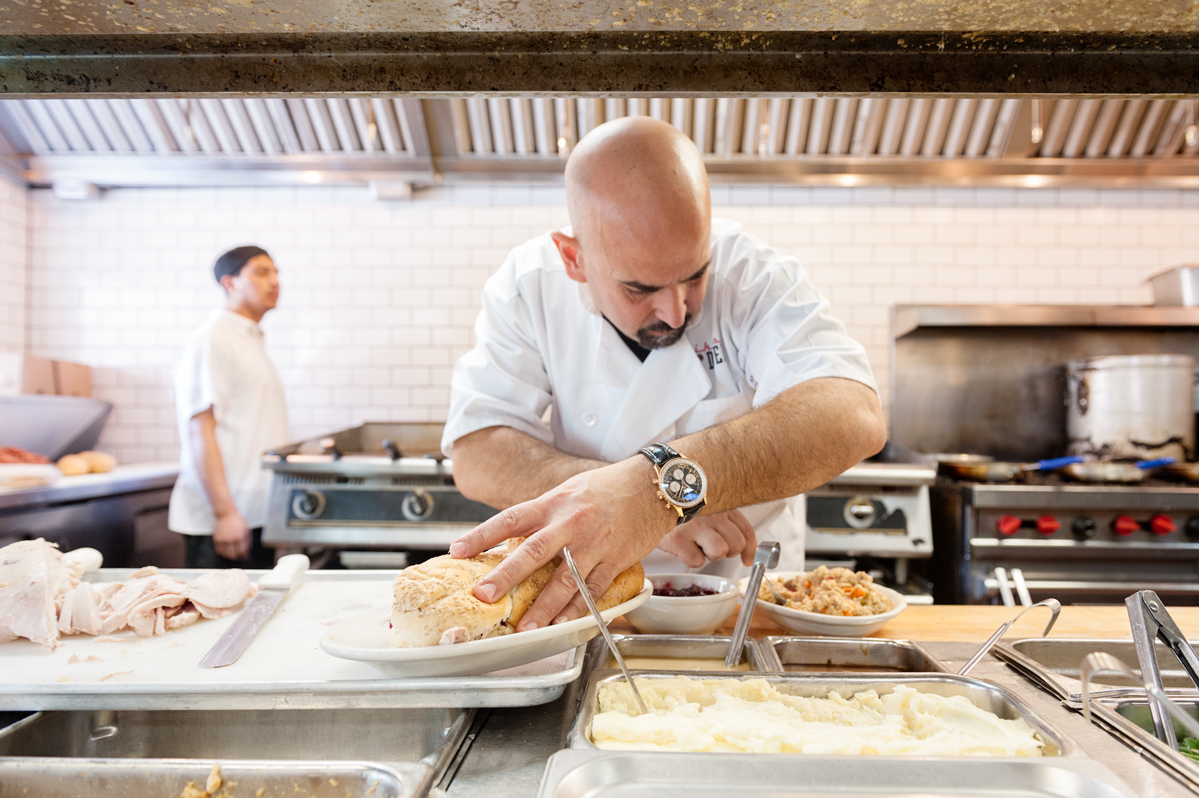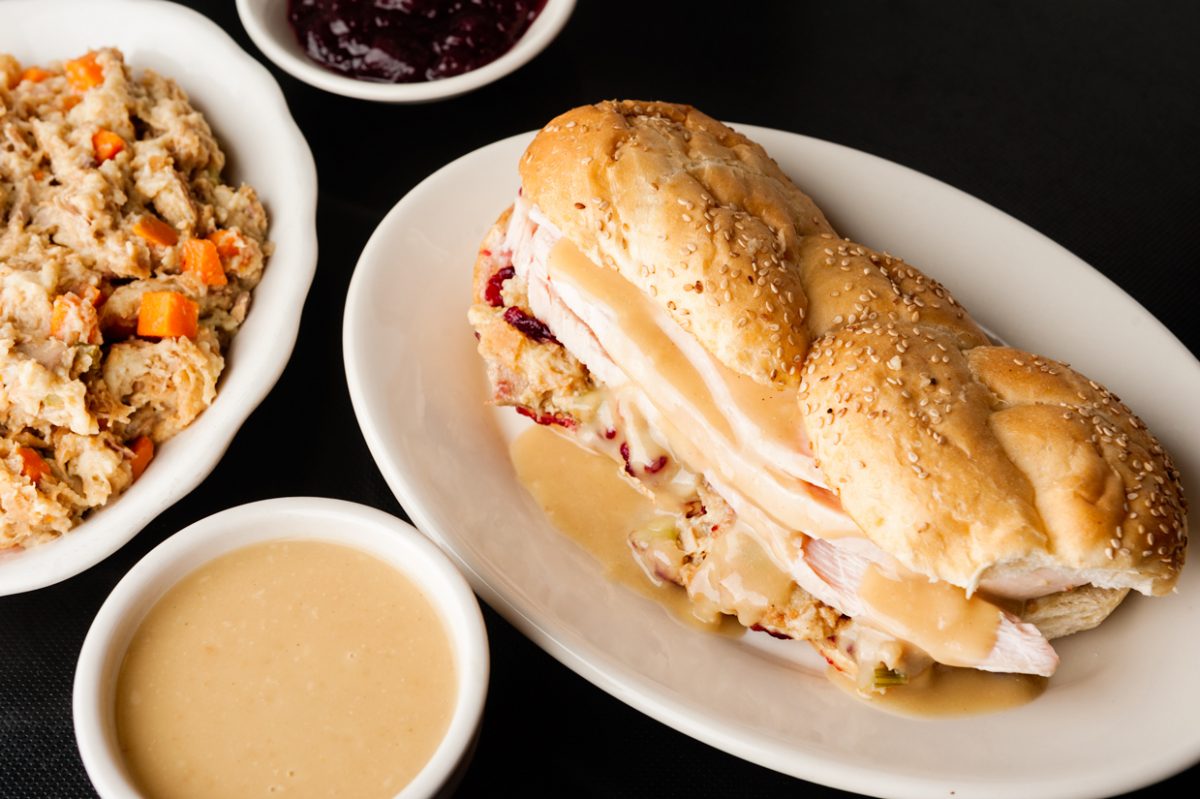 1714 Washington St., Boston; 617-267-9393 or mikescitydiner.com.
---