Best Sandwiches in Boston
There's never been a better time to be a pastrami-worshiping, Parmesan-loving, prosciutto-craving sandwich eater in this town. The best of the city, served between two slices of bread.
---
The sandwiches we're most obsessed with right now all have one thing in common: They take inspiration from Italian-American classics. Here, the red-sauciest, garlickiest, porkiest versions to hunt down immediately.
Meatball Parm
Centre Street Café, Jamaica Plain
When this J.P. mainstay reopened in November with Rialto vet Brian Rae as chef de cuisine, its focus shifted to thoughtful Italian fare. Rae's lunchtime meatball Parm, for example, features all the requisite elements, stepped up: smoked-paprika-spiked pork, veal, and beef meatballs, melted provolone, house marinara, and a mix of roasted sweet and pickled hot peppers on house-baked ciabatta.
➜ centrestreetcafejp.com
Porchetta
Pennypacker's, Somerville
Whether served at its Somerville restaurant or from its roving food truck, Pennypackers' porchetta is a study in contrasts: soft, fatty pork, peppered throughout with crunchy pieces of skin. It's the result of a laborious process: curing the belly-wrapped pork shoulder for three days, slow-roasting it for 10 hours, and then finishing it off in a blistering-hot oven. Relief from all that richness comes courtesy of a tart mostarda (or whatever other gourmet condiment the chef's playing around with that day).
➜ pennypackersfinefoods.com
Chicken Parm
Panelli's Pizza + Parm, Brookline
The joint's only been open since November, and already owner David Iknaian's chicken Parm has emerged as a must-eat. It starts with chicken coated in Parmesan, fresh herbs, and bread crumbs made from both pain de mie and rustic Italian loaves from Clear Flour Bread. The mozz? Fresh-sliced from Somerville's Fiore di Nonno. The sauce? Blended with roasted garlic and honey. Must've taken tons of trial and error to perfect, right? Nope: Iknaian claims he nailed the combination on the first try.
➜ facebook.com/panellispizza
Italian Sub
Monica's Mercato, North End
Much adoration has been rightfully lobbed at the cheffy Italian grinder from Coppa, but we can't resist the fully loaded old-school version from this North End shop. It begins with the bread, which is baked twice daily. From there it's about the layers—mortadella, Genoa salami, prosciutto di Parma, provolone, romaine, Roma tomatoes, house-pickled hot cherry peppers, red onion, extra virgin olive oil, and balsamic vinegar glaze—all sliced to order and assembled before your eyes, weighing in at nearly a pound and a half.
➜ monicasboston.com
Sausage Parm
Commonwealth, Cambridge
Faced with a surplus of heritage-breed pork, chef-owner Nookie Postal decided to go the Parm route, with a lunchtime-only sub showcasing sausage spiced with chili flakes and griddled in patty form for easier layering. It meets its match with melted provolone, deep-fried cauliflower, and a layer of marinara—all served on a garlic-butter-crisped baguette roll.
➜ commonwealthcambridge.com
Roast Pork
The Salty Pig, Back Bay
Sous-chef Josh Turka, who hails from the Philadelphia area, was inspired by the region's classic pork–broccoli rabe sandwich. Salty Pig's take stars brined and slow-roasted pork butt—rubbed with garlic, rosemary, and lots of fennel pollen—that's warmed to order in its cooking liquid. The meaty masterpiece gets garnished with aged provolone, broccoli rabe tossed with cherry pepper relish, and a hearty slathering of roasted garlic aioli.
➜ thesaltypig.com
The only thing better than one of Bagelsaurus owner Mary Ting Hyatt's chewy bagels? One that's stuffed with flaky, hot-smoked salmon from Sudbury-based purveyor Matt's the Amazing Smokehouse. Its intensity is offset by sliced apples, parsley-caper salad spiked with grain mustard, and plain schmear.
➜ bagelsaurus.com

After a brief closure, Bay Village treasure Mike & Patty's is back in action under new ownership—and offering both time-honored signatures (the bacon-and-egg "Fancy") and new concoctions (the "Colonist," with turkey, bacon, cheddar, caramelized onions, and tomato jam) for breakfast and lunch. Turkey for breakfast? Eggs for lunch? All bets are off.
➜ mikeandpattys.com

When it takes over the Hi-Fi Pizza space in Central Square (slated to happen this month), Clover Food Lab will be the area's first 24-hour vegetarian café. That means smoky tempeh breakfast sandwiches whenever the mood strikes. Literally, whenever.
➜ cloverfoodlab.com
The main flaw of the ice cream sandwich? Hard cookies, under pressure, squish out all the ice cream. Enter the brioche version (pictured) from Toscanini's, which owner Gus Rancatore says was inspired by a Sicilian street snack. He suggests ordering yours with a scoop of nocciola (hazelnut) or gianduja (chocolate-hazelnut). We suggest taking it over the top with a ladleful of hot fudge or spicy butterscotch.
➜ tosci.com
Does anywhere else offer a top-notch bánh mì, Polish kielbasa sub, and proper Irish breakfast on a roll? We think not. Here, we map out Dorchester's rich sandwich-scape. —Richard Chudy
"My favorite is the 'Rachel' from Veggie Galaxy, in Central Square: grilled corned-beef seitan, cabbage kraut, Swiss cheese, and Thousand Island dressing. They are super-generous with portions—ideal for a big appetite and a small budget." —Matt Mullen, Boston magazine intern and Emerson College junior
illustration by sam kerr
To create the gonzo hybrid that is the "Texas Rachel in a Skirt," Rosebud American Kitchen & Bar chef John Delpha combined a multitude of meat-on-bread tropes: the Rachel, a coleslaw-topped variation on the classic Reuben; the Texas-style brisket sandwich; and the North Shore–style roast beef, with its signature toppings of horseradish and barbecue sauce. He took inspiration from a burger joint in Sacramento that uses melted cheese to form a crispy, crunchy outer layer known as a cheese skirt. "Some people I know take the cheese skirt and fold it around the sandwich, and some just nibble the skirt right off of it," Delpha says. We, however, recommend requesting a side order of Delpha's Alabama-style white barbecue sauce, ripping the skirt off, and dunking the pieces into the sauce like chips—chips that are made entirely of cheese.
➜ rosebudkitchen.com
1. The Cheese: An aggressive amount of cheddar and Monterey Jack cheese, sprinkled over the bottom layer of bread and melted directly onto the flat-top grill.
2. The Slaw: Classic apple-cider-vinegar-spiked coleslaw, piled on top.
3. The Bread: Slow-rise rye from West Concord–based Nashoba Brook Bakery.
4. The Meat: Brisket coated in a salt-and-pepper rub, smoked overnight, and griddled to order.
5. The Onions: Cooked down in house-made barbecue sauce to complement the smoky brisket.
6. The Sauce: Mayo, sour cream, horseradish, and a "secret seasoning."
An outrageous sandwich is only a few deft ordering stratagems away. None of these are actually on the menu—and we made up the names during our lunch break—but we think you should give these do-it-yourself mash-ups a shot anyway (some assembly required).
---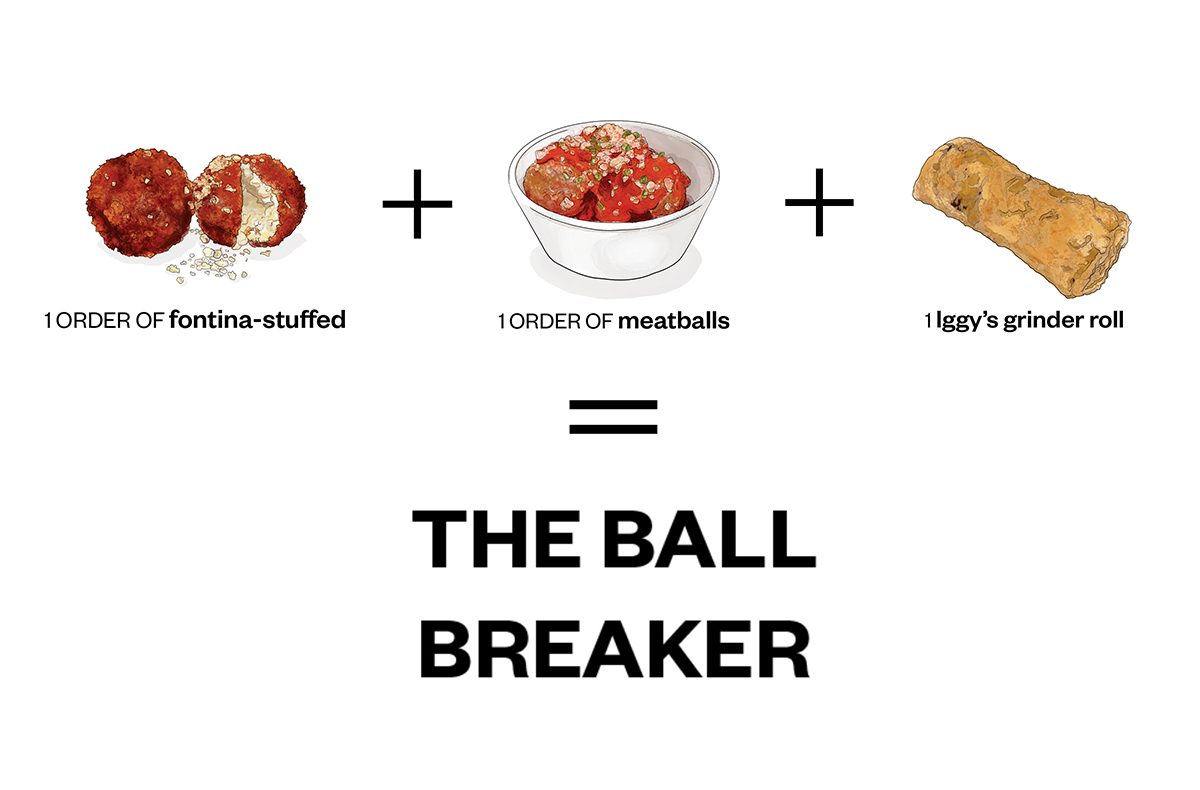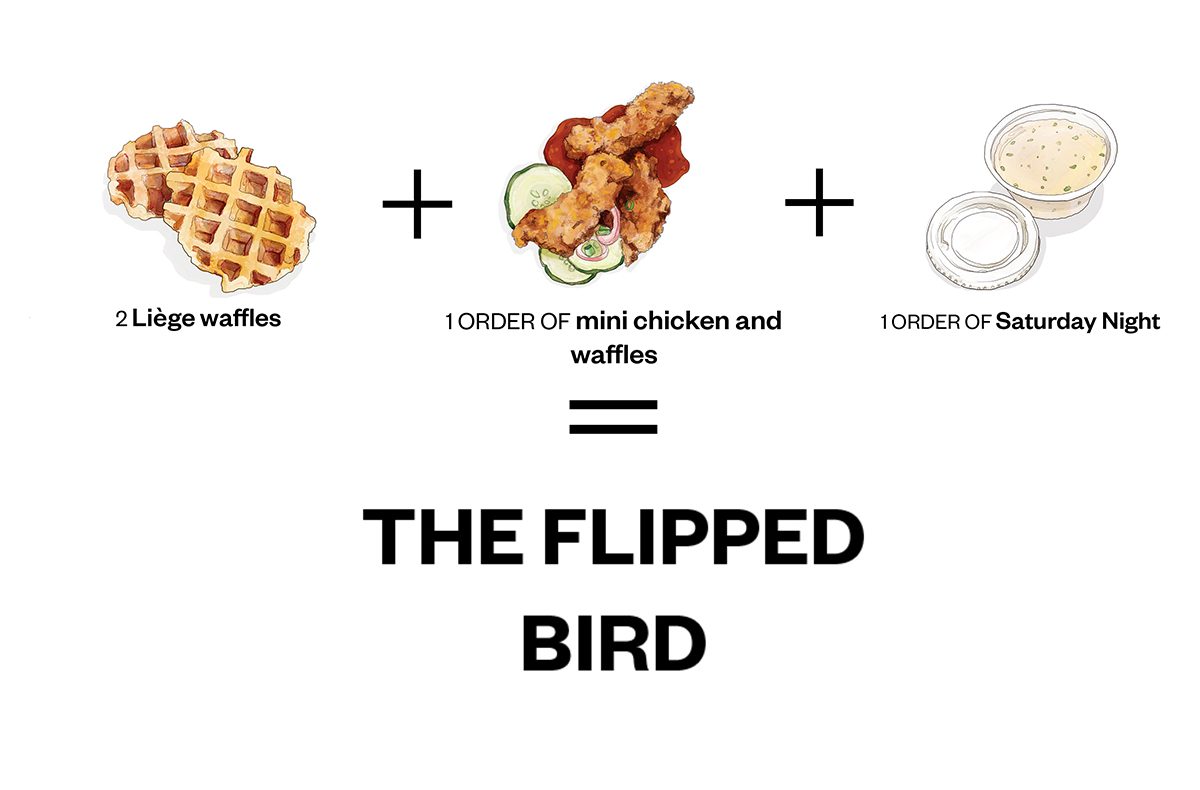 ---
---